This summer, Development will be publishing a special issue showcasing the best research in stem cell and developmental biology, building on the rapidly evolving tools of single cell analysis. Some papers in the issue have already been published as part of our continuous publication system (see the latest articles here), while other research articles and front section content are still in production.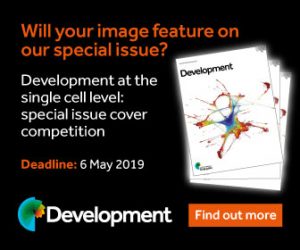 A special issue deserves a special cover, and that's why we are running a cover competition. We are looking for beautiful images that capture the theme of development at the single cell level – be they immunofluorescence, computational visualisations or artwork. You don't have to be an author of a paper in the issue to submit.
The competition deadline is May 06, and the images will be judged by Allon Klein and Barbara Treutlein, guest editors of the issue. To enter, simply send your images via email to aidan.maartens@biologists.com with the subject 'Cover competition'. The winner will be announced in when the issue is finalised, and will get a complimentary print copy of the special issue.
Happy imaging and good luck!