Here is our monthly round-up of some of the interesting content that we spotted around the internet:
News & Research: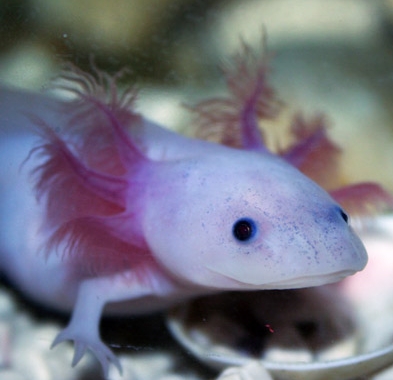 – A new paper in Nature claims that cellular reprogramming can be achieved by exposing cells to stress.
– The winners of the 2014 SDB awards were announced. Richard Harland, Christopher Wylie and Janet Heasman are among those honoured.
– 'A Fred Sanger would not survive today's world of science'- Sydney Brenner discusses Sanger's career.
– The first European bank for induced pluripotent stem cells was announced.
– An article in the Guardian suggests that the axolotl, a great model for regeneration studies, may be extinct in the wild.
– An excellent article by Ed Yong discusses a recent paper by Kondo and Yamanaka on zebrafish stripe formation.
– And the 12th of February was Darwin's birthday- happy Darwin day everyone!
Weird & Wonderful:
– Do you like knitting and science? Join the Glasgow city of science project to beat a world record by knitting your own microbe!
– Are you a fan of the game 'Cards against humanity'? Then the new edition 'Cards against scientists' is for you!
– Valentine's day is upon us! If that special person in your life is a scientist, you may want to follow #AcademicValentines for a few ideas.
– And we bet you never thought that sushi could teach you about developmental biology…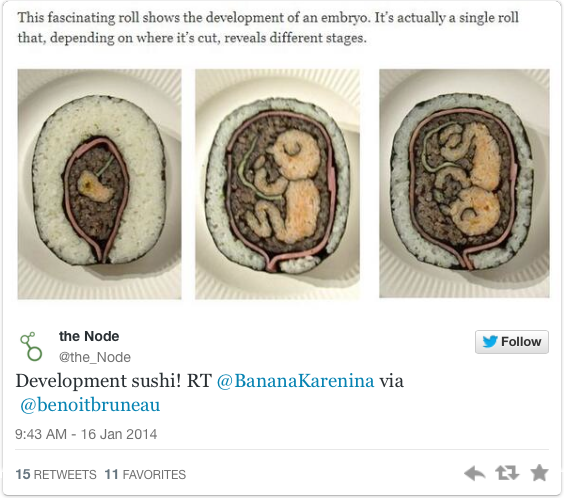 Beautiful & Interesting images
– We found a website with images of 8 DNA sculptures from around the world.
– Phil Gates (@SeymourDaily) tweeted a series of beautiful plant cross-sections.
– If you ever wanted to know what scientists think of each other, this helpful and funny diagram will answer all your questions.
– Ultrasound scans, small cameras and computer graphics were used to generate these beautiful images of animals in the womb.
– And this figure explaining what scientists really say in the lab was one of our most popular tweets this month: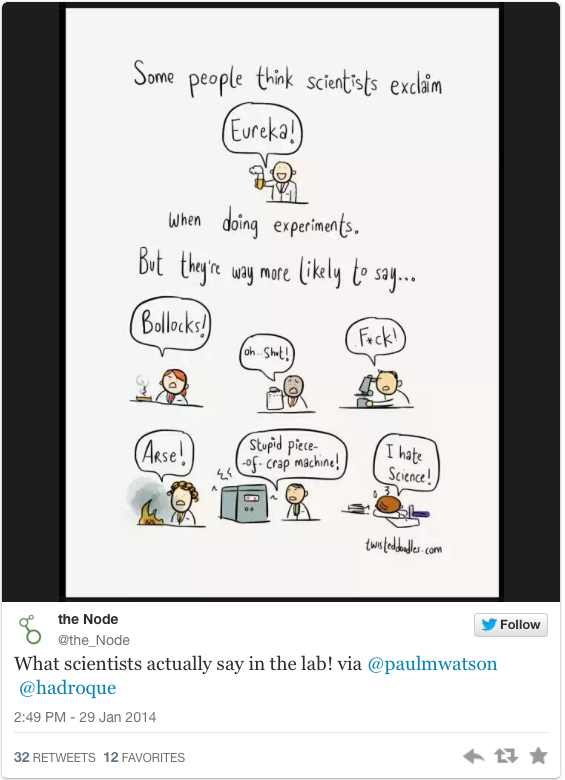 Keep up with this and other content, including all Node posts and deadlines of coming meetings, by following the Node on Twitter.