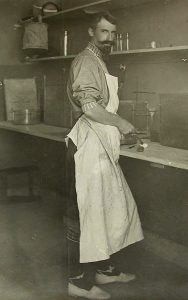 Soon after the rediscovery of Mendel's laws of inheritance in plants, French scientist Lucien Cuénot published a paper in 1902, reporting his studies of the inheritance of pigmentation in the house mouse.
Cuénot's results showed that Mendel's laws of inheritance also applied to animals. This is a fundamental paper in the field of genetics.
The original paper was published in French & many people may not read French. Therefore, Google, myself, and Phil Soriano (Mount Sinai, New York) translated the original manuscript into English.
Shuo-Ting Yen & Chang-Ru Tsai (MD Anderson Cancer Center) did the Chinese translation. Seol Hee Im (Haverford) did the Korean translation. Vanessa Barone (Scripps Institution of Oceanography) did the Italian translation.
You can find these translations at the University of Texas Genetics & Epigenetics Graduate Program website under Historical Translations (https://bit.ly/2P0gJ4v). We hope this provides the opportunity for many people to read this classic paper in genetics.
More languages will be added soon!