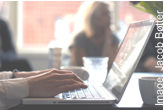 We're pleased to announce the nominees of the first essay competition run by Development and the Node! We received a total of twelve eligible submissions – about epigenetics, data, model organisms, stem cells, and a range of other interpretations of the theme "Developments in development". The submissions came from PhD students, recent graduates, postdocs, and lab heads on five continents.
Our two judges, Olivier Pourquié (Editor-in-Chief of Development) and Claire Ainsworth (science writer) read through the (anonymized) submissions to select the top essays based on content and writing.  They agreed on two essays both deserving to be in the running for the final prize.
And the nominees are….
Joanna Asprer – "An Excitingly Predictable 'Omic Future"
Joanna has a doctorate in developmental biology from Baylor College of Medicine and has worked on brain, spinal cord, and inner ear development. She is currently a postdoc in Uma Lakshmipathy's lab at Life Technologies where she studies embryonic and induced pluripotent stem cells.
and
Máté Varga  – "There'll be dragons? – The coming era of artificially altered development"
Máté is a group leader at the Department of Genetics of Eötvös Loránd University in Hungary, where he works on tectal stem cells and early dorso-ventral patterning in zebrafish. He previously worked as a postdoc at University College London, and holds a PhD from the University of Pennsylvania.
The two nominated essays will appear in full on the Node today and tomorrow, and from Thursday onward you will be able to vote for your favourite in this poll. The final winner on August 15 will be published in Development. Both nominees will also receive an Amazon gift certificate worth £50.
Click the titles above to read the essays