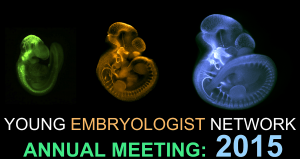 7th Young Embryologist Network Annual General Meeting
15th May 2015
09:15-17:30 King's College London
Registration and abstract submission are now open! 
Abstract submission closes TOMORROW! 
The 7th Young Embryologist Network AGM aims to bring together developmental biologists from across the UK (and beyond) to discuss their work. This year is likely to be the largest YEN AGM yet!
This year, YEN is honoured to have Professor Magdalena Zernicka-Goetz (University of Cambridge) present The Sammy Lee Memorial Lecture. As well as three talk sessions and a poster break, we will also have career-development guidance, comprising of a Careers Q&A session and presentations from newly established PIs: we are honoured to have Dr. Melina Schuh (University of Cambridge) and Dr. Sarah Woolner (University of Manchester) speaking this year.​
As in previous years, this meeting is completely free thanks to the generosity of our sponsors: The Company of Biologists, New England Biolabs, Roche, REGEN, F1000, Transnetyx, Cambridge Bioscience, MRC: Centre for Developmental Neurobiology, University College London: CBD and The Francis Crick Institute.
We are looking for talks from embryologists, stem cell biologists and developmental biologists who work on one or more of the following topics:
– Stem Cells and Differentiation
– Early Embryonic Development
– Forces in Morphogenesis
Posters are encouraged relating to any research topic within embryology, stem cell biology and developmental biology.
The deadline for abstract submission is Midnight 21st April (TOMORROW!).  
To submit an abstract: http://goo.gl/forms/86yQaST0Up
Register now to secure your place!:  http://goo.gl/SwQJFr 
For more information see:
http://www.youngembryologist.org
https://www.facebook.com/groups/162682597092683/
or contact us directly: youngembryologistnetwork@gmail.com