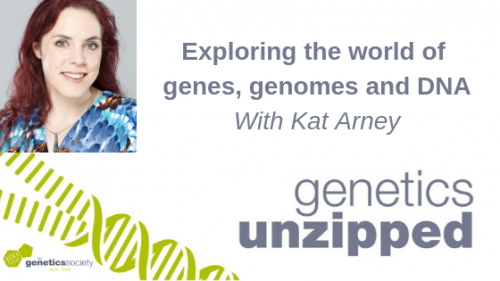 Genetics Unzipped – a new fortnightly podcast from the UK Genetics Society – has launched ahead of the society's centenary celebrations throughout 2019.
Presented by award-winning science writer and former Naked Genetics/Naked Scientists podcast host Kat Arney and produced by First Create The Media, Genetics Unzipped will bring you a wide range of stories from the world of genetics, genomics and DNA.
Listeners can expect to hear interviews with experts from around the world, all the latest science news, and a special centenary series celebrating 100 ideas in genetics.
The first full episode is a behind-the-scenes peek at the iconic 2018 Royal Institution Christmas Lectures on the theme 'Who am I?', presented by Professors Alice Roberts and Aoife McLysaght, alongside professional pyromaniac and demonstration expert Fran Scott.
The second episode weaves together stories and sounds to explore the deadly DNA that causes Huntington's disease, find out how a chicken virus managed to win three Nobel prizes, and discovers the silky science of spidergoats.
Founded in 1919, the Genetics Society is one of the oldest learned societies in the world dedicated to supporting and promoting the research, teaching and application of genetics. The Society is a registered charity whose membership includes over 1900 of the UK's active professional geneticists, including teachers, researchers and students, and is open to anyone with an interest in genetic research or teaching, or in the practical breeding of plants and animals.
Kat Arney is an award-winning science writer, public speaker and broadcaster, and author of the popular genetics books Herding Hemingway's Cats and How to Code a Human. She co-presented the ground-breaking Naked Scientists BBC radio show and podcast for 15 years, produced and presented the Naked Genetics podcast for 6 years, and has fronted numerous BBC radio 4 science programmes including the comedy factual series Did the Victorians Ruin the World?
Kat founded the communications and media consultancy company First Create the Media in 2018 to enable organisations and companies to find and tell compelling stories about science.
Email podcast@geneticsunzipped.com to get in touch with questions and suggestions for future topics and guests.
Genetics Unzipped is online at Geneticsunzipped.com. Subscribe for free from Apple Podcasts, Google Play, Stitcher, Blubrry, TuneIn, Spotify, Spreaker and all good podcast apps.