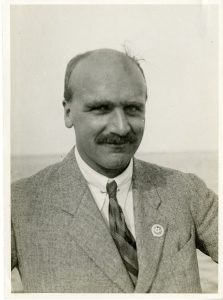 In the latest episode of Genetics Unzipped we're taking a look at the life of JBS Haldane, whose work, writing and dominant personality made him one of the most interesting characters of 20th century genetics.
As well as being an insightful scientist, fearless self-experimenter and artful communicator, Haldane's political leanings also affected his approach to science – even at the expense of the scientific rigour that he usually applied to his endeavours.
Kat Arney speaks with Samanth Subramanian, author of the new biography A Dominant Character: The Radical Science and Restless Politics of J.B.S. Haldane to find out more about Haldane's life, work and complex legacy.
Genetics Unzipped is the podcast from The Genetics Society. Full transcript, links and references available online at GeneticsUnzipped.com.
Subscribe from Apple podcasts, Spotify, or wherever you get your podcasts.
And head over to GeneticsUnzipped.com to catch up on our extensive back catalogue.
If you enjoy the show, please do rate and review on Apple podcasts and help to spread the word on social media. And you can always send feedback and suggestions for future episodes and guests to podcast@geneticsunzipped.com Follow us on Twitter – @geneticsunzip