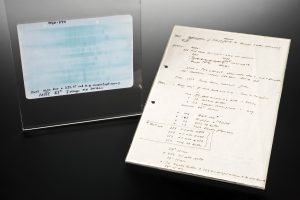 35 years ago this month, a small team of scientists at the University of Leicester published a paper in the journal Nature that changed the world. Written by Alec Jeffreys, Victoria Wilson and Swee Lay Thein, the title, 'Hypervariable 'minisatellite' regions in human DNA' and the jargon-filled results talking about dispersed tandem-repeats and allelic variations don't provide much of a clue unless you know what you're looking at. 
But it's this last sentence of the abstract that's the real giveaway: "A probe based on a tandem-repeat of the core sequence can detect many highly variable loci simultaneously and can provide an individual-specific DNA 'fingerprint' of general use in human genetic analysis."
In the latest episode of Genetics Unzipped, we take a look at the story of genetic fingerprinting, and some of the very first ways in which this game-changing technique was put to work. 
Go to GeneticsUnzipped.com to listen or download and to get a full transcript, links and references.
Genetics Unzipped is the podcast from The Genetics Society. Subscribe from Apple podcasts/iTunes, Spotify and all good podcast apps to make sure you get the latest episodes and catch up on our back catalogue.
If you enjoy the show, please do rate and review on Apple podcasts and help to spread the word on social media. And you can always send feedback and suggestions for future episodes and guests to podcast@geneticsunzipped.com Follow us on Twitter – @geneticsunzip