Explaining new scientific concepts can be a daunting task for anyone involved in outreach. We are constantly trying to come up with ways to explain, show and describe theories and ideas step by step. I've recently stumbled across a new app (albeit only available on ipad) called Adobe Voice that could help out scientific communication.
Describing scientific research is like telling a story and Adobe Voice is an app made for just that. It combines on screen images of your choice with your own voice over in an elegant yet simple manner to guide the viewer through a thought process. It has many pre-set themes and background songs to choose from to help personalise your video, and I'm yet to find a combination that doesn't look professional!
In developmental biology, visualisation of our concepts and ideas helps explain them, as description alone doesn't convey the beauty of what we study everyday. These days, videos of the first hours of an embryo's life are almost always included in any speaker's presentation on development so why shouldn't we extend this visualisation to our outreach? If, like me, you are not always able to visit as many schools as you'd like, creating these videos with adobe voice means you can send a part of yourself into classrooms virtually!
With Adobe Voice I have started what will hopefully be a mini-series resource that schools can pick up on. I'm focusing on the first ideas of genetics for a Key Stage 4 class (starting their GCSE curriculum). My first video took maybe an hour from concept to completion – I spent most of that learning how to draw a monkey – and I intend to make many more already.
With so many beautiful images available from developmental biology research, the field is made for showing off and these videos are a simple way of doing it justice. I've included my first video above and a link to my blog below where I'll be putting up further videos over the coming weeks. If you have any suggestions for other videos I could make or other topics to cover please let me know, all feedback is welcome for this new endeavour into the video world!
www.genesandeverythinginbetween.wordpress.com
NOTE 17/06/2014:
The second video in this mini series I'm creating is now up! I've played around with the sound settings a bit and used only images included in the app itself to see how far I could stretch its applications to teaching scientific ideas.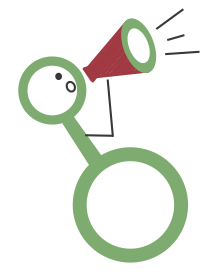 This post is part of a series on science outreach. You can read the introduction to the series here and read other posts in this series here.