Seán Mac Fhearraigh, from PostPostDoc, recently asked me to write a post about my experiences outside academia. Because I don't have a lot of experience yet (I have only been working as the Node community manager for less than a year) I decided instead to focus on what I did during my PhD that helped the transition. I have reposted the article here as I thought it might of interest to the Node readers, but you can also read the article in its original page at PostPostDoc.
I spent a lot of my PhD feeling guilty. Guilty that I wasn't working hard enough. Guilty that I wasn't reading enough papers. Guilty that I might not be thinking hard enough about my experiments. And most importantly, guilty of all those times when I wasn't in the lab doing experiments. At my undergraduate graduation party one of my lecturers, finding out that I was going to do a PhD, gave me some advice: 'the PhD is a marathon, not a sprint'. I interpreted this as: make sure you take it easy and do other stuff during your PhD, or otherwise you will run out of energy before the end.
Following her advice, I made sure that experiments were not everything. During my PhD I was involved in all sorts of other activities: I ran a lecture series, I organised a small conference, I ran my lab's twitter account, just to name a few. This followed on from some of the projects I had been involved with during my undergraduate degree, such as writing a blog or recording short science radio programmes.  To be fair, all these projects were related with science, but they were not happening in the lab, and were not going in my thesis. I did all these projects because I enjoyed them, and also because they gave me a sense of achievement. Most of my experiments lasted several months from the point I started collecting my sample, to the time I could actually image something, and were all consuming- I could only really deal with one mutant at a time. With each experiment taking that long, I needed to be involved in something with a slightly shorter time frame for the sake of my own mental health. Yet, despite all these good reasons, that nagging feeling of guilt was always there.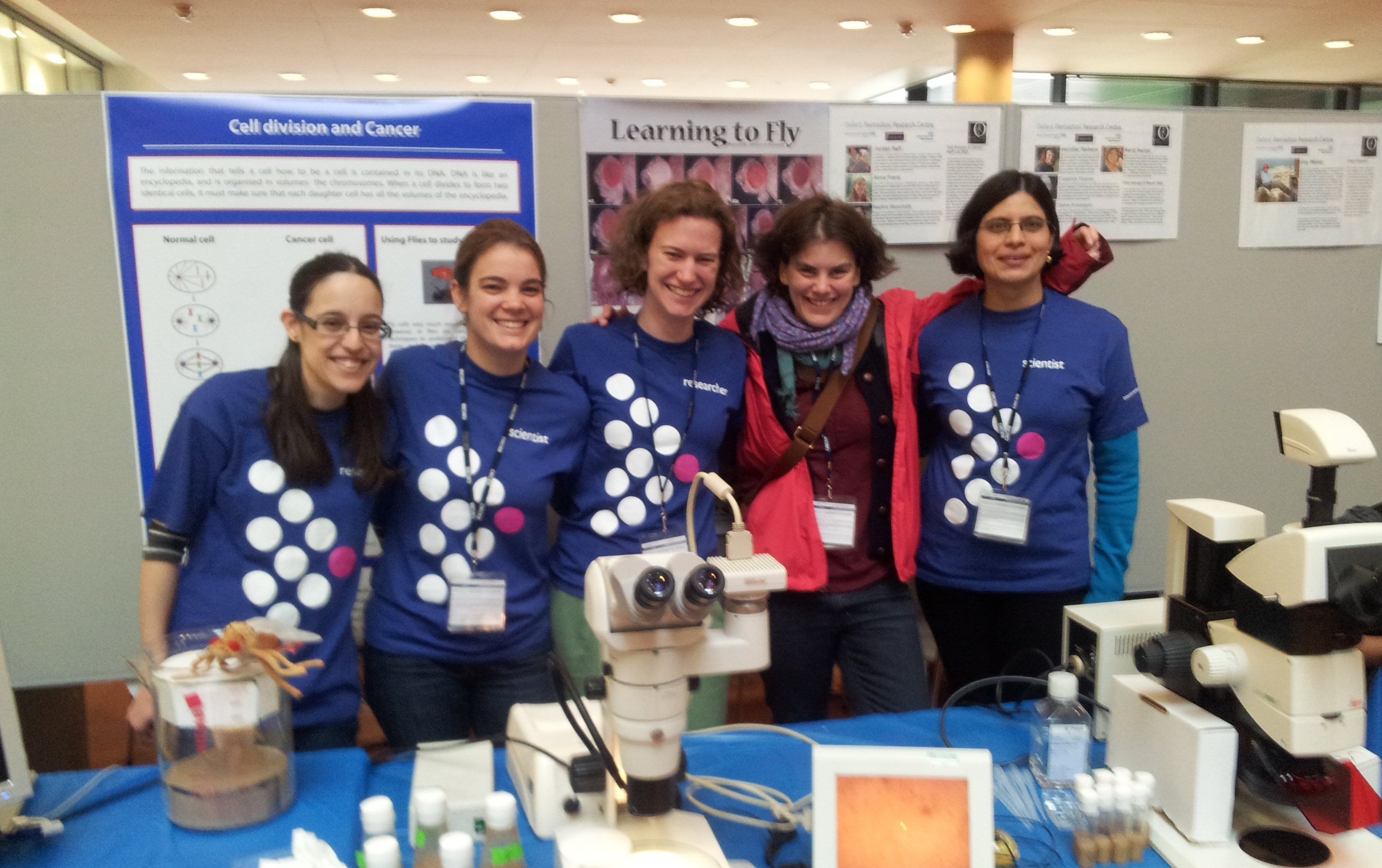 Cell division and cancer stall at a CRUK open day
When I reached the last year of my PhD, the obvious question of what to do next came to the forefront. I actually applied for a few postdocs, but as I discussed projects it became obvious that I had no wish to continue in the lab. The thought of starting a project all over again, in fact, of having to do even one more PCR, just depressed me. But if I wasn't going to be a postdoc, what would I do? I remembered the words of Sarah Blackford, who I met at a careers session. Sarah said that she had decided to leave the lab because she enjoyed everything that she did as a scientist, except for the experiments. A bit of soul searching showed that this was exactly the same for me. I did enjoy the time during my PhD- just not doing the actual lab work! In fact, what I really enjoyed was doing all those things that had made me feel guilty!
I started searching for jobs, and soon realised that there were some out there that involved all the things that I enjoyed. They required someone with scientific training, involved interactions with scientists, and needed someone enthusiastic with interest in social media, writing, and so on. My worry was now whether I had enough experience. It must be said that PhD students tend to underestimate their own employability. We actually have many transferable skills- we can write, we can present, we can work in a team and be organised, and all of this under pressure. And we can show without a doubt that we can carry a project through to the end. We have a doorstopper (read: thesis) to prove it! But the most decisive criteria in getting my current job must have been all those extra activities and projects. Yes, not a comprehensive portfolio, but enough experience to show my ability to do my current job- community manager of a science blog, and responsible for the social media presence of a journal.
In retrospect, I was silly to feel so guilty about my extra projects and activities. I don't recommend that you lazy about during your PhD if you want to finish it, but I would strongly encourage any students to get involved in other projects outside the lab. If you find at the end of your PhD that academia is not for you, maybe those projects will help you discover what else you enjoy doing, and may just give you that extra advantage when you apply for your first job. And if nothing else, the sense of achievement you get might help you deal with the ups and downs of science.