On March 18, 2015, 24 graduate student scientists from twelve graduate programs across the country descended on Capitol Hill. We represented the National Science Policy Group, a network of graduate students committed to promoting science research funding and interested in issues at the intersection of science and public policy. Last Wednesday was our Congressional Visit Day, the second organized by NSPG, and we had over 50 meetings scheduled with the Congressional staff of senators and representatives from across the country.
Our message was that funding levels for all scientific research disciplines should be increased. While absolute funding levels have increased slightly over the past decade, they are not keeping up with inflation, and investment in science research as a percent of GDP has declined (Figure 1). We know that investments in science increase the country's economic prosperity and quality of life for people here and across the globe. Reducing science budgets affects everyone, not just scientists.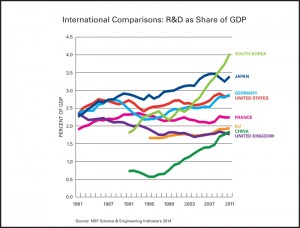 Figure 1. Science research budgets by country, as percent of GDP. From the Science Coalition "Science Matters" campaign (http://www.sciencecoalition.org/science-matters).
Convincing Congressional staffers
Articulating how science is foundational to our economy was crucial during our Congressional meetings. Most of our meetings were with legislative aides, often those who deal with science and technology issues. Realizing that members of Congress have diverse platforms, we tried to demonstrate to each staffer how science funding advances the interests of their Congressperson. For example, when talking with the LA for my state senator, Claire McCaskill (D-MO), I reminded the aide of specific examples of basic science research that produced an unexpected benefit for our armed forces – a major focus of Senator McCaskill's platform. I talked about HemCon, a bandage that stops hemorrhaging in minutes and can save lives on the battlefield, a product that was developed by the US Army Medical Research and Material Command. I also talked about how research into the basic biology of mantis shrimp yielded unexpected insights into how to design better body armor for military vehicles.
Like many in Congress, my senator is also very concerned with jobs and the economy in Missouri and the nation. I spoke about how a large part of the human genome was sequenced at Washington University in St. Louis, the huge economic impact this project has had – a return of $65 for every $1 invested – and that many of the jobs created from this investment were created in St. Louis. My goal was to give the staffer specific examples that he and Senator McCaskill can use to justify to her constituents and to her peers in Congress why increasing science research funding advances the Senator's platform and the welfare of our country.
NSPG represents graduate students from a wide array of disciplines. We believe that increased efforts in all fields are needed for our country to make sustained advances in our economy and human welfare. To this end, NSPG was advocating for funding increases in all scientific disciplines. When I spoke with the legislative aide to the senior senator from my state, Sen. Roy Blunt (R-MO), I knew that as a three-time cancer survivor Senator Blunt has supported biomedical research funding for much of his career. I hoped to expand his view to include all sciences, making the case that it's unpredictable where the next breakthrough will come from, so we need to fund all curious scientists.
The National Science Policy Group: YOUR student movement
Our second message was that NSPG is a resource for our members of Congress. We want to be the constituent group they go to for anecdotes on how tight federal science funding hurts developing researchers, or to find a compelling story of unexpected advances from basic science funded in their district. We believe the message of how flat-lining funding levels and decreased purchasing power in the federal science budget impact research is important to come from graduate students, as we are the next generation of scientists already affected by the current funding situation.
NPSG is only two years old and growing fast. Working with this group has been extremely rewarding. I have met graduate students from across the country and across disciplines that share my sense of urgency that science can – and should – inform public policy. Realizing that my own science policy student group at Washington University in St. Louis is tapping into this nationwide sentiment is very gratifying. Anyone who is interested in learning more about the National Science Policy Group or joining our effort can find more information on the NSPG webpage. Please also feel free to get in touch with me through the comments section for more information.
Hope for the future
Finally, the most gratifying moment of my visit to the Hill came Tuesday afternoon during a pre-Hill Day training session by the American Association for the Advancement of Science. Retired Rep. Bart Gordon (TN-D), a long-time champion of scientific research, addressed the crowd of several hundred scientists across disciplines and generations. He told us of the science research and development cycle as he saw it: investments in basic science research generate new knowledge, which generates new technologies, products, and services, which increase the welfare of Americans when they take advantage of new products or health technologies. This activity boosts the economy, increasing money available to invest in science research and start the process all over again.
"He gets it", I thought.
I traveled to the Hill just to hear our message spoken back to me before I even walked into a Congressional office building. This experience showed me that our message is taking hold and progress is happening, if very slowly. If we continue advocating for science, I believe that the prospects for federal science funding just might improve.