GUDMAP (Harding et al., 2011, McMahon et al., 2008) is an open-access atlas-based on-line resource developed by a consortium of laboratories to provide the scientific and medical community with resources to facilitate research and teaching focussed on the murine genitourinary (GU) system. Gene expression data, descriptors of new mouse lines, and other tools can be freely accessed at the project website (www.gudmap.org). The GUDMAP expression database includes large-scale in situ (hybridization and immunohistochemistry) screens and microarray gene expression data and is currently in the process of making available 3D imaging (OPT) & next generation sequencing data of the developing mouse genitourinary (GU) system.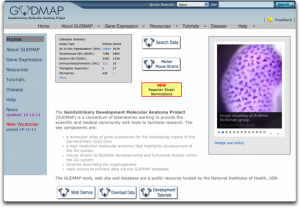 The database contains over 10,500 in situ assays, the majority of which are in situ hybridisation (ISH), although the resource also contains immunohistochemistry (IHC) and transgenic reporter assays. The ISH assays cover in excess of 3,600 genes – ~2,900 unique genes have been studied by wholemount in situ analysis and ~1,400 by section in situ analysis. The resource also contains over 400 microarray samples, the majority of which have been isolated and prepared using either laser capture or FACS. These data types are now being extended to include next-gen sequencing such as RNA-Seq and full 3D image data mapped onto reference models.
In addition to gene expression data, the website also provides detailed tutorials that describe genitourinary development. These are supplemented with schematic diagrams that serve to illustrate the developing components of the mouse genitourinary system over different developmental stages (Kylie Georgas, University of Queensland). The GUDMAP consortium has also generated a resource of novel transgenic mouse strains carrying genetic markers, with characterization, verification and the new strategy for production of the strains (GUDMAP Mouse Marker Strains). A further additional feature, which continues to be developed within the resource, is access to large-scale data analysis over aggregated GUDMAP genomic profiling data. This provides a series of compartment-specific genelists that reflect cell type and stage specific gene expression. These lists are viewable in technology and sample specific heatmaps, and are also integrated with the ToppGene analysis suite.
GUDMAP data is freely accessible via both simple and advanced query mechanisms. Querying by gene returns 'gene expression summaries', which provide a simple visualisation of all data available per gene with links to in situ assays, in situ histological images, microarray data and disease associations. The GUDMAP consortium has developed a high-resolution anatomy ontology (Little et al., 2007) to describe in detail the sub-compartments of the developing murine genitourinary tract. It is against this ontology that gene expression is annotated, describing both the presence and strength of expression in different sub-compartments.
Funding for the GUDMAP consortium was initially established in 2005 and has ongoing support from the NIH. The GUDMAP Project page on the website gives details of all contributing laboratories, both past and present, summarising their scientific focus and contribution to the GUDMAP effort. The GUDMAP Publications page list all publications related to GUDMAP. For any further information about GUDMAP please contact the GUDMAP Editorial Office: gudmap-editors@gudmap.org.
References:
Harding SD et al. 2011. The GUDMAP database – an online resource for genitourinary research. Development. 138(13):2845-53.
McMahon AP et al. 2008. GUDMAP: the genitourinary developmental molecular anatomy project. J Am Soc Nephrol. 19, 667-671.
Little MH et al. 2007.  A high-resolution anatomical ontology of the developing murine genitourinary tract. Gene Expr Patterns. 8(1):47-50.