Hello, I'm Alex and I'm very happy to introduce myself as a new Reviews Editor for Development. I will be working together with invited authors to produce interesting and relevant reviews, opinion pieces and posters for our community. It's really exciting to be at the forefront of research!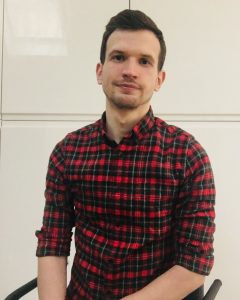 Before joining the Company of Biologists, I had a short PostDoc with Prof Phil Ingham at the Living Systems Institute in Exeter. My project focussed on understanding the evolution of Hedgehog pathway to explain divergent signalling mechanisms in different species using the sea anemone, Nematostella vectensis, and it was here that I developed a keen interest in EvoDevo research. Before that I was a PhD student with Prof Jim Smith at the Francis Crick Institute/NIMR in Mill Hill, where I investigated cardiovascular development in the zebrafish.
Although I've hung up my lab coat for the last time, I'm thrilled developmental biology will remain a big part of my life and that I'll get to stay within the community. Thank you to the team at Development and the Node for their warm welcome and I look forward to working together with you in the future. Please feel free to connect with me―my contact details are below. You'll see from my Twitter that I like to post about zoological oddities, sloths and allotments!
Best wishes,
Alex
Twitter: @amjeve
LinkedIn: amjeve