Here are the highlights from the current issue of Development:
Spine-tingling new role for Sall4
Ageing thymus out-FOXed
Muscling in on stem cell hierarchy
Nucleolus precursor body makeover
Moss stem cells do it differently
Change of heart for RA signalling
Retinoic acid (RA) is essential for many developmental processes, but signalling levels must be tightly regulated since too much RA signalling can cause developmental defects. Cyp26 enzymes help to control this balance, metabolising RA and ensuring the correct specification of multiple different organs. Loss of Cyp26 activity can affect heart formation, and now (see p. 1638) Ariel Rydeen and Joshua Waxman reveal a mechanism that may underpin this. The authors show that Cyp26 activity in the zebrafish anterior lateral plate mesoderm (ALPM) is required for the correct specification of cardiac versus vascular lineages. Specifically, loss of Cyp26 activity in zebrafish embryos results in an accumulation of RA and a subsequent increase in the specification of atrial cells at the expense of endothelial progenitors. The authors propose that the Cyp26 enzymes can have non-cell-autonomous consequences through regulating the amount of RA in the local environment to promote vascular specification by defining the boundary between atrial and endothelial progenitor fields in the ALPM.
PLUS…
The evolution and conservation of left-right patterning mechanisms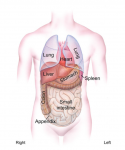 Morphological asymmetry is a common feature of animal body plans, from shell coiling in snails to organ placement in humans. Many vertebrates use cilia for breaking symmetry during development: rotating cilia produce a leftward flow of extracellular fluids that induces asymmetric expression of the signaling protein Nodal. By contrast, Nodal asymmetry can be induced flow-independently in invertebrates. Here, Martin Blum et al ask when and why flow evolved, and propose that flow was present at the base of the deuterostomes and that it is required to maintain organ asymmetry in otherwise perfectly bilaterally symmetrical vertebrates. See the Hypothesis on p. 1603
The Hippo pathway effectors TAZ and YAP in development, homeostasis and disease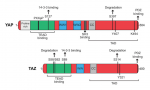 Over the past 20 years, diverse roles for the Hippo pathway have emerged, the majority of which in vertebrates are determined by the transcriptional regulators TAZ and YAP.  Accurate control of the levels and localization of these factors is thus essential for early developmental events, as well as for tissue homeostasis, repair and regeneration. Here, Bob Varelas provides an overview of the processes and pathways modulated by TAZ and YAP and outlines how TAZ and YAP contribute to organ homeostasis and regeneration. See the Review on p. 1614