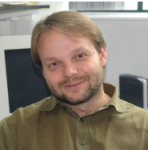 At the EMBO meeting last month, Jiří Friml was awarded the EMBO Gold Medal. This medal is awarded annually to a researcher under the age of forty, who has contributed to the field of molecular biology. Friml got the award for his work on auxin transport and morphogen gradient formation in plants. In his Gold Medal Lecture, he gave an overview of auxin signaling and PIN proteins, and discussed recent discoveries that describe how plants grow in response to light and gravity. The next day he braved a sudden burst of heavy rain to meet me for an interview for the Node:

Why did you decide to study plant developmental biology?

It was not a decision; it was a coincidence. I got a DAAD fellowship to study in Germany for ten months, and went to the lab, which my department in the Czech Republic had contact with. This lab was rather focused on molecular biology and plant physiology. When I started to do my project I realized that there are a lot of developmental biology consequences, and I liked it a lot and then pursued this area further on my own.

You've worked in several different countries over your career. Have you seen any particular differences, for example between Germany, Belgium, the Czech Republic? Or is it all quite similar within Europe?

I have to say I was surprised how big the difference is between Germany and Belgium. I mean the difference in mentality and culture of the people, which, to some extent, reflect on science. Germans are famous for being a bit more strict, but on the other hand, they are also extremely reliable, which is very convenient for professional things. Once you're working in the lab, I don't see that big a difference between cultures, though. My teams have always been very international: In Belgium I had two Belgians in a lab of twenty so the geographical location didn't influence the work in the group so much. Many differences between labs are also dependent on what type of institute you are at, and even within one country there is wide variety between institutes or between universities.

I also noticed, that the education system varies between countries. PhD students from the UK are younger and less experienced simply because the education system is different from that in Germany for example.

And in the Czech Republic, after twenty years of being open to the world, there is still a legacy of the fact that genetics was suppressed as a "capitalistic doctrine" during the communist regime. Therefore the country has basically missed a whole generation of geneticists. This is still not fully replaced, so even though other fields like hormonal physiology are very good, anything that requires genetics, and that means most of developmental biology, is underrepresented.

Do you think that's going to change any time soon?

Well, that's what we have believed for twenty years now. And it is changing. It's definitely changing. But, universities are stubborn structures, not only in the Czech Republic, so it's very difficult to create new departments because that would be usually on the expenses of the old ones.

When you accepted your medal, you said "I'd like to take this as an appreciation for the plant field" and in your talk you showed a slide emphasizing all the things of which people may have forgotten that they were originally discovered in plants: cells, genes, siRNA. Why is plant science under-appreciated?

I wouldn't say it is under-appreciated. Drosophila science is probably also under-appreciated in comparison to biomedical research. I think there are logical reasons that biomedical research gets more attention. In Europe we are seldom hungry, but we still get cancer and Alzheimer and AIDS. The issues of our health are more important to everybody – including plant scientists –than the issues around improving the quality of food. As a result, plant science is less represented than biomedical research, but I didn't want to make it seem like we feel under-appreciated, I just wanted to show my own appreciation for my colleagues in the plant field.

In your talk you showed, to roughly summarize it, why plants grow upward. What are the next questions to be answered?

Even though we may understand the basic concepts from the developmental biology point of view, we are still far from really knowing every single step of the molecular signaling pathways underlying the developmental decisions. For example, we're just starting to understand how the crosstalk between the signaling pathways works: That's something that is now being worked on in the field of plant signaling.

My personal big question concerns the evolutionary aspect of plant development. With next generation sequencing technology, many of the more primitive plant species are now being sequenced and becoming accessible to study. I'm interested in finding out how plants colonized land, because before plants grew on land roots didn't need to grow down, and shoots didn't need to grow up. Many of these auxin-mediated responses are typical for land plants. What we are now interested in is how acquiring these cellular mechanisms helped the plant to adapt to life on land. From the evolutionary point of view, what we also often encounter is an evolutionary conserved cellular mechanism, like clathrin-mediated endocytosis for example, with a plant-specific regulator that somehow feeds into the pathway. We're trying to understand how that happened, how these new plant-specific regulations were recruited by the conserved mechanisms during evolution.

If you had unlimited time and money, what would you love to investigate?

I would invest in the establishment of new model species at the lower plant level and at algae level to really try to understand how the plant developmental machinery evolved. I would sequence all these species and get people to establish transformation methodology and develop genetic model systems. But this type of thing will be happening anyway: different labs will each do a piece and at the end of the day we will get there.

Do you have any advice for students and postdocs who are just starting their research career?

They should take responsibility. What I see with many students is that they rely too much on what they are told. They are clever, they are working hard, but they are not taking the project as their own and taking their career and life in their own hands. I cannot generalize, because people are different, but I see that this is a major obstacle for many talented young scientists in achieving what they want. They either don't have enough self-confidence, or they don't fight enough for it.