Welcome to our monthly trawl for developmental biology (and related) preprints. 
---
January was notable for the number of preprints on Xenopus development, plus a trio on Piezo channels, two on ctenophores, and a preprint on preprints that has also been preLighted (very meta).
The preprints were hosted on bioRxiv, PeerJ, and arXiv. Let us know if we missed anything, and use these links to get to the section you want:
| Stem cells, regeneration & disease modelling
Developmental biology
| Patterning & signalling

Parallel control of mechanosensory hair cell orientation by the PCP and Wnt pathways
Joaquin Navajas Acedo, Matthew G Voas, Richard L Alexander, Thomas Woolley, Jay Unruh, Hua Li, Cecilia Moens, Tatjana Piotrowski
Blood vessels guide Schwann cell migration in the adult demyelinated CNS through Eph/ephrin signaling
Beatriz Garcia-Diaz, Corinne Bachelin, Fanny Coulpier, Gaspard Gerschenfeld, Cyrille Deboux, Violetta Zujovic, Patrick Charnay, Piotr Topilko, Anne Baron-Van Evercooren
Nestin in immature embryonic neurons regulates axon growth cone morphology and Sema3a sensitivity
Christopher J Bott, Colin G Johnson, Chan Choo Yap, Noelle D Dwyer, Karen Newell-Litwa, Bettina Winckler
BDNF/TrkB.T1 signaling is a novel mechanism for astrocyte morphological maturation
Leanne M Holt, Natasha L Pacheco, Raymundo Hernandez, Muhannah Hossain, Michelle L Olsen
BMP4 patterns Smad activity and generates stereotyped cell fate organisation in spinal organoids
Nathalie Duval, Celia Vaslin, Tiago Costa Barata, Stephane Nedelec, Vanessa Celine Ribes
Otx2 signals from the choroid plexus to regulate adult neurogenesis
Anabelle Planques, Vanessa Oliveira Moreira, Chantal Dubreuil, Alain Prochiantz, Ariel A Di Nardo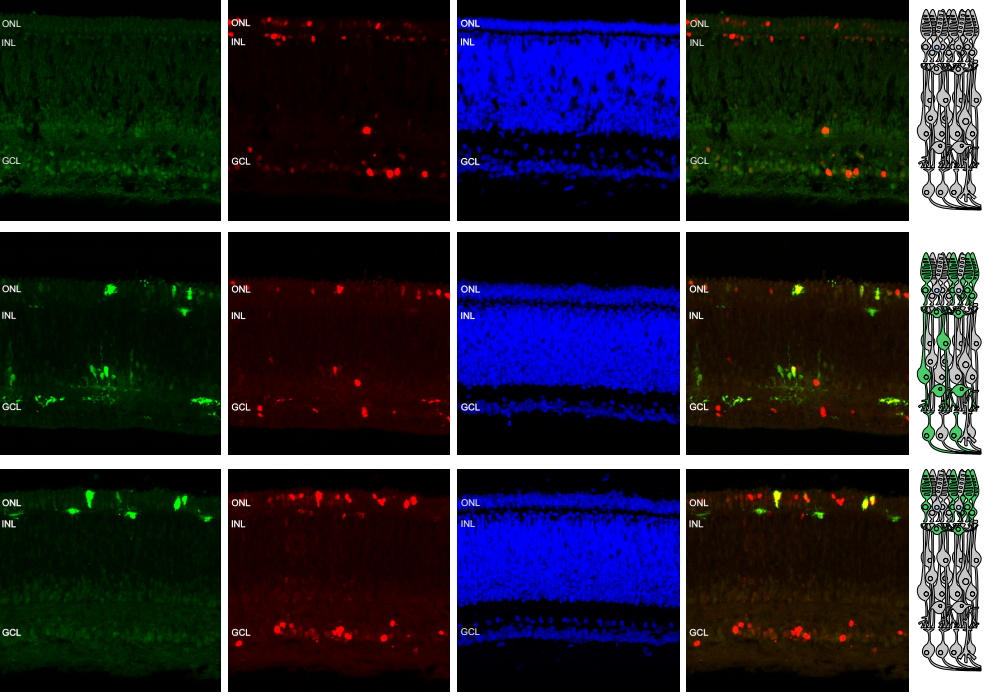 Lineage tracing analysis of cone photoreceptor-associated cis-regulatory elements in the developing chicken retina.
Estie Schick, Sean McCaffery, Erin Keblish, Cassandra Thakurdin, Mark Emerson
Fetal stage melanopsin (OPN4) and GNAQ (Gαq) signaling regulates vascular development of the eye
Shruti Vemaraju, Gowri Nayak, William E Miller, David R Copenhagen, Richard A Lang
Cell type composition and circuit organization of neocortical radial clones
Cathryn R Cadwell, Federico Scala, Paul G Fahey, Dmitry Kobak, Fabian H Sinz, Per Johnsson, Shuang Li, R. James Cotton, Rickard Sandberg, Philipp Berens, Xiaolong Jiang, Andreas S Tolias
mTOR suppresses macroautophagy during postnatal development of the striatum.
Ori Lieberman, Irena Pigulevskiy, Michael Post, David Sulzer, Emanuela Santini
Multiple sources of Shh are critical for the generation and scaling of ventral spinal cord oligodendrocyte precursor populations.
Lev Starikov, Andreas H Kottmann
The transcription factor TCF7L2 functions as a terminal selector in thalamic and habenular regions of the brain
Marcin Andrzej Lipiec, Kamil Kozinski, Tomasz Zajkowski, Michal Dabrowski, Chaitali Chakraborty, Angel Toval, Jose Ferran, Andrzej Nagalski, Marta Barbara Wisniewska
Large scale analysis of the diversity and complexity of the adult spinal cord neurotransmitter typology
Andrea Pedroni, Konstantinos Ampatzis
Early-generated interneurons regulate neuronal circuit formation during early postnatal development
Chang-Zheng Wang, Jian Ma, Shao-Na Jiang, Tian-Qi Chen, Ye-Qian Xu, Zu-Liang Yuan, Xiao-Yi Mao, Shu-Qing Zhang, Lin-Yun Liu, Yinghui Fu, Yong-Chun Yu
Neural differentiation is increased by GSK-3β inhibition and decreased by tankyrase inhibition in human neural precursor cells
Michael Telias, Dalit Ben-Yosef
Redox signaling via lipid peroxidation regulates retinal progenitor cell differentiation
Shahad Albadri, Federica Naso, Carole Gauron, Carola Parolin, Karine Duroure, Jessica Fiori, Carla Boga, Sophie Vriz, Natalia Calonghi, Filippo Del Bene
Cell Fate Determining Molecular Switches and Signaling Pathway in Pax7-expressing Somitic Mesoderm
Cheuk Wang Fung, Zhu Han, Shaopu Zhou, Zhenguo Wu, Angela R Wu
Positional information encoded in the dynamic differences between neighbouring oscillators during vertebrate segmentation.
Marcelo Boareto, Tomas Tomka, Dagmar Iber
Mutations in thyroid hormone receptor α1 cause premature neurogenesis and progenitor cell depletion in human cortical development
Teresa G Krieger, Carla M Moran, Alberto Frangini, W Edward Visser, Erik Schoenmakers, Francesco Muntoni, Chris Clark, David Gadian, Wui K Chong, Adam Kuczynski, Mehul Dattani, Greta Lyons, Alexandra Efthymiadou, Faraneh Varga-Khadem, Benjamin D Simons, Krishna Chatterjee, Frederick J Livesey
Thyroid hormone regulates distinct paths to maturation in pigment cell lineages
Lauren Saunders, Abhishek Mishra, Andrew J Aman, Victor Lewis, Matthew B Toomey, Jonathan Packer, Jose McFaline-Figueroa, Xiaojie Qiu, Joseph C Corbo, Cole Trapnell, David M Parichy
Fate plasticity and reprogramming in genetically distinct populations of Danio leucophores
Victor Lewis, Lauren Saunders, Tracy A Larson, Emily Bain, Samantha Sturiale, Dvir Gur, Sarwat Chowdhury, Jessica Flynn, Michael Allen, Dimitri Deheyn, Jennifer Lee, Julian Simon, Jennifer Lippincott-Schwartz, David Raible, David Parichy
Identification of compounds that rescue otic and myelination defects in the zebrafish adgrg6 (gpr126) mutant
Elvira Diamantopolou, Sarah Baxendale, Antonio de la Vega de Léon, Anzar Asad, Celia J Holdsworth, Leila Abbas, Valerie J Gillet, Giselle R. Wiggin, Tanya T Whitfield

A new transgenic reporter line reveals Wnt-dependent Snail2 re-expression and cranial neural crest differentiation in Xenopus
Jiejing Li, Mark Perfetto, Christopher Materna, Rebecca Li, Hong Thi Tran, Kris Vleminckx, Melinda K. Duncan, Shuo Wei
Glycosylphosphatidylinositol Biosynthesis and Remodeling are Required for Neural Crest Cell, Cardiac and Neural Development.
Marshall Lukacs, Tia Roberts, Praneet Chaturvedi, Rolf Stottmann
SWI/SNF component BAF250a coordinates OCT4 and WNT signaling pathway to control cardiac lineage differentiation
Ienglam Lei, Shuo Tian, Victor Chen, Yong Zhao, Zhong Wang
WNT/β-CATENIN modulates the axial identity of ES derived human neural crest
Gustavo A. Gomez, Maneeshi S Prasad, Man Wong, Rebekah M Charney, Patrick Shelar, Nabjot Sandhu, James Hackland, Jacqueline C Hernandez, Alan W Leung, Martin I. Garcia-Castro
Hedgehog signaling controls progenitor differentiation timing
Megan Rowton, Andrew D. Hoffmann, Jeffrey D. Steimle, Suzy Hur, Xinan Holly Yang, Alexander Guzzetta, Sonja Lazarevic, Chul Kim, Nikita Deng, Emery Lu, Jessica Jacobs-Li, Shuhan Yu, Mervenaz Koska, Erika Hanson, Carlos Perez-Cervantes, Sunny Sun-Kin Chan, Kohta Ikegami, Daniel J. Garry, Michael Kyba, Ivan P. Moskowitz
Loss of YAP/TAZ impaired the proliferation and differentiation ability of neural progenitor cells
Shanshan Kong
Follicle-stimulating hormone and luteinizing hormone increase Ca2+ in the granulosa cells of mouse ovarian follicles
Jeremy R. Egbert, Paul G. Fahey, Jacob Reimer, Corie M. Owen, Alexei V. Evsikov, Viacheslav O. Nikolaev, Oliver Griesbeck, Russell S. Ray, Andreas S. Tolias, Laurinda A. Jaffe
APC2 is Critical for Ovarian WNT Signalling Control, Fertility and Tumour Suppression
Noha-Ehssan Mohamed, Trevor Hay, Karen Reed, Matthew Smalley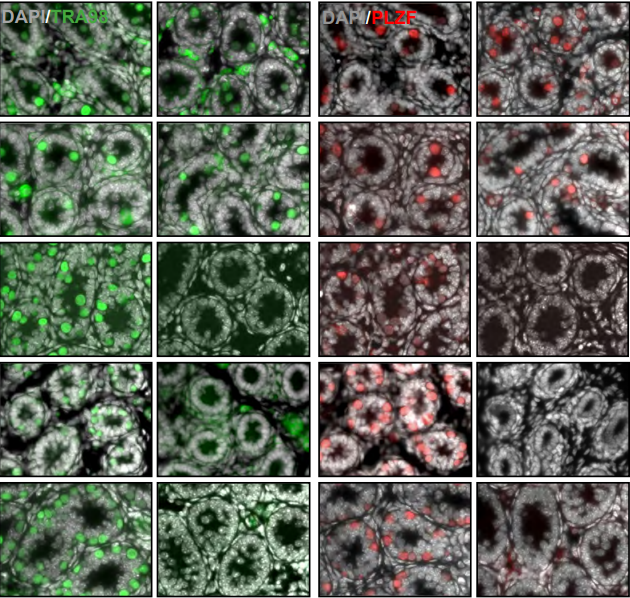 PSMC3 is required for spermatogonia niche establishment in mouse spermatogenesis
Maria Cristina Pranchevicius, Luciana Previato, Rodrigo O. de Castro, Roberto J Pezza
Ensuring meiotic DNA break formation in the mouse pseudoautosomal region
Laurent Acquaviva, Michiel Boekhout, Mehmet E. Karasu, Kevin Brick, Florencia Pratto, Megan van Overbeek, Liisa Kauppi, R. Daniel Camerini-Otero, Maria Jasin, Scott Keeney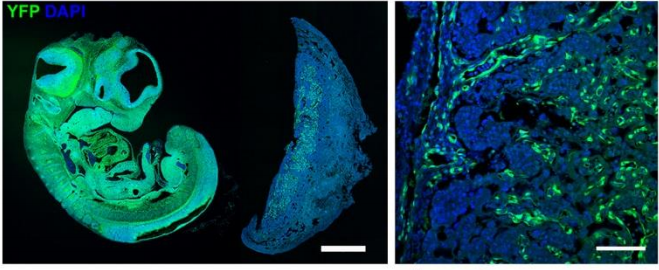 Fetus-derived IGF2 matches placental development to fetal demand
Ionel Sandovici, Aikaterini Georgopoulou, Antonia S Hufnagel, Samira N Schiefer, Fatima Santos, Katharina Hoelle, Brian Y.H. Lam, Giles S.H. Yeo, Keith Burling, Jorge Lopez-Tello, Moritz Reiterer, Abigail L. Fowden, Graham J. Burton, Amanda N. Sferruzzi-Perri, Cristina M. Branco, Miguel Constancia
HMGB1 orchestrates uterine macrophage trafficking to safeguard embryo implantation
Shizu Aikawa, Wenbo Deng, Xiaohuan Liang, Jia Yuan, Amanda Bartos, Xiaofei Sun, SK Dey
Multiple human adipocyte subtypes and mechanisms of their development
So Yun Min, Anand Desai, Zinger Yang, Agastya Sharma, Ryan M.J. Genga, Alper Kucukural, Lawrence Lifshitz,Rene Maehr, Manuel Garber, Silvia Corvera
Enhancing Cardiac Reprogramming by Suppressing Specific C-C Chemokine Signaling Pathways
Yijing Guo, Ienglam Lei, Shuo Tian, Wenbin Gao, Karatas Hacer, Yangbing Li, Shaomeng Wang, Liu Liu, Zhong Wang
NOTCH assembles a transcriptional repressive complex containing NuRD and PRC1 to repress genes involved in cell proliferation and differentiation.
Cecile M Doyen, David Depierre, Ahmad Yatim, Alex Heurteau, Jean Daniel Lelievre, Yves Levy, Olivier Cuvier, Monsef Benkirane
Cdk1 in germline and the dose of somatic EGFR signaling determine the rate of transit amplification
Purna Sham Gadre, Shambhabi Chatterjee, Bhavna Varshney, Chetan Chandra Joshi, Samir Gupta, Nitin Nitsure, Krishanu Ray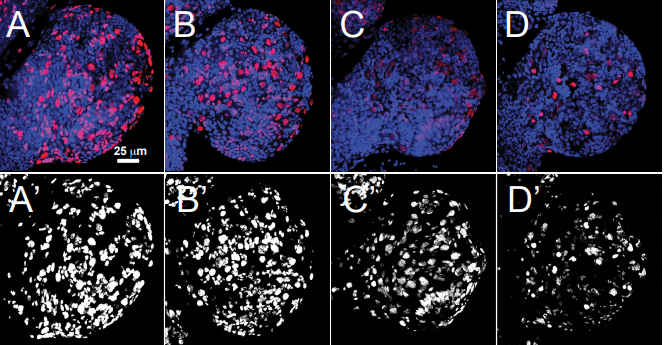 Lactate and glycerol-3-phosphate metabolism cooperatively regulate growth and redox balance during Drosophila melanogaster larval development
Hongde Li, Kasun Buddika, Maria C. Sterrett, Cole R. Julick, Rose C. Pletcher, Chelsea J. Gosney, Anna K. Burton, Jonathan A. Karty, Kristi L. Montooth, Nicholas S. Sokol, Jason M. Tennessen
A direct and widespread role for the nuclear receptor EcR in mediating the response to ecdysone in Drosophila
Christopher M Uyehara, Daniel J McKay
| Morphogenesis & mechanics
Epithelial invagination by vertical telescoping
Jingjing Li, Andrew D. Economou, Jeremy B A Green
Buckling of epithelium growing under spherical confinement
Anastasiya Trushko, Ilaria Di Meglio, Aziza Merzouki, Carles Blanch-Mercader, Shada Abuhattum, Jochen Guck, Kevin Alessandri, Pierre Nassoy, Karsten Kruse, Bastien Chopard, Aurelien Roux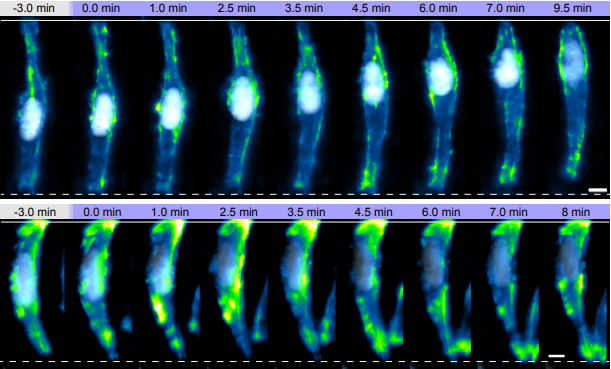 Tissue shape determines actin-dependent nuclear migration mechanisms in neuroepithelia
Iskra Yanakieva, Anna Erzberger, Marija Matejcic, Carl D Modes, Caren Norden
Piezo1 is required for outflow tract and aortic valve development.
Adele Faucherre, Hamid Moha ou Maati, Nathalie Nasr, Amelie Pinard, Alexis Theron, Gaelle Odelin, Jean Pierre Desvignes, David Salgado, Gwenaelle Collod Beroud, Jean Francois Avierinos, Guillaume Lebon, Stephane Zaffran, Chris Jopling
Mechanically activated Piezo channels control outflow tract valve development through Yap1 and Klf2-Notch signaling axis
Anne Laure Duchemin, Helene Vignes, Julien Vermot
Yorkie controls tube length and apical barrier integrity in the developing Drosophila airways
Dimitrios K Papadopoulos, Pavel Tomancak, Vasilios Tsarouhas, Christos Samakovlis, Elisabeth Knust, Kassiani Skouloudaki
Cytokinetic furrowing and abscission dynamics during brain development revealed by live imaging
Katrina C McNeely, Jessica Neville Little, Noelle D Dwyer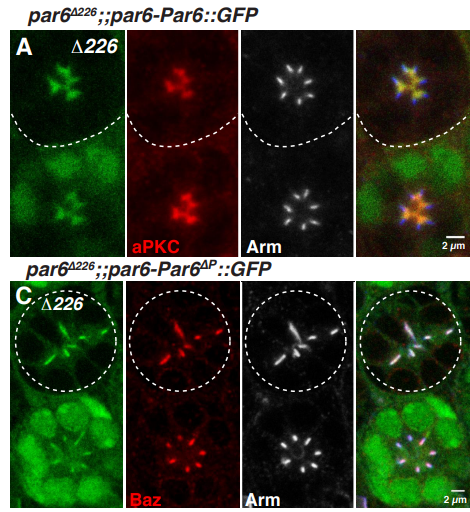 Cdc42 promotes epithelial morphogenesis by coupling Par-complex and Crumbs recruitment via Par6-aPKC
Francisca Nunes De Almeida, Rhian Faye Walther, Mary Toulantis Presse, Evi Vlassaks, Franck Pichaud
E-cadherin endocytosis is modulated by p120-catenin through the opposing actions of RhoA and Arf1
Joshua Greig, Natalia A. Bulgakova
Delta/Notch signaling controls neuroepithelial morphogenesis in the zebrafish spinal cord
Priyanka Sharma, Vishnu Muraleedharan Saraswathy, Li Xiang, Maximilian Furthauer
A contractile acto-myosin belt promotes growth anisotropy during the early stages of pectoral fin development in zebrafish.
Elena Kardash, Hanh Nguyen, Martin Behrndt, Carl-Philipp Heisenberg, Nadine Peyrieras, Marcos Gonzalez-Gaitan
Mechanical instabilities of aorta drive blood stem cell production: a live study
Nausicaa Poullet, Ivan Golushko, Vladimir Lorman, Jana Travnickova, Dmitryi Chalin, Sergei Rochal, Andrea Parmeggiani, Karima Kissa
Cytoplasmic volume and limiting nucleoplasmin scale nuclear size during Xenopus laevis development
Pan Chen, Miroslav Tomschik, Katherine Nelson, John Oakey, Jesse C. Gatlin, Daniel L. Levy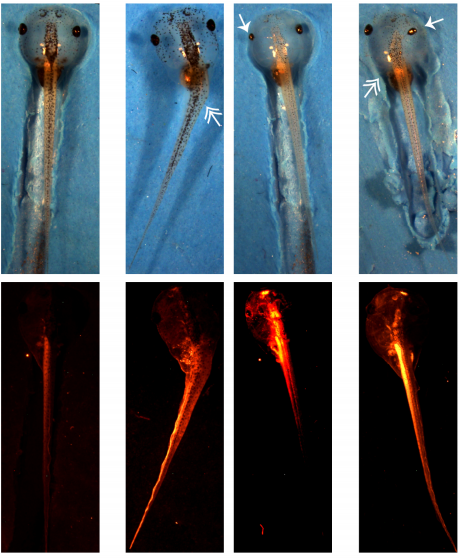 Altering nuclear import in early Xenopus laevis embryos affects later development
Predrag Jevtic, Daniel L. Levy
Development and maintenance of synaptic structure is mediated by the alpha-tubulin acetyltransferase MEC-17/αTAT1
Jean-Sébastien Teoh, Wenyue Wang, Gursimran Chandhok, Roger Pocock, Brent Neumann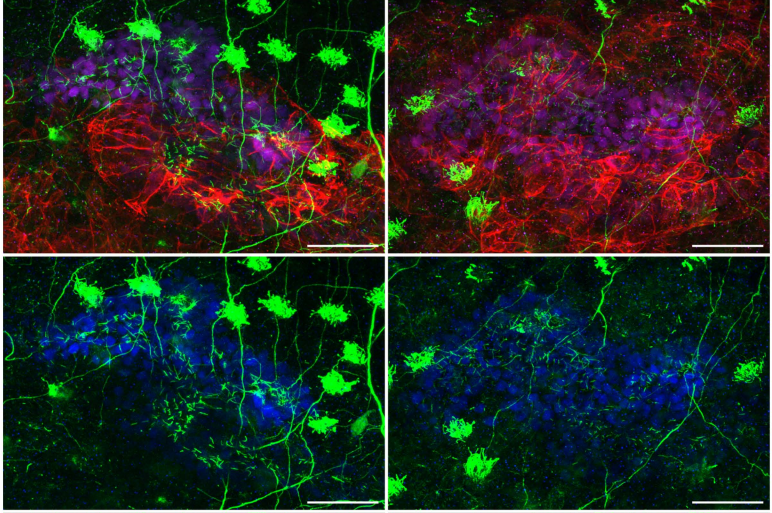 The Role of the Wnt/PCP Formin Daam1 in Renal Ciliogenesis
Mark E Corkins, Vanja Krneta-Stankic, Malgorzata Kloc, Pierre D. McCrea, Andrew B. Gladden, Rachel K. Miller
RHO-1 and the Rho GEF RHGF-1 interact with UNC-6/Netrin signaling to regulate growth cone protrusion and microtubule organization in C. elegans
Mahekta Rajeshkumar Gujar, Aubrie Stricker, Erik A. Lundquist
Abl signaling shapes the intrinsic fluctuations of actin to direct growth of a pioneer axon in Drosophila
Akanni Clarke, Philip McQueen, Hsiao-Yu Fang, Ramakrishnan Kannan, Victor Wang, Evan McCreedy, Stephen Wincovitch, Edward Giniger
Cyto-architecture constrains a photoactivation induced tubulin gradient in the syncytial Drosophila embryo
Sameer Thukral, Bivash Kaity, Bipasha Dey, Swati Sharma, Amitabha Nandi, Mithun Mitra, Richa Rikhy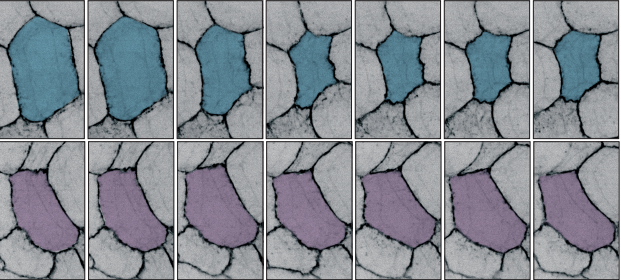 In vivo optochemical control of cell contractility at single cell resolution by Ca2+ induced myosin activation
Deqing Kong, Zhiyi Lv, Matthias Häring, Fred Wolf, Joerg Grosshans
Cell cycle dynamics during diapause entry and exit in an annual killifish revealed by FUCCI technology
Alessandro Cellerino, Luca Dolfi, Roberto Ripa, Adam Antebi, Dario Riccardo Valenzano
Novel signaling hub of insulin receptor, dystrophin glycoprotein complex and plakoglobin regulates muscle size
Yara Eid Mutlak, Dina Aweida, Alexandra Volodin, Bar Ayalon, Nitsan Dahan, Anna Parnis, Shenhav Cohen
Observing the origins of human brain development: Automated processing of fetal fMRI
Saige Rutherford, Pascal Sturmfels, Mike Angstadt, Jasmine Hect, Jenna Wiens, Marion I van den Heuval, Dustin Scheinost, Moriah Thomason, Chandra Sripada
Global and regional white matter development in early childhood
Jess E Reynolds, Melody N Grohs, Deborah Dewey, Catherine Lebel
Cerebellar folding is initiated by mechanical constraints on a fluid-like layer without a cellular pre-pattern
Andrew K Lawton, Tyler Engstrom, Daniel Rohrbach, Masaaki Omura, Daniel H Turnbull, Jonathan Mamou, Teng Zhang, Jennifer M Schwarz, Alexandra L Joyner
| Genes & genomes
Early genome activation in Drosophila is extensive with an initial tendency for aborted transcripts and retained introns
Jamie C Kwasnieski, Terry L Orr-Weaver, David P Bartel
Pericentromeric heterochromatin is hierarchically organized and spatially contacts H3K9me2/3 islands located in euchromatic genome
Yuh Chwen G. Lee, Yuki Ogiyama, Nuno M. C. Martins, Brian J. Beliveau, David Acevedo, C.-ting Wu, Giacomo Cavalli, Gary H. Karpen
A single microRNA-Hox gene module controls complex movement in morphologically-distinct developmental forms of Drosophila
Raouf Issa, Joao Picao-Osorio, Nuno Rito, Maria Eugenia Chiappe, Claudio R. Alonso
Post-translational modifications of Drosophila melanogaster HOX protein, Sex combs reduced
Anirban Banerjee, Anthony Percival-Smith
The regulatory function of dIno80 correlates with its DNA binding activity
Shruti Jain, Jayant Maini, Ankita Narang, Souvik Maiti, Vani Brahmachari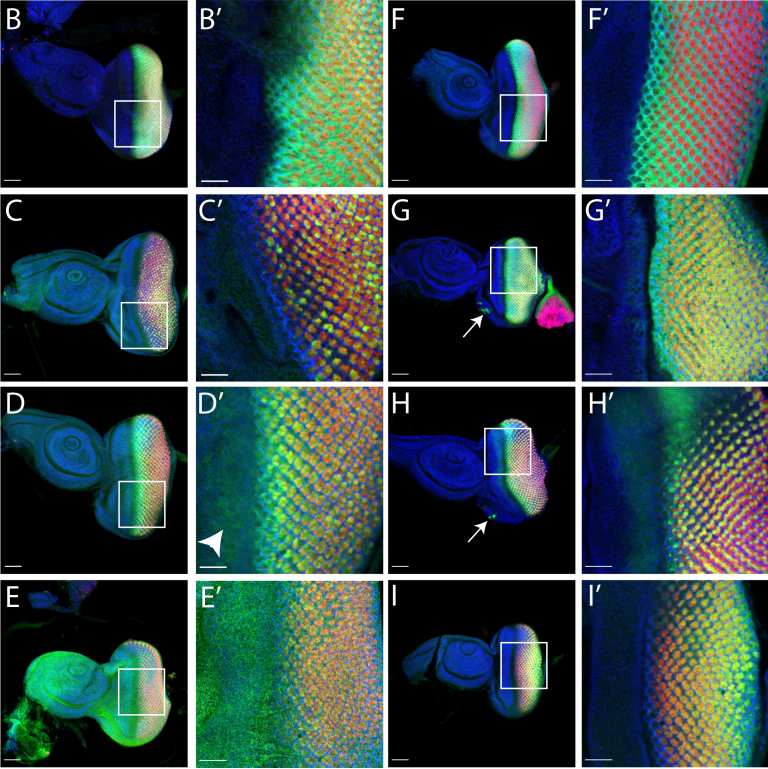 Multilevel regulation of the glass locus during Drosophila eye development
Cornelia Fritsch, F. Javier Bernardo-Garcia, Tim Humberg, Sara Miellet, Silvia Almeida, Armin Huber, Simon Sprecher
Interplay of pericentromeric genome organization and chromatin landscape regulates the expression of Drosophila melanogaster heterochromatic genes
Parna Saha, Divya Tej Sowpati, Ishanee Srivastava, Rakesh Mishra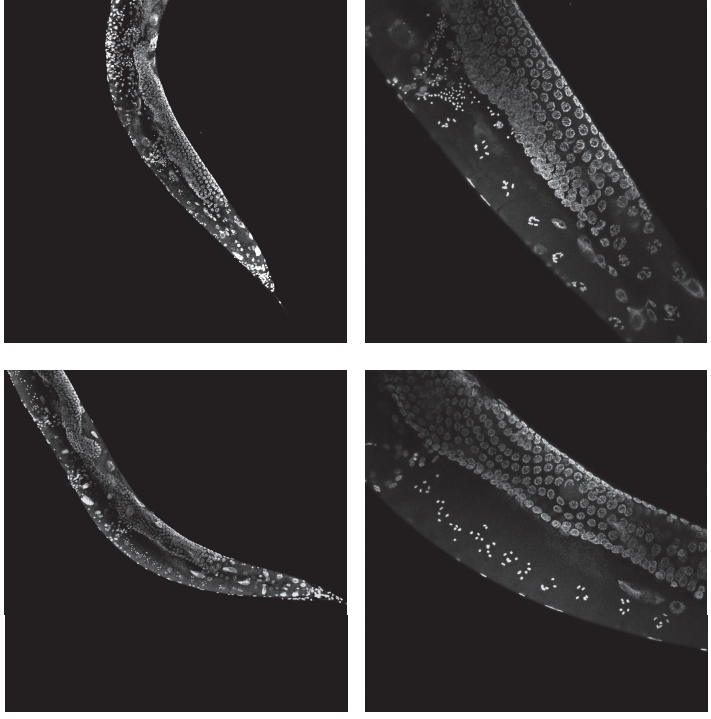 The mir-35 family links maternal germline sex to embryonic viability in C. elegans
Lars Kristian Benner, Katherine Perkins Prothro, Katherine McJunkin
HSB-1 inhibition and HSF-1 overexpression trigger overlapping transcriptional changes to promote longevity in Caenorhabditis elegans
Surojit Sural, Tzu-Chiao Lu, Seung Ah Jung, Ao-Lin Hsu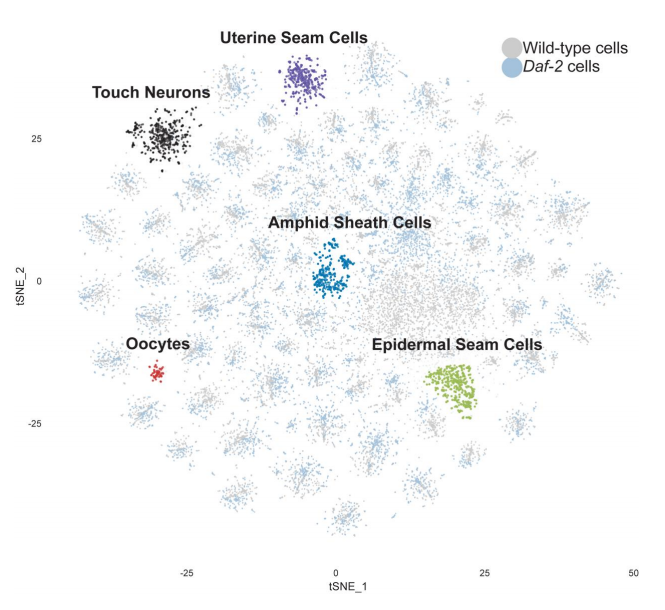 Organism-wide single-cell transcriptomics of long-lived C. elegans daf-2 mutants reveals tissue-specific reprogramming of gene expression networks
Jessica Preston, Nicholas Stiffler, Maggie Weitzman
Experimentally reduced insulin/IGF-1 signalling in adulthood extends lifespan of parents and improves Darwinian fitness of their offspring
Martin I Lind, Sanjana Ravindran, Zuzana Sekajova, Hanne Carlsson, Andrea Hinas, Alexei A Maklakov
An X-specific condensin binds to gene regulatory elements and reduces histone modifications associated with active transcription in C. elegans
Lena Annika Street, Lara Heermans Winterkorn, Chen-Yu Jiao, Sarah Elizabeth Albritton, Mohammed Sadic, Maxwell Kramer, Sevinc Ercan
Mature sperm small RNA profile in the sparrow: implications for transgenerational effects of age on fitness
Wayo Matsushima, Kristiana Brink, Julia Schroeder, Eric Alexander Miska, Katharina Gapp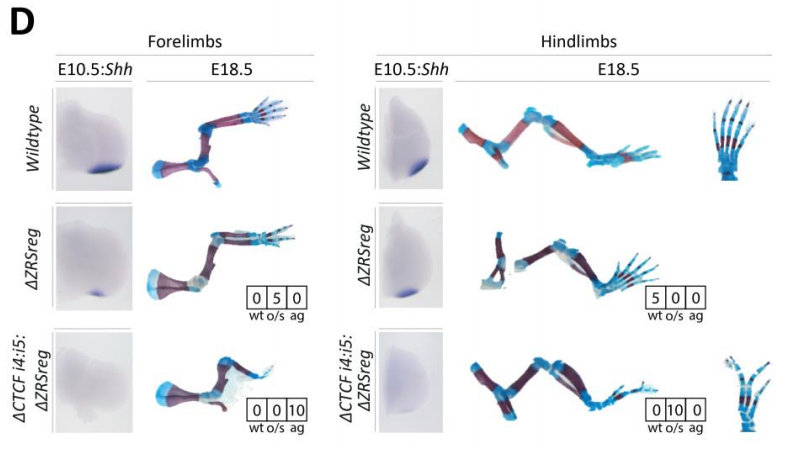 Preformed Chromatin Topology Assists Transcriptional Robustness of Shh during Limb Development
Christina Paliou, Philine Guckelberger, Robert Schöpflin, Verena Heinrich, Andrea Esposito, Andrea Maria Maria Chiariello, Simona Bianco, Carlo Annunziatella, Johannes Helmuth, Stefan Haas, Ivana Jerković, Norbert Brieske, Lars Wittler, Bernd Timmermann, Mario Nicodemi, Martin Vingron, Stefan Mundlos, Guillaume Andrey
Single cell multi-omics profiling reveals a hierarchical epigenetic landscape during mammalian germ layer specification
Ricard Argelaguet, Hisham Mohammed, Stephen Clark, Carine Stapel, Christel Krueger, Chantriolnt Andreas Kapourani, Yunlong Xiang, Courtney Hanna, Sebastien Smallwood, Ximena Ibarra Soria, Florian Buettner, Guido Sanguinetti, Felix Krueger, Wei Xie, Peter Rugg-Gunn, Gavin Kelsey, Wendy Dean, Jennifer Nichols, Oliver Stegle, John C Marioni, Wolf Reik
The phylogenetically distinct early human embryo
Manvendra Singh, Thomas J Widmann, Vikas Bansal, Jose L Cortes, Gerald G Schumann, Stephanie Wunderlich, Ulrich Martin, Jose L Garcia-Perez, Laurence D Hurst, Zsuzsanna Izsvak
N6-methyladenosine dynamics during early vertebrate embryogenesis
Havard Aanes, Dominique Engelsen, Adeel Manaf, Endalkachew Ashenafi Alemu, Cathrine Broberg Vagbo, Leonardo Martin, Mads Lerdrup, Klaus Hansen, Sinnakaruppan Mathavan, Cecilia Winata, Robert B. Darnell, Peter Alestrom, Arne Klungland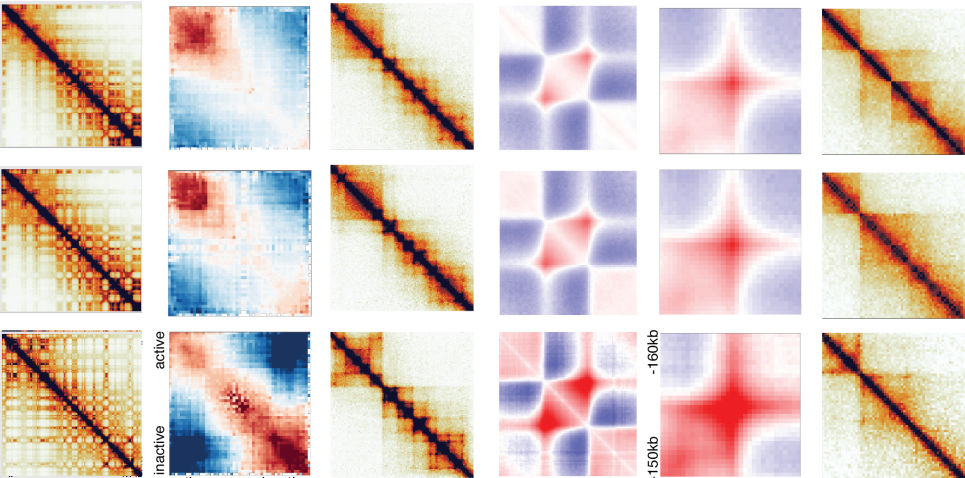 Transposable elements drive reorganisation of 3D chromatin during early embryogenesis
Kai Kruse, Noelia Diaz, Rocio Enriquez-Gasca, Xavier Gaume, Maria-Elena Torres-Padilla, Juan M Vaquerizas
Spontaneous retrotranspositions in normal tissues are rare and associated with cell-type-specific differentiation
Xiao Dong, Lei Zhang, Kristina Brazhnik, Moonsook Lee, Xiaoxiao Hao, Alexander Y. Maslov, Zhengdong Zhang, Tao Wang, Jan Vijg
Regulation of CHD2 expression by the Chaserr long noncoding RNA is essential for viability
Aviv Rom, Liliya Melamed, Micah Jonathan Goldrich, Rotem Kadir, Matan Golan, Inbal Biton, Rotem Ben-Tov Perry, Igor Ulitsky
Phase separation during mouse early embryonic development and underlying genetic and epigenetic correlations
Hui Quan, Sirui Liu, Yu Zhang, Wei Xie, Yi Qin Gao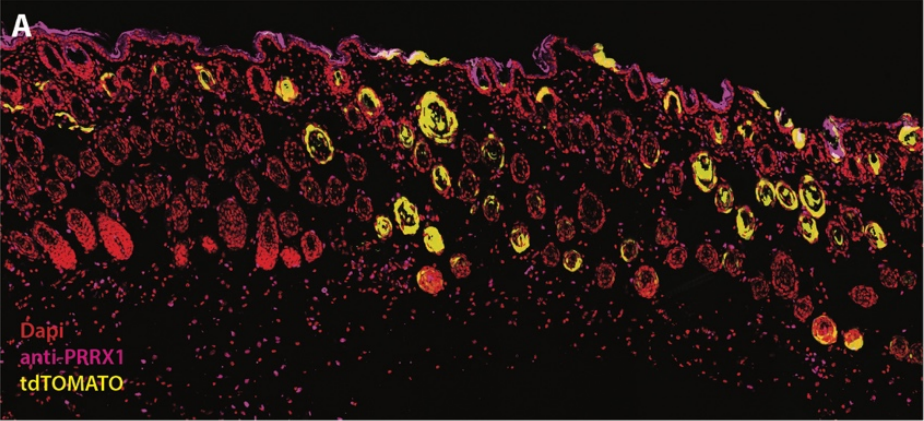 The Prrx1 limb enhancer marks an adult population of injury-responsive, multipotent dermal fibroblasts
Joshua D. Currie, Lidia Grosser, Prayag Murawala, Maritta Schuez, Martin Michel, Elly M. Tanaka, Tatiana Sandoval-Guzman
Tandem Directional CTCF Sites Balance Protocadherin Promoter Usage
Qiang Wu, Ya Guo, Yujia Lu, Jingwei Li, Yonghu Wu, Zhilian Jia
Pioneer and nonpioneer cooperation drives lineage specific chromatin opening
Alexandre Mayran, Kevin Sochodolsky, Konstantin Khetchoumian, Juliette Harris, Yves Gauthier, Amandine Bemmo, Aurelio Balsalobre, Jacques Drouin
Enhancer transcription identifies cis-regulatory elements for photoreceptor cell types
Rangarajan D Nadadur, Carlos Perez-Cervantes, Nicolas Lonfat, Linsin A. Smith, Andrew E. O. Hughes, Sui Wang, Joseph C Corbo, Constance L Cepko, Ivan P Moskowitz
Imprinted gene expression at the Dlk1-Dio3 cluster is controlled by both maternal and paternal IG-DMRs in a tissue-specific fashion.
Katherine A Alexander, María J García-García
Placental effects on maternal brain revealed by disrupted placental gene expression in mouse hybrids
Lena Arévalo, Polly Campbell
LINE-1 retrotransposition impacts the genome of human pre implantation embryos and extraembryonic tissues
Martin Munoz-Lopez, Raquel Vilar, Claude Philippe, Raheleh Rahbari, Sandra R. Richardson, Miguel Andres-Anton, Thomas Widmann, David Cano, Jose L. Cortes, Alejandro Rubio-Roldan, Etienne Guichard, Sara R. Heras, Francisco J. Sanchez-Luque, Maria Morell, Elisabet Aguilar, Marta Garcia-Canadas, Laura Sanchez, Angela Macia, Pedro Vilches, Maria Concepcion Nieto-Perez, Antonio Gomez-Martin, Beatriz Gonzalez-Alzaga, Clemente Aguilar- Garduno, Adam D. Ewing, Marina Lacasana, Ignacio S. Alvarez, Richard Badge, Geoffrey J. Faulkner, Gael Cristofari, Jose L. Garcia-Perez
Widespread transcriptional scanning in the testis modulates gene evolution rates
Bo Xia, Yun Yan, Maayan Baron, Florian Wagner, Dalia Barkley, Marta Chiodin, Sang Y. Kim, David L. Keefe, Joseph P. Alukal, Jef D. Boeke, Itai Yanai
Genome-wide association study, replication, and mega-analysis using a dense marker panel in a multi-generational mouse advanced intercross line
Xinzhu Zhou, Celine L. St. Pierre, Natalia M. Gonzales, Riyan Cheng, Apurva S. Chitre, Greta Sokoloff, Abraham A. Palmer
Pou5f3, SoxB1 and Nanog remodel chromatin on High Nucleosome Affinity Regions at Zygotic Genome Activation
Marina Veil, Lev Yampolsky, Bjoern Gruening, Daria Onichtchouk
Integrative methylome and transcriptome analysis of Japanese flounder (Paralichthys olivaceus) skeletal muscle during development
feng he, Jingru Zhang, Shuxian Wu, Yajuan Huang, Haishen Wen, Meizhao Zhang, Jifang Li, Yun Li, Xin Qi
The UTX Tumor Suppressor Directly Senses Oxygen to Control Chromatin and Cell Fate
Abhishek Chakraborty, Tuomas Laukka, Matti Myllykoski, Alison Ringel, Matthew Booker, Michael Tolstorukov, Yuzhong Meng, Sam Meier, Rebecca Jennings, Amanda Creech, Zachary Herbert, Jessica Spinelli, Samuel McBrayer, Benjamin Olenchock, Jacob Jaffe, Marcia Haigis, Rameen Beroukhim, Sabina Signoretti, Peppi Koivunen, William G. Kaelin Jr.
| Stem cells, regeneration & disease modelling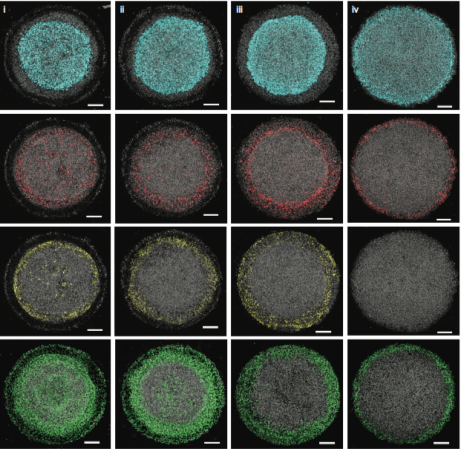 A novel self-organizing embryonic stem cell system reveals signaling logic underlying the patterning of human ectoderm
George Britton, Idse Heemskerk, Rachel Hodge, Amina A Qutub, Aryeh Warmflash
Defining reprogramming checkpoints from single-cell analysis of induced pluripotency
Khoa A Tran, Stefan J Pietrzak, Nur Zafirah Zaidan, Alireza Siahpirani, Sunnie Grace McCalla, Gopal Iyer, Sushmita Roy, Rupa Sridharan
Polar-like trophoblast stem cells form an embryonic-abembryonic axis in blastoids.
Javier Frias Aldeguer, Maarten Kip, Judith Vivie, Linfeng Li, Ana Alemany Arias, Jeroen Korving, Frank Darmis, Clemens van Blitterswijk, Alexander van Oudenaarden, Niels Geijsen, Nicolas C Rivron
Self-organization of post-implantation-like embryonic tissues from blastoids
Erik J Vrij, Yvonne Scholte Op Reimer, Javier Frias Aldeguer, Isabel Misteli Guerreiro, Jop Kind, Bon-Kyoung Koo, Clemens van Blitterswijk, Nicolas Rivron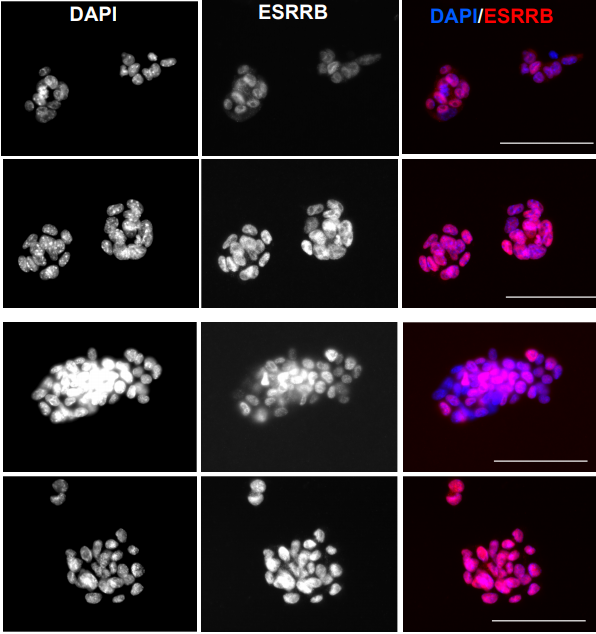 DNA methylation directs polycomb-dependent 3D genome re- organisation in naive pluripotency
Katy A McLaughlin, Ilya M Flyamer, John P Thomson, Heidi K Mjoseng, Ruchi Shukla, Iain Williamson, Graeme R Grimes, Robert S Illingworth, Ian R Adams, Sari Pennings, Richard R Meehan, Wendy A Bickmore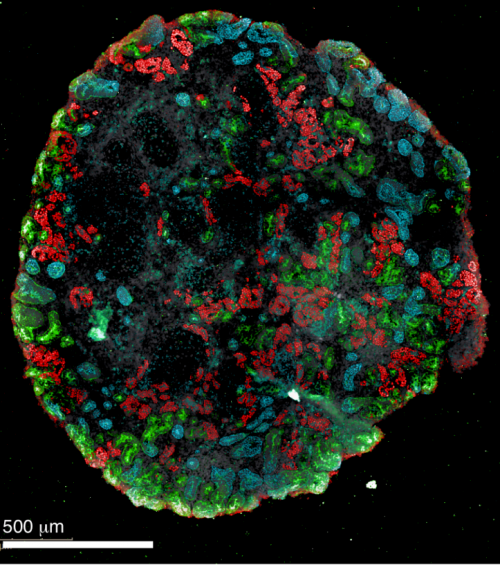 Kidney organoid reproducibility across multiple human iPSC lines and diminished off target cells after transplantation revealed by single cell transcriptomics
Ayshwarya Subramanian, Eriene-Heidi Sidhom, Maheswarareddy Emani, Nareh Sahakian, Katherine Vernon, Yiming Zhou, Maria Kost-Alimova, Astrid Weins, Michal Slyper, Julia Waldman, Danielle Dionne, Lan Nguyen, Jamie L Marshall, Orit Rozenblatt-Rosen, Aviv Regev, Anna Greka
KLF4 protein stability regulated by interaction with pluripotency transcription factors overrides transcriptional control
Navroop K Dhaliwal, Luis E Abatti, Jennifer A Mitchell
Tetraploidy in rodent cardiac stem cells confers enhanced biological properties
Kathleen Broughton, Tiffany Khieu, Nicky Nguyen, Michael Rosa, Sadia Mohsin, Pearl Quijada, Jessica Wang, Oscar Echeagaray, Dieter Kubli, Taeyong Kim, Fareheh Firouzi, Megan Monsanto, Natalie Gude, Robert Adamson, Walter Dembitsky, Michael Davis, Mark Sussman
Stem-cell-ubiquitous genes spatiotemporally coordinate division through regulation of stem-cell-specific gene networks
Natalie M Clark, Eli Buckner, Adam P Fisher, Emily C Nelson, Thomas T Nguyen, Abigail R Simmons, Maria A de Luis Balaguer, Tiara Butler-Smith, Parnell J Sheldon, Dominique C Bergmann, Cranos M Williams, Rosangela Sozzani
Lipid rafts increase to facilitate ectoderm lineage specification of differentiating embryonic stem cells
Chen Xu, Bo Cao, Ying-dong Huo, Gang Niu, Michael Qiwei Zhang, Zi-lin Mai, Xi-bin Lu, Han-ben Niu, Dan-ni Chen, Yan-xiang Ni
Non-proliferative adult neurogenesis in neural crest-derived stem cells isolated from human periodontal ligament.
Carlos Bueno, Marta Martinez-Morga, Salvador Martinez
Cell division history determines hematopoietic stem cell potency
Fumio Arai, Patrick S Stumpf, Yoshiko M Ikushima, Kentaro Hosokawa, Aline Roch, Matthias P Lutolf, Toshio Suda, Ben D MacArthur
Impaired Regulation of Redox Transcriptome during the Differentiation of iPSCs into Induced Cardiomyocytes (iCMs)
Gobinath Shanmugam, David Crossman, Johnson Rajasingh, Brian Dalley, Jianyi Zhang, Rajasekaran Namakkal-Soorappan
Drosophila ClC-a is required in glia of the stem cell niche for proper neurogenic proliferation and wiring of neural circuits
Haritz Plazaola-Sasieta, Qi Zhu, Hector Gaitan-Penas, Martin Rios, Raul Estevez, Marta Morey
Discovery of Alstrom syndrome gene as a regulator of centrosome duplication in asymmetrically dividing stem cells in Drosophila.
Cuie Chen, Yukiko Yamashita
ABC transporters confer multidrug resistance to Drosophila intestinal stem cells
Hannah Dayton, Jonathan DiRusso, Kristopher Kolbert, Olivia Williamson, Aiste Balciunaite, Edridge D'Souza, Kelly Becker, Elizaveta Hosage, Muneera Issa, Victoria Liu, Raghuvir Viswanatha, Shu Kondo, Michele Markstein
Axin proteolysis by Iduna is required for the regulation of stem cell proliferation and intestinal homeostasis in Drosophila
Yetis Gultekin, Hermann Steller
Inflammation and matrix metalloproteinase 9 (Mmp-9) regulate photoreceptor regeneration in the adult zebrafish
Nicholas J Silva, Mikiko Nagashima, Jingling Li, Laura Kakuk-Atkins, Milad Ashrafzadeh, David R Hyde, Peter F Hitchcock
HSA+ immature cardiomyocytes persist in the adult heart and expand after ischemic injury
Mariana Valente, Tatiana Pinho Resende, Diana Santos Nascimento, Odile Burlen-Defranoux, Benoit Dupont, Ana Cumano, Perpetua Pinto-do-O
Cell non-autonomous functions of S100a4 drive fibrotic tendon healing
Jessica Ackerman, Valentina Studentsova, Katherine Best, Emma Knapp, Alayna Loiselle
Scarless whole-body regeneration in the absence of a blastema requires cell division in the ctenophore Mnemiopsis leidyi.
Julia Ramon Mateu, mark q martindale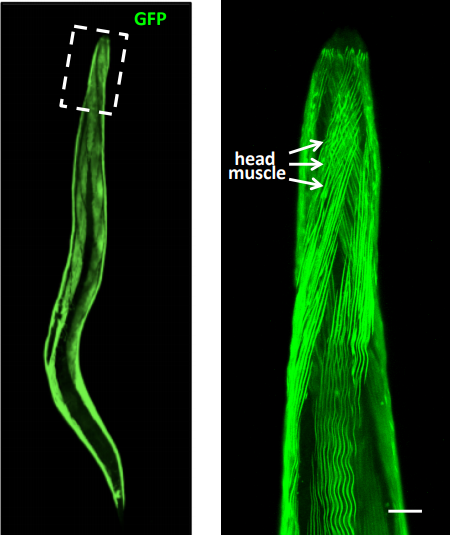 Consecutive signaling pathways are activated in progression of Duchenne muscular dystrophy in C. elegans
Heather Geissel, Hannah Steber, Jason Newbern, Alan Rawls, Marco Mangone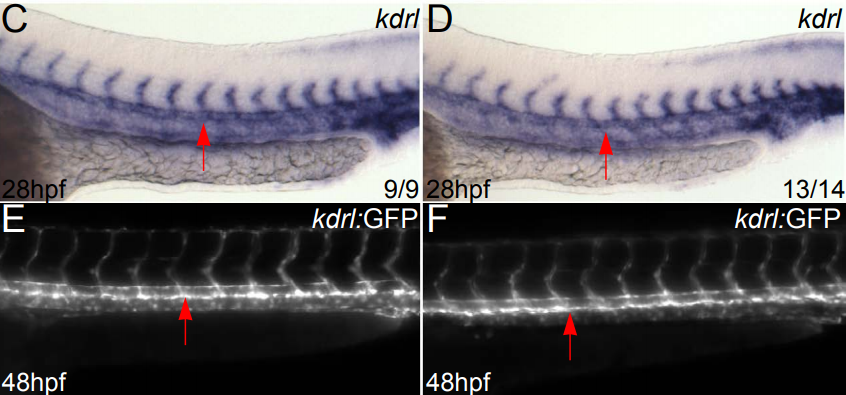 A zebrafish model for MonoMAC syndrome identifies an earlier role for gata2 in haemogenic endothelium programming and generation of haematopoietic stem cells
Tomasz Dobrzycki, Monika Krecsmarik, Cansu Koyunlar, Rossella Rispoli, Joke Peulen-Zink, Kirsten Gussinklo, Emma de Pater, Roger Patient, Rui Monteiro
Why does the zebrafish cloche mutant develop lens cataract?
Mason Posner, Matthew S. McDonald, Kelly L. Murray, Andor J. Kiss
Analysis of genetic networks regulating refractive eye development in collaborative cross progenitor strain mice reveals new genes and pathways underlying human myopia
Tatiana V. Tkatchenko, Rupal L. Shah, Takayuki Nagasaki, Andrei V. Tkatchenko
Anterior Cleft Palate due to Cbfb deficiency and its rescue by folic acid
Takashi Yamashiro
Atypical neurogenesis and excitatory-inhibitory progenitor generation in induced pluripotent stem cell (iPSC) from autistic individuals
Dwaipayan Adhya, Vivek Swarup, Roland Nagy, Carole Shum, Paulina Nowosiad, Kamila Jozwik, Irene Lee, David Skuse, Frances A Flinter, Grainne McAlonan, Maria Andreina Mendez, Jamie Horder, Declan Murphy, Daniel H. Geschwind, Jack Price, Jason Carroll, Deepak P. Srivastava, Simon Baron-Cohen
Left Pulmonary Artery in 22q11.2 deletion syndrome. Echocardiographic evaluation in patients without cardiac defects and role of Tbx1 in mice.
Gioia Mastromoro, Giulio Calcagni, Paolo Versacci, Carolina Putotto, Marcello Chinali, Caterina Lambiase, Marta Unolt, Elena Pelliccione, Silvia Anaclerio, Cinzia Caprio, Sara Cioffi, Marchesa Bilio, Anwar Baban, Fabrizio Drago, Maria Cristina Digilio, Bruno Marino, Antonio Baldini
Missense Mutations in the Human Nanophthalmos Gene TMEM98 Cause Retinal Defects in the Mouse
Sally H Cross, Lisa Mckie, Margaret Keighren, Katrine West, Caroline Thaung, Tracey Davey, Ian J Jackson
Impairments in contractility and cytoskeletal organisation cause nuclear defects in nemaline myopathy
Jacob A Ross, Yotam Levy, Justin S Kolb, Mark Turmaine, Mark Holt, Michela Ripolone, Maurizio Moggio, Chiara Fiorillo, Johan Lindqvist, Nicolas Figeac, Peter Zammit, Heinz Jungbluth, John Vissing, Nanna Witting, Henk Granzier, Edmar Zanoteli, Edna C Hardeman, Carina Wallgren-Pettersson, Julien Ochala
Single-cell RNA-seq identifies a reversible epithelial-mesenchymal transition in abnormally specified epithelia of p63 EEC syndrome
Eduardo Soares, Quan Xu, Qingqing Li, Jieqiong Qu, Yuxuan Zheng, Hetty H. M. Raeven, Karina Brandao, Isabelle Petit, Willem M.R. van den Akker, Daniel Aberdam, Fuchou Tang, Huiqing Zhou
Integrative analysis of Paneth cell proteomic and transcriptomic data from intestinal organoids reveals functional processes dependent on autophagy
Emily Jones, Zoe Matthews, Lejla Gul, Padhmanand Sudhakar, Agatha Treveil, Devina Divekar, Jasmine Buck, Tomasz Wrzesinski, Matthew Jefferson, Stuart Armstrong, Lindsay Hall, Alastair Watson, Simon Carding, Wilfried Haerty, Federica Di Palma, Ulrike Mayer, Penny Powell, Isabelle Hautefort, Tom Wileman, Tamas Korcsmaros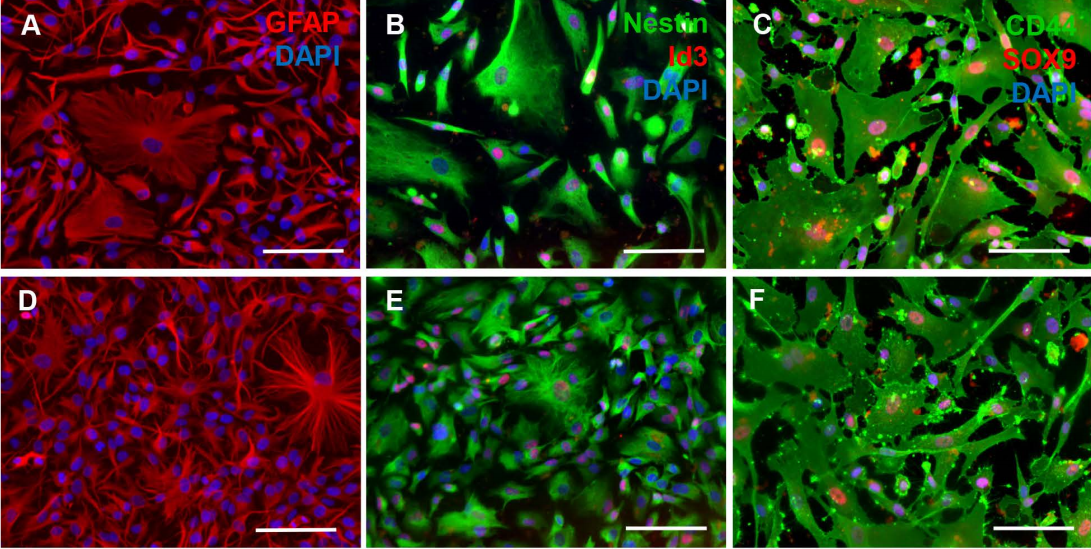 Human and mouse iPSC-derived astrocyte subtypes reveal vulnerability in Vanishing White Matter
Prisca Leferink, Stephanie Dooves, Anne Hillen, Kyoko Watanabe, Gerbren Jacobs, Lisa Gasparotto, Paulien Cornelissen-Steijger, Marjo van der Knaap, Vivi Heine
Development of Human Neuroblastomas in Mouse-Human Neural Crest Chimeras
Malkiel A. Cohen, Shupei Zhang, Satyaki Sengupta, Haiting Ma, Brendan Horton, George W. Bell, Rani E. George, Stefani Spranger, Rudolf Jaenisch
Tissue nonspecific alkaline phosphatase improves bone quality but does not alleviate craniosynostosis in the FGFR2C342Y/+ mouse model of Crouzon syndrome
Hwa Kyung Nam, Sara Dean Schutte, Nan Hatch
Isogenic human iPSC pairs reveal a neuronal subtype-specific and genetic background-independent mechanism of SCN1A epilepsy
Yunyao Xie, Nathan N Ng, Olga S Safrina, Carmen M Ramos, Kevin C Ess, Philip H Schwartz, Martin A Smith, Diane K O'Dowd
Postnatal development of skeletal muscle in IUGR pigs: morphofunctional phenotype and molecular mechanisms
Fernanda Almeida, Andreia Pereira, Fernando Felicioni, André Caldeira-Brant, Diogo Magnabosco, Fernando Bortolozzo, Stephen Tsoi, Michael Dyck, Walter Dixon, Patricia Martinelli, Erika Jorge, Helio Chiarini-Garcia
CIC-DUX4 expression drives the development of small round cell sarcoma in transgenic zebrafish: a new model revealing a role for ETV4 in CIC-mediated sarcomagenesis
Sarah Watson, Genevieve C Kendall, Dinesh Rakheja, Matthew E McFaul, Bruce W Draper, Franck Tirode, Olivier Delattre, James F Amatruda
| Plant development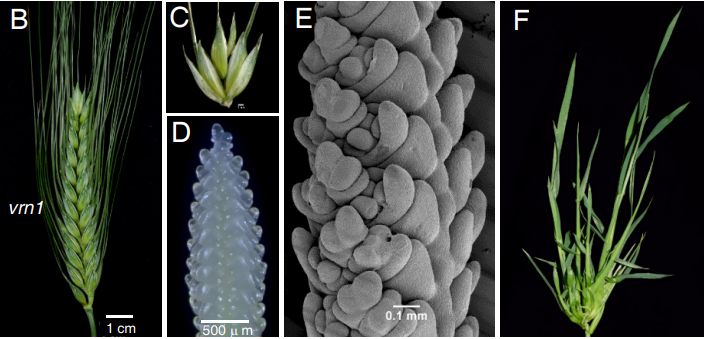 Wheat VRN1 and FUL2 play critical and redundant roles in spikelet meristem identity and spike determinacy
Chengxia Li, Huiqiong Lin, Andrew Chen, Meiyee Lau, Judy Jernstedt, Jorge Dubcovsky
Systemic signalling through TCTP1 controls lateral root formation in Arabidopsis
Remi Branco, Josette Masle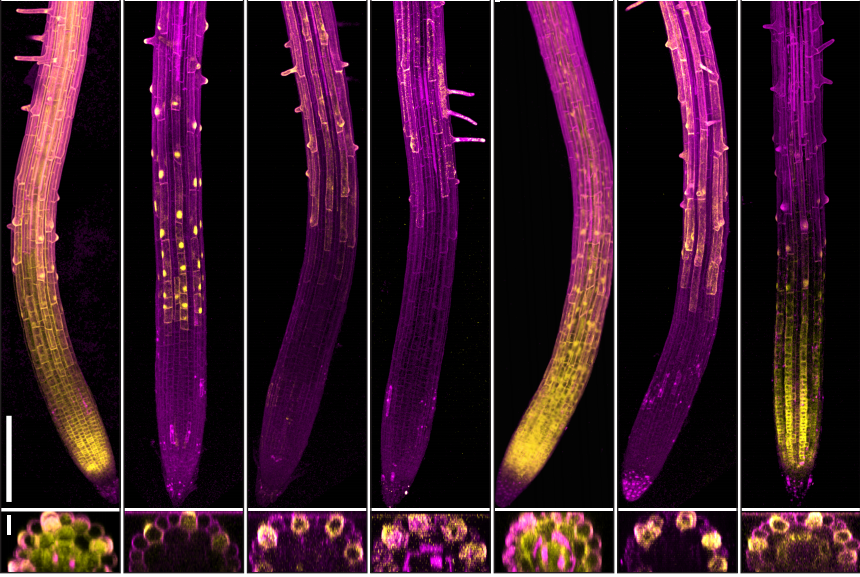 Distinct ROPGEFs successively drive polarization and outgrowth of root hairs
Denninger Philipp, Anna Reichelt, Vanessa Aphaia Fiona Schmidt, Dietmar Gerald Mehlhorn, Lisa Yasmin Asseck, Claire Elizabeth Stanley, Nana Friderike Keinath, Jan Felix Evers, Christopher Grefen, Guido Grossmann
Shoot-to-root translocation of the jasmonate precursor 12-oxo-phytodienoic acid (OPDA) coordinates plant growth responses following tissue damage
Adina Schulze, Marlene Zimmer, Stefan Mielke, Hagen Stellmach, Charles W Melnyk, Bettina Hause, Debora Gasperini
Molecular framework for TIR1/AFB-Aux/IAA-dependent auxin sensing controlling adventitious rooting in Arabidopsis
Abdellah Lakehal, Salma Chaabouni, Emilie Cavel, Rozenn Le Hir, Alok Ranjan, Zahra Raneshan, Ondrej Novak, Daniel I Pacurar, Irene Perrone, Francois Jobert, Laurent Gutierrez, Laszlo Bako, Catherine Bellini
Potential involvement of root auxins in drought tolerance by modulating nocturnal and daytime water use in wheat
Walid Sadok, Remy Schoppach
Members of the Arabidopsis auxin receptor gene family are essential early in embryogenesis and have broadly overlapping functions
Michael J Prigge, Nikita Kadakia, Kathleen Greenham, Mark Estelle
The striking flower-in-flower phenotype of Arabidopsis thaliana Nossen (No-0) is caused by a novel LEAFY allele
Anne Mohrholz, Hequan Sun, Nina Gloeckner, Sabine Hummel, Uener Kolukisaoglu, Korbinian Schneeberger, Klaus Harter
REC8-cohesin, chromatin and transcription orchestrate meiotic recombination in the Arabidopsis genome
Christophe Lambing, Andrew J. Tock, Kyuha Choi, Stephanie D. Topp, Pallas C. Kuo, Alexander R. Blackwell, Xiaohui Zhao, Kim Osman, James D. Higgins, F. Chris H. Franklin, Ian R. Henderson
Paternally-acting canonical RNA-directed DNA methylation pathway genes sensitize Arabidopsis endosperm to paternal dosage
Rajavasireddy P Satyaki, Mary Gehring
Elucidating small RNA pathways in Arabidopsis thaliana egg cells
Stefanie Sprunck, Marc Urban, Nicholas Strieder, Maria Lindemeier, Andrea Bleckmann, Maurits Evers, Thomas Hackenberg, Christoph Moehle, Thomas Dresselhaus, Julia C. Engelmann
Regulation of Parent-of-Origin Allelic Expression in Arabidopsis thaliana endosperm
Karina S. Hornslien, Jason R. Miller, Paul E. Grini
A hypomorphic allele of telomerase reverse transcriptase uncovers the minimal functional length of telomeres in Arabidopsis.
James M. Watson, Johanna Trieb, Martina Troestl, Kyle Renfrew, Terezie Mandakova, Dorothy E Shippen, Karel Riha
A cis-carotene derived apocarotenoid regulates etioplast and chloroplast development
Christopher I Cazzonelli, Xin Hou, Yagiz Alagoz, John Rivers, Namraj Dhami, Jiwon Lee, Shashikanth Marri, Barry J Pogson
Environmental and epigenetic regulation of Rider retrotransposons in tomato
Matthias Benoit, Hajk-Georg Drost, Marco Catoni, Quentin Gouil, Sara Lopez-Gomollon, David Charles Baulcombe, Jerzy Paszkowski
Plant seeds are primed by herbivore-induced plant volatiles
Abhinav Kumar Maurya, Leila Pazouki, Christopher Frost
From spatio-temporal morphogenetic gradients to rhythmic patterning at the shoot apex
Carlos Samuel Galvan-Ampudia, Guillaume Cerutti, Jonathan Legrand, Romain Azais, Géraldine Brunoud, Steven Moussu, Christian Wenzl, Jan Lohmann, Christophe Godin, Teva Vernoux
WUSCHEL acts as a rheostat on the auxin pathway to maintain apical stem cells in Arabidopsis
Yanfei Ma, Andrej Miotk, Zoran Sutikovic, Anna Medzihradszky, Christian Wenzl, Olga Ermakova, Christophe Gaillochet, Joachim Forner, Goedze Utan, Klaus Brackmann, Carlos S. Galvan-Ampudia, Teva Vernoux, Thomas Greb, Jan U. Lohmann
Genome-Wide Association Study and Pathway-Level Analysis of Kernel Color in Maize
Brenda F. Owens, Deepu Mathew, Christine Diepenbrock, Tyler Tiede, Di Wu, Maria Mateos-Hernandez, Michael A. Gore, Torbert Rocheford
The genetics and genome-wide screening of regrowth loci, a key component of perennialism in Zea diploperennis
Anjun Ma, Yinjie Qiu, Tajbir Raihan, Subha Dahal, Yongbin Zhuang, Aravind Galla, Donald L. Auger, Yang Yen
Evo-devo & evo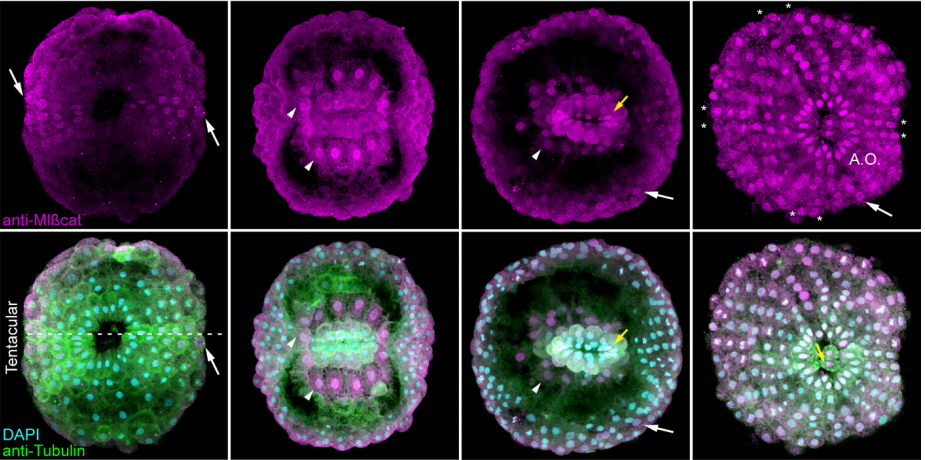 β-catenin has an ancestral role in cell fate specification but not cell adhesion
Miguel Salinas-Saavedra, Athula Wikramanayake, mark Q martindale
Differential expression of BMP antagonists, gremlin and noggin in hydra: antagonism between Wnt and BMP pathways
Lakshmi Surekha Krishnapati, Samiksha Khade, Diptee Trimbake, Rohan Patwardhan, Siva Kumar Nadimpalli, Surendra Ghaskadbi

Evolutionary loss of foot muscle during development with characteristics of atrophy and no evidence of cell death
Mai P Tran, Rio Tsutsumi, Joel M Erberich, Kevin D Chen, Michelle D Flores, Kimberly L Cooper
Evolution of the embryonic cis-regulatory landscapes between divergent Phallusia and Ciona ascidians.
Alicia Madgwick, Marta Silvia Magri, Christelle Dantec, Damien Gailly, Ulla-Maj Fiuza, Leo Guignard, Sabrina Hettinger, Jose Luis Gomez-Skarmeta, Patrick Lemaire
Bacterial community dynamics during embryonic and larval development of three confamilial echinoids
Tyler Carrier,  ProfileAdam Reitzel
Mice carrying a humanized Foxp2 knock-in allele show region-specific shifts of striatal Foxp2 expression levels
Christiane Schreiweis, Theano Irinopoulou, Beate Vieth, Lilia Laddada, Franck Oury, Eric Burguiere, Wolfgang Enard, Matthias Groszer
Krüppel-like factor gene function in the ctenophore Mnemiopsis suggests an ancient role in promoting cell proliferation in metazoan stem cell niches
Jason S Presnell, William E Browne
RNAi screen in Tribolium reveals involvement of F-BAR proteins in myoblast fusion and visceral muscle morphogenesis in insects
Dorothea Schultheis, Jonas Schwirz, Manfred Frasch
A large-scale systemic RNAi screen in the red flour beetle Tribolium castaneum identifies novel genes involved in insect muscle development
Dorothea Schultheis, Matthias Weißkopf, Christoph Schaub, Salim Ansari, Van-Anh Dao, Daniela Grossmann, Upalparna Majumdar, Muhammad Salim Hakeemi, Nicole Troelenberg, Tobias Richter, Christian Schmitt-Engel, Jonas Schwirz, Nadi Ströhlein, Matthias Teuscher, Gregor Bucher, Manfred Frasch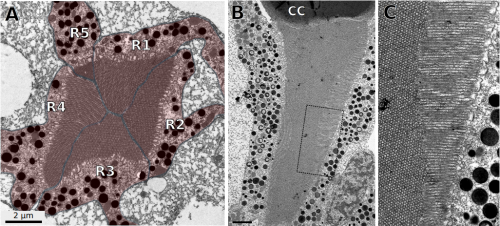 The visual system of the genetically tractable crustacean Parhyale hawaiensis: diversification of eyes and visual circuits associated with low-resolution vision
Ana Patricia Ramos, Ola Gustafsson, Nicolas Labert, Iris Salecker, Dan Eric Nilsson, Michalis Averof
The Evolution of Placental Invasion and Cancer Metastasis are Causally Linked
Kshitiz Gupta, Junaid Afzal, Jamie D. Maziarz, Archer Hamidzadeh, Cong Liang, Eric M. Erkenbrack, Hong Nam, Jan-Dirk Haeger, Christiane Pfarrer, Thomas Hoang, Troy Ott, Thomas Spencer, Mihaela Pavlicev, Doug Antczak, Andre Levchenko, Gunter P. Wagner
Loss of a glutaredoxin gene underlies parallel evolution of trichome pattern in Antirrhinum
Ying Tan, Matthew Barnbrook, Yvette Wilson, Attila Molnar, Andrew Hudson
Recent origin of an XX/XY sex-determination system in the ancient plant lineage Ginkgo biloba
He Zhang, Rui Zhang, Xianwei Yang, Kai-Jie Gu, Wenbin Chen, Yue Chang, Qiwu Xu, Qun Liu, Yating Qin, Xiaoning Hong, Ping-Ping Yin, Inge Seim, Han-Yang Lin, Wen-Hao Li, Jinfu Tian, Shanshan Li, Longqi Liu, Junnian Liu, Shanshan Liu, Xiaoshan Su, Congyan Wang, Fu-Ming Zhang, Song Ge, Cheng-Xin Fu, Simon Ming-Yuen Lee, Yiji Xia, Jian Wang, Huanming Yang, Guangyi Fan, Xun Xu, Yun-Peng Zhao, Xin Liu
A simple genetic architecture and low constraint allows rapid floral evolution in a diverse and recently radiating plant genus
Jamie L. Kostyun, Matthew J. S. Gibson, Christian M. King, Leonie C. Moyle
Sulcal organization in the medial frontal cortex reveals insights into primate brain evolution
CELINE AMIEZ, Jerome Sallet, William D. Hopkins, Adrien Meguerditchian, Fadila Hadj-Bouziane, Suliann BenHamed, Charles R.E. Wilson, Emmanuel Procyk, Michael Petrides
Molecular evolution across developmental time reveals rapid divergence in early embryogenesis
Asher D Cutter, Rose H Garrett, Stephanie Mark, Wei Wang, Lei Sun
Evolution of the D. melanogaster chromatin landscape and its associated proteins
Elise Parey, Anton Crombach
Birth-and-death evolution of the fatty acyl-CoA reductase (FAR) gene family and diversification of cuticular hydrocarbon synthesis in Drosophila
Cedric Finet, Kailey Slavik, Jian Pu, Sean B. Carroll, Henry Chung
Studying the dawn of de novo gene emergence in mice reveals fast integration of new genes into functional networks
Chen Xie, Cemalettin Bekpen, Sven Künzel, Maryam Keshavarz, Rebecca Krebs-Wheaton, Neva Skrabar, Kristian Karsten Ullrich, Diethard Tautz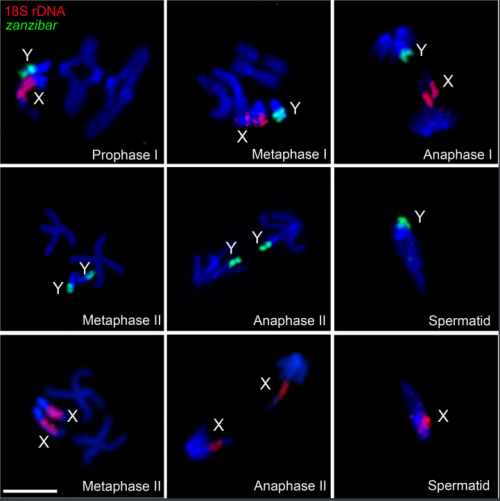 Premeiotic and meiotic failures lead to hybrid male sterility in the Anopheles gambiae complex
Jiangtao Liang, Igor V. Sharakhov
Mosaic origin of the eukaryotic kinetochore
Jolien JE van Hooff, Eelco Tromer, Geert Kops, Berend Snel
A chromosome-level genome of black rockfish, Sebastes schlegelii, provides insights into the evolution of live birth
Yan He, Yue Chang, Lisui Bao, Mengjun Yu, Rui Li, Jingjing Niu, Guangyi Fan, Weihao Song, Inge Seim, Yating Qin, Xuemei Li, Jinxiang Liu, Xiangfu Kong, Meiting Peng, Minmin Sun, Mengya Wang, Jiangbo Qu, Xuangang Wang, Xiaobing Liu, Xiaolong Wu, Xi Zhao, Xuliang Wang, Yaolei Zhao, Jiao Guo, Yang Liu, Kaiqiang Liu, Yilin Wang, He Zhang, Longqi Liu, Mingyue Wang, Haiyang Yu, Xubo Wang, Jie Cheng, Zhigang Wang, Xun Xu, Jian Wang, Huanming Yang, Simon Ming-Yuen Lee, Xin Liu, Quanqi Zhang, Jie Qi
De novo assembly of the Mongolian gerbil genome and transcriptome
Shifeng Cheng, Yuan Fu, Yaolei Zhang, Wenfei Xian, Hongli Wang, Benedikt Grothe, Xin Lu, Xun Xu, Achim Klug, Elizabeth A McCullagh
Cell biology
Reconstruction of Par polarity in apolar cells reveals a dynamic process of cortical polarization
Kalyn Kono, Shigeki Yoshiura, Ikumi Fujita, Yasushi Okada, Atsunori Shitamukai, Tatsuo Shibata, Fumio Matsuzaki
Centering based on active diffusion in mouse oocytes is non-specific
Alexandra Colin, Nitzan Ratzin, Maria Almonacid, Wylie Ahmed, Timo Betz, Marie-Emilie Terret, Nir Gov, Raphaël Voituriez, Zoher Gueroui, Marie-Helene VERLHAC
The Piezo channel is used by migrating cells to sense compressive load
Nishit Srivastava, David Traynor, Alexandre Kabla, Rob Kay
YAP/TAZ as a Novel Regulator of cell volume
Nicolas Andres Perez Gonzalez, Nash Delta Rochman, Kai Yao, Jiaxiang Tao, Mihn-Tam Tran Le, Shannon Flanary, Lucia Sablich, Ben Toler, Eliana Crentsil, Felipe Takaesu, Bram Lambrus, Jessie Huang, Vivian Fu, Andrew Holland, Steven An, Denis Wirtz, Kun-Liang Guan, Sean Sun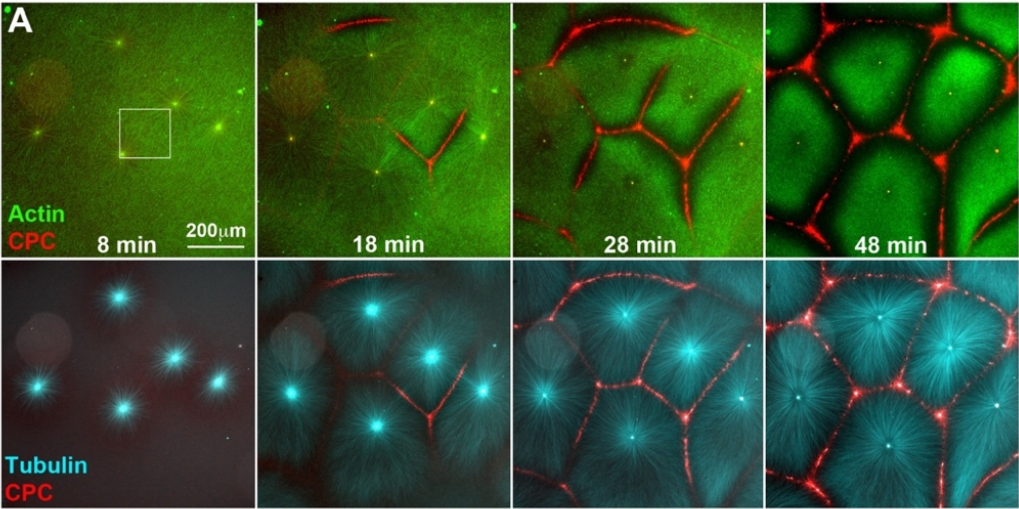 Disassembly of actin and keratin networks by Aurora B kinase at the midplane of cleaving Xenopus laevis eggs
Christine M Field, James F Pelletier, Tim Mitchison
Contractile acto-myosin network on nuclear envelope remnants positions human chromosomes for mitosis
Alexander JR Booth, Zuojun Yue, John K Eykelenboom, Tom Stiff, GW Gant Luxton, Helfrid Hochegger, Tomoyuki U Tanaka
Primary Cilium Disassembly in Mammalian Cells Occurs Predominantly by Whole-Cilium Shedding
Mariya Mirvis, Kathleen A Siemers, William James Nelson, Tim Stearns
Cell-projection pumping: A hydrodynamic cell-stiffness dependent mechanism for cytoplasmic transfer between mammalian cells
Hans Zoellner, Navid Paknejad, James Cornwell, Belal Chami, Yevgeniy Romin, Vitaly Boykov, Sho Fujisawa, Elizabeth Kelly, Garry W Lynch, Glynn Rogers, Katia Manova, Malcolm AS Moore
Mutation Of MLH3 Endonuclease Motif Reveals Integration Between Crossover Pathways In Mammalian Meiosis
Melissa Toledo, Xianfei Sun, Miguel Angel Brieno-Enriquez, Vandana Raghavan, Stephen Gray, Jeffrey Pea, Anita Venkatesh, Lekha Patel, Peter L Borst, Eric Alani, Paula E Cohen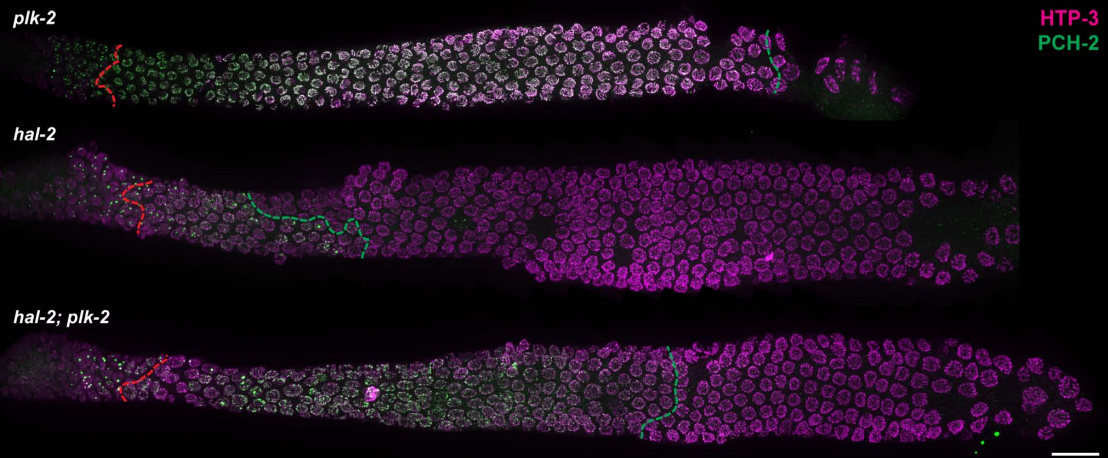 Spatial Regulation of Polo-like Kinase Activity during C. elegans Meiosis by the Nucleoplasmic HAL-2/HAL-3 Complex
Baptiste Roelens, Consuelo Barroso, Alex Montoya, Pedro Cutillas, Weibin Zhang, Alexander Woglar, Chloe Girard, Enrique Martinez-Perez, Anne Villeneuve
Synaptonemal complex proteins direct and constrain the localization of crossover-promoting proteins during Caenorhabditis elegans meiosis
Cori K Cahoon, Jacquellyn M Helm, Diana E Libuda
TMEM98 is a negative regulator of FRAT mediated Wnt/β-catenin signalling
Tanne van der Wal, Jan-Paul Lambooij, Katrin E Wiese, Renée van Amerongen
Phase separation provides a mechanism to reduce noise in cells
Florian Oltsch, Adam Klosin, Frank Julicher, Anthony A. Hyman, Christoph Zechner
Spatial Asymmetries of the Prophase Nucleus Regulate Dynein Recruitment to Ensure Mitotic Fidelity
Vanessa Nunes, Margarida Dantas, Elisa Vitiello, Irene Wang, Nicolas Carpi, Martial Balland, Matthieu Piel, Paulo Aguiar, Helder Maiato, Jorge G Ferreira
Asymmetric clustering of centrosomes defines the early evolution of tetraploid cells
Nicolaas C Baudoin, Kimberly Soto, Olga Martin, Joshua M Nicholson, Jing Chen, Daniela Cimini
Modelling
Neuronal differentiation affects tissue mechanics and progenitor arrangement in the vertebrate neuroepithelium
Pilar Guerrero, Ruben Perez-Carrasco, Marcin Zagorski, David Page, Anna Kicheva, James Briscoe, Karen Page
ya||a: GPU-powered Spheroid Models for Mesenchyme and Epithelium
Philipp Germann, Miquel Marin-Riera, James Sharpe
Competition for Stem Cell Fate Determinants as a Mechanism for Tissue Homeostasis
David J Jörg, Yu Kitadate, Shosei Yoshida, Benjamin D Simons
How to fit in: The learning principles of cell differentiation
Miguel Brun-Usan, Richard Watson
Modeling enamel matrix secretion in mammalian teeth
Teemu J. Hakkinen, S. Susanna Sova, Ian J. Corfe, Leo Tjaderhane, Antti Hannukainen, Jukka Jernvall
A stochastic model of adult neurogenesis coupling cell cycle progression and differentiation
Anna Stopka, Marcelo Boareto
Statistics of chromatin organization during cell differentiation revealed by heterogeneous cross-linked polymers
Ofir Shukron, Vincent Piras, Daan Noordermeer, David Holcman
Dynamical reorganization of transcriptional events governs robust Nanog heterogeneity
Tagari Samanta, Sandip Kar
Interacting cells driving the evolution of multicellular life cycles
Yuanxiao Gao, Arne Traulsen, Yuriy Pichugin
Organ-wide and ploidy-dependent regulations both contribute to cell size determination: evidence from a computational model of tomato fruit
Valentina Baldazzi, Pierre Valsesia, Michel Genard, Nadia Bertin
Coupling water fluxes with cell wall mechanics in a multicellular model of plant development
Ibrahim Cheddadi, Michel Genard, Nadia Bertin, Christophe Godin
A mathematical model of contact inhibition of locomotion: coupling contractility and focal adhesions
Aydar Uatay
A simple mechanochemical model for calcium signalling in embryonic epithelial cells
Katerina Kaouri, Philip K. Maini, Paris Skourides, Neophytos Christodoulou, S. Jonathan Chapman
Theory of mechano-chemical patterning in biphasic biological tissues
Pierre Recho, Adrien Hallou, Edouard Hannezo
The statistics of noisy growth with mechanical feedback in elastic tissues
Ojan Khatib Damavandi, David K. Lubensky
Tools & resources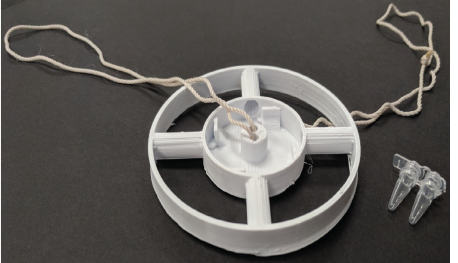 A 3D-printed hand-powered centrifuge for molecular biology
Gaurav Byagathvalli, Aaron Pomerantz, Soham Sinha, Janet Standeven, M. Saad Bhamla
Microscopy-based chromosome conformation capture enables simultaneous visualization of genome organization and transcription in intact organisms
Andres M Cardozo Gizzi, Diego I. Cattoni, Jean-Bernard Fiche, Sergio Espinola, Julian Gurgo, Olivier Messina, Christophe Houbron, Yuki Ogiyama, Giorgio-Lucio Papadopoulos, Giacomo Cavalli, Mounia Lagha, Marcelo Nollmann
Multi-ATOM: Ultrahigh-throughput single-cell quantitative phase imaging with subcellular resolution
Kelvin Lee, Andy Lau, Anson Tang, Maolin Wnag, Aaron Mok, Bob Chung, Wenwei Yan, Ho Cheung Shum, Kathryn Cheah, Godfrey Chan, Hayden So, Kenneth Wong, Kevin Tsia
Optical clearing of living brains with MAGICAL to extend in vivo imaging
Kouichirou Iijima, Takuto Oshima, Ryosuke Kawakami, Tomomi Nemoto
Optimisation and validation of hydrogel-based brain tissue clearing shows uniform expansion across anatomical regions and spatial scales
Adam L Tyson, Ayesha Akhtar, Laura C Andreae
Magnetic Ultrathin Tissue Sections for Ease of Light and Electron Microscopy
German Koestinger, Daniel During, Simone Rickauer, Vanessa Leite, Homare Yamahachi, Gabor Csucs, Richard HR Hahnloser
Multimodal cell type correspondence by intersectional mFISH in intact tissues
Philip R Nicovich, Michael J Taormina, Christopher A Baker, Thuc Nghi Nguyen, Elliot R Thomsen, Emma Garren, Brian Long, Melissa Gorham, Jeremy Miller, Travis Hage, Alice Bosma-Moody, Gabe J Murphy, Boaz P Levi, Jennie L Close, Bosiljka Tasic, Ed S Lein, Hongkui Zeng
DypFISH: Dynamic Patterned FISH to Interrogate RNA and Protein Spatial and Temporal Subcellular Distribution
Anca F. Savulescu, Robyn Brackin, Emmanuel Bouilhol, Benjamin Dartigues, Jonathan H. Warrell, Mafalda R. Pimentel, Stephane Dallongeville, Jan Schmoranzer, Jean-Christophe Olivo-Marin, Edgar R. Gomes, Macha Nikolski, Musa M. Mhlanga
zGrad: A nanobody-based degron system to inactivate proteins in zebrafish
Naoya Yamaguchi, Tugba Colak-Champollion, Holger Knaut
Determining targeting specificity of nuclear-encoded organelle proteins with the self-assembling split fluorescent protein toolkit
Mayank Sharma, Carola Kretschmer, Christina Lampe, Johannes Stuttmann, Ralf Bernd Klosgen
De novo assembly, delivery and expression of a 101 kb human gene in mouse cells
Leslie A. Mitchell, Laura H. McCulloch, Sudarshan Pinglay, Henri Berger, Nazario Bosco, Ran Brosh, Milica Bulajic, Emily Huang, James A. Martin, Megan S. Hogan, Esteban Mazzoni, Teresa Davoli, Matthew T. Maurano, Jef D. Boeke
Culturing primary neurons from rat hippocampus and cortex
Madhusmita Priyadarshini Sahu, Outi Nikkila, Seija Lagas, Sulo Kolehmainen, Eero Castren
A gold standard method for human cell quantification after xenotransplantation
Mona Bensalah, Pierre Klein, Ingo Riederer, Soraya Chaouch, Laura Muraine, Wilson Savino, Gillian Sandra Butler-Bowne, Capucine Trollet, Vincent Mouly, Anne Bigot, Elisa Negroni
Stable transgenesis in Astyanax mexicanus using the Tol2 transposase system.
Bethany A Stahl, Robert Peuss, Brittnee McDole, Alexander Kenzior, James B Jaggard, Karin Gaudenz, Jaya Krishnan, Suzanne E McGaugh, Erik R Duboue, Alex C Keene, Nicolas Rohner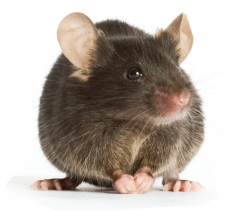 The genome of C57BL/6J "Eve", the mother of the laboratory mouse genome reference strain
Vishal Kumar Sarsani, Narayanan Raghupathy, Ian T Fiddes, Joel Armstrong, Francoise Thibaud-Nissen, Oraya Zinder, Mohan Bolisetty, Kerstin Howe, Doug Hinerfeld, Xiaoan Ruan, Lucy Rowe, Mary Barter, Guruprasad Ananda, Benedict Paten, George M. Weinstock, Gary A. Churchill, Michael V. Wiles, Valerie A. Schneider, Anuj Srivastava, Laura Reinholdt
A genetic system for biasing the sex ratio in mice
Ido Yosef, Liat Edry-Botzer, Rea Globus, Inbar Shlomovitz, Ariel Munitz, Motti Gerlic, Udi Qimron
Identification and mitigation of pervasive off-target activity in CRISPR-Cas9 screens for essential non-coding elements
Josh Tycko, Michael Wainberg, Georgi K Marinov, Oana Ursu, Gaelen T Hess, Braeden K Ego, Aradhana, Amy Li, Alisa Truong, Alexandro E Trevino, Kaitlyn Spees, David Yao, Irene M Kaplow, Peyton G Greenside, David W Morgens, Douglas H Phanstiel, Michael P Snyder, Lacramioara Bintu, William J Greenleaf, Anshul Kundaje, Michael C Bassik
Splice donor site sgRNAs enhance CRISPR/Cas9-mediated knockout efficiency
Ignacio Garcia-Tunon, Veronica Alonso-Perez, Elena Vuelta, Sandra Perez- Ramos, Maria Herrero, Lucia Mendez, Jesus Maria Hernandez-Sanchez, Marta Martin-Izquierdo, Raquel Saldana, Julian Sevilla, Fermin Sanchez-Guijo, Jesus Maria Hernandez-Rivas, Manuel Adolfo Sanchez-Martin
Gene activation by a CRISPR-assistant trans enhancer
Xinhui Xu, Wei Dai, Danyang Wang, Jian Wu, Jinke Wang
Homology-directed repair using transient CRISPR/Cpf1-geminiviral replicon in tomato
Tien Van Vu, Velu Sivankalyani, Eun-Jung Kim, Mil Thi Tran, Jihae Kim, Yeon Woo Sung, Duong Thi Hai Doan, Jae-Yean Kim
Identification of transgene-free CRISPR edited plants of rice and tomato by monitoring DsRED fluorescence in dry seeds
Norma Aliaga Franco, Cunjin Zhang, Silvia Presa, Antonio Granell, David Alabadi, Ari Sadanandom, Miguel A. Blazquez, Eugenio G. Minguet
CRISPR-based platform for multimodal genetic screens in human iPSC-derived neurons
Ruilin Tian, Mariam A Gachechiladze, Connor H Ludwig, Matthew T Laurie, Jason Y Hong, Diane Nathaniel, Anika V Prabhu, Michael S Fernandopulle, Rajan Patel, Michael E Ward, Martin Kampmann
Generating single cell-derived knockout clones in mammalian cells with CRISPR/Cas9
Christopher J Giuliano​, Ann Lin​, Jason Sheltzer
Dynamic pseudo-time warping of complex single-cell trajectories
Van Hoan Do, Mislav Blažević, Pablo Monteagudo, Luka Borozan, Khaled Elbassioni, Sören Laue, Francisca Rojas Ringeling, Domagoj Matijević, Stefan Canzar
TooManyCells identifies and visualizes relationships of single-cell clades
Gregory W Schwartz, Jelena Petrovic, Maria Fasolino, Yeqiao Zhou, Stanley Cai, Lanwei Xu, Warren S Pear, Golnaz Vahedi, Robert B Faryabi
scSLAM-seq reveals core features of transcription dynamics in single cells
Florian Erhard, Marisa AP Baptista, Tobias Krammer, Thomas Hennig, Marius Lange, Panagiota Arampatzi, Christopher Juerges, Fabian J Theis, Antoine-Emmanuel Saliba, Lars Doelken

Geometric Sketching Compactly Summarizes the Single-Cell Transcriptomic Landscape
Brian Hie, Hyunghoon Cho, Benjamin DeMeo, Bryan Bryson, Bonnie Berger
scAlign: a tool for alignment, integration and rare cell identification from scRNA-seq data
Nelson Johansen, Gerald Quon
Scarless Enriched selection of Genome edited Human Pluripotent Stem Cells Using Induced Drug Resistance
Keun-Tae Kim, Ju-Chan Park, Haesung Lee, Hyeon-Ki Jang, Yang Jin, Wankyu Kim, Jeongmi Lee, Hyongbum Henry Kim, Sangsu Bae, Hyuk-Jin Cha
Biased visibility in HiC datasets marks dynamically regulated condensed and decondensed chromatin states genome-wide.
Keerthivasan Raanin Chandradoss, Prashanth Kumar Guthikonda, Srinivas Kethavath, Monika Dass, Harpreet Singh, Rakhee Nayak, Sreenivasulu Kurukuti, Kuljeet Singh Sandhu
Single-molecule long-read sequencing reveals the chromatin basis of gene expression
Yunhao Wang, Anqi Wang, Zujun Liu, Andrew Thurman, Linda S Powers, Meng Zou, Adam Hefel, Yunyi Li, Joseph Zabner, Kin Fai Au
Capturing cell type-specific chromatin structural patterns by applying topic modeling to single-cell Hi-C data
Hyeon-Jin Kim, Galip Gurkan Yardimici, Giancarlo Bonora, Vijay Ramani, Jie Liu, Ruolan Qiu, Choli Lee, Jennifer Hesson, Carol B. Ware, Jay Shendure, Zhijun Duan, William Stafford Noble
TAF-ChIP: An ultra-low input approach for genome wide chromatin immunoprecipitation assay
Junaid Akhtar, Piyush More, Steffen Albrecht, Federico Marini, Apurva Kulkarni, Waldemaar Kaiser, Leszek Wojnowski, Jean-Fred Fontaine, Miguel A Andrade-Navarro, Marion Silies, Christian Berger
Locating a transgene integration site by nanopore sequencing
David Conrad Page, Peter Nicholls, Daniel Winston Bellott, Ting-Jan Cho, Tatyana Pyntikova
Mapping of transgenic alleles in plants using a Nanopore-based sequencing strategy
Shengjun Li, Shangang Jia, Lili Hou, Hanh Nguyen, Shirley Sato, David Holding, Edgar Cahoon, Chi Zhang, Tom Clemente, Bin Yu
Inference of CRISPR Edits from Sanger Trace Data
Timothy Hsiau, David Conant, Travis Maures, Kelsey Waite, Joyce Yang, Reed Kelso, Kevin Holden, Brittany L Enzmann, Rich Stoner
VPAC: Variational projection for accurate clustering of single-cell transcriptomic data
Shengquan Chen, Kui Hua, Hongfei Cui, Rui Jiang
Research practice & education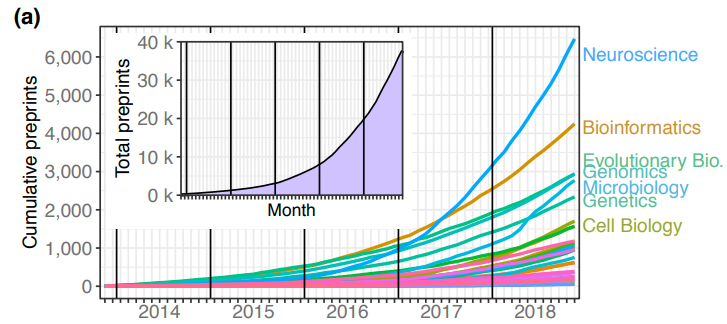 Tracking the popularity and outcomes of all bioRxiv preprints
Richard J. Abdill, Ran Blekhman
Postdoc X-ray in Europe 2017: work conditions, productivity, institutional support and career outlooks
Maria José Ribeiro, Ana Fonseca, Mariana Moura-Ramos, Marta Costa, Konstantina Kilteni, Lau Moller Andersen, Lisa Harber-Aschan, Joana A. Moscoso, Sonchita Bagchi, European Network of Postdoctoral Associations (ENPA)
A variant of the student's t-test for data of varying reliability
Suril B Sheth, Bhavin R Sheth
Reaction times and other skewed distributions: problems with the mean and the median
Guillaume A Rousselet, Rand R Wilcox
A Reaction Norm Perspective on Reproducibility
Bernhard Voelkl, Hanno Würbel
Perceptions and Prospects in Life Sciences in a Heterogenous Latin American Population
Leonardo M.R. Ferreira, Giovanni A. Carosso, Bruno Lopez-Videla, Gustavo Vaca Diez, Laura Ines Rivera-Betancourt, Yara Rodriguez, Dalila G. Ordonez, Natalia Montellano Duran, Diana K. Alatriste-Gonzalez, Aldo Vacaflores, Soad Bohorquez, Lilian Gonzalez Auza, Christian Schuetz, Carolina Alexander-Savino, Omar Gandarilla Cuellar, Mohammed Andres Mostajo Radji
Why not…
Recording of "sonic attacks" on U.S. diplomats in Cuba spectrally matches the echoing call of a Caribbean cricket
Alexander L Stubbs, Fernando Montealegre-Z
Enjoy The Violence: Is appreciation for extreme music the result of cognitive control over the threat response system?
Rosalie Ollivier, Louise Goupil, Marco Liuni, Jean-Julien Aucouturier