https://www.rawlins.group.gurdon.cam.ac.uk/index.html
Where is your lab?:
At the Gurdon Institute, which is part of the University of Cambridge. We are located in the city centre of Cambridge, UK.
Research summary:
Emma Rawlins: We ask, how are our lungs built and maintained? We have a particular focus on stem cell biology of the developing and adult lungs and asking how cell-cell interactions regulate growth, patterning and repair. We have also recently started collaborating with human geneticists to explore the genetic contribution to chronic lung diseases in humans, and whether these have their origins in infancy, or the adult, or both.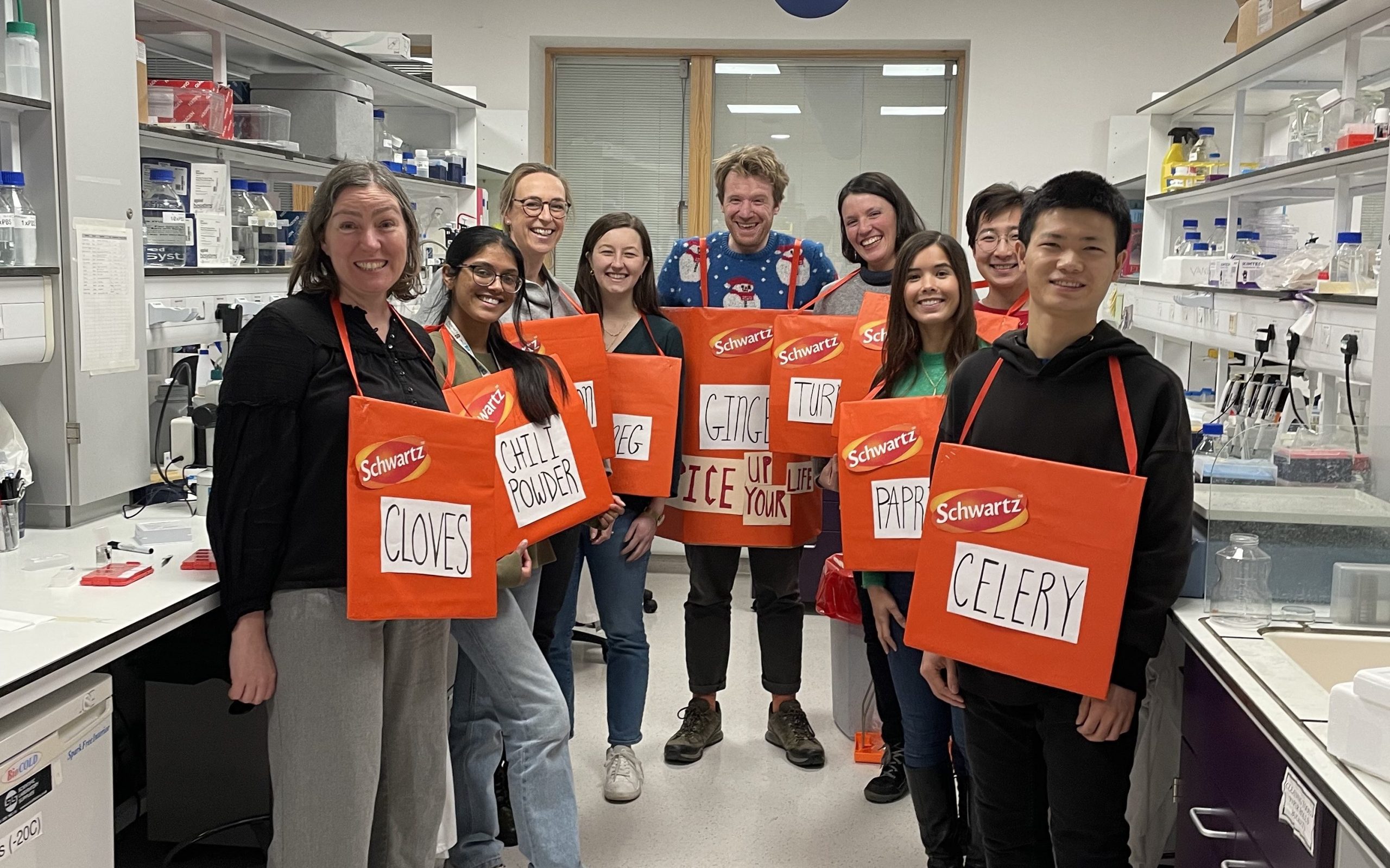 Lab role call:
Claire: 1st year PhD student investigating airway homeostasis in humans.
Emma: PI – does all the paperwork.
Hannah: Clinical lecturer – has completed an MD and a PhD and is now balancing postdoctoral work with clinical duties, working on lineage decisions in the developing airway.
John: Postdoc interested in morphogenesis of the developing human lung.
Kyungtae: Postdoc interested in cell-cell signalling during lung alveolar development.
Odara: 1st year PhD student jointly supervised by Vito Menella who is interested in analysis of volumetric electron microscopy and using human organoids to study toxicology.
Quitz: Lab manager who keeps us all organised and enjoys thinking about computational biology methods.
Tessa: PhD student working on epithelial cell fate decisions in the developing mouse lung, and optimal imaging techniques for visualizing lung development.
Vanesa: PhD student (just submitted her thesis!) jointly supervised by Kristian Franze and works on the role of stiffness in cell fate decision making during human lung development.
Yihong: Visiting final year PhD student from Zhejiang University who is interested in tuft cells.
Ziqi: PhD student working on the role of hypoxia in cell fate decision making during normal human lung development.
Favourite technique, and why?
Emma: Clonal lineage-tracing combined with genetic manipulation and microscopy, and now often coupled to single cell transcriptomics. In my opinion, this is the most elegant method to study normal and aberrant cell fate decisions due to the presence of mutant and control cells in the same tissue. One current lab challenge is how to apply this technique to human samples.
Apart from your own research, what are you most excited about in developmental and stem cell biology
Emma: The advances being made in understanding of regeneration from organisms that regenerate on an impressive scale like Axolotls.
How do you approach managing your group and all the different tasks required in your job?
Emma: Most of the time it feels like neither managing my group, or the other admin and teaching tasks, are being done properly. It's important to recognise that good-enough is sufficient for many tasks we must do, particularly the administrative ones. I try and prioritise my lab as it's the science that excites me. I block time out in my diary to ensure that I have a detailed science conversation with every lab member every 2 weeks, and other tasks are fitted in around this schedule. I also have annual career planning meetings with everyone in the lab (the University's appraisal scheme) and try and make sure that I keep up to date with any changing aspirations in addition. That way I/we can be looking out for the best career development opportunities for each person.
What is the best thing about where you work?
Claire: Working in Cambridge offers so much rich scientific history alongside cutting-edge techniques. It's incredible to train in a such a collaborative space, and the Rawlins lab has been such a supportive and kind group with lots of advice and guidance as I begin my PhD.
Emma: Cambridge has a really rich scientific environment, it's very easy to network to find collaborators in pretty much any research area that you are interested in.
Kyungtae: The best place in the world to do science – especially developmental biology. Also, it's easy to get connected between fields to fields and person to person, leading to fantastic interdisciplinary studies.
Tessa: The lab environment is very supportive and collaborative, it's an exciting place to do science and work with like-minded colleagues who are happy to help you troubleshoot or discuss new ideas.
What's there to do outside of the lab?
Claire: As a PhD student, I'm part of a college here at Cambridge, and you have the opportunity to meet peers across different subject areas over weekly dinners and different social events. My favourite thing to do is explore Cambridge by going on runs around town and trying all the different restaurants!
Kyungtae: There are great walks and places around the Cambridge with beautiful nature which I can feel the universe – that is why it is the University of Cambridge, in Cambridge. Work and walk and feel the Cambridge.
Tessa: Cambridge has a lot of green space, and (weather permitting!) you can spend lots of time outdoors on the meadows or walking through the backs of the Colleges and admiring the architecture.