https://shariatilab.sites.ucsc.edu/
Where is the lab?
Our lab is located on the 4th floor of the biomedical building at University of California, Santa Cruz. We are also affiliated with the Institute for the Biology of Stem Cells and Genomics Institute.
Research summary
Ali Shariati: We are interested in understanding unifying principles of stem cell fate decisions during the early days of mammalian development. We also use CRISPR-based approaches to control stem cell fate decisions and assemble them into embryo-like structures.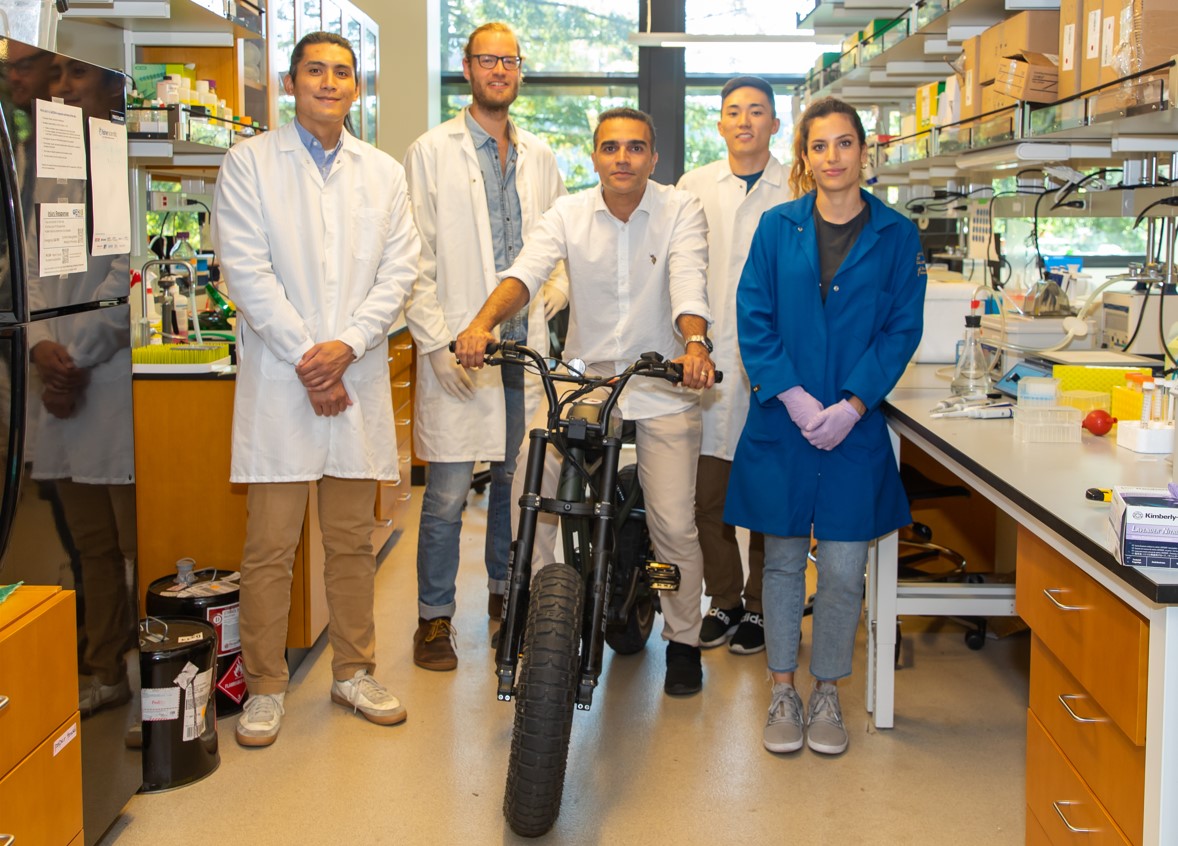 Lab role call
Gerrald Lodewijk, Postdoctoral Fellow
Research focus: Human embryonic development and implantation, transcriptional mechanisms of G0 to G1 transition in mammalian cell division cycle.
Ben Topacio, Postdoctoral Fellow
Research focus: Determining molecular mechanism linking between cell cycle and cell fate decision in pluripotent stem cells.
Abolfazl Zargaro, PhD student
Research Focus: Development of tools for quantitative analysis of single-cell live microscopy data.
Silvart Arabian, PhD Student
Research Focus: How cells decide to re-enter the cell cycle when they are in G0 phase. Transcriptional mechanisms of G0 to G1 transition in mammalian cell division cycle.
Seungho Lee, PhD Student
Research Focus: How MAPK signalling shape the chromatin landscape and its dynamics in pluripotent stem cells.
Undergraduate researchers: Sayaka Kozuki (Synthetic Models of the embryos), Clara Han (G0 to G1 transition), Lucy Suarez (Cell Cycle Control in pluripotent cells), Arshia Kapil (Microscopy image analysis), Shivani Rao (Microscopy image analysis), Dami Ibrahim (Microscopy Image Analysis).
Favourite technique, and why?
Ali: Biological systems are quite dynamic and time is implicit in biological transitions such as cell fate decisions. So, my favorite method is Single Cell Live Microscopy because it allows us to capture dynamics of cell fate decisions with high temporal resolution. Live microscopy allows us to directly watch individual stem cells as they make important decisions such as to differentiate or not to differentiate. With live microscopy, one has access to information such as morphology of cells (shape, size…), spatial relations of cells and dynamics of signalling pathways that is typically lost in other single cell approaches. Occasionally, you also find cases of individual cells that behave completely different than what is described in the literature.
I am also interested in using CRISPR-based devices to control cell fate and cellular response to signalling cues.
Apart from your own research, what are you most excited about in developmental and stem cell biology
Ali: I am pretty excited about collective cellular decision making that results in reproducible formation of patterns during development as well as application of synthetic biology approaches to control collective behaviour of cells.
How do you approach managing your group and all the different tasks required in your job?
Ali: Managing an academic research laboratory has different aspects such as how to manage projects or how to build a scientifically vibrant environment. One thing I have done is to take an adaptive approach because scientific endeavours are inherently very dynamic in nature and require flexibility in planning. As a result, I am constantly revising my plans and I guess I am also still learning how to lead an academic research laboratory. Periodically, I reflect on how to improve my mentorship and how to promote a dynamic scientific culture that allows for training future generations of scientists with genuine and deep interest in discovering new biology. That last statement is actually one of my professional dreams!
What is the best thing about where you work?
Ali: The campus is so beautiful with many redwood trees, ocean views and wildlife. My colleagues are very supportive and understanding and I also have the chance to work with some very motivated students.
Seungho: Supportive environment, not cutthroat; the opportunity to do research on unanswered questions on stem cells; the Bay area is the centre of innovation in biotech, providing more opportunities to collaborate with other labs or companies.
Silvart: A chance to surround yourself with experts from various research fields. Gain exposure to new technologies and broaden your understanding of stem cells and cell cycle regulation. A supportive environment that fosters growth and development.
Gerrald: Commuting to the lab by bike and getting a free workout! Building our postdoc community (UCSC Postdoc Association).
Ben: I like the lab environment. Everyone is helpful and supportive.
Sayaka: A great opportunity to have research experience during the undergraduate
What's there to do outside of the lab?
Ali: What I do outside the lab varies a lot. I enjoy (very) long walks with my family, friends or sometimes on my own. I set learning goals for myself such as learning a new language. I also enjoy helping students from resource-limited regions of the Middle East to find their way into higher education.
Seungho: Nature activities; Golf; Santa Cruz doesn't offer much in terms of nightlife or city activities (great for those who prefer a more peaceful, quiet environment), but San Jose/Palo Alto are not too far away.
Silvart: Sports, playing music and reading books. Spending time outside in nature.
Gerrald: Go to the climbing gym and sauna afterwards. Take a walk or bike ride in one of the nearby state parks.
Ben: Go home. The SF bay area is a short drive away.
Sayaka: Visiting Monterey Aquarium, going Asian supermarkets.