Updated 02 September. Let us know if we missed anything
Various organisations and looser assemblies of locked down researchers have begun to put together online seminar and talk series, many of which are open to anyone (usually with registration), and many of which also have previous talks recorded.
Here's a list of what we've found recently, developmental biology and adjacent – please let us know if we missed anything so we can keep it up to date. For upcoming virtual developmental biology conferences/symposia, see our recently updated Events calendar page.
---
A new resource is Research Seminars, a global list a list of research seminars and conferences – currently there's only one devbio series on there so please consider adding your talk there.
Neural Crest Research Colloquia
Next talk: Yoshihiro Komatsu, September 16
Zebrafish Disease Models Society Virtual Seminars Sep – Dec 2020
Next talk: September 8, Christian Mosimann,
Marina Venero Galanternik, Emily Noël
Vertebrate Gastrulation Zoom Talks
Next talks: September 3: Nicoletta Petridou and Claudio Stern
Club Noyau: Discussion group on nuclear dynamics, nuclear architecture and geomes integrity & expression
Next talk: after the summer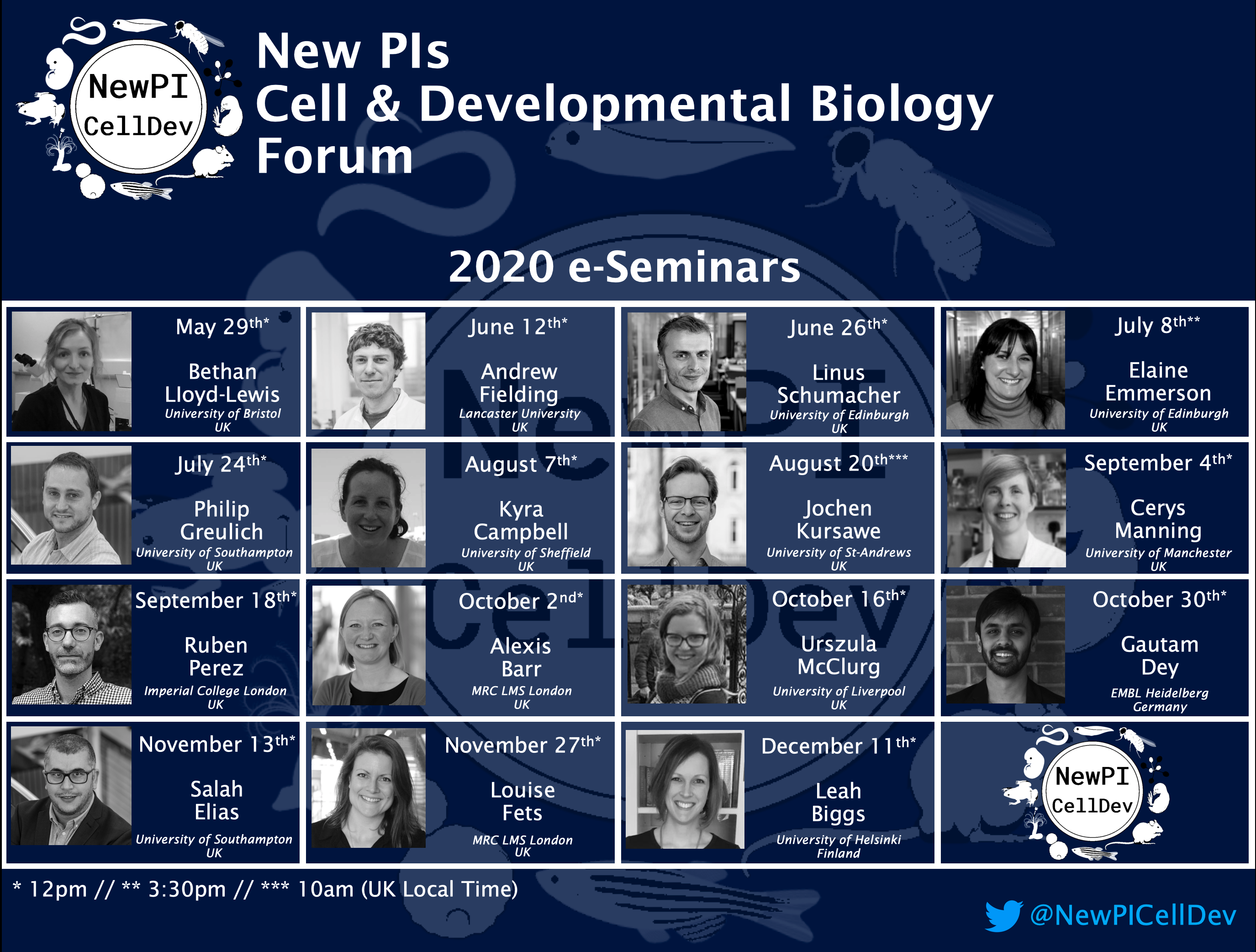 New PIs In Cell-Dev-Biol forum
Next talk: September 4, Cerys Manning
Next talk: September 15, Alexander Meissner
Plantae Presents – A New Global Plant Science Talk Series
Next talk: September 8, Alejandra I. Huerta and Paola Reyes-Caldas
GARNet-Presents Plant Science Webinar
Next talk: September 15, Charlotte Pain and Sebastian Eves-van den Akker
2020 BSCB GenSoc UK Cilia Network e-Symposium 11
Next talk: September 15, Carolyn Ott, Urszula McClurg, Sorin Fedeles, Jennifer Kong, André Goncalvers, Saikat Mukhopadhyay
Stem Cells at Lunch from KCL Stem Cells
World Wide Neuro – Neuroscience seminars online
Next devbio talk: September 3, Claire Wyart
Neuro Zoom: lively neuroscience research talks every week
Next talk: September 7, Xiaohong Xu and Douglas Campbell
European Vascular Biology Organisation Webinars
Next talk: September 2, Jeremiah Bernier Latmani, Elli Tzima and Hellmut Augustin
BPPB (Biological Physics/Physical Biology) Seminars
Next talk: September 4, Sririam Ramaswamy
Next talk: September 3, Ani Deshpande and
Karin Leiderman
International Zebrafish Society Webinars
Next talk: September 29, Single Cell Genomics with Tatjana Sauka-Spengler
Next talk: Septmeber 2, Ruth Hufbauer
Fragile Nucleome – online discussion group for scientists interested in chromatin and gene regulation
Next talk: September 2, Kelsey Lynch and Siavash Kurdistani
Spiraliabase Virtual Lab Meetings
Next meeting: September 10, DNA/RNA extraction with Vanessa Knuston and Rebecca Varney
Next talks: September 16, Hengji Wang and Taylor Skokan
#DevBioTeachOn – open forum for developmental biology teaching
Next talks: September 8, Kora-Lee Claude and Bruce Futcher
Cell Migration Virtual Seminars
Next talk: September 15, Xavier Trepat
Meiosis in quarantine webinar series
Next talk: September 9, Jessica Cross, Will Hancock
Aging Science Talks: Science for the Community
Next talk: September 9, David Ron, Bernd Bakau, Ashley Frakes and Della David
MicroSeminar- Free Web-based Microbiology Seminar Series