Updated 30 October . Let us know if we missed anything
Various organisations and looser assemblies of locked down researchers have begun to put together online seminar and talk series, many of which are open to anyone (usually with registration), and many of which also have previous talks recorded.
Here's a list of what we've found recently, developmental biology and adjacent – please let us know if we missed anything so we can keep it up to date. For upcoming virtual developmental biology conferences/symposia, see our recently updated Events calendar page.
---
Big news from us is Development presents…, the webinar series hosted each month by a different Development Editor which will be a platform for early career researchers to share their work. As well as the talks, you also have the chance to meet the speakers and other participants at interactive video tables – giving the developmental biology community the chance to network virtually.

The next webinar will be Wednesday 11 November 2020, 19.00 GMT, with Helen Rankin Willsey, Eric Brooks and a third speaker tbc.
---
Talking about promoting early career researchers, the Society for Developmental Biology in the USA is running a monthly postdoc seminar series. Next one is November 13, speakers TBD (you can see recordings of the October session with Michael Piacentino and Natasha O'Brown on the homepage).
---
Other series: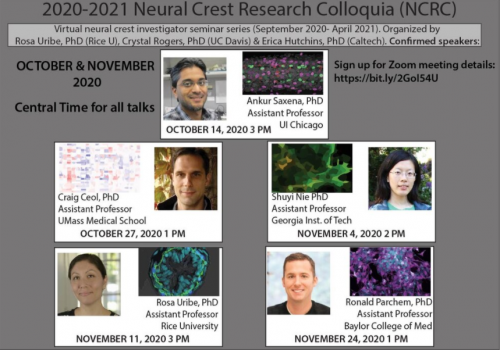 Neural Crest Research Colloquia
Next talk: Shuyi Nie, November 04
Zebrafish Disease Models Society Virtual Seminars Sep – Dec 2020
Next talk: November 11, Target Identification for Therapeutic Development with Nicole Anderson, Hudan Liu, Yann Gilbert.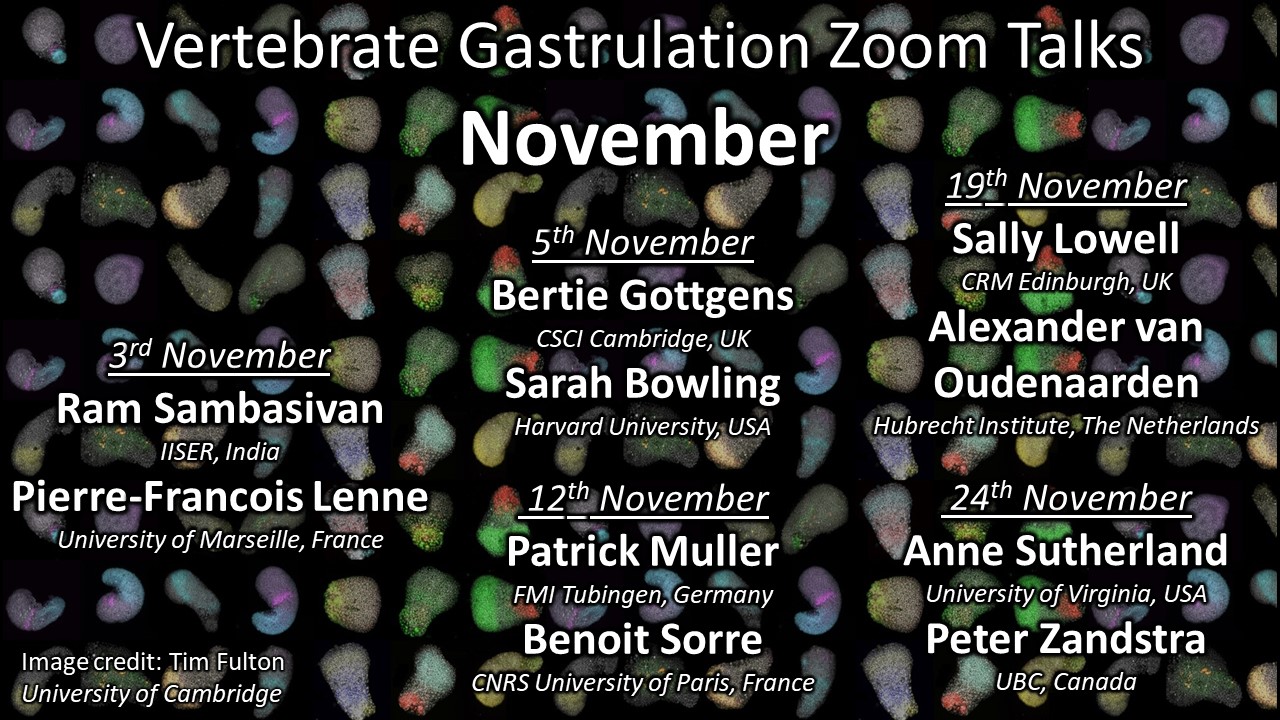 Vertebrate Gastrulation Zoom Talks
Next talk: November 3, Ram Sambasivan, Pierre-Francois Lenne
Club Noyau: Discussion group on nuclear dynamics, nuclear architecture and geomes integrity & expression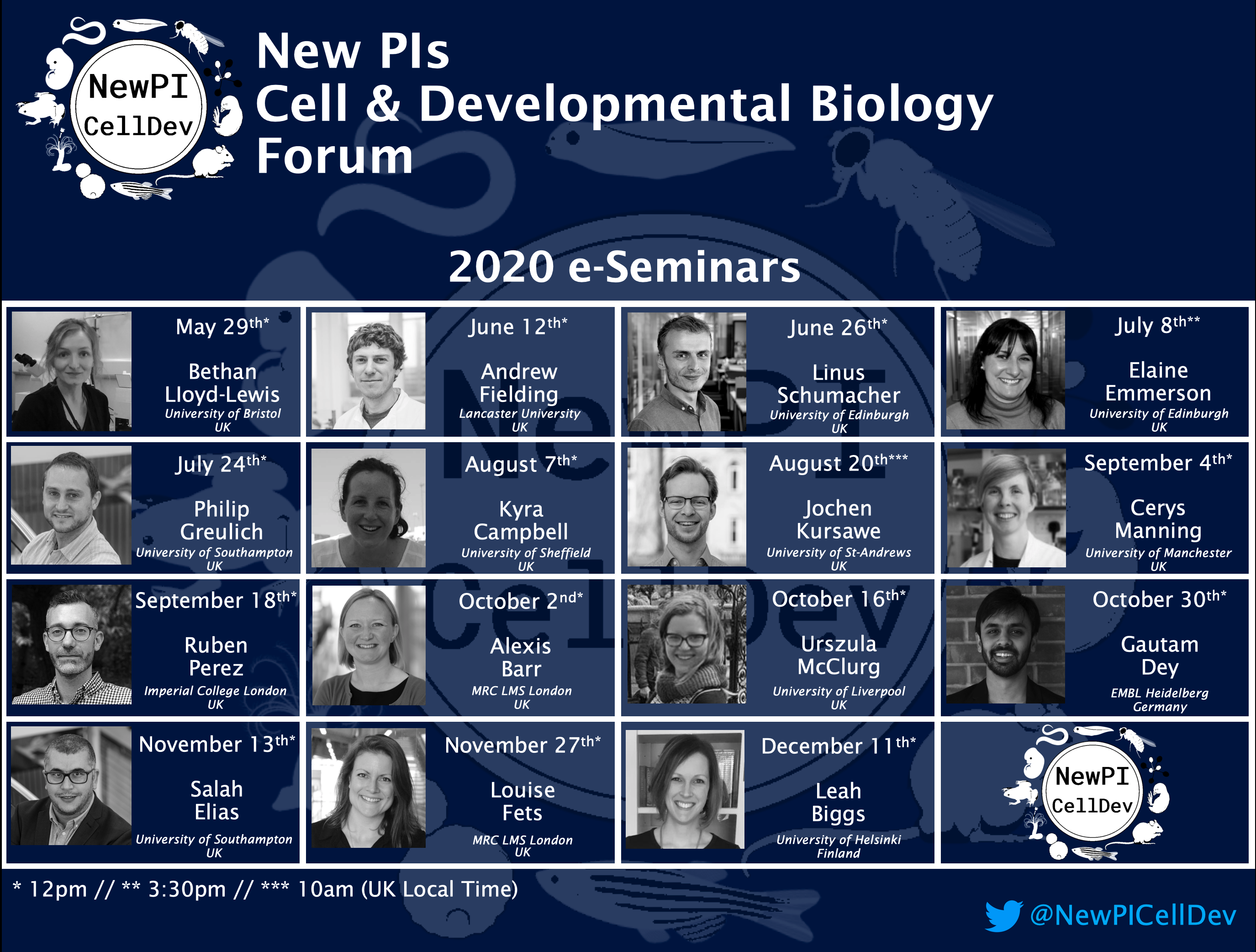 New PIs In Cell-Dev-Biol forum
Next talk: October 30, Gautam Dey
Next talk: November 3,Todd Macfarlan
Plantae Presents – A New Global Plant Science Talk Series
Next talk: November 4, Gustavo MacIntosh and Jyothi Vaddasery
GARNet-Presents Plant Science Webinar
Next talk: November 10, Dana Macgregor and Steven Penfield
2020 BSCB GenSoc UK Cilia Network e-Symposium
November 10, Wang Kyaw Twan, Nikolai Klena, Jantje, Gerdes Laura Devlin, Tara Akhshi, Uwe Wolfrum.
Stem Cells at Lunch from KCL Stem Cells
Next talk: November 3, Dominique Bonnet and Ron Weiss
World Wide Neuro – Neuroscience seminars online
Neuro Zoom: lively neuroscience research talks every week
Next talk: November 2, Ji Hu, Sandeep Robert Datta
BPPB (Biological Physics/Physical Biology) Seminars
Next talk: October 30, Gene-Wei Li, Scott Manalis
International Zebrafish Society Webinars
Next talk: November 17, Cancer Modelling with Richard White
Fragile Nucleome – online discussion group for scientists interested in chromatin and gene regulation
Next talk: November 4, Yanfeng He, Fracois Robert
Spiraliabase Virtual Lab Meetings
Next meeting: November 12, Spiralia Phylogenetics with Gonzalo Giribet, Andreas Hejnol
Next talks: November 18, Maria Sachkova, Wataru Yamamoto
Next talks: November 3, ,Bree Aldridge, Nic Tapon
Cell Migration Virtual Seminars
Next talk: November 10,  Cynthia Reinhart-King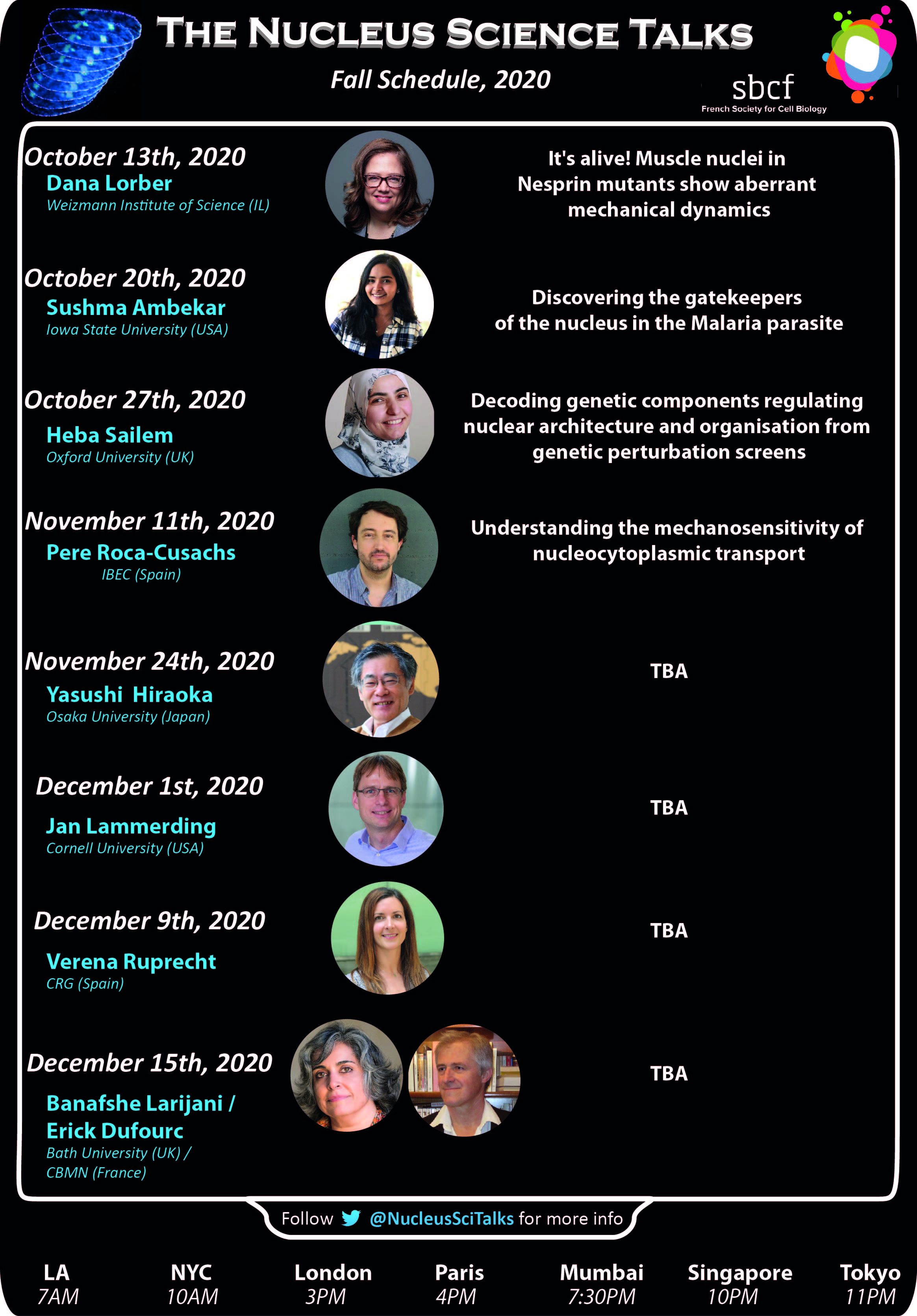 Next talk: November 11, Pere Roca-Cusachs
Next talk: November 16, Justin Boyer
Next talk: November 4, Marija Zanic, George Shubeita
Aging Science Talks: Science for the Community
Next talk: November 4, Antoneta Granic, Sian Henson, Christina Camell, Joan Mannick
MicroSeminar- Free Web-based Microbiology Seminar Series