— A BSDB Gurdon Summer Studentship Report
"You don't need to be a professional 'influencer' to get your voice heard."
This summer, I finished an unusual project in a neurobiology lab. Contrary to popular belief, internships in a science lab do not necessarily mean operating high-tech machines wearing a lab coat. My project, for example, is for science outreach.
Nowadays, science is no longer an exclusive domain for scientists, but more of public interest. More and more researchers are realising the importance of public outreach. My project is among the first few outreach projects that have successfully drawn funding. It is kindly sponsored by the BSDB Gurdon/The Company of Biologists Summer Studentships.
The Project
Like any hardcore scientist/science enthusiast, I enjoy gossiping about science. I just couldn't help seeking out ways to spread my passion for it. So after finishing my BSc project in the Alicia Hidalgo Lab at the University of Birmingham, I stayed over the summer to help them with outreach. I designed a website for the lab, and produced 20 educational videos to show what neurobiologists do at the bench.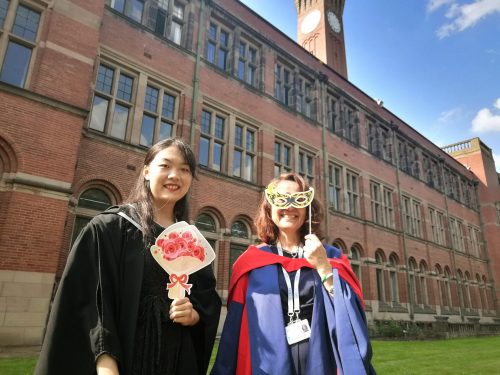 The videos were published on a YouTube channel Alicia set up, and got over 500 views in the first month. You can watch people in the lab explaining why study fruit flies, summarising what they've done in the latest research papers, and demonstrating how they work with DNA, proteins, cells, and lab animals. The lab website also has a strong emphasis on education ad science outreach. We have embedded videos, clickable 3D objects, and other interactive elements for interested people around the world to explore.
At first, I was as clueless as you probably are right now about how to make videos and websites. Over the two months, however, I taught myself the necessary skills. Now I can make animations, build a website with WordPress, film educational videos, and produce lay-people-friendly multimedia content.
Towards the end of the project, I had another idea. A friend of mine created a digital 3D object using 2D photos of a fossil, as an assignment in class. So I asked her for advice and started learning how to do it myself. A week later, I created a clickable digital 3D model of the fruit fly Drosophila, using 600 photos taken in the lab. I published it on a 3D-object sharing platform and soon forgot about it. But a few months later, I was approached by a scientist in the field of fluid mechanics asking aerodynamics questions! It's nice to know what I made have resonated with scientists in other fields.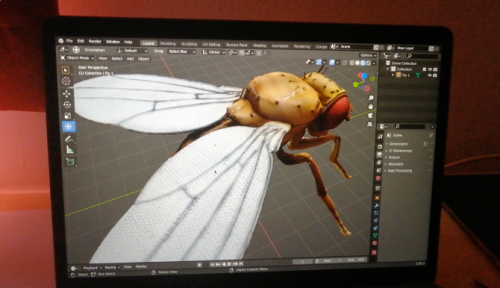 What I've Learned
Having just graduated, I was reflecting on my uni experience throughout the summer. Doing the outreach project helped me figure it out. Despite getting a First Class Honours degree, I could barely recall 20% of my class notes. Apparently, this happens to virtually everyone. So detailed knowledge isn't the most important thing one gains from uni. Then what is? While doing this project, I realised that I've gained three key transferable skills and insight.
1) Insight: life in the lab.
During my four-year degree, I worked on three research projects and peeked at the workings of research labs. I learned about collaborations, group dynamics, and stories of people at various stages of their academic careers. This leads me to my current position, an MRes student in Experimental Neuroscience, and I'm confident to move on to a PhD and beyond.
2) How to teach myself something from scratch.
The ability to learn anything with the internet is a crucial skill that got me through uni and this project. With information overflow versus a limited lifetime, modern scientists need to quickly locate what we need and master the necessary skills for their own research. Being able to teach ourselves anything unleashes a lot of potentials. You will be surprised at the opportunities it brings.
3) How to communicate with different audiences.
Communication, be it verbal or non-verbal, online or face-to-face, is a transferable skill across all careers. Learning how to present and promote one's work online is arguably the most important skill in the modern age. By learning to promote the lab's work online, I realised that you don't need to be a professional "influencer" to get your voice heard.
So I started gossiping about things I'm passionate about – neuroscience, productivity hacks – to people around me. During my summer project, I started blogging, made a personal website, and even started making podcasts with friends! Instead of passively interacting with my phone when I'm bored, I now initiate deep conversations with people and share what I've learned with people around the world.
How can this help you, a fellow scientist?
Well, for starters, no matter which career stage you're in, face this reality – if your work isn't online, it doesn't exist. Digital journals have made it easier to share our work, but that is not enough. Successful scientists actively share their work online, by social media, or interviews, which are published as articles, videos, or podcasts.
Never before have there been so many brilliant ways to promote our work, but never before has it been so difficult to compete with other voices to make sure that ours get heard. Creating a lab website, a YouTube channel, or a social media account will be a good start.
What Next?
The insights and skills I gained this summer are invaluable. As I'm starting my Master's degree, I want to continue blogging and make more outreach stuff for future labs. I'm also considering a career in academia with teaching and public engagement elements. Maybe I'll become a professor, or a science writer, to inspire curious minds around the world.
Finally, I want to thank all the amazing people in the Hidalgo Lab – Alicia, Marta, Guiyi, Jun, Maria, Lizzie, Naser, Deepanshu, Mike, and Anna. They have been such an enthusiastic and supportive team for my thesis and summer project. I also want to thank the BSDB studentship for their support throughout my project. I would strongly recommend future students to apply to the studentship, not only for wet-lab projects but outreach projects as well.
Here's a short introduction to the Hidalgo lab if you are interested: