Welcome to our monthly trawl for developmental biology (and related) preprints.
The preprints this month are hosted on bioRxiv, arXiv and preprints.org – use these links to get to the section you want.
Developmental biology
| Patterning & signalling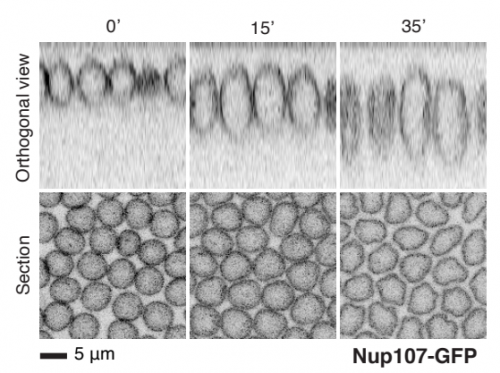 Membrane architecture and adherens junctions contribute to strong Notch pathway activation
Julia Falo Sanjuan, Sarah Bray
Cell-autonomous generation of the wave pattern within the vertebrate segmentation clock
Laurel A Rohde, Arianne Bercowsky-Rama, Jose Negrete Jr., Guillaume Valentin, Sundar Ram Naganathan, Ravi A Desai, Petr Strnad, Daniele Soroldoni, Frank Julicher, Andrew C Oates
A protein-trap allele reveals roles for Drosophila ATF4 in photoreceptor degeneration, oocyte maturation and wing development
Deepika Vasudevan, Hidetaka Katow, Grace Tang, Hyung Don Ryoo
Interplay between cell proliferation and recruitment controls the duration of growth and final size of the Drosophila wing
Elizabeth Diaz-Torres, Luis Manuel Muñoz-Nava, Marcos Nahmad
Loss of imprinting of the Igf2-H19 ICR1 enhances placental endocrine capacity via sex-specific alterations in signalling pathways in the mouse
Bethany R. L. Aykroyd, Simon J. Tunster, Amanda N. Sferruzzi-Perri
The neurogenic fate of the hindbrain boundaries: a Notch-dependent behavioral switch triggers asymmetric division of boundary stem cells
Covadonga F Hevia, Carolyn Engel-Pizcueta, Frederic Udina, Cristina Pujades
A lipid-mTORC1 nutrient sensing pathway regulates animal development by peroxisome-derived hormones
Na Li, Beilei Hua, Qing Chen, Meiyu Ruan, Mengnan Zhu, Huali Shen, Li Zhang, Huanhu Zhu
TALPID3/KIAA0586 regulates multiple aspects of neuromuscular patterning during gastrointestinal development in animal models and human
Jean Marie Delalande, Nandor Nagy, Conor J. McCann, Dipa Natarajan, Julie E. Cooper, Gabriela Carreno, David Dora, Alison Campbell, Nicole Laurent, Polychronis Kemos, Sophie Thomas, Caroline Alby, Tania Attié-Bitach, Stanislas Lyonnet, Malcolm P. Logan, Allan M. Goldstein, Megan G. Davey, Robert M.W. Hofstra, Nikhil Thapar, Alan J. Burns

Development and genetics of red coloration in the zebrafish relative Danio albolineatus
Delai Huang, Victor M. Lewis, Matthew B. Toomey, Joseph C. Corbo, David M. Parichy
A single heterozygous mutation in COG4 disrupts zebrafish early development via Wnt signaling
Zhi-Jie Xia, Xin-Xin I. Zeng, Mitali Tambe, Bobby G. Ng, P. Duc S. Dong, Hudson H. Freeze
Buffered EGFR signaling regulated by spitz to argos expression ratio is critical for patterning the Drosophila eye
Nikhita Pasnuri, Manish Jaiswal, Krishanu Ray, Aprotim Mazumder
Identification of bipotent progenitors that give rise to myogenic and connective tissues in mouse
Alexandre Grimaldi, Glenda Comai, Sébastien Mella, Shahragim Tajbakhsh
Evidence of wiring development processes from the connectome of adult Drosophila
Louis K. Scheffer
Kap-β2/Transportin mediates β-catenin nuclear transport in Wnt signaling
Mustafa Khokha, Woong Y. Hwang, C Patrick Lusk, Valentyna Kostiuk, Delfina P González
The sperm protein SPACA4 is required for efficient fertilization in mice
Sarah Herberg, Yoshitaka Fujihara, Andreas Blaha, Karin Panser, Kiyonori Kobayashi, Tamara Larasati, Maria Novatchkova, H. Christian Theußl, Olga Olszanska, Masahito Ikawa, Andrea Pauli
Lyl-1 regulates primitive macrophages and microglia development
Shoutang Wang, Deshan Ren, Anna-Lila Kaushik, Gabriel Matherat, Yann Lécluse, Dominik Filipp, William Vainchenker, Hana Raslova, Isabelle Plo, Isabelle Godin
Generation and timing of graded responses to morphogen gradients
Shari Carmon, Felix Jonas, Naama Barkai, Eyal D. Schejter, Ben-Zion Shilo
EOMES is responsible for WNT memory and can substitute for WNT in mesendoderm specification
Anna Yoney, Lu Bai, Ali H. Brivanlou, Eric D. Siggia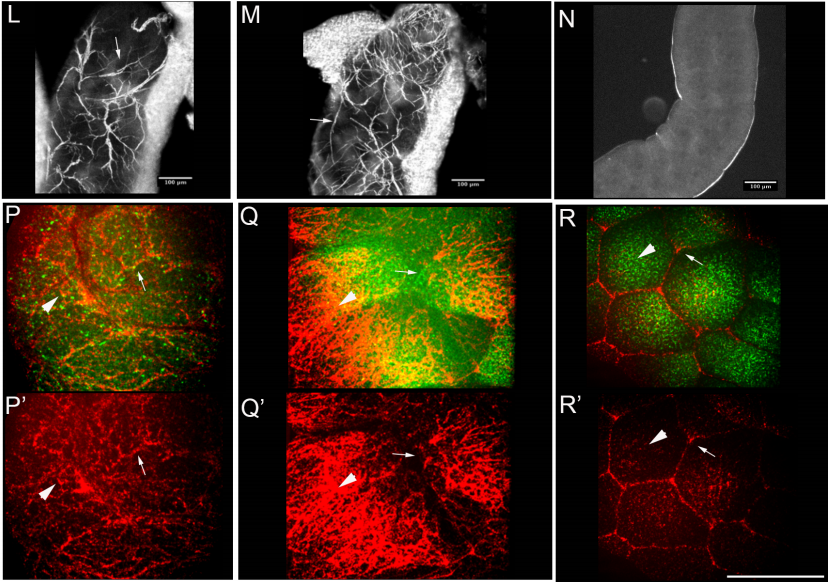 GPI-anchored FGF directs cytoneme-mediated bidirectional signaling to self-regulate tissue-specific dispersion
Lijuan Du, Alex Sohr, Sougata Roy
Oligodendrocyte precursor cells prune axons in the mouse neocortex
JoAnn Buchanan, Leila Elabbady, Forrest Collman, Nikolas L. Jorstad, Trygve E. Bakken, Carolyn Ott, Jenna Glatzer, Adam A. Bleckert, Agnes L. Bodor, Derrick Brittan, Daniel J. Bumbarger, Gayathri Mahalingam, Sharmishtaa Seshamani, Casey Schneider-Mizell, Marc M. Takeno, Russel Torres, Wenjing Yin, Rebecca D. Hodge, Manuel Castro, Sven Dorkenwald, Dodam Ih, Chris S. Jordan, Nico Kemnitz, Kisuk Lee, Ran Lu, Thomas Macrina, Shang Mu, Sergiy Popovych, William M. Silversmith, Ignacio Tartavull, Nicholas L. Turner, Alyssa M. Wilson, William Wong, Jingpeng Wu, Aleksandar Zlateski, Jonathan Zung, Jennifer Lippincott-Schwartz, Ed S. Lein, H. Sebastian Seung, Dwight E. Bergles, R. Clay Reid, Nuno Maçarico da Costa
Network instability dynamics drive a transient bursting period in the developing hippocampus in vivo
Jürgen Graf, Vahid Rahmati, Myrtill Majoros, Otto W. Witte, Christian Geis, Stefan J. Kiebel, Knut Holthoff, Knut Kirmse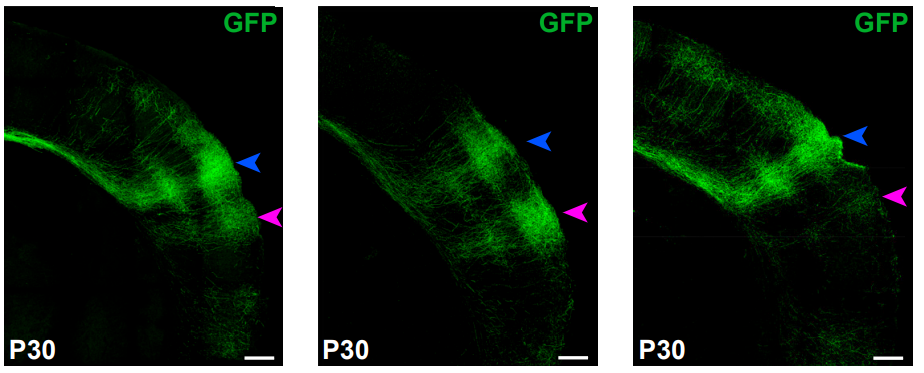 Role of Nrp1 in controlling cortical interhemispheric circuits
F Martín-Fernández, C. G. Briz, M. Nieto
Co-option of local and systemic immune responses by the hormonal signalling system triggering metamorphosis
Catarina Nunes, Takashi Koyama, Elio Sucena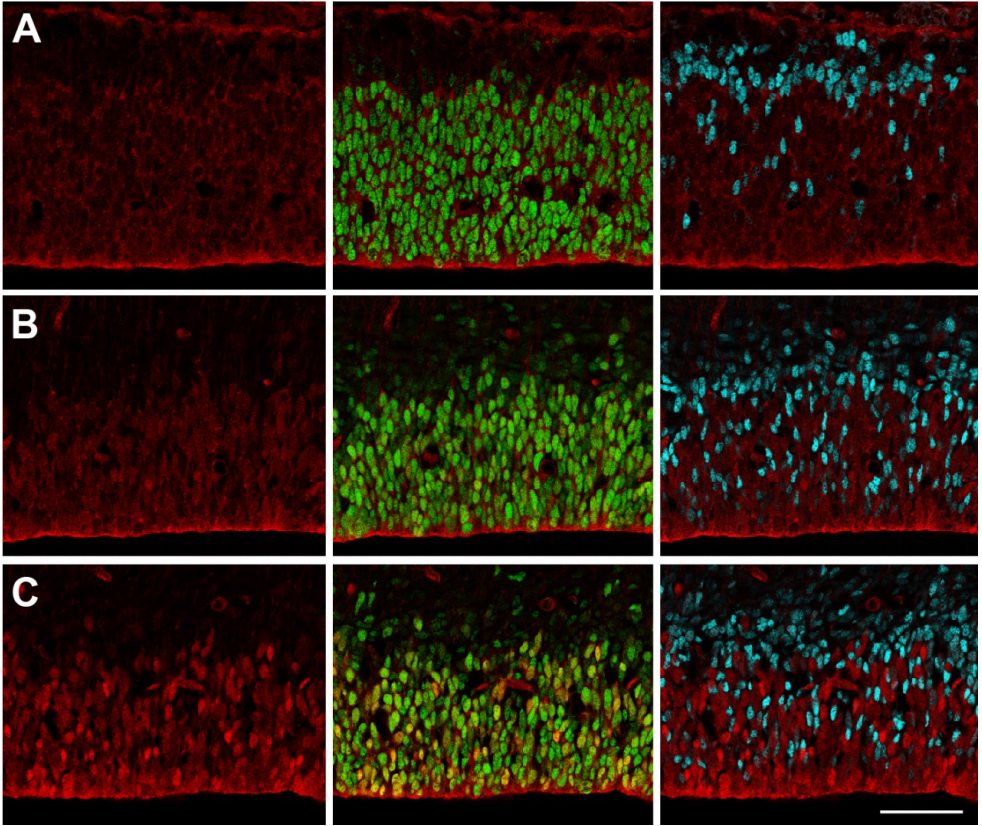 YAP/TAZ Maintain the Proliferative Capacity and Structural Organization of Radial Glial Cells During Brain Development
Alfonso Lavado, Ruchika Gangwar, Joshua Paré, Shibiao Wan, Yiping Fan, Xinwei Cao
Differential regulation of developmental stages supports a linear model for C. elegans postembryonic development
Alejandro Mata-Cabana, Francisco Javier Romero-Expósito, Mirjam Geibel, Francine Amaral Piubeli, Martha Merrow, María Olmedo
Ribosome protein mutant cells rely on the GR64 cluster of gustatory receptors for survival and proteostasis in Drosophila
Michael E. Baumgartner, Iwo Kucinski, Eugenia Piddini
Symmetry breaking in the female germline cyst
D. Nashchekin, L. Busby, M. Jakobs, I. Squires, D. St Johnston
Rbfox1 is required for myofibril development and maintaining fiber-type specific isoform expression in Drosophila muscles
Elena Nikonova, Ketaki Kamble, Amartya Mukherjee, Christiane Barz, Upendra Nongthomba, Maria L. Spletter
Autocrine regulation of adult neurogenesis by the endocannabinoid 2-arachidonoylglycerol (2-AG)
Lena-Louise Schuele, Britta Schürmann, Andras Bilkei-Gorzo, Andreas Zimmer, Este Leidmaa
Size-dependent protein segregation creates a spatial switch for Notch signaling and function
Minsuk Kwak, Kaden M. Southard, Woon Ryoung Kim, Nam Hyeong Kim, Ramu Gopalappa, Minji An, Hyun Jung Lee, Min K. Kang, Seo Hyun Choi, Justin Farlow, Anastasios Georgakopoulos, Nikolaos K. Robakis, Matthew L. Kutys, Daeha Seo, Hyeong Bum Kim, Yong Ho Kim, Jinwoo Cheon, Zev J. Gartner, Young-wook Jun
A natural transdifferentiation event involving mitosis is empowered by integrating signaling inputs with conserved plasticity factors
Claudia Riva, Martina Hajduskova, Christelle Gally, Arnaud Ahier, Sophie Jarriault
Osteoblast cell death triggers a pro-osteogenic inflammatory response regulated by reactive oxygen species and glucocorticoid signaling in zebrafish
Karina Geurtzen, Ankita Duseja, Franziska Knopf
Mesothelial cells are not a source of adipocytes in mice
Gregory P. Westcott, Margo P. Emont, Jin Li, Christopher Jacobs, Linus Tsai, Evan D. Rosen
Key Promoter Region of Wnt4 response to FSH and Genetic Effect on Several Production Traits of Its Mutations in Chicken
Conghao Zhong, Yiya Wang, Cuiping Liu, Yunliang Jiang, Li Kang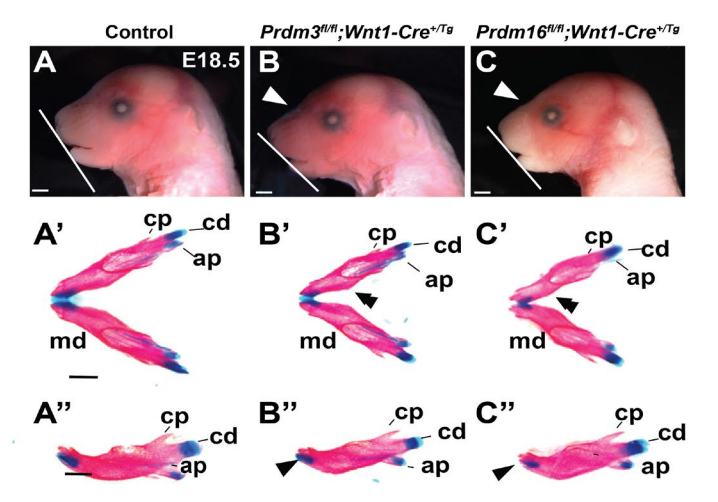 PRDM proteins control Wnt/β-catenin activity to regulate craniofacial chondrocyte differentiation
Lomeli Carpio Shull, Hyun Min Kim, Ezra Lencer, James C Costello, Kenneth Jones, Kristin Artinger
Embryonic hyperglycemia perturbs the development of specific retinal cell types, including photoreceptors
Kayla F. Titialii-Torres, Ann C. Morris
Effects of gestational age at birth on perinatal structural brain development in healthy term-born babies
Oliver Gale-Grant, Sunniva Fenn-Moltu, Lucas França, Ralica Dimitrova, Daan Christaens, Lucilio Cordero-Grande, Andrew Chew, Shona Falconer, Nicholas Harper, Anthony N Price, Jana Hutter, Emer Hughes, Jonathan O'Muircheartaigh, Mary Rutherford, Serena J Counsell, Daniel Rueckert, Chiara Nosarti, Joseph V Hajnal, Grainne McAlonan, Tomoki Arichi, A David Edwards, Dafnis Batalle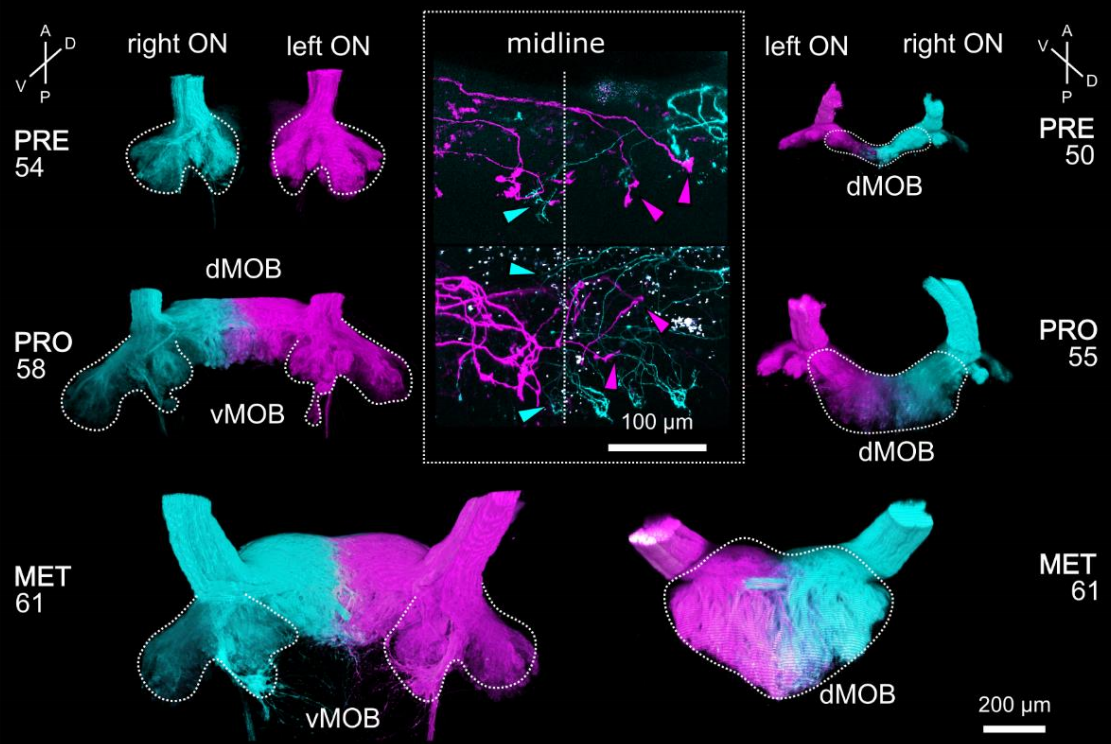 Distinct interhemispheric connectivity at the level of the olfactory bulb emerges during Xenopus laevis metamorphosis
Lukas Weiss, Paola Segoviano Arias, Thomas Offner, Sara Joy Hawkins, Thomas Hassenklöver, Ivan Manzini
Agrin/Lrp4 signal constrains MuSK activity during neuromuscular synapse development in appendicular muscle
Lauren J Walker, Rebecca A Roque, Maria F Navarro, Michael Granato
Dichaete, a Sox2 homologue, prevents activation of cell death in multiple developmental contexts
Katherine Harding, Katerina Heath, Kristin White
Sperm cryopreservation impacts the early development of equine embryos by downregulating specific transcription factors
Jose Manuel Ortiz-Rodriguez, Francisco Eduardo Martin-Cano, Gemma L Gaitskell-Phillips, Alberto Alvarez Barrientos, Heriberto Rodriguez-Martínez, Cruz Gil Anaya, Cristina Ortega-Ferrusola, Fernando J Peña-Vega
A single short reprogramming early in life improves fitness and increases lifespan in old age
Quentin Alle, Enora Le Borgne, Paul Bensadoun, Camille Lemey, Nelly Béchir, Mélissa Gabanou, Fanny Estermann, Christelle Bertrand-Gaday, Laurence Pessemesse, Karine Toupet, Jérôme Vialaret, Christophe Hirtz, Danièle Noël, Christian Jorgensen, François Casas, Ollivier Milhavet, Jean-Marc Lemaitre
| Morphogenesis & mechanics

Multivalent interactions make adherens junction-cytoskeletal linkage robust during morphogenesis
Kia Z. Perez-Vale, Kristi D. Yow, Amy E. Byrnes, Tara M. Finegan, Kevin C. Slep, Mark Peifer
Oligodendrocyte precursor cells guide the migration of cortical interneurons by unidirectional contact repulsion
Fanny Lepiemme, Gabriel Mazzucchelli, Carla G. Silva, Laurent Nguyen
Morphogenesis of a complex glial niche requires an interplay between cellular growth and fusion
Maria Alexandra Rujano, David Briand, Bojana Ðelić, Pauline Spéder
Semaphorin3f as an intrinsic regulator of chamber-specific heart development
R Halabi, P.B. Cechmanek, C.L. Hehr, S. McFarlane
Frizzled3 inhibits Vangl2-Prickle3 association to establish planar cell polarity in the vertebrate neural plate
Ilya Chuykin, Keiji Itoh, Kyeongmi Kim, Sergei Y. Sokol
CD9 tetraspanins convey robustness to CXCR4b signalling during collective cell migration
KS Marsay, S Greaves, H Roehl, PN Monk, T. J. Carney, LJ Partridge
Live imaging of delamination in Drosophila shows that epithelial cell motility and invasiveness are independently regulated
Mikiko Inaki, Kenji Matsuno
LMO7-dependent apical constriction requires the binding of the Myosin heavy chain
Miho Matsuda, Chih-Wen Chu, Sergei Y. Sokol
Syntaxin-1 is necessary for UNC5/Netrin-1-dependent macropinocytosis and chemorepulsion
Ramon Martínez-Mármol, Ashraf Muhaisen, Tiziana Cotrufo, Cristina Roselló-Busquets, Marc Hernaiz-Llorens, Francesc Pérez-Branguli, Rosa Maria Andrés, Oriol Ros, Marta Pascual, Fausto Ulloa, Eduardo Soriano

Mechanical collaboration between the embryonic brain and the surrounding scalp tissues
Koichiro Tsujikawa, Kanako Saito, Arata Nagasaka, Takaki Miyata
Notch controls the cell cycle to define leader versus follower identities during collective cell migration
Zain Alhashem, Dylan Feldner-Busztin, Christopher Revell, Macarena Alvarez-Garcillan Portillo, Joanna Richardson, Manuel Rocha, Anton Gauert, Tatianna Corbeaux, Victoria E Prince, Katie Bentley, Claudia Linker
Actin-related protein 5 functions as a novel modulator of MyoD and MyoG in skeletal muscle and in rhabdomyosarcoma
Tsuyoshi Morita, Ken'ichiro Hayashi
Regulators of the secretory pathway have distinct inputs into single-celled branching morphogenesis and seamless tube formation in the Drosophila trachea
Christopher M. Bourne, Daniel C. Lai, Jodi Schottenfeld-Roames
The zebrafish meiotic cohesion complex protein Smc1b is required for key events in meiotic prophase I
Kazi Nazrul Islam, Maitri Mitesh Modi, Kellee Renee Siegfried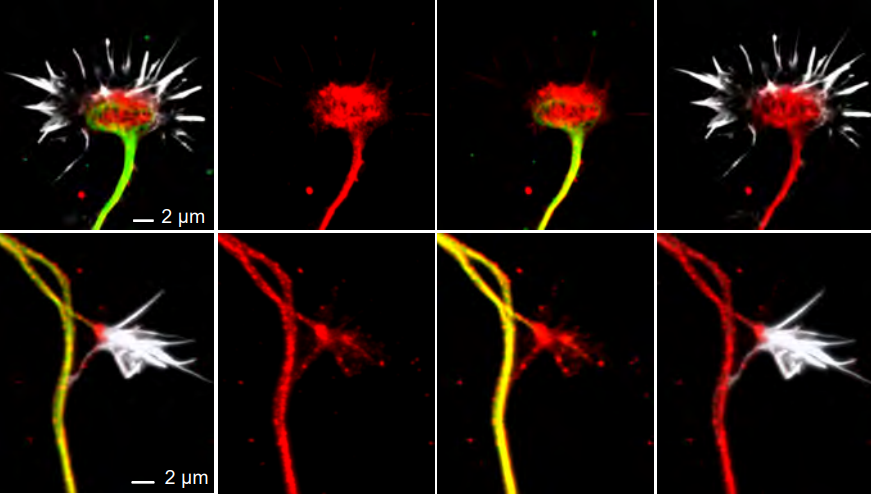 Giant ankyrin-B mediates transduction of axon guidance and collateral branch pruning factor Sema 3A
Blake A. Creighton, Deepa Ajit, Simone Afriyie, Julia Bay, Damaris Lorenzo
Met is required for oligodendrocyte progenitor cell migration in Danio rerio
Maria F Ali, Andrew J Latimer, Yinxue Wang, Leah Hogenmiller, Laura Fontenas, Adam J Isabella, Cecilia B Moens, Guoqiang Yu, Sarah Kucenas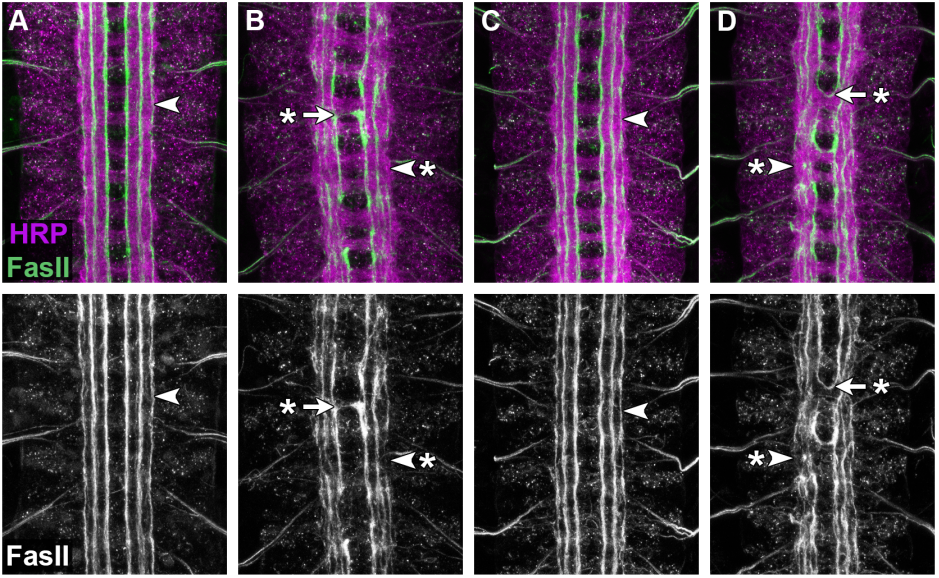 The Slit-binding Ig1 domain is required for multiple axon guidance activities of Drosophila Robo2
LaFreda J. Howard, Marie C. Reichert, Timothy A. Evans
Kinesin-3 mediated delivery of presynaptic neurexin stabilizes growing dendritic spines and postsynaptic components in vivo
Devyn Oliver, Shankar Ramachandran, Alison Philbrook, Christopher M. Lambert, Ken C. Q. Nguyen, David H. Hall, Michael M. Francis
EVL and MIM/MTSS1 regulate actin cytoskeletal remodeling to promote dendritic filopodia in developing neurons
SS Parker, KT Ly, AD Grant, A Wang, JD Parker, MR Roman, M Padi, CW Wolgemuth, PR Langlais, G Mouneimne
Knocking-out the human face genes TBX15 and PAX1 in mice alters facial and other physical morphology
Yu Qian, Ziyi Xiong, Yi Li, Haibo Zhou, Manfred Kayser, Lei Liu, Fan Liu
Foregut organ progenitors and their niche display distinct viscoelastic properties in vivo during early morphogenesis stages
Aliaksandr Dzementsei, Younes F. A Barooji, Elke A Ober, Lene Broeng Oddershede
Dynein light chain-dependent dimerization of Egalitarian is essential for maintaining oocyte fate in Drosophila
Hannah Neiswender, Chandler H. Goldman, Rajalakshmi Veeranan-Karmegam, Graydon B. Gonsalvez
SKAP2 as a new regulator of oligodendroglial migration and myelin sheath formation
Julia Ghelman, Laureen Grewing, Farina Windener, Stefanie Albrecht, Alexander Zarbock, Tanja Kuhlmann
Isoform-specific roles of the Drosophila filamin-type protein Jitterbug (Jbug) during development
SeYeon Chung, Thao Phuong Le, Vishakha Vishwakarma, Yim Ling Cheng, Deborah J. Andrew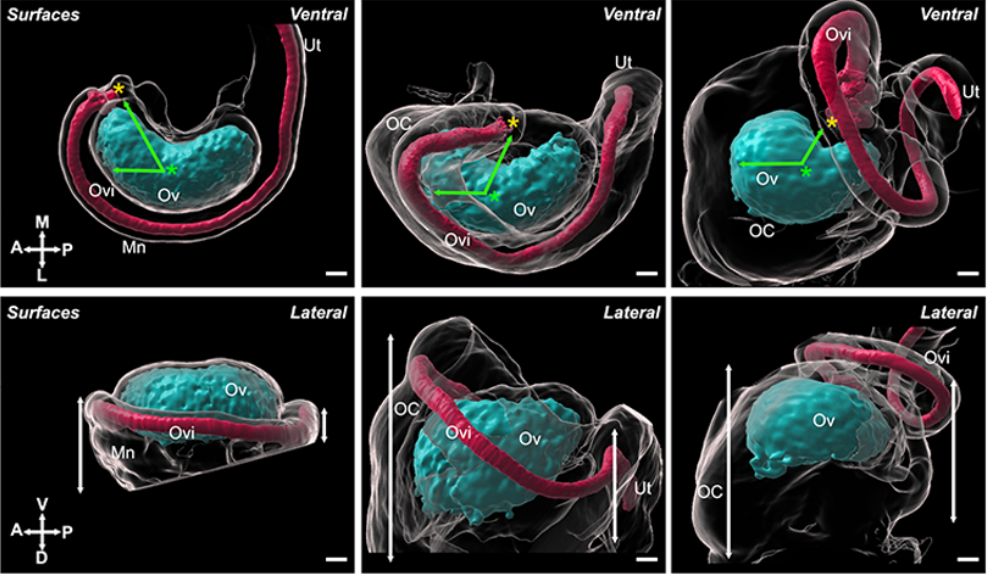 Integration of mouse ovary morphogenesis with developmental dynamics of the oviduct, ovarian ligaments, and rete ovarii.
Jennifer McKey, Dilara N Anbarci, Corey Bunce, Blanche Capel
Transient nuclear deformation primes epigenetic state and promotes cell reprogramming
Yang Song, Jennifer Soto, Binru Chen, Weikang Zhao, Tyler Hoffman, Ninghao Zhu, Qin Peng, Chau Ly, Pak Kin Wong, Yingxiao Wang, Amy C Rowat, Siavash K Kurdistani, Song Li
Mechanisms underlying microglial colonization of developing neural retina in zebrafish
Nishtha Ranawat, Ichiro Masai
| Genes & genomes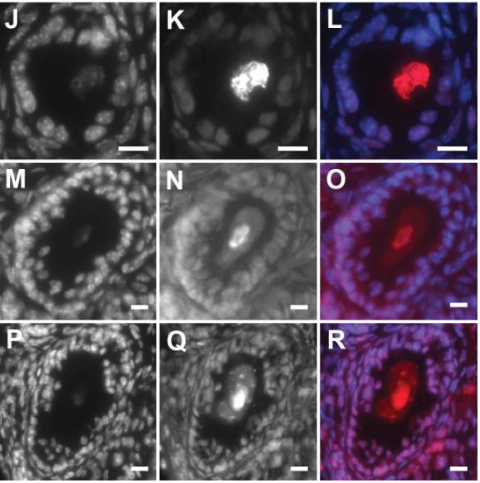 CoREST has a conserved role in facilitating SPR-5/LSD1 maternal reprogramming of histone methylation
Brandon S. Carpenter, Alyssa Scott, Robert Goldin, Sindy R. Chavez, Dexter A. Myrick, Marcus Curlee, Karen Schmeichel, David J. Katz
Epigenetic Inheritance is Gated by Naïve Pluripotency and Dppa2
Valentina Carlini, Cristina Policarpi, Jamie A. Hackett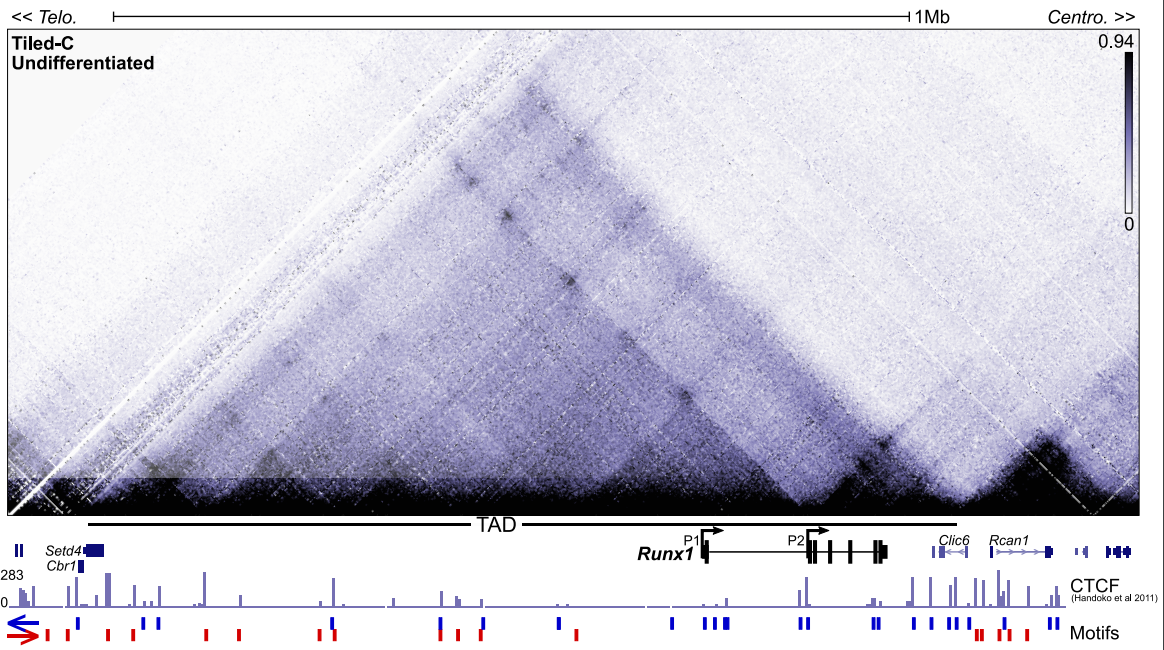 Dynamic Runx1 chromatin boundaries affect gene expression in hematopoietic development
Dominic D.G. Owens, Giorgio Anselmi, A. Marieke Oudelaar, Damien J Downes, Alessandro Cavallo, Joe R Harman, Ron Schwessinger, Akin Bucakci, Lucas Greder, Sara De Ornellas, Danuta Jeziorska, Jelena Telenius, Jim R Hughes, Marella F.T.R. de Bruijn
Foxd3 controls heterochromatin-mediated silencing of repeat elements in mouse embryonic stem cells and represses the 2-cell transcription program
Deepika Puri, Birgit Koschorz, Bettina Engist, Megumi Onishi-Seebacher, Devon Ryan, Thomas Montavon
In situ and transcriptomic identification of synapse-associated microglia in the developing zebrafish brain
Nicholas J. Silva, Leah C. Dorman, Ilia D. Vainchtein, Nadine C. Horneck, Anna V. Molofsky
Spatiotemporal specificity of correlated DNA methylation and gene expression pairs across different human tissues and stages of brain development
Kangli Wang, Rujia Dai, Yan Xia, Jianghua Tian, Chuan Jiao, Tatiana Mikhailova, Chunling Zhang, Chao Chen, Chunyu Liu
Quantitative comparison of in vitro and in vivo embryogenesis at a single cell resolution
Yuqi Tan, Abby Spangler, Michael Farid, Da Peng, Patrick Cahan
Single-cell transcriptome analysis of the zebrafish embryonic trunk
Sanjeeva Metikala, Satish Casie Chetty, Saulius Sumanas
Single-cell RNA-sequencing reveals thoracolumbar vertebra heterogeneity and rib-genesis in pigs
Jianbo Li, Ligang Wang, Dawei Yu, Junfeng Hao, Longchao Zhang, Adeniyi C. Adeola, Bingyu Mao, Yun Gao, Shifang Wu, Chunling Zhu, Yongqing Zhang, Jilong Ren, Changgai Mu, David M. Irwin, Lixian Wang, Tang Hai, Haibing Xie, Yaping Zhang
Molecular diversity and lineage commitment of human interneuron progenitors
Dmitry Velmeshev, Manideep Chavali, Tomasz J. Nowakowski, Mohini Bhade, Simone Mayer, Nitasha Goyal, Beatriz Alvarado, Walter Mancia, Shaohui Wang, Matthew Speir, Maximilian Haeussler, David Rowitch, Arturo Alvarez-Buylla, Eric J. Huang, Mercedes Paredes, Arnold Kriegstein
Control of spinal motor neuron terminal differentiation through sustained Hoxc8 gene activity
Catarina Catela, Yifei Weng, Kailong Wen, Weidong Feng, Paschalis Kratsios
Diverse mechanisms for epigenetic imprinting in mammals
Daniel Andergassen, Zachary D. Smith, John L. Rinn, Alexander Meissner
Inferring kinetic parameters of oscillatory gene regulation from single cell time series data
Joshua Burton, Cerys S. Manning, Magnus Rattray, Nancy Papalopulu, Jochen Kursawe
Alternative somatic and germline gene-regulatory strategies during starvation-induced developmental arrest
Amy K. Webster, Rojin Chitrakar, L. Ryan Baugh
Cell trajectory modeling identifies a primitive trophoblast state defined by BCAM enrichment
Matthew Shannon, Jennet Baltayeva, Barbara Castellana, Jasmin Wächter, Samantha Yoon, Jenna Treissman, Hoa T. Le, Pascal M. Lavoie, Alexander G. Beristain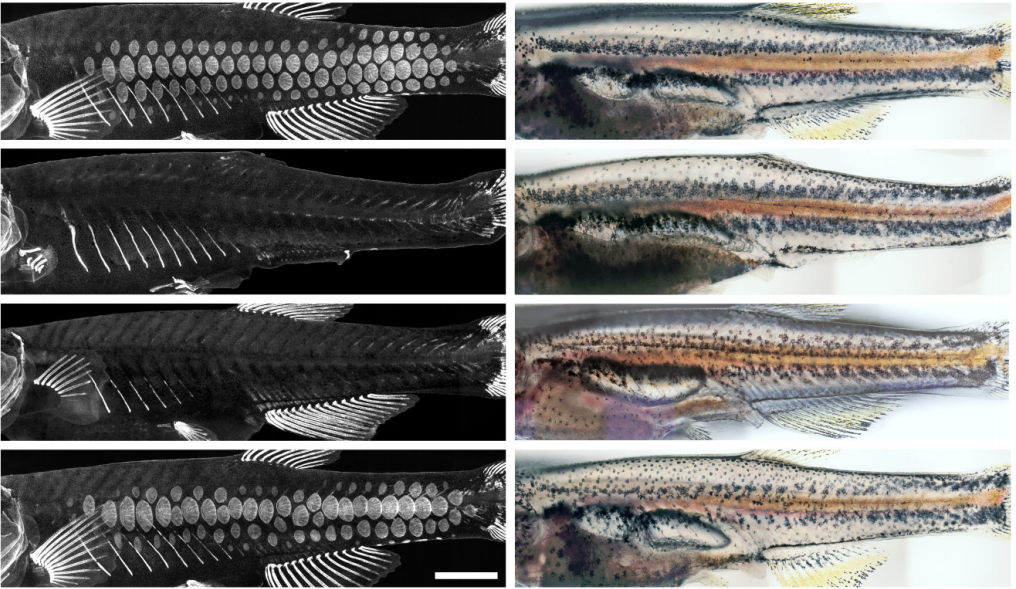 Transcriptomic profiling of tissue environments critical for post-embryonic patterning and morphogenesis of zebrafish skin
Andrew J. Aman, Lauren M. Saunders, Sanjay R. Srivatsan, Cole Trapnell, David M. Parichy
The Hox gene Antennapedia regulates wing development through 20-hydroxyecdysone in insect
Chunyan Fang, Yaqun Xin, Tao Sun, Antónia Monteiro, Zhanfeng Ye, Fangyin Dai, Cheng Lu, Xiaoling Tong
Dual origin and multiple neuropeptidergic trajectories of hypothalamic POMC progenitors revealed by developmental single-cell transcriptomics
Hui Yu, Marcelo Rubinstein, Malcolm J Low
Alternative Promoter use Governs the Expression of IgLON Cell Adhesion Molecules in Histogenetic Fields of the Embryonic Mouse Brain
Toomas Jagomäe , Katyayani Singh , Mari-Anne Philips , Mohan Jayaram , Kadri Seppa , Triin Tekko , Scott F Gilbert , Eero Vasar, Kersti Lilleväli
delilah, prospero and D-Pax2 constitute a gene regulatory network essential for the development of functional proprioceptors
Adel Avetisyan, Yael Glatt, Maya Cohen, Yael Timerman, Nitay Aspis, Atalya Nachman, Naomi Halachmi, Ella Preger-Ben Noon, Adi Salzberg
Single cell transcriptomics and developmental trajectories of murine cranial neural crest cell fate determination and cell cycle progression
Yu Ji, Shuwen Zhang, Kurt Reynolds, Ran Gu, Moira McMahon, Mohammad Islam, Yue Liu, Taylor Imai, Rebecca Donham, Huan Zhao, Ying Xu, Diana Burkart-Waco, Chengji J. Zhou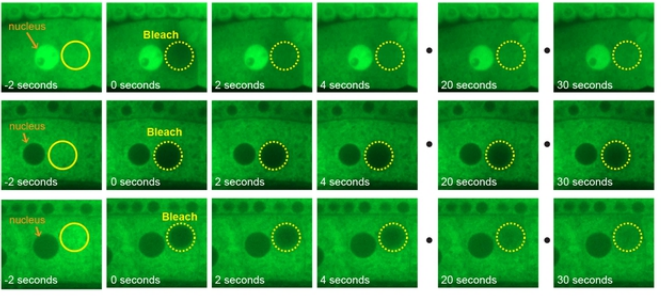 PQN-59 antagonizes microRNA-mediated repression and functions in stress granule formation during C. elegans development
Colleen Carlston, Robin Weinmann, Natalia Stec, Simona Abbatemarco, Francoise Schwager, Jing Wang, Huiwu Ouyang, Monica Gotta, Christopher M. Hammell
BRD9-containing non-canonical BAF complexes safeguard cell identity and prevent reprogramming
Kenan Sevinç, Gülben Gürhan Sevinç, Ayşe Derya Cavga, Martin Philpott, Simge Kelekçi, Hazal Can, Adam P. Cribbs, Enes Sefa Ayar, Dilşad H. Arabacı, James E. Dunford, Ata B. Demir, Logan H. Sigua, Jun Qi, Udo Oppermann, Tamer T. Onder
Redundant enhancers in the iab-5 domain cooperatively activate Abd-B in the A5 and A6 abdominal segments of Drosophila
Nikolay Postika, Paul Schedl, Pavel Georgiev, Olga Kyrchanova
Genetic analysis of Caenorhabditis elegans pry-1/Axin suppressors identifies genes involved in reproductive structure development, stress response, and aging
Avijit Mallick, Nikita Jhaveri, Jihae Jeon, Yvonne Chang, Krupali Shah, Hannah Hosein, Bhagwati P. Gupta
Targeted DamID in C. elegans reveals a role for LIN-22 and NHR-25 in epidermal cell differentiation
Dimitris Katsanos, Michalis Barkoulas
Translation-dependent mRNA localization to Caenorhabditis elegans adherens junctions
Cristina Tocchini, Michèle Rohner, Stephen E. Von Stetina, Susan E. Mango
Three-dimensional chromatin architecture of early-stage mouse embryos reconstructed via recurrence plots
Yuki Kitanishi, Hiroki Sugishita, Yukiko Gotoh, Yoshito Hirata
| Stem cells, regeneration & disease modelling

Disabling de novo DNA methylation in embryonic stem cells allows an illegitimate fate trajectory
Masaki Kinoshita, Meng Amy Li, Michael Barber, William Mansfield, Sabine Dietmann, Austin Smith
RSL24D1 sustains steady-state ribosome biogenesis and pluripotency translational programs in embryonic stem cells
Sébastien Durand, Marion Bruelle, Fleur Bourdelais, Bigitha Bennychen, Juliana Blin-Gonthier, Caroline Isaac, Aurélia Huyghe, Antoine Seyve, Christophe Vanbelle, David Meyronet, Frédéric Catez, Jean-Jacques Diaz, Fabrice Lavial, Emiliano P. Ricci, François Ducray, Mathieu Gabut
Neural stem cells alter nucleocytoplasmic partitioning and accumulate nuclear polyadenylated transcripts during quiescence
A. Rossi, A. Coum, M. Madelenat, L. Harris, A. Miedzik, S. Strohbuecker, A. Chai, H. Fiaz, R. Chaouni, P. Faull, W. Grey, D. Bonnet, F. Hamid, E. V. Makeyev, A. P. Snijders, G. Kelly, F. Guillemot, R. Sousa-Nunes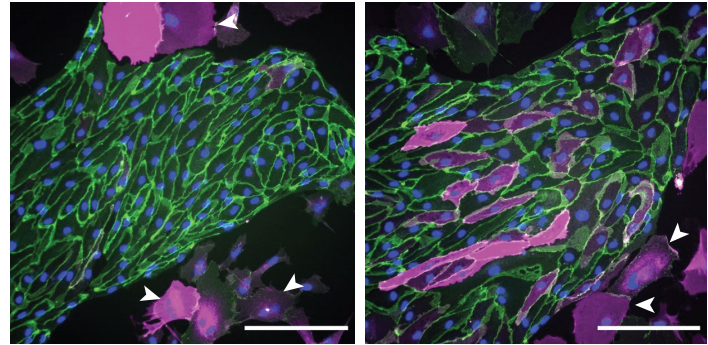 Wnt signaling mediates acquisition of blood-brain barrier properties in naïve endothelium derived from human pluripotent stem cells
Benjamin D. Gastfriend, Hideaki Nishihara, Scott G. Canfield, Koji L. Foreman, Britta Engelhardt, Sean P. Palecek, Eric V. Shusta
Definitive Hematopoietic Stem Cells Minimally Contribute to Embryonic Hematopoiesis
Bianca A Ulloa, Samima S Habbsa, Kathryn S. Potts, Alana Lewis, Mia McKinstry, Sara G. Payne, Julio Flores, Anastasia Nizhnik, Maria Feliz Norberto, Christian Mosimann, Teresa V Bowman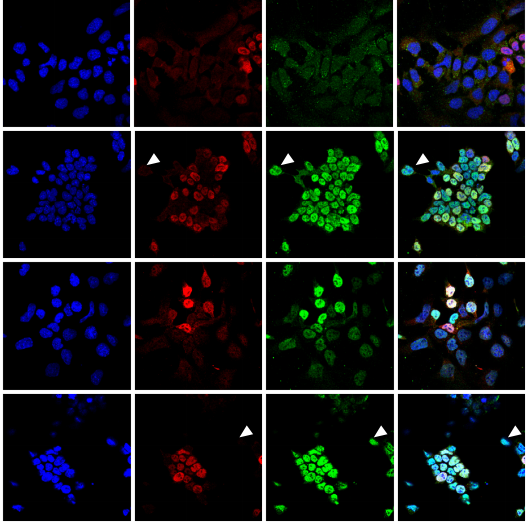 Resf1 supports embryonic stem cell self-renewal and effective germline entry
Matus Vojtek, Ian Chambers
Translational specialization in pluripotency by RBPMS poises future lineage-decisions
Deniz Bartsch, Kaustubh Kalamkar, Gaurav Ahuja, Hisham Bazzi, Argyris Papantonis, Leo Kurian
Transcriptional Reprogramming of Skeletal Muscle Stem Cells by the Niche Environment
Felicia Lazure, Rick Farouni, Korin Sahinyan, Darren M. Blackburn, Aldo Hernandez-Corchado, Gabrielle Perron, Jiannis Ragoussis, Colin Crist, Theodore J. Perkins, Arezu Jahani-Asl, Hamed S Najafabadi, Vahab D. Soleimani
Craniofacial cartilage organoids from human embryonic stem cells via a neural crest cell intermediate
Lauren E. Foltz, Tyler Levy, Anthony Possemato, Mark L Grimes
Self-organized yolk sac-like organoids allow for scalable generation of multipotent hematopoietic progenitor cells from human induced pluripotent stem cells
Naritaka Tamaoki, Stefan Siebert, Takuya Maeda, Ngoc-Han Ha, Meghan L. Good, Yin Huang, Suman Kumar Vodnala, Juan J. Haro-Mora, Naoya Uchida, John F. Tisdale, Colin L. Sweeney, Uimook Choi, Julie Brault, Sherry Koontz, Harry L. Malech, Yasuhiro Yamazaki, Risa Isonaka, David S. Goldstein, Masaki Kimura, Takanori Takebe, Jizhong Zou, David F. Stroncek, Pamela G. Robey, Michael J. Kruhlak, Nicholas P. Restifo, Raul Vizcardo
Wnt- and Glutamate-receptors orchestrate stem cell dynamics and asymmetric cell division
Sergi Junyent, Joshua Reeves, James L. A. Szczerkowski, Clare L. Garcin, Tung-Jui Trieu, Matthew Wilson, Jethro Lundie-Brown, Shukry J. Habib
Soft limbal niche maintains stem cell compartmentalization and function through YAP
Swarnabh Bhattacharya, Abhishek Mukherjee, Sabrina Pisano, Anna Altshuler, Waseem Nasser, Sunanda Dey, Anna Kaganovsky, Aya Amitai-Lange, Michael Mimouni, Sergiu Socea, Peleg Hasson, Chloe Feral, Haguy Wolfenson, Ruby Shalom-Feuerstein
The RNA helicases DDX5 and DDX17 facilitate neural differentiation of human pluripotent stem cells NTERA2
Praewa Suthapot, Tiaojiang Xiao, Gary Felsenfeld, Suradej Hongeng, Patompon Wongtrakoongate
Reprogrammed iBlastoids contain amnion-like cells but not trophectoderm
Cheng Zhao, Alvaro Plaza Reyes, John Paul Schell, Jere Weltner, Nicolás Ortega, Yi Zheng, Åsa K. Björklund, Janet Rossant, Jianping Fu, Sophie Petropoulos, Fredrik Lanner
Hypertrophic Chondrocytes Serve as a Reservoir for Unique Marrow Associated Skeletal Stem and Progenitor Cells, Osteoblasts, and Adipocytes During Skeletal Development
Jason T. Long, Abigail Leinroth, Yihan Liao, Yinshi Ren, Anthony J. Mirando, Tuyet Nguyen, Wendi Guo, Deepika Sharma, Colleen Wu, Kathryn Song Eng Cheah, Courtney M. Karner, Matthew J. Hilton
Retinal organoids derived from rhesus macaque iPSCs undergo accelerated differentiation compared to human stem cells
Antonio Jacobo Lopez, Sangbae Kim, Xinye Qian, Jeffrey Rogers, J. Timothy Stout, Sara M Thomasy, Anna La Torre, Rui Chen, Ala Moshiri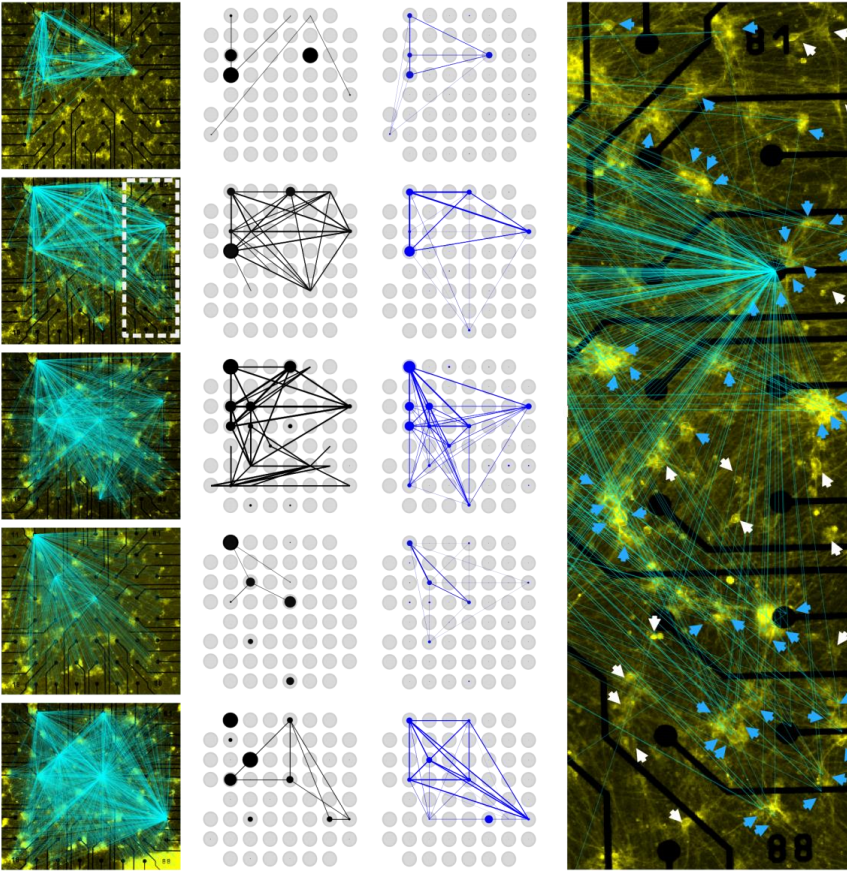 Tracking long-term functional connectivity maps in human stem-cell-derived neuronal networks by holographic-optogenetic stimulation
Felix Schmieder, Rouhollah Habibey, Johannes Striebel, Lars Büttner, Jürgen Czarske, Volker Busskamp
Edaravone activates the GDNF/RET neurotrophic signaling pathway and protects mRNA-induced motor neurons from iPS cells
Qian Li, Yi Feng, Yingchao Xue, Xiping Zhan, Yi Fu, Gege Gui, Jean-Philippe Richard, Arens Taga, Xiaobo Mao, Nicholas J. Maragakis, Mingyao Ying
Extracellular vesicles from neuronal cells promote neural induction of mESCs through cyclinD1
Lu Song, Xinran Tian, Randy Schekman
A secreted proteomic footprint for stem cell pluripotency
Philip Lewis, Edina Silajzick, Helen Smith, Nicola Bates, Christopher A Smith, David Knight, Chris Denning, Daniel R Brison, Susan J Kimber
Derivation of ringed seal (Phoca hispida) induced multipotent stem cells
Violetta R. Beklemisheva, Polina S. Belokopytova, Veniamin S. Fishman, Aleksei G. Menzorov
Stem cells commit to differentiation following multiple induction events in the Drosophila testis
Alice C Yuen, Kenzo-Hugo Hillion, Marc Amoyel
Differentiation of cortical brain organoids and optic nerve-like structures from retinal confluent cultures of pluripotent stem cells
Milan Fernando, Scott Lee, Jesse R. Wark, Di Xiao, Hani J. Kim, Grady C. Smith, Ted Wong, Erdahl T. Teber, Robin R. Ali, Pengyi Yang, Mark E. Graham, Anai Gonzalez-Cordero
Novel epigenetic clock for fetal brain development predicts prenatal age for cellular stem cell models and derived neurons
Leonard C. Steg, Gemma L. Shireby, Jennifer Imm, Jonathan P. Davies, Alice Franklin, Robert Flynn, Seema C. Namboori, Akshay Bhinge, Aaron R. Jeffries, Joe Burrage, Grant W. A. Neilson, Emma M. Walker, Leo W. Perfect, Jack Price, Grainne McAlonan, Deepak P. Srivastava, Nicholas J. Bray, Emma L. Cope, Kimberly M. Jones, Nicholas D. Allen, Ehsan Pishva, Emma L. Dempster, Katie Lunnon, Jonathan Mill, Eilis Hannon
Mesenchymal stem cell subpopulations and their heterogeneity of response to inductions revealed by single-cell RNA-seq
Wenhong Hou, Li Duan, Changyuan Huang, Xingfu Li, Xiao Xu, Pengfei Qin, Ni Hong, Daping Wang, Wenfei Jin
Generation of human chambered cardiac organoids from pluripotent stem cells for improved modelling of cardiovascular diseases
Beatrice Xuan Ho, Jeremy Pang, Qian Hua Phua, Lee Chuen Liew, Boon Min Poh, Ying Chen, Yuin-Han Loh, Omer An, Henry He Yang, Veerabrahma Pratap Seshachalam, Judice LY Koh, Woon-Khiong Chan, Shi-Yan Ng, Boon-Seng Soh
β-catenin perturbations control differentiation programs in mouse embryonic stem cells
Elisa Pedone, Mario Failli, Gennaro Gambardella, Rossella De Cegli, Diego di Bernardo, Lucia Marucci
Longitudinal dynamics of clonal hematopoiesis identifies gene-specific fitness effects
Neil A. Robertson, Eric Latorre-Crespo, Maria Terradas-Terradas, Alison C. Purcell, Benjamin J Livesey, Joseph A. Marsh, Lee Murphy, Angie Fawkes, Louise MacGillivray, Mhairi Copland, Riccardo E. Marioni, Sarah E. Harris, Simon R. Cox, Ian J. Deary, Linus J. Schumacher, Kristina Kirschner, Tamir Chandra
Biomechanics and Myofibrillar Alignment Enhance Contractile Development and Reproducibility in Stem Cell Derived Cardiac Muscle
Yao-Chang Tsan, Yan-Ting Zhao, Samuel J. DePalma, Adela Capilnasiu, Yu-Wei Wu, Brynn Elder, Isabella Panse, Sabrina Friedline, Thomas S. O'Leary, Nadab Wubshet, Kenneth K. Y. Ho, Michael J. Previs, David Nordsletten, Brendon M. Baker, Lori L. Isom, Allen P. Liu, Adam S. Helms
Edaravone activates the GDNF/RET neurotrophic signaling pathway and protects mRNA-induced motor neurons from iPS cells
Qian Li, Yi Feng, Yingchao Xue, Xiping Zhan, Yi Fu, Gege Gui, Weiqiang Zhou, Jean-Philippe Richard, Arens Taga, Pan Li, Xiaobo Mao, Nicholas J. Maragakis, Mingyao Ying
ALKBH5 regulates somatic cell reprogramming in a phase specific manner
Sherif Khodeer, Arne Klungland, John Arne Dahl

Characterization of mouse Bmp5 regulatory injury element in zebrafish wound models
Ian S. Heller, Catherine A. Guenther, Ana M. Meireles, William S. Talbot, David M. Kingsley
Neuron-radial glial cell communication via BMP/Id1 signaling maintains the regenerative capacity of the adult zebrafish telencephalon
Gaoqun Zhang, Luisa Lübke, Fushun Chen, Tanja Beil, Masanari Takamiya, Nicolas Diotel, Uwe Strähle, Sepand Rastegar
Hif1α is required for Wnt regulated gene expression during Xenopus tropicalis tail regeneration
Jeet H. Patel, Preston A. Schattinger, Evan E. Takayoshi, Andrea E. Wills
Overexpression of Reticulon 3 enhances CNS axon regeneration and functional recovery after injury
Zubair Ahmed, Sharif Alhajlah, Adam Thompson
Single-cell resolution of MET and EMT programs during zebrafish fin regeneration
W. Joyce Tang, Claire J. Watson, Theresa Olmstead, Christopher H. Allan, Ronald Y. Kwon
Understanding the complexity of Epimorphic Regeneration in zebrafish: A Transcriptomic and Proteomic approach.
Sarena Banu, Namami Gaur, Sowmy Nair, Tanuja Ravikrishnan, Shahida Khan, Sandhya Mani, Swarna Bharathi, Komal Mandal, Naga Anusha Kuram, Sowmya Vuppaladadium, Ch. Lakshmi N Murthy, Mir Quoseena, Nukala Sarath Babu, Mohammed M Idris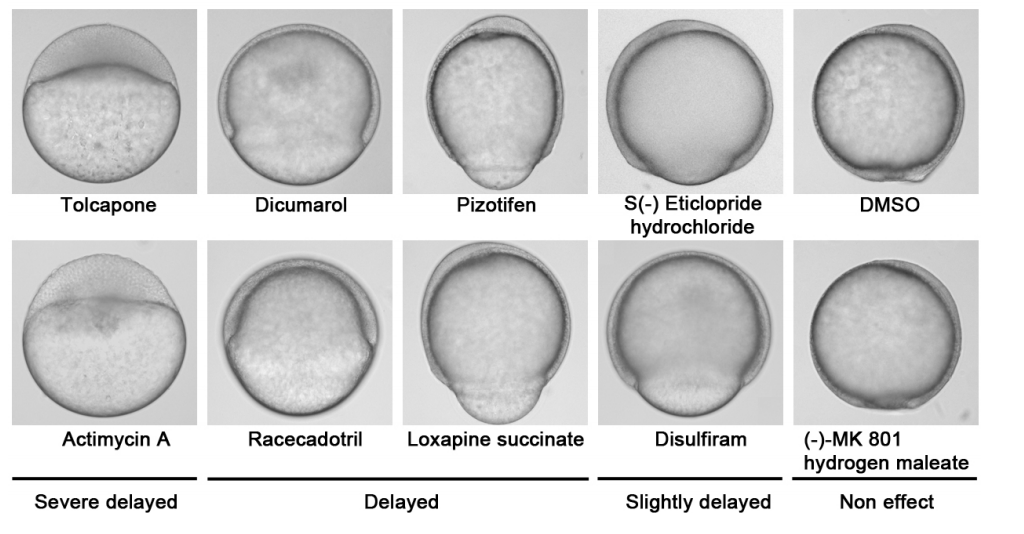 A chemical screen based on an interruption of zebrafish gastrulation identifies the HTR2C inhibitor Pizotifen as a suppressor of EMT-mediated metastasis
Joji Nakayama, Lora Tan, Boon Cher Goh, Shu Wang, Hideki Makinoshima, Zhiyuan Gong
iPSC modeling shows uncompensated mitochondrial mediated oxidative stress underlies early heart failure in hypoplastic left heart syndrome
Xinxiu Xu, Kang Jin, Abha S. Bais, Wenjuan Zhu, Hisato Yagi, Timothy N Feinstein, Phong Nguyen, Joseph Criscione, Xiaoqin Liu, Gisela Beutner, Kalyani B. Karunakaran, Phillip Adams, Catherine K. Kuo, Dennis Kostka, Gloria S. Pryhuber, Sruti Shiva, Madhavi K. Ganapathiraju, George A. Porter Jr, Jiuann-Huey Ivy Lin, Bruce Aronow, Cecilia W. Lo
Regulation of Neural Circuit Development by Cadherin-11 Provides Implications for Autism
Jeannine A. Frei, Robert F. Niescier, Morgan S. Bridi, Madel Durens, Jonathan E. Nestor, Michaela B. C. Kilander, Xiaobing Yuan, Derek M. Dykxhoorn, Michael W. Nestor, Shiyong Huang, Gene J. Blatt, Yu-Chih Lin
mRNA-decapping associated DcpS enzyme controls critical steps of neuronal development
Iva Salamon, Geeta Palsule, Xiaobing Luo, Alfonso Roque, Shawn Tucai, Ishan Khosla, Nicole Volk, Wendy Liu, Huijuan Cui, Valentina Dal Pozzo, Petronio Zalamea, Xinfu Jiao, Gabriella D'Arcangelo, Ronald P Hart, Mladen-Roko Rasin, Megerditch Kiledjian
zmiz1a zebrafish mutants have defective erythropoiesis, altered expression of autophagy genes, and a deficient response to vitamin D
Francisco Castillo-Castellanos, Laura Ramírez, Hilda Lomelí
Correction of a pathogenic mutation in iPSCs derived from a patient with Christianson syndrome using CRISPR/Cas9 genome editing
Li Ma, Qing Wu, Michael Schmidt, Eric M. Morrow
Gains of 12p13.31 delay WNT-mediated initiation of hPSC differentiation and promote residual pluripotency in a cell cycle dependent manner
Alexander Keller, Yingnan Lei, Nuša Krivec, Edouard Couvreu De Deckersberg, Dominika Dziedzicka, Christina Markouli, Karen D Sermon, Mieke Geens, Claudia Spits
Maternal hyperglycemia impedes second heart field-derived cardiomyocyte differentiation to elevate the risk of congenital heart defects
Sathiyanarayanan Manivannan, Corrin Mansfield, Xinmin Zhang, Karthik. M. Kodigepalli, Uddalak Majumdar, Vidu Garg, Madhumita Basu
In vitro models of the human esophagus reveal ancestrally diverse response to injury
Daysha Ferrer-Torres, Joshua H. Wu, Charles J. Zhang, Max A. Hammer, Michael Dame, Angeline Wu, Emily M. Holloway, Kateryna Karpoff, Caroline L. McCarthy, Margaret S Bohm, Sha Huang, Yu-Hwai Tsai, Simon P. Hogan, Danielle Kim Turgeon, Jules Lin, Peter D.R. Higgins, Jonathan Sexton, Jason R. Spence
The Drosophila orthologue of the primary ciliary dyskinesia-associated gene, DNAAF3, is required for axonemal dynein assembly
Petra zur Lage, Zhiyan Xi, Jennifer Lennon, Iain Hunter, Wai Kit Chan, Alfonso Bolado Carrancio, Alex von Kriegsheim, Andrew P. Jarman
Forebrain Shh overexpression improves cognitive function in a Down syndrome mouse model and euploid littermates
Feng J. Gao, Donna Klinedinst, Fabian-Xosé Fernandez, Bei Cheng, Alena Savonenko, Benjamin Devenney, Yicong Li, Dan Wu, Martin G. Pomper, Roger H. Reeves
SPT6 loss Permits the Transdifferentiation of Keratinocytes into an Intestinal Fate that Recapitulates Barrett's Metaplasia
Daniella T. Vo, MacKenzie R. Fuller, Courtney Tindle, Mahitha Anandachar, Soumita Das, Debashis Sahoo, Pradipta Ghosh
| Plant development
Genome-Wide High Resolution Expression Map and Functions of Key Cell Fate Determinants Reveal the Dynamics of Crown Root Development in Rice
Tushar Garg, Zeenu Singh, Kunchapu Chennakesavulu, Anuj K. Dwivedi, Vijina Varapparambathu, Raj Suryan Singh, Khrang Khrang Khunggur Mushahary, Manoj Yadav, Debabrata Sircar, Divya Chandran, Kalika Prasad, Mukesh Jain, Shri Ram Yadav
Tissue-specific transcriptomics reveal functional differences in maize floral development
Hailong Yang, Kate Nukunya, Queying Ding, Beth E. Thompson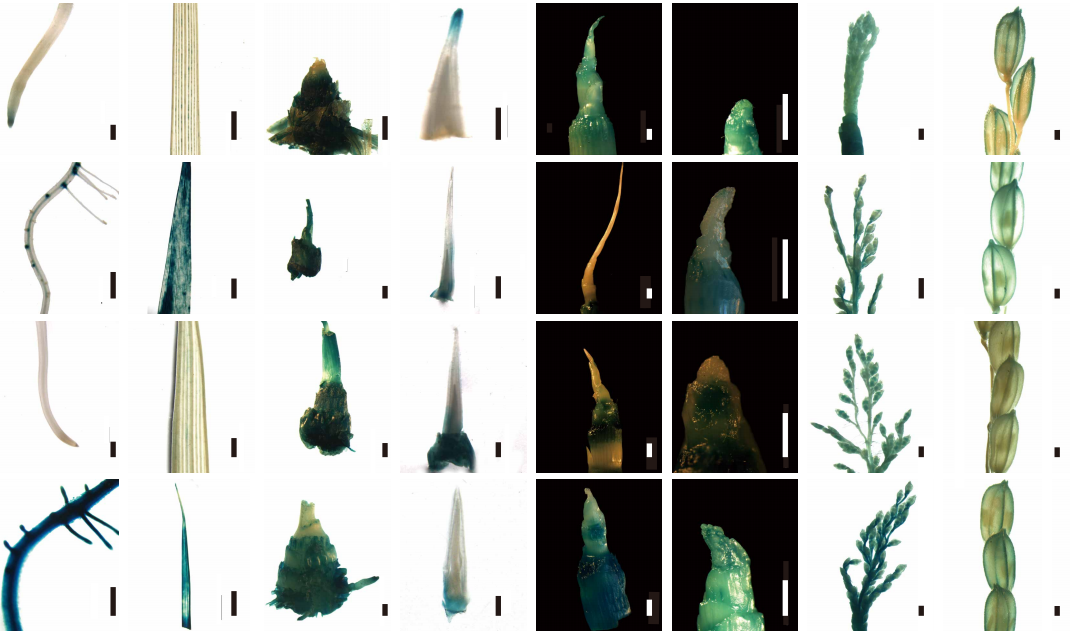 Cytokinin oxidase/dehydrogenase family genes play important roles in the growth and development of rice
Chenyu Rong, Yuexin Liu, Zhongyuan Chang, Ziyu Liu, Yanfeng Ding, Chengqiang Ding
KAI2 regulates seedling development by mediating light-induced remodelling of auxin transport
Maxime Hamon-Josse, Jose Antonio Villaecija-Aguilar, Karin Ljung, Ottoline Leyser, Caroline Gutjahr, Tom Bennett
Phototropin-mediated perception of light direction in Arabidopsis leaves regulates blade flattening
Christian Fankhauser, Martina Legris, Bogna Maria Szarzynska-Erden, Martine Trevisan, Laure Allenbach Petrolati
Misregulation of MYB16 causes stomatal cluster formation by disrupting polarity in asymmetric cell division
Shao-Li Yang, Ngan Tran, Meng-Ying Tsai, Chin-Min Kimmy Ho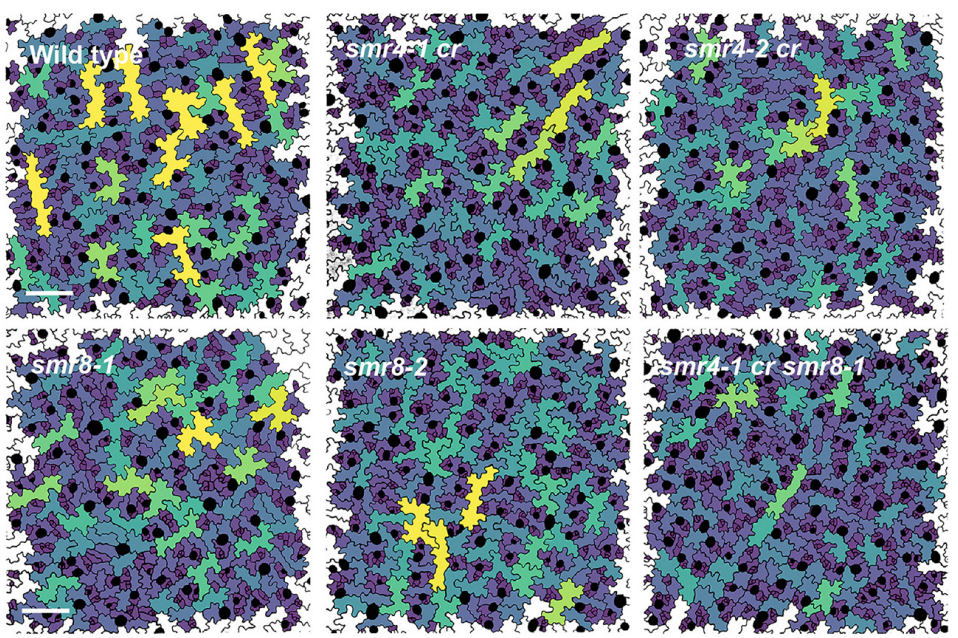 Deceleration of cell cycle underpins a switch from proliferative- to terminal division in plant stomatal lineage
Soon-Ki Han, Jiyuan Yang, Machiko Arakawa, Rie Iwasaki, Tomoaki Sakamoto, Seisuke Kimura, Eun-Deok Kim, Keiko U. Torii
Microtubules Promote the Non-cell Autonomy of MicroRNAs by Inhibiting their Cytoplasmic Loading into ARGONAUTE1 in Arabidopsis
Lusheng Fan, Cui Zhang, Yong Zhang, Ethan Stewart, Jakub Jez, Keiji Nakajima, Xuemei Chen
The ALOG family members OsG1L1 and OsG1L2 regulate inflorescence branching in rice
Emanuela Franchini, Veronica M. Beretta, Israr Ud Din, Elia Lacchini, Lisa Van den Broeck, Rosangela Sozzani, Gregorio Orozco-Arroyo, Hélène Adam, Stefan Jouannic, Veronica Gregis, Martin M. Kater
A DUF1068 protein acts as a pectin biosynthesis scaffold and maintains Golgi morphology and cell adhesion in Arabidopsis
Rahul S. Lathe, Heather E. McFarlane, Ghazanfar Abbas Khan, Berit Ebert, Eduardo Antonio Ramírez-Rodríguez, Niels Noord, Rishikesh Bhalerao, Staffan Persson
doi: https://doi.org/10.1101/2021.05.03.442108
DELAY OF GERMINATION 6, encoding the ANAC060 transcription factor, inhibits seed dormancy
Shuang Song, Hanzi He, Kerstin Gühl, Marieke van Bolderen-Veldkamp, Gonda Buijs, Leo A.J. Willems, Leónie Bentsink
The role of AUX1 during lateral root development in the domestication of the model C4 grass Setaria italica
Sha Tang, Mojgan Shahriari, Jishan Xiang, Taras Pasternak, Anna A Igolkina, Somayeh Aminizade, Hui Zhi, Yuanzhu Gao, Farshad Roodbarkelari, Yi Sui, Guanqing Jia, Chuanyin Wu, Xugang Li, Georgy Meshcheryakov, Maria G. Samsonova, Xianmin Diao, Klaus Palme, William Teale
Biphasic Control of Cell Expansion by Auxin Coordinates Etiolated Seedling Development
Minmin Du, Firas Bou Daher, Yuanyuan Liu, Andrew Steward, Molly Tillmann, Xiaoyue Zhang, Jeh Haur Wong, Hong Ren, Jerry D. Cohen, Chuanyou Li, William M. Gray
Functional characterization of TANGLED1 interaction with PHRAGMOPLAST ORIENTING KINESIN1 during mitosis in Arabidopsis
Alison M. Mills, Victoria H. Morris, Carolyn G Rasmussen
Actin isovariant ACT7 regulates root meristem development in Arabidopsis through modulating auxin and ethylene responses
Takahiro Numata, Kenji Sugita, Arifa Ahamed Rahman, Abidur Rahman
GIGANTEA gene expression influence leaf senescence in Populus in two different ways
Nazeer Fataftah, Pushan Bag, Domenique André, Jenna Lihavainen, Bo Zhang, Pär K Ingvarsson, Ove Nilsson, Stefan Jansson
Early flowering in oilseed-type Brassica rapa plants results from nonsense-mediated mRNA decay (NMD) of BrFLC2
Sujeong Kim, Jin A Kim, Hajeong Kang, Dong-Hwan Kim
GA-mediated spatial control of cell division expounds the leaf size variation between cultivated and wild rice
Vikram Jathar, Kumud Saini, Ashish Chauhan, Ruchi Rani, Yasunori Ichihashi, Aashish Ranjan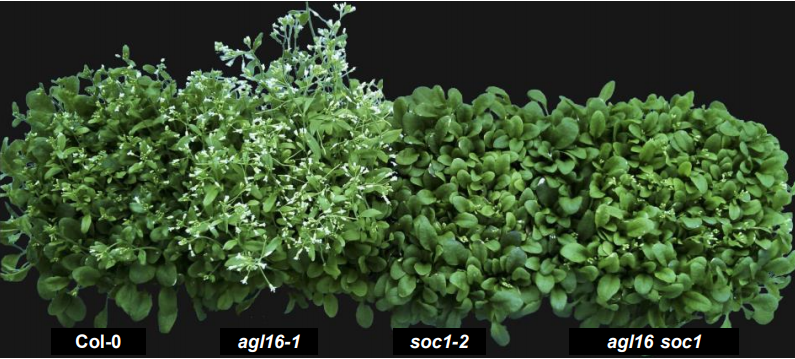 AGL16 regulates genome-wide gene expression and flowering time with partial dependency on SOC1 in Arabidopsis
Xue Dong, Li-Ping Zhang, Dong-Mei Yu, Fang Cheng, Yin-Xin Dong, Xiao-Dong Jiang, Fu-Ming Qian, Franziska Turck, Jin-Yong Hu
PIF7 controls leaf cell proliferation through an AN3 substitution-repression mechanism
Ejaz Hussain, Andrés Romanowski, Karen Halliday
Dual functions of ZmGI1 in the photoperiodic flowering pathway and salt stress responses in maize
Fengkai Wu, Ling Liu, Yan Kang, Jing Li, Zhiyu Ma, Baba Salifu Yahaya, Jie Xu, Qingjun Wang, Xuanjun Feng, Jingwei Li, Erliang Hu, Yaxi Liu, Yanli Lu
OsbZIP47 an integrator for meristem regulators during rice plant growth and development
Sandhan Prakash, Rashmi Rai, Raghavaram Peesapati, Usha Vijayraghavan
Transcriptome-wide identification and expression profiling of the ERF gene family suggest roles as transcriptional activators and repressors of fruit ripening in durian
Gholamreza Khaksar, Supaart Sirikantaramas
Combined fluorescent seed selection and multiplex CRISPR/Cas9 assembly for fast generation of multiple Arabidopsis mutants
Robertas Ursache, Satoshi Fujita, Valerie Denervaud Tendon, Niko Geldner
| Evo-devo
Single cell RNA sequencing of the Strongylocentrotus purpuratus larva reveals the blueprint of major cell types and nervous system of a non-chordate deuterostome
Periklis Paganos, Danila Voronov, Jacob Musser, Detlev Arendt, Maria I. Arnone
ERK1/2 is an ancestral organising signal in spiral cleavage
Océane Seudre, Allan M. Carrillo-Baltodano, Yan Liang, José M. Martín-Durán
Species-specific deployment of Runx2 isoforms and differential regulation of target genes during avian jaw development and evolution
Spenser S Smith, Daniel B Chu, Tiange Qu, Tiffany Huang, Austen J Lucena, Goutam Krish, Richard A Schneider
BMP signaling underlies the craniofacial heterochrony in phyllostomid bats, a hyperdiverse mammal group
Jasmin Camacho, Jacky D. Lin, Michaela McCormack, Rachel Moon, Samantha K. Smith, John J. Rasweiler IV, Richard R. Behringer, Clifford J. Tabin, Arhat Abzhanov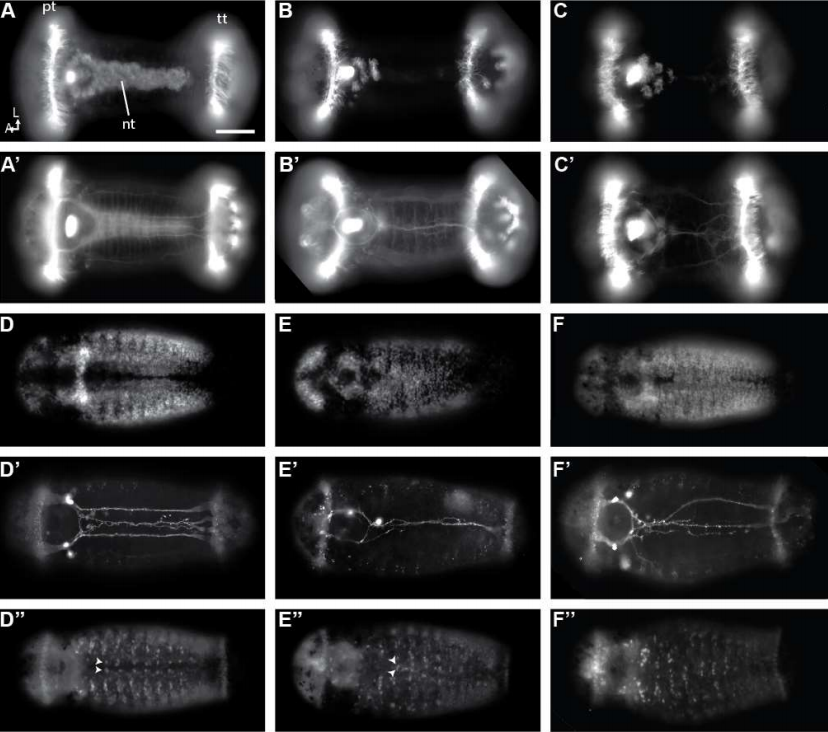 Role of BMP signaling during early development of the annelid Capitella teleta
Nicole B. Webster, Michele Corbet, Abhinav Sur, Néva P. Meyer
Single gene initiates evolution of epithelial architecture and function
Viola Noeske, Emre Caglayan, Steffen Lemke
Pigment pattern morphospace of Danio fishes: evolutionary diversification and mutational effects
Braedan M. McCluskey, Yipeng Liang, Victor M. Lewis, Larissa B. Patterson, David M. Parichy
Revealing conserved mechanisms of neurodegeneration in a colonial chordate
C Anselmi, MA Kowarsky, F Gasparini, F Caicci, KJ Ishizuka, KJ Palmeri, R Sinhar, N Neff, SR Quake, IL Weissman, A Voskoboynik, L Manni
Species-specific developmental timing dictates expansion of the avian wing skeletal pattern
Holly Stainton, Matthew Towers
Loricarioid catfish evolved skin denticles that recapitulate teeth at the structural, developmental, and genetic levels
Carlos J. Rivera-Rivera, Nadezhda I. Guevara-Delgadillo, Ilham A. Bahechar, Claire A. Shea, Juan I. Montoya-Burgos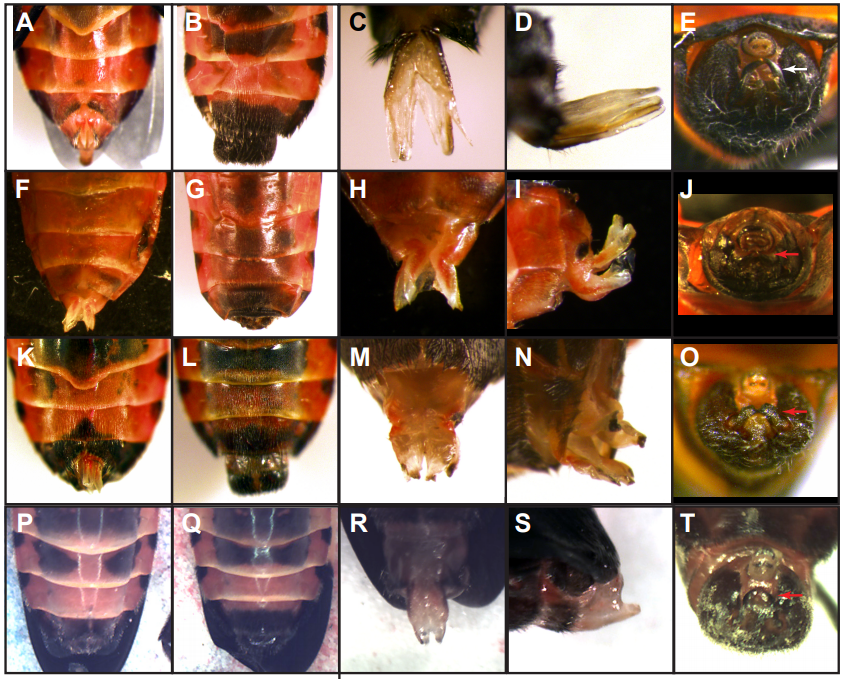 Distinct developmental mechanisms influence sexual dimorphisms in the milkweed bug Oncopeltus fasciatus
Josefine Just, Mara Laslo, Ye Jin Lee, Michael Yarnell, Zhuofan Zhang, David R. Angelini
A 3D molecular map of the cavefish neural plate illuminates eyefield organization and its borders in vertebrates
François Agnès, Jorge Torres-Paz, Pauline Michel, Sylvie Rétaux
Evolved Bmp6 enhancer alleles drive spatial shifts in gene expression during tooth development in sticklebacks
Mark D. Stepaniak, Tyler A. Square, Craig T. Miller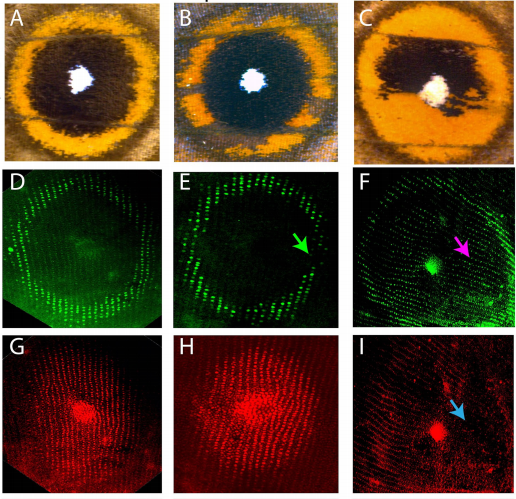 optix is involved in eyespot development via a possible positional information mechanism
Tirtha Das Banerjee, Kwi Shan Seah, Antonia Monteiro
Establishment of CRISPR/Cas9-based knock-in in a hemimetabolous insect: targeted gene tagging in the cricket Gryllus bimaculatus
Yuji Matsuoka, Taro Nakamura, Takahito Watanabe, Austen A. Barnett, Sumihare Noji, Taro Mito, Cassandra G. Extavour
The transcriptome of Schistosoma mansoni developing eggs reveals key mediators in pathogenesis and life cycle propagation
Zhigang Lu, Geetha Sankaranarayanan, Kate Rawlinson, Victoria Offord, Paul J. Brindley, Matt Berriman, Gabriel Rinaldi
Social selection within aggregative multicellular development drives morphological evolution
Marco La Fortezza, Gregory J. Velicer
Cell Biology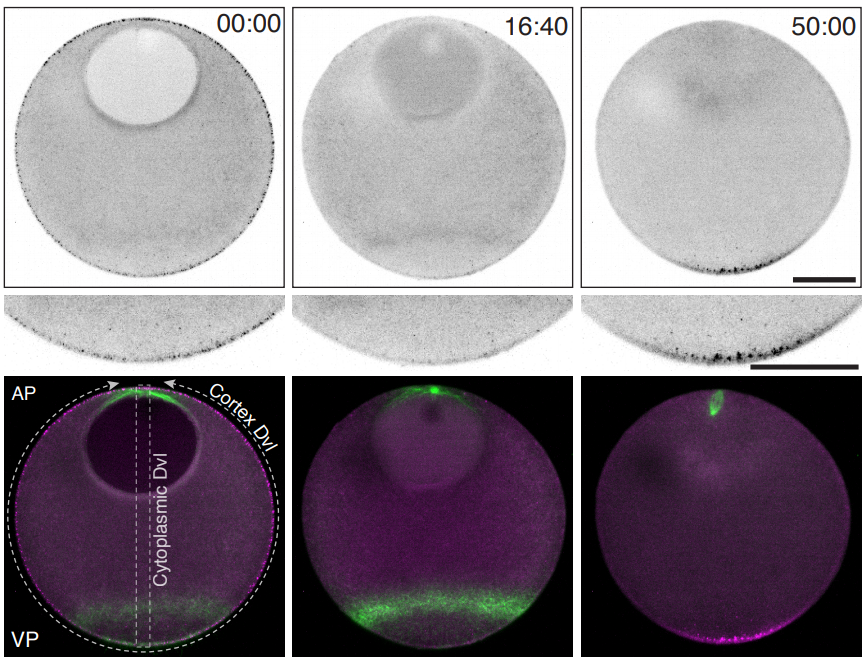 Polarized Dishevelled dissolution and condensation drives embryonic axis specification in oocytes
S. Zachary Swartz, Tzer Han Tan, Margherita Perillo, Nikta Fakhri, Gary M. Wessel, Athula H. Wikramanayake, Iain M. Cheeseman
Combined effect of cell geometry and polarity domains determines the orientation of unequal division
Benoit G. Godard, Rémi Dumollard, Carl-Philipp Heisenberg, Alex McDougall
Building the cytokinetic contractile ring in an early embryo: initiation as clusters of myosin II, anillin and septin, and visualization of a septin filament network
Chelsea Garno, Zoe H. Irons, Courtney M. Gamache, Xufeng Wu, Charles B. Shuster, John H. Henson
Septin function tunes lipid kinase activity and phosphatidylinositol 4,5 bisphosphate turnover during G-protein coupled PLC signaling in vivo
Aastha Kumari, Avishek Ghosh, Sourav Kolay, Padinjat Raghu
Mad1's ability to interact with Mad2 is essential to regulate and monitor meiotic synapsis in C. elegans
Alice Devigne, Needhi Bhalla
xbx-4, a homolog of the Joubert syndrome gene FAM149B1, acts via the CCRK and MAK kinase cascade to regulate cilia morphology
Ashish K. Maurya, Piali Sengupta
Septins and a formin have distinct functions in anaphase chiral cortical rotation in the C. elegans zygote
Adhham Zaatri, Jenna A. Perry, Amy Shaub Maddox
Tmem138, a photoreceptor connecting cilium (CC) protein, is required for rhodopsin transport across the cilium and outer segment (OS) biogenesis
Dianlei Liu, Jiali Ru, Lijing Xie, Mingjuan Wu, Yingchun Su, Shiyong Zhu, Shujuan Xu, Yanhong Wei, Xialin Liu, Yizhi Liu, Chunqiao Liu
Nance-Horan Syndrome-like 1 protein negatively regulates Scar/WAVE-Arp2/3 activity and inhibits lamellipodia stability and cell migration
Ah-Lai Law, Shamsinar Jalal, Tommy Pallett, Fuad Mosis, Ahmad Guni, Simon Brayford, Lawrence Yolland, Stefania Marcotti, James A. Levitt, Simon P. Poland, Maia Rowe-Sampson, Anett Jandke, Robert Köchl, Giordano Pula, Simon M. Ameer-Beg, Brian Marc Stramer, Matthias Krause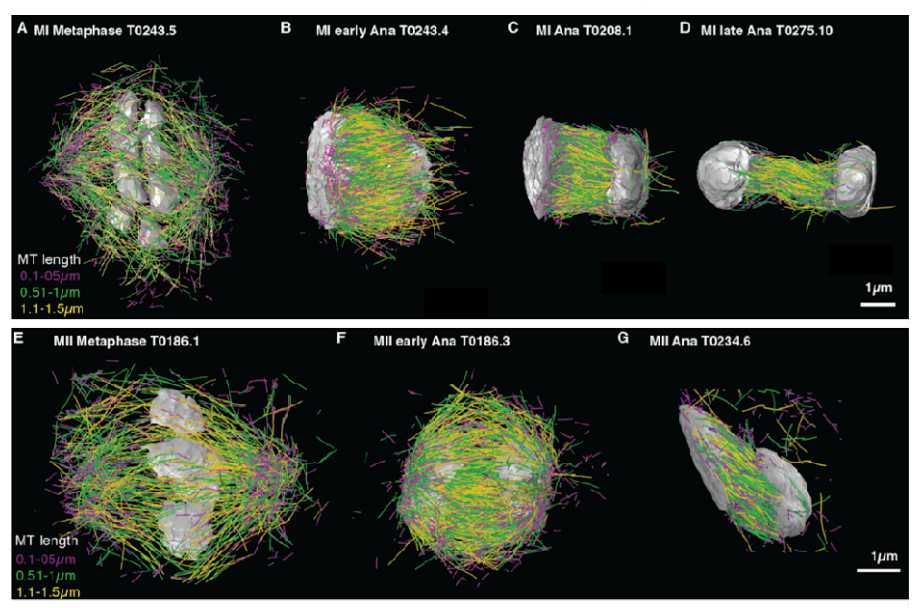 Microtubule re-organization during female meiosis in C. elegans
Ina Lantzsch, Che-Hang Yu, Yu-Zen Chen, Vitaly Zimyanin, Hossein Yazdkhasti, Norbert Lindow, Erik Szentgyörgyi, Ariel Pani, Steffen Prohaska, Martin Srayko, Sebastian Fürthauer, Stefanie Redemann
Scaling of cellular proteome with ploidy
Galal Yahya, Paul Menges, Devi Anggraini Ngandiri, Daniel Schulz, Andreas Wallek, Nils Kulak, Matthias Mann, Patrick Cramer, Van Savage, Markus Raeschle, Zuzana Storchova
GIV/Girdin, a Non-receptor Modulator for Gαi/s, Regulates Spatiotemporal Signaling during Sperm Capacitation and is Required for Male Fertility
Sequoyah Reynoso, Vanessa Castillo, Gajanan D. Katkar, Inmaculada Lopez-Sanchez, Sahar Taheri, Celia R. Espinoza, Christina Rohena, Debashis Sahoo, Pascal Gagneux, Pradipta Ghosh
WASP integrates substrate topology and cell polarity to guide neutrophil migration
Rachel M. Brunetti, Gabriele Kockelkoren, Preethi Raghavan, George R. R. Bell, Derek Britain, Natasha Puri, Sean R. Collins, Manuel D. Leonetti, Dimitrios Stamou, Orion D. Weiner
Paternal chromosome elimination and X non-disjunction on asymmetric spindles in Sciara male meiosis
Brigitte de Saint Phalle, Rudolf Oldenbourg, Donna F. Kubai, E. D. Salmon, Susan A. Gerbi
Mechanosensitive calcium signaling in response to cell shape changes promotes epithelial tight junction remodeling by activating RhoA
Saranyaraajan Varadarajan, Rachel E. Stephenson, Eileen R. Misterovich, Jessica L. Wu, Ivan S. Erofeev, Andrew B. Goryachev, Ann L. Miller
WASP integrates substrate topology and cell polarity to guide neutrophil migration
Rachel M. Brunetti, Gabriele Kockelkoren, Preethi Raghavan, George R. R. Bell, Derek Britain, Natasha Puri, Sean R. Collins, Manuel D. Leonetti, Dimitrios Stamou, Orion D. Weiner
Modelling
A coarse-grained approach to model the dynamics of the actomyosin cortex
Miguel Hernández-del-Valle, Andrea Valencia-Expósito, Antonio López-Izquierdo, Pau Casanova-Ferrer, Pedro Tarazona, Maria D. Martín-Bermudo, David G. Míguez
A mathematical framework for evo-devo dynamics
Mauricio González-Forero, Andy Gardner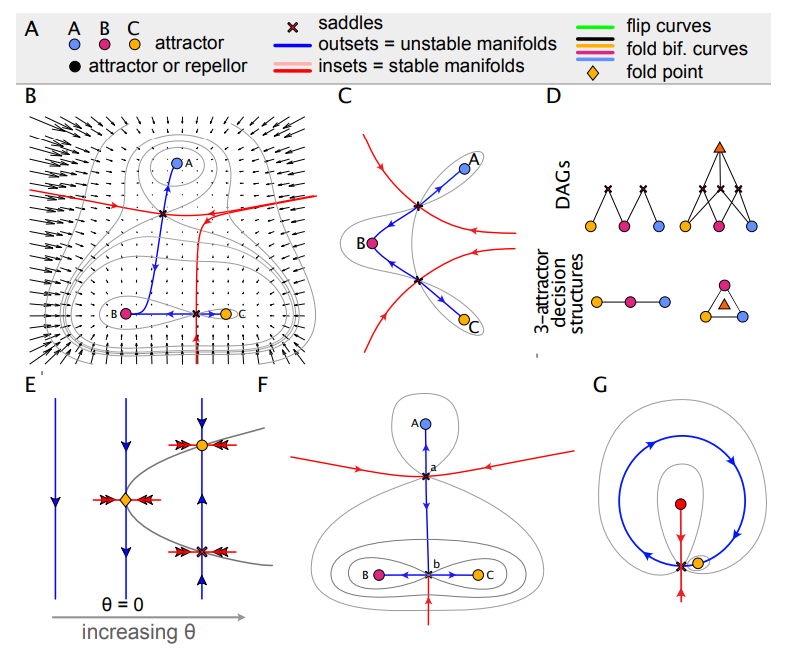 Geometry of Gene Regulatory Dynamics
David A. Rand, Archishman Raju, Meritxell Saez, Francis Corson, Eric D. Siggia
Spontaneous cell internalization of a spatially-confined proliferating blastomere: A mechanical interpretation on worm gastrulation
Jiao Miao, Guoye Guan, Chao Tang
Novel Generic Models for Differentiating Stem Cells Reveal Oscillatory Mechanisms
Saeed Farjami, Karen Camargo Sosa, Jonathan H.P. Dawes, Robert N. Kelsh, Andrea Rocco
Hybrid reaction-diffusion and clock-and-wavefront model for the arrest of oscillations in the somitogenesis segmentation clock
Jesús Pantoja-Hernández, Víctor F. Breña-Medina, Moisés Santillán
A mathematical model of endothelial progenitor cell cluster formation during the early stages of vasculogenesis
Chiara Villa, Alf Gerisch, Mark A. J. Chaplain
Improving the understanding of cytoneme-mediated morphogen gradients by in silico modeling
Adrián Aguirre-Tamaral, Isabel Guerrero
Revealing cell-fate bifurcations from transcriptomic trajectories of hematopoiesis
Simon L. Freedman, Bingxian Xu, Sidhartha Goyal, Madhav Mani
Self-organization principles of cell cycles and gene expressions in the development of cell populations
Xiaoliang Wang, Dongyun Bai
Generation of fate patterns via intercellular forces
Hayden Nunley, Xufeng Xue, Jianping Fu, David K. Lubensky
Travelling wave analysis of cellular invasion into surrounding tissues
Maud El-Hachem, Scott W McCue, Matthew J Simpson
Reviews
Then There were Plenty – Ring Meristems Giving Rise to Many Stamen Whorls
Doudou Kong and Annette Becker
Modulation of Organogenesis and Somatic Embryogenesis by Ethylene: An Overview
Mariana Neves , Sandra Correia , Carlos Cavaleiro , Jorge Canhoto
Thermogenic Fat: Development, Physiological Function, and Therapeutic Potential
Bruna Brasil Brandão , Ankita Poojari , Atefeh Rabiee
Tools & Resources
A Drosophila Toolkit for Imaging of HA-tagged Proteins Unveiled a Block in Autophagy Flux in the Last Instar Larval Fat Body
Tadayoshi Murakawa, Tsuyoshi Nakamura, Kohei Kawaguchi, Futoshi Murayama, Zhao Ning, Timothy J Stasevich, Hiroshi Kimura, Naonobu Fujita

Multiscale light-sheet organoid imaging framework
Gustavo de Medeiros, Raphael Ortiz, Petr Strnad, Andrea Boni, Francisca Maurer, Prisca Liberali
Whole-ExM: Expansion microscopy imaging of all anatomical structures of whole larval zebrafish
Jueun Sim, Chan E Park, In Cho, Kyeongbae Min, Jeong-Soo Lee, Yosep Chong, Jeewon Kim, Jeong Seuk Kang, Kiryl D. Piatkevich, Erica E. Jung, Seok-Kyu Kwon, Young-Gyu Yoon, Edward S. Boyden, Jae-Byum Chang
Learning dynamics by computational integration of single cell genomic and lineage information
Shou-Wen Wang, Allon M. Klein
Tools for efficient analysis of neurons in a 3D reference atlas of whole mouse spinal cord
Felix Fiederling, Luke A. Hammond, David Ng, Carol Mason, Jane Dodd
A Cre-dependent massively parallel reporter assay allows for cell-type specific assessment of the functional effects of genetic variants in vivo
Tomas Lagunas Jr., Stephen P. Plassmeyer, Ryan Z. Friedman, Michael A. Rieger, Anthony D. Fischer, Alessandra F. Aguilar Lucero, Joon-Yong An, Stephan J. Sanders, Barak A. Cohen, Joseph D. Dougherty
Evaluation of CRISPR gene-editing tools in zebrafish
José M. Uribe-Salazar, Aadithya Sekar, Gulhan Kaya, KaeChandra Weyenberg, Cole Ingamells, Megan Y. Dennis
Hnf1b-CreER, a model used for fate mapping pancreatic lineages, achieves efficient Cre-mediated recombination in duct and islet δ cells
Meritxell Rovira, Jorge Ferrer, Miguel Angel Maestro, Vanessa Grau
Leveraging single-cell ATAC-seq to identify disease-critical fetal and adult brain cell types
Samuel S Kim, Karthik Jagadeesh, Kushal K Dey, Amber Z Shen, Soumya Raychaudhuri, Manolis Kellis, Alkes L Price
The FusX TALE Base Editor (FusXTBE) for rapid mitochondrial DNA programming of human cells in vitro and zebrafish disease models in vivo
Ankit Sabharwal, Bibekananda Kar, Santiago Restrepo-Castillo, Shannon R. Holmberg, Benjamin Luke Kendall, Ryan P. Cotter, Zachary WareJoncas, Karl J. Clark, Stephen C. Ekker
The adenoviral E1B-55k protein present in HEK293 cells mediates abnormal accumulation of key WNT signaling proteins in large cytoplasmic aggregates
Petter Angell Olsen, Stefan Krauss
Confounds of using the unc-58 selection marker highlights the importance of genotyping co-CRISPR genes
Helena Rawsthorne-Manning, Fernando Calahorro, Patricia Gonzalez Izquierdo, Lindy Holden-Dye, Vincent O'Connor, James Dillon
High resolution, serial imaging of early mouse and human liver bud morphogenesis in three dimensions
Ogechi Ogoke, Daniel Guiggey, Tala Mon, Claire Shamul, Shatoni Ross, Saroja Rao, Natesh Parashurama
Origami: Single-cell oriented 3D shape dynamics of folding epithelia from fluorescence microscopy images
Tania Mendonca, Ana A. Jones, Jose M. Pozo, Sarah Baxendale, Tanya T. Whitfield, Alejandro F. Frangi
Multifocal imaging for precise, label-free tracking of fast biological processes in 3D
Jan N. Hansen, An Gong, Dagmar Wachten, René Pascal, Alex Turpin, Jan F. Jikeli, U. Benjamin Kaupp, Luis Alvarez
Live 3D imaging and mapping of shear stresses within tissues using incompressible elastic beads
Alexandre Souchaud, Arthur Boutillon, Gaëlle Charron, Atef Asnacios, Camille Noûs, Nicolas B. David, François Graner, François Gallet
Improved methods for protein and single-molecule RNA detection in C. elegans embryos
Dylan M. Parker, Lindsay P. Winkenbach, Annemarie Parker, Sam Boyson, Erin Osborne Nishimura
Rapid generation of conditional knockout mice using the CRISPR-CAS9 system and electroporation for neuroscience research
Hirofumi Nishizono, Yuki Hayano, Yoshihisa Nakahata, Yasuhito Ishigaki, Ryohei Yasuda
Instant three color multi-plane fluorescence microscopy
Ingo Gregor, Eugenia Butkevich, Jörg Enderlein, Soheil Mojiri
Label-free imaging flow cytometry: analysis and sorting of enzymatically dissociated tissues
Maik Herbig, Karen Tessmer, Martin Nötzel, Ahsan Ahmad Nawaz, Tiago Santos-Ferreira, Oliver Borsch, Sylvia J. Gasparini, Jochen Guck, Marius Ader
Genome-wide screening in human kidney organoids identifies novel aspects of nephrogenesis
Rosemarie Ungricht, Laure Guibbal, Marie-Christine Lasbennes, Vanessa Orsini, Martin Beibel, Annick Waldt, Rachel Cuttat, Walter Carbone, Anne Basler, Guglielmo Roma, Florian Nigsch, Jan Tchorz, Dominic Hoepfner, Philipp S. Hoppe
An optimized protocol for neuronal assay for transposase-accessible chromatin by sequencing (ATAC-seq) library preparation using Drosophila melanogaster
Collin B. Merrill, Miguel A. Pabon, Austin B. Montgomery, Aylin R. Rodan, Adrian Rothenfluh
Multi-view confocal microscopy enables multiple organ and whole organism live-imaging
Olivier Leroy, Eric van Leen, Philippe Girard, Aurélien Villedieu, Christian Hubert, Floris Bosveld, Yohanns Bellaïche, Olivier Renaud
AZBA: A 3D Adult Zebrafish Brain Atlas for the Digital Age
Justin W. Kenney, Patrick E. Steadman, Olivia Young, Meng Ting Shi, Maris Polanco, Saba Dubaishi, Thomas Mueller, Paul W. Frankland
Minian: An open-source miniscope analysis pipeline
Zhe Dong, William Mau, Yu (Susie) Feng, Zachary T. Pennington, Lingxuan Chen, Yosif Zaki, Kanaka Rajan, Tristan Shuman, Daniel Aharoni, Denise J. Cai
Crossbill: an open access single objective light-sheet microscopy platform
Manish Kumar, Sandeep Kishore, David L. McLean, Yevgenia Kozorovitskiy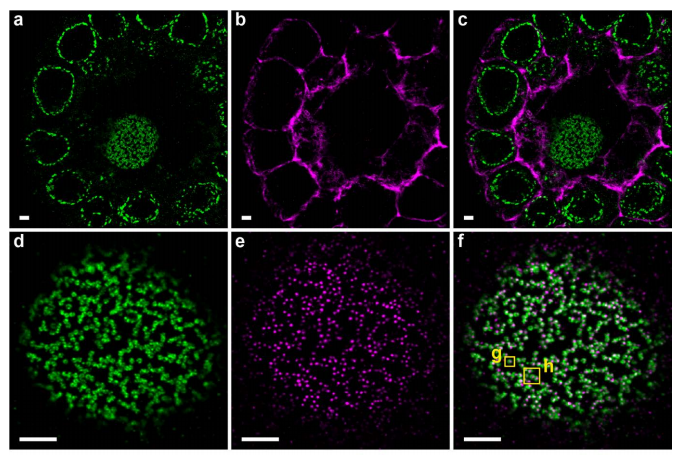 A method for single molecule localization microscopy of tissues reveals nonrandom distribution of nuclear pores in Drosophila
Jinmei Cheng, Edward S Allgeyer, Jennifer H Richens, Edo Dzafic, Amandine Palandri, Bohdan Lewkow, George Sirinakis, Daniel St Johnston
Microfabricated disk technology: rapid scale up in midbrain organoid generation
Nguyen-Vi Mohamed, Paula Lepine, Maria Lacalle-Aurioles, Julien Sirois, Meghna Mathur, Wolfgang Reintsch, Lenore K. Beitel, Edward A. Fon, Thomas M. Durcan
maplet: An extensible R toolbox for modular and reproducible omics pipelines
Kelsey Chetnik, Elisa Benedetti, Daniel P. Gomari, Annalise Schweickart, Richa Batra, Mustafa Buyukozkan, Zeyu Wang, Matthias Arnold, Jonas Zierer, Karsten Suhre, Jan Krumsiek
A Universal Approach to Analyzing Transmission Electron Microscopy with ImageJ
Jacob Lam, Michelle Biete, Margaret Mungai, Salma AshShareef, Kit Neikirk, Edgar Garza Lopez, Trace A. Christensen, Jeffrey L. Salisbury, Prasanna Katti, Brian Glancy, Renata O. Pereira, E. Dale Abel, Antentor Hinton Jr.
A new pipeline to automatically segment and semi-automatically measure bone length on 3D models obtained by Computed Tomography
Santiago Beltran Diaz, Xinli Qu, Michael Doube, Chee Ho H'ng, John Tan Nguyen, Michael de Veer, Olga Panagiotopoulou, Alberto Rosello-Diez
Label-free three-dimensional analyses of live cells with deep-learning-based segmentation exploiting refractive index distributions
Jinho Choi, Hye-Jin Kim, Gyuhyeon Sim, Sumin Lee, Wei Sun Park, Jun Hyung Park, Ha-Young Kang, Moosung Lee, Won Do Heo, Jaegul Choo, Hyunseok Min, YongKeun Park

Conditional immobilization for live imaging C. elegans using auxin-dependent protein depletion
Cori K. Cahoon, Diana E. Libuda
Research practice & education
"How do we do this at a distance?!" A descriptive study of remote undergraduate research programs during COVID-19
Olivia A. Erickson, Rebecca B. Cole, Jared M. Isaacs, Silvia Alvarez-Clare, Jonathan Arnold, Allison Augustus-Wallace, Joseph C. Ayoob, Alan Berkowitz, Janet Branchaw, Kevin R. Burgio, Charles H. Cannon, Ruben Michael Ceballos, C. Sarah Cohen, Hilary Coller, Jane Disney, Van A. Doze, Margaret J. Eggers, Stacy Farina, Edwin L. Ferguson, Jeffrey J. Gray, Jean T. Greenberg, Alexander Hoffman, Danielle Jensen-Ryan, Robert M. Kao, Alex C. Keene, Johanna E. Kowalko, Steven A. Lopez, Camille Mathis, Mona Minkara, Courtney J. Murren, Mary Jo Ondrechen, Patricia Ordoñez, Anne Osano, Elizabeth Padilla-Crespo, Soubantika Palchoudhury, Hong Qin, Juan Ramírez-Lugo, Jennifer Reithel, Colin A. Shaw, Amber Smith, Rosemary Smith, Adam P. Summers, Fern Tsien, Erin L. Dolan