At the recent SDB meeting in Albuquerque, Eric Olson took the stage twice: on Friday morning he spoke in the organogenesis session about the role of microRNAs in muscle, and on Sunday evening he entertained the attendees of the conference's closing ceremony with his band, the Transactivators. In between these two performances, I asked him a few questions about science, music, and doing research funded by a country singer.
What are you working on at the moment?
We're working on the role of microRNAs in responses to a number of muscle diseases. We're looking at how microRNAs regulate the sensitivity of the heart after stress, and how they regulate atrophy of muscle or diseases of the vascular system. We're trying to develop new therapeutics that can manipulate microRNAs in the settings of those disorders.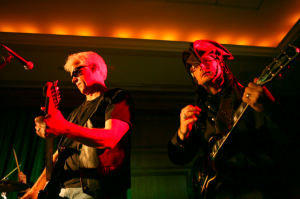 You also play in a band, can you tell me a bit about that?
I have a band I started about five years ago, called the Transactivators. It's made up of all scientists, and we just play Rock 'n Roll. We're a cover band, so we play all the seventies and eighties rock music that everybody likes to listen to. We have a good following in Dallas. We play in a bar there and people seem to like to see us outside of our normal, scientific, daily functions.
How did you meet the other band members? Through work?
Yes, I knew that some people I worked with knew how to play music, but we'd never played together. So we started getting together. One thing led to another and it just took off.
Are there any other music projects that you've been working on?
No, this is the only one. I play at home by myself, but in terms of organized projects, this is the only one. It's kind of tough because I'm really busy and I travel all the time. So just to coordinate everyone's schedules is a challenge.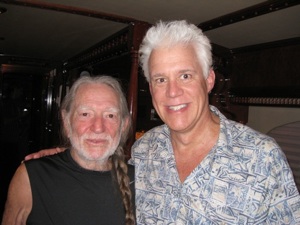 You also hold the Annie and Willie Nelson Professorship in Stem Cell Research at the University of Texas Southwestern Medical Center. How did that come about?
The president of our institution knew that I was interested in music. When Willie Nelson's kids were coming to UT Southwestern to get a checkup, he arranged for me to meet Willie Nelson's wife and kids, and we talked about what I was working on. Annie Nelson – his wife – got really excited, so she got Willie to throw a benefit concert and raise money for our stem cell effort.
[As a result] the lead guitar player of my band and me have been on Willie's tour bus, and been backstage at several of his concerts.
What does Willie Nelson think of research? Does he know anything about it, or is he mainly interested in the therapeutic side of it?
He's interested in worthwhile causes, and that includes stem cell research.
—
The Node sadly had to miss the closing banquet of the SDB meeting, so I didn't get to see Eric perform, but Steve Farber of the Carnegie Institution of Washington was there, and said: "Eric gave a great seminar that got me thinking about microRNAs and their regulation. Then he and his band got a sizable proportion of the banquet attendees dancing on the lawn by the aquarium.  I was surprised when I heard some Jimi Hendrix in the mix. Way too much fun!"
For an impression of what the band looks and sounds like, watch this YouTube video.