I am a little late getting this post pulled together, but I am going to consider it a developmental delay, hopefully one that still results in a reasonably wild-type embryo, er, meeting summary.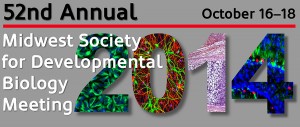 The 52nd Annual Midwest Society for Developmental Biology Meeting was held October 16-18th at Washington University in St. Louis. I had previously attended the larger SDB meetings, but this was my first regional meeting, so I was not sure what to expect. I must say, I was nothing but pleased with this meeting, and I plan to attend as long as I am around the Midwest. The meeting organizers did a spectacular job and the facilities were beautiful, it really ran just like a large meeting. However, the smaller  attendance allowed for an intimate audience feel, making it comfortable for senior faculty and student alike to feel at ease as they presented research.
The meeting began with several Education Workshops, geared first toward undergraduate education and strategies to transform how we teach life sciences, followed by a session on graduate school and life after that journey.
The first of two keynote addresses was delivered by Victoria Prince, Professor in the Department of Organismal Biology & Anatomy and Associate Dean and Director of Graduate Affairs at the University of Chicago. Dr. Prince presented her laboratory's work on the migration of facial motor neurons in zebrafish. Facial neurons are born in rhombomere 4 and migrate posteriorly as they mature. Dr. Prince's lab studies the morphological and genetic cues guiding both the maturation and migration of the neurons. Notably, the live imaging she showed of the neurons and surrounding tissue marked with various fluorescent markers is elegant and beautiful work.
The next day marked the first full day of talks, with sessions on Developmental Cell Biology, Form & Function in Development, Morphogenesis, and Reproductive Biology & Early Development. I was very impressed with the wide range of topics, from non-model system development in things like Nematostella to planar cell polarity studies in a range of taxa to classic genetic screens in Drosophila. And I must say, I learned more about plants at this meeting than I have in my career thus far. I had no idea how much great work is being done on sex in plants! Plants are really doing some weird stuff out there; remember that next time someone compares boredom to "watching grass grow."
Friday evening we were invited to attend a wonderful banquet at the St. Louis Science Center Planetarium. The dinner provided was excellent, and we were treated to a star show, focusing on what can be seen in the Autumn night sky. Having driven in from Chicago, it was the first time I had seen stars in a while, and I loved it! Dr. Ursula Goodenough, Professor in the Department of Biology at Washington University, provided our "entertainment" that evening, which I say because she was such an energetic and engaging speaker. She took the audience on a Dawkins-esque journey from our current place in evolutionary history back through our ancestors as she discussed sex and eukaryotic evolution. I do not believe I overstate when I say that all had a spectacular time that evening.
Saturday concluded the final talks of the meeting, with a session on Regenerative Medicine, Stem Cells & Tissue Engineering. Earlier that morning, the second keynote address was given by Phil Newmark, HHMI Investigator and Professor of Cell & Developmental Biology at the University of Illinois at Urbana-Champagne. Dr. Newmark spoke on germ cell development in planarians and related parasites, schistosomes. Dr. Newmark's lab has been using functional genomic tools to study how stem cells give rise to the germ cell lineage, which has important implications for how the reproductive system develops in general. Amazingly, the lab now has the power to perform single-cell RNA sequencing to characterize germ cells, which has opened up various avenues for further research.
Overall, this meeting was a wonderful survey of developmental biology, covering the molecular to the anatomical, in single cells to human beings. Plants and animals alike were discussed, by both senior faculty and undergraduates, which led to a great weekend and a wonderful meeting. I would like to thank the organizers and the Department of Biology at Washington University for hosting, as well as the sponsors. I am officially on the regional meeting bandwagon, and I am already looking forward to next year!
—
Interested in looking back? http://devbio.wustl.edu/MWSDB2014/