Hello readers of the Node!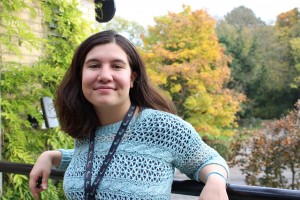 My name is Helena, and for the next few months I'll be helping to run the Node, while Cat concentrates on other projects to make the Node even better! I am Spanish, but I moved to the UK five years ago to study Biochemistry. I am currently doing my PhD in Alfonso Martinez Arias' lab at the Department of Genetics in Cambridge: I use mouse embryonic stem cells to study patterning in the embryo, and to try and elucidate how different signalling molecules coordinate this patterning during gastrulation. My PhD programme (the BBSRC DTP in Cambridge) includes a PIPS (Professional Internship for PhD Students, you can see some discussion on these internships here), and this is how I came to the Node.
Although I trained as a biochemist, my passion is in developmental biology. While I find work at the bench (or in the hood) incredibly fulfilling, I also love discussing science. A good conversation about science can be inspiring, eye-opening, but most of all, great fun. Good science becomes even better when it's well communicated, and part of my reason for doing my PIPS at the Node was the opportunity to help a community exchange views, opinions and news about a field I really enjoy. I want to help the community grow and keep sharing research at the very highest level, so please keep posting and getting in touch with any suggestions and comments!