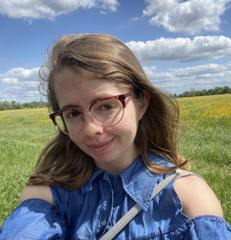 Hi everyone, my name is Laura Hankins and I've recently joined Development as a Reviews Editor. I haven't moved far, as I initially joined The Company of Biologists back in 2021 as their Science Communications Officer. That role gave me the opportunity to work with lots of different teams within the company and provided me with an insight into how publishing operates behind the scenes. I'm excited to build on this experience as I settle into the Development team.
Before joining The Company of Biologists, I completed a PhD at the University of Oxford via the Wellcome Trust's four-year DPhil in Chromosome and Developmental Biology. After rotation projects with Paul Riley and Neil Brockdorff, I settled in Jordan Raff's lab where I worked on centriole biogenesis in early Drosophila embryos. This involved plenty of microscopy! During this time, I was lucky enough to be awarded a place on the 2019 Physiology Course at Woods Hole, MA. This was a fantastic experience that exposed me to even more microscopy and various quirky organisms, as well as allowing me to meet many wonderful scientists from a range of career stages and research backgrounds. This sense of community was something that I really missed when the pandemic struck towards the end of my PhD.
I'm therefore delighted that I get to stay in touch with the scientific community in my new role. I'm looking forward to working with authors to produce front section content for the journal, and to getting to know the community better as I start to attend meetings and workshops. Please feel free to contact me via email or LinkedIn, and hopefully I'll get the chance to meet some of you in person over the coming months!