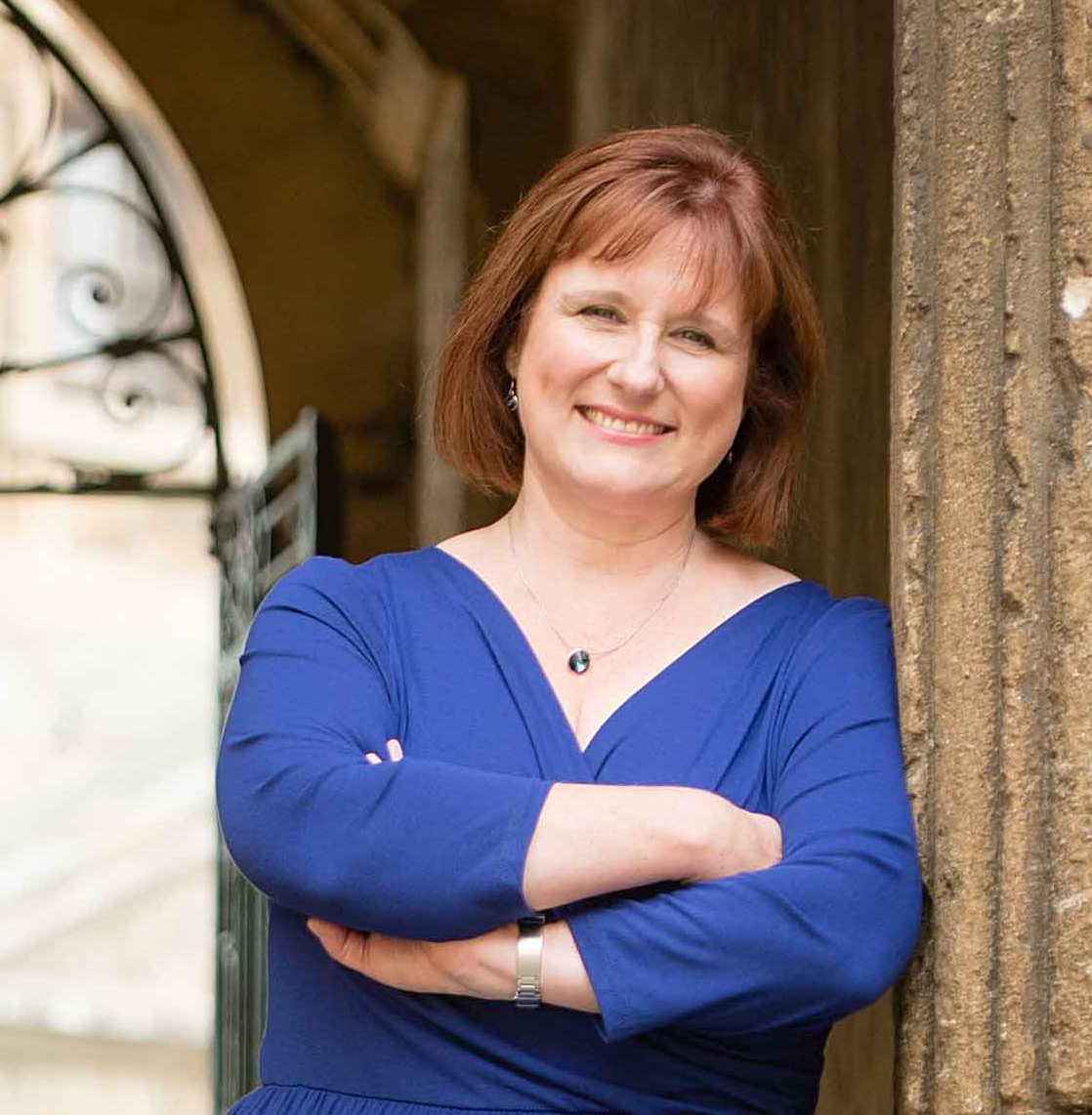 On receiving an e-mail from the Royal Institution back in March 2013 inviting me to submit a proposal for the delivery of the CHRISTMAS LECTURES, my first reaction was to delete it! My rough mental calculations, taking into account my usual day jobs of Principal Investigator, University Lecturer, College Tutor, Dean and Mother of two young children, didn't seem to leave much wriggle room for anything – let alone the vision, working-up and execution of 3 lectures for teenagers on a broad biological topic ("what is life" or "where do I come from" were suggestions from the Ri) that would be televised on BBC4 over Christmas!
Over the next few days I found thoughts of the Lectures creeping in, though.  It was an honour to have been nominated – someone must think I could do a good job.  What an opportunity to share my own passion for Developmental Biology, my own flavor of what counts in biology.  What a venerable institution is the Royal Institution, with its iconic lecture theatre and rich history of science and engagement, from Michael Faraday introducing the public to electricity in 1829 to Carl Sagan's brilliant exploration of space in 1977 to Chris Bishop's 'Hi-Tech Trek' into the world of Computer Science in 2008.  What a weight of expectation! Could I really do it well? Could I make enough time to do it the justice it would deserve? Would I want to?
A follow up e-mail prodded me into action.  I needed to put together a short proposal for the delivery of the lectures – a kind of narrative arc – and this I did over a couple of snatched afternoons at the British Society for Developmental Biology Spring symposium at the University of Warwick – an auspicious setting for my deliberations. My idea was to start the lectures off talking about development – how we all start off as a single cell, the fertilized egg, and to describe the remarkable process by which this single cell is transformed into trillions of cells, all doing the right thing in the right place at the right time; being liver, for example, or brain. The second lecture would extend the mechanisms I described in the first lecture (what makes cells different from one another) by discussing what makes organisms different from one another during evolution. The third and final lecture would have the emphasis on the future – our future – and consider how our detailed knowledge of genetics and developmental biology provides opportunities for great medical advances as well as intellectual nourishment.
I envisaged two important themes running through all the lectures: firstly, an emphasis on molecular mechanisms, and secondly some insights into how we know all this – both of which I think are absolutely crucial to the engagement process.  The sorts of questions posed by developmental biology involve an awful lot of "how" – how do cells know where they are in the body?  How do they know what they should be? How do cells acquire new functions over evolution? One question always leads to another. It is impossible to answer all these questions in three lectures aimed at teenagers, but it is important to start – to get people thinking, to whet the appetite, and most importantly to give people the confidence to know that understanding the answers is within their reach.  So I very deliberately chose to spend some time on the concept of gene expression, as an important molecular explanation in developmental biology and evolution.  First of all to show the audience that genes can be switched on and off, to give them some insights into how the switching is controlled, and finally to let them know what can happen when the switches change…  The other important theme, how do we know all this? is an important way of getting people to engage and identify with the scientific process, and I wanted to go about this with something very close to my scientific heart – model organisms.  The lessons that a huge variety of model organisms, from yeast to zebrafish, can teach us about biological mechanisms are immense.  This would also allow the introduction of a whole menagerie of entertaining animals throughout the lectures, and in addition allow me to show off my favourite model organism, the nematode C. elegans, as a star of the show, my "hero organism".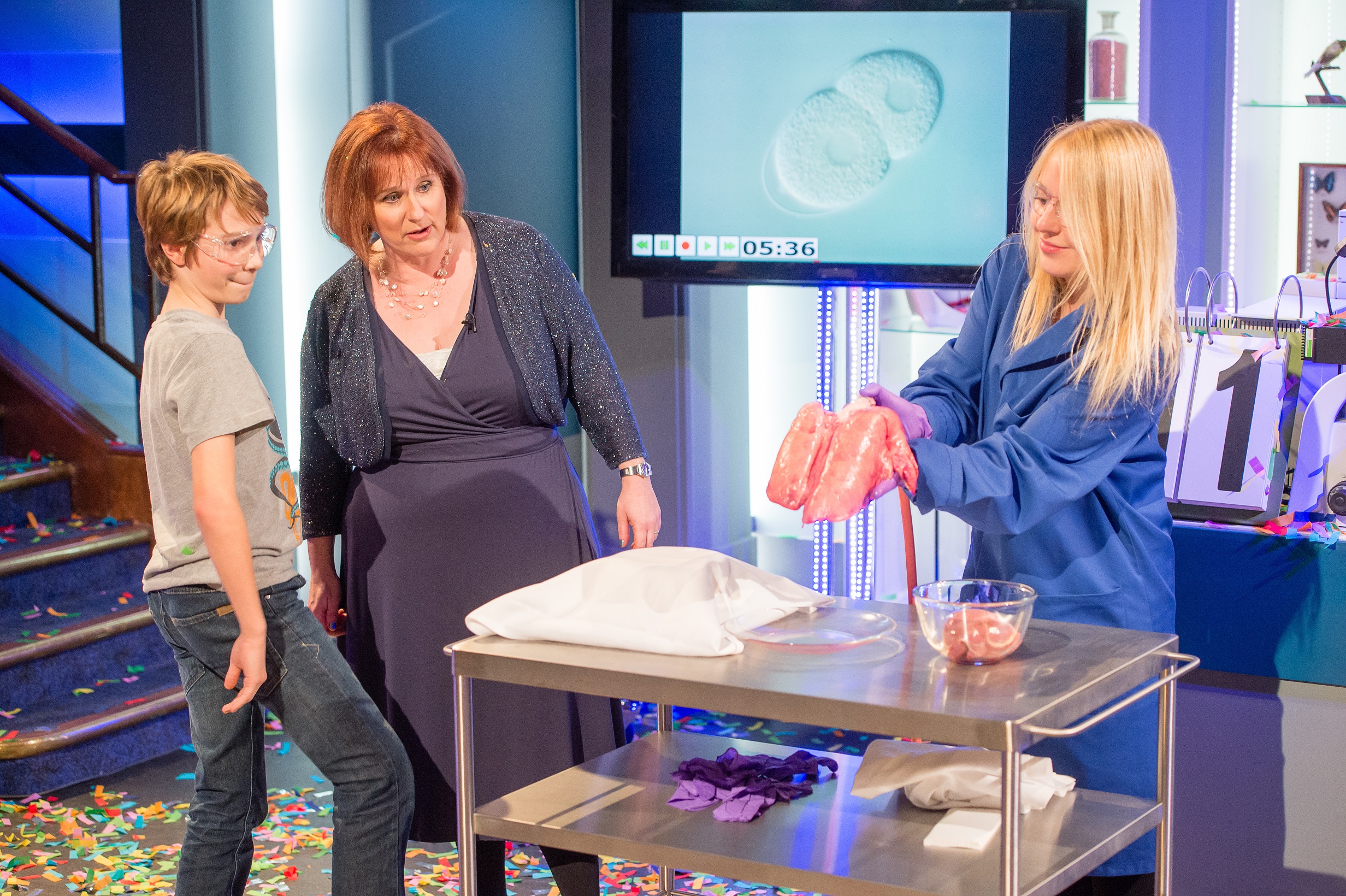 Investigating lungs, lecture 1 ("worm-cam" running in the background) . NB: Assistant Hayley Lees is a current Hertford Graduate Student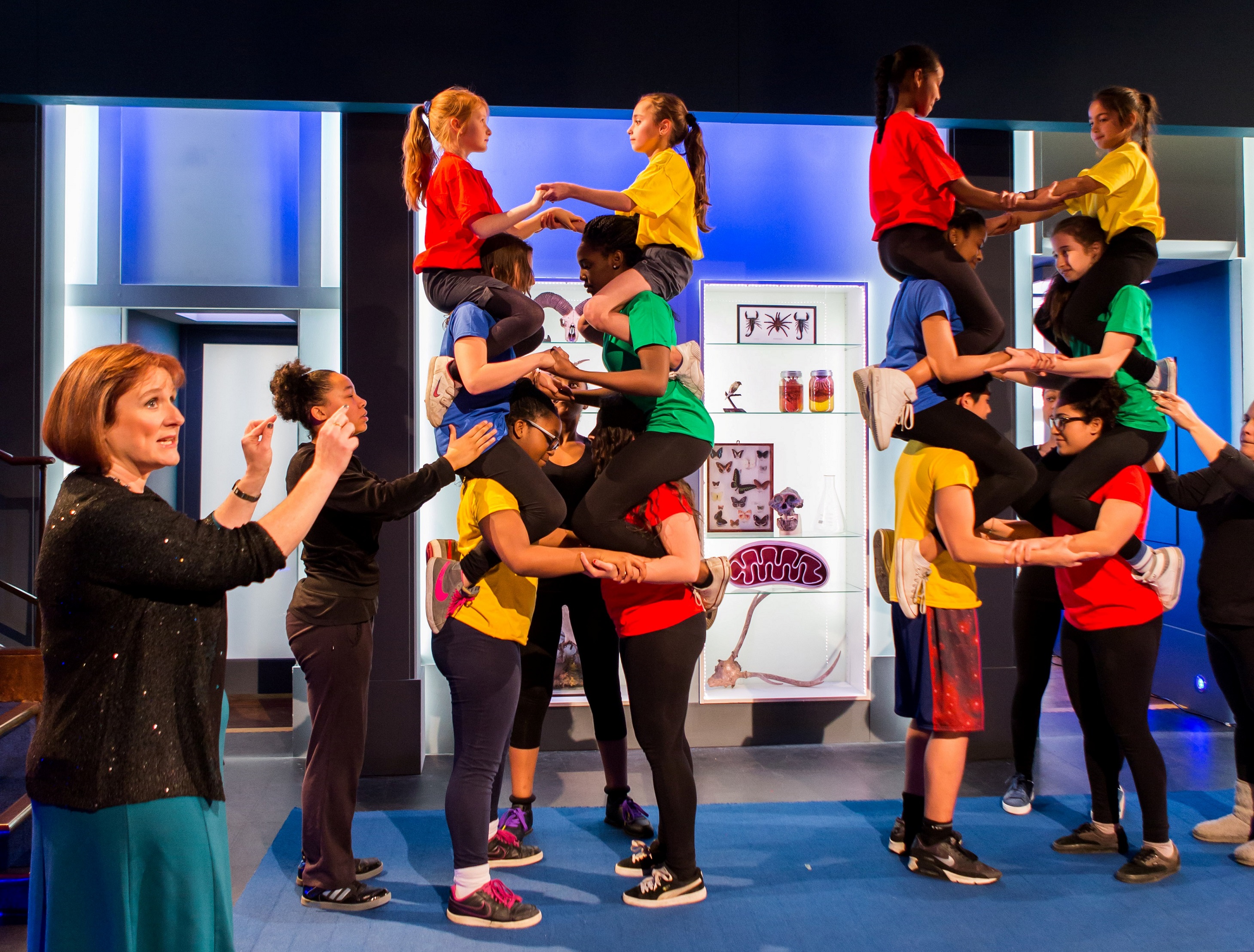 Demonstrating DNA replication, lecture 2 
I sent off my proposal and thought that would be that, then was surprised and delighted to hear that the Ri liked my ideas and wanted to come to Oxford and film an audition in my lab.  An audition!! This boiled down to one lovely friendly chap and a camera, and me just sitting by a microscope describing some worms which we had engineered to contain GFP (green fluorescent protein) fused to one of our genes of interest – a brilliant way of finding out where particular proteins are produced in multicellular animals.  After that was a period of waiting while the selection panel deliberated, and it wasn't until early June that I got the official go-ahead. Rather fittingly, I was at Darwin's home, Down House, that day, on our annual outing for biologists and biochemists from Hertford, to celebrate the end of their finals.  The phone call came through on the sand walk – the promenade Darwin took each evening to reflect on his days work and think through ideas.  That certainly seemed to augur well for the lectures!!
Over the summer the full gravity of what I had let myself in for became apparent.  Firstly, there was the press release, my first exposure to a new breed – journalists.  Then came a professional photoshoot and PR meetings.  The concept of the whole "package" associated with the CHRISTMAS LECTURES – commissioned press articles, interviews, BBC Radio 4 appearances, previews, social media, had never crossed my mind.  Just as well folks at the Ri (most notably the ever-resourceful and cheerful Olympia Brown) had the good sense not to apprise me of the whole deal before I said yes….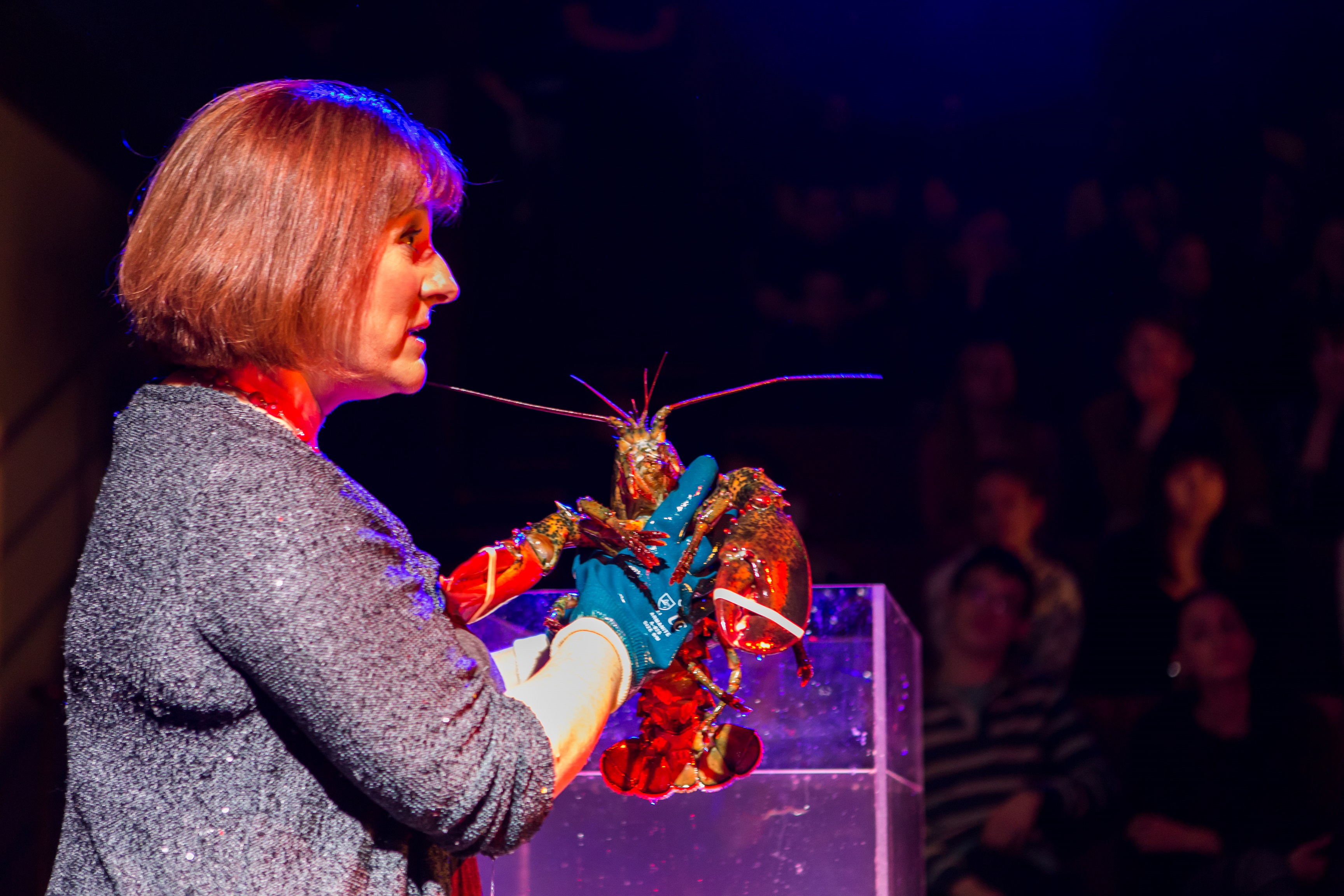 Up close and personal with lobster, lecture 3 
Meetings with the production company, Windfall, started in late September, and were fun, creative and productive.  The series title "Life Fantastic" was the inspired suggestion of Windfall chairman, David Dugan, and put an immediate end to a lot of to-ing and fro-ing between myself, the Ri, BBC and Windfall – it was the obvious and perfect choice.  So with title and outlines in place the task of fully working up the lecture content began in earnest, as the outstanding series producer Johanna Gibbon came onboard, along with my brilliant assistant at the Ri, Andrew Beale, a recent PhD graduate in circadian biology from UCL.  Content development took up most of my waking hours (and some of my sleeping ones) from the latter half of October onwards as we whipped the content into what felt like the right shape and order, with entertaining and informative demos thrown in.  The demos, of course, are the very essence of the CHRISTMAS LECTURES, and took up the most development time, from sourcing exotic animals (and cells!) to perfecting DNA extraction, to building models, to formulating fool-proof games to demonstrate key ideas in evolution, genetics and cancer biology, not to mention engineering a meeting with Charles Darwin!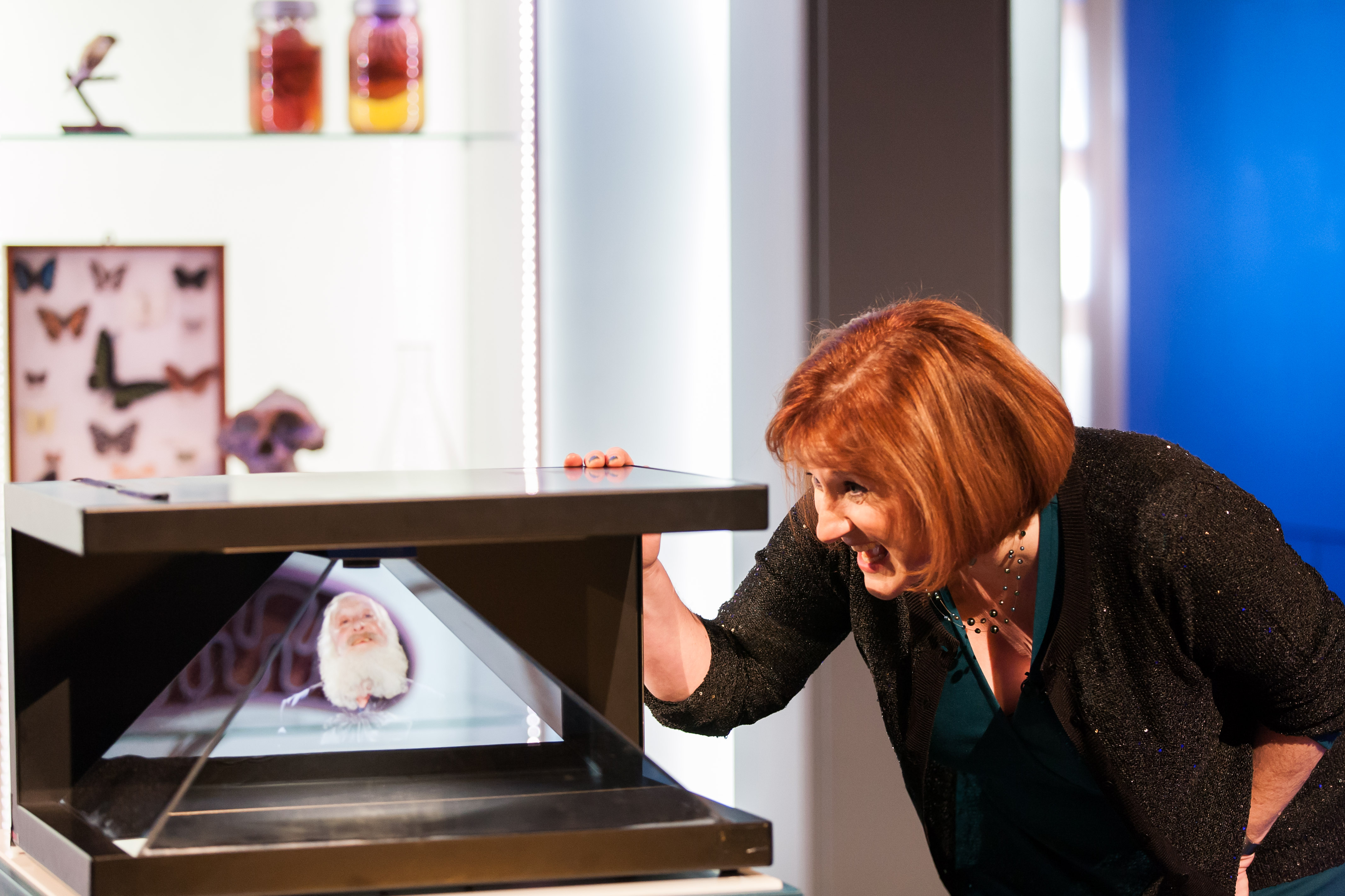 Meeting Darwin, lecture 2 
I moved to London, abandoning the family, at the beginning of December when the theatre rehearsals started – long exhausting days with no realistic possibility of commuting.  Rehearsal is a very odd experience for a seasoned seminar-giver; I had never really rehearsed anything before, and also had never worked with a script – scientists usually prefer to ad lib around a powerpoint presentation, but this can't work when you are dealing with a large crew, split second timing for demos and the general "TV thing".  I adapted quickly, though, and it became great fun as the crew grew with the addition of the Director, David Coleman – an enthusiastic cracker of terrible jokes. We worked from early in the morning until late into the evening, either in theatre or up in the Ri "penthouse", which doubled as the production office.  We were quite hysterical at times, very intense at others, ate a lot of pizza and drank a lot of wine. The memories of working with such a dedicated team of clever, knowledgeable, funny people (mainly women as it happened – we were dubbed "the coven" up in the penthouse) will stay with me for a long time, and the "can do" attitude was absolutely inspiring. By the time the first "record date" came along, I felt well-prepared, confident and pretty calm (mostly).  The crew grew massively the day before each record, with the addition of several cameramen, sound, lighting, script supervisor, floor supervisors (unbelievably essential for choreographing all the demos on and off), and various other technicians. I was really lucky to be able to share the whole experience with my research group, who all appeared in one or other of the lectures as "assistants" – the "Oxford Glams" – as they were known in the production office!  It was also fantastic to be able to share the experience with some other scientists, not least Paul Nurse, my old PhD supervisor, who joined me in lecture 1 to talk about his Nobel Prize-winning work on cell division.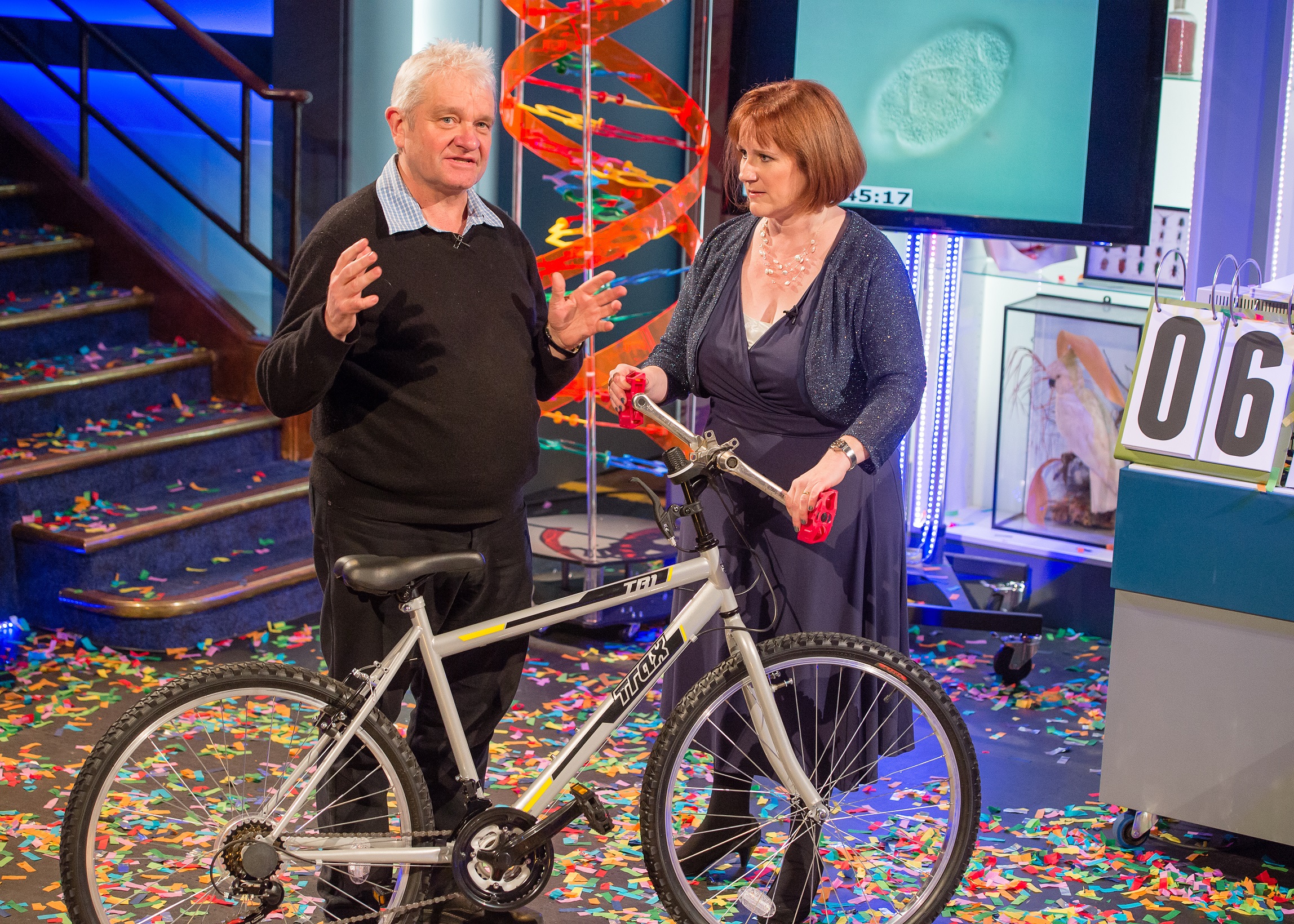 Paul Nurse and the "mutant bicycle", lecture 1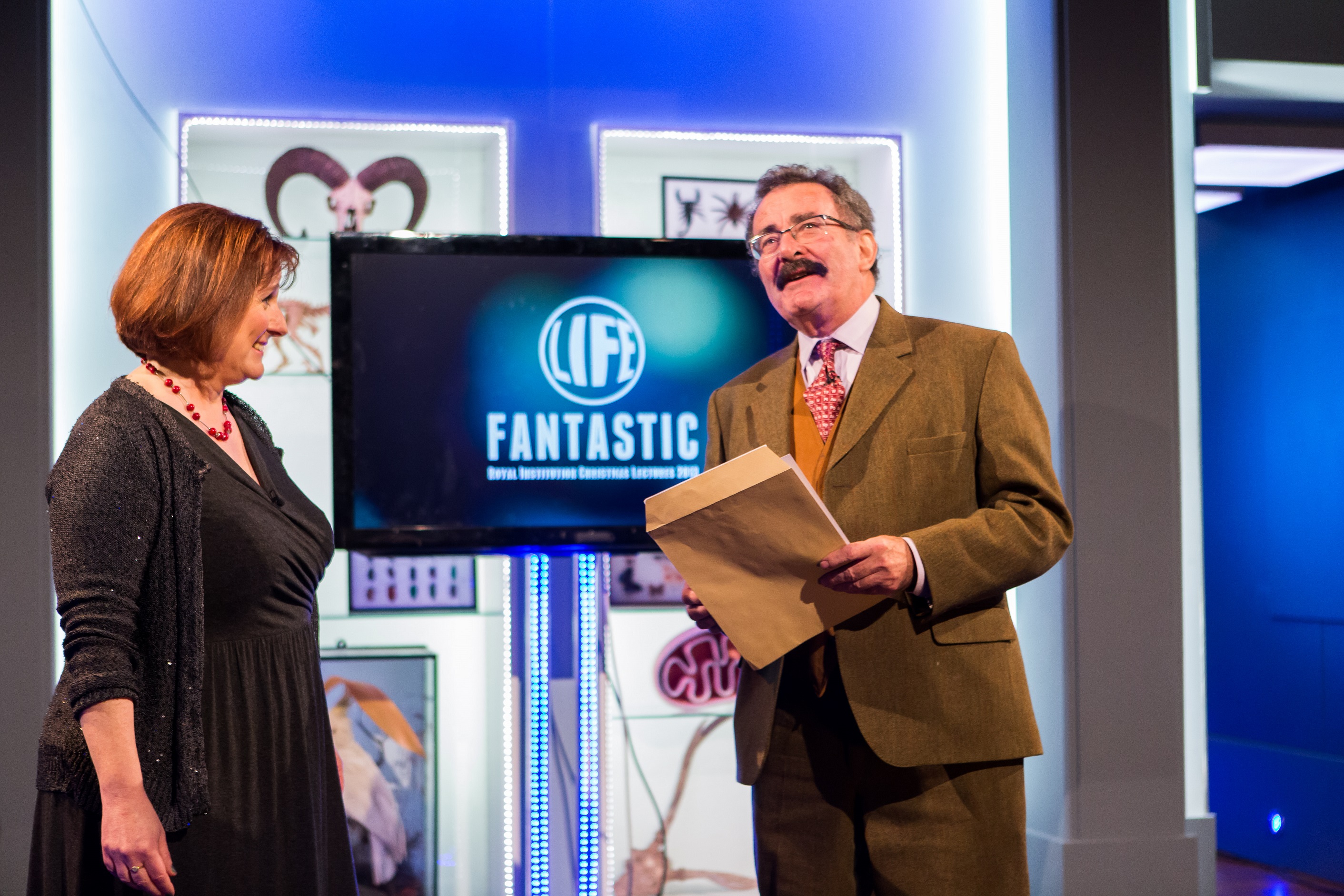 Guest appearance from Robert Winston, lecture 3
By the end of lecture 3 (filmed on 19 December) I was beyond exhausted, although it took a surprising amount of time to "come down" from the adrenaline trip.  I looked forward to the TV transmission dates between Christmas and New Year with a mixture of excitement and trepidation. I knew the lectures went down well in the theatre with the wonderful audience, but how would they translate to TV? I needn't have worried, and was totally overwhelmed by the positive response on e-mail, Twitter and even good old-fashioned letters.  Although life is now more or less back to normal (although doesn't seem much less busy as I catch up on everything I neglected!), my involvement with the Ri, and Science Communication in general, continues.  I've just done a "gig" at the Ri Family Fun Day and have quite a few public lectures coming up – a new experience I have found to be extremely enjoyable and rewarding. I'm also planning some involvement with the Cheltenham Science Festival and am looking forward to the summer when the Ri Lectures go "on tour" to Singapore and Japan (and luckily the family will be able to come with me this time…!).  I can really feel the vital importance of effective and engaging science communication – particularly biological science – at a time when Government demands "impact" and some have issues with the potential implications of research in genetics and molecular biology. And if six-year olds are inspired to send me beautiful pictures of green-fluorescent worms then, job done – the next generation of scientists might just be inspired to study developmental biology….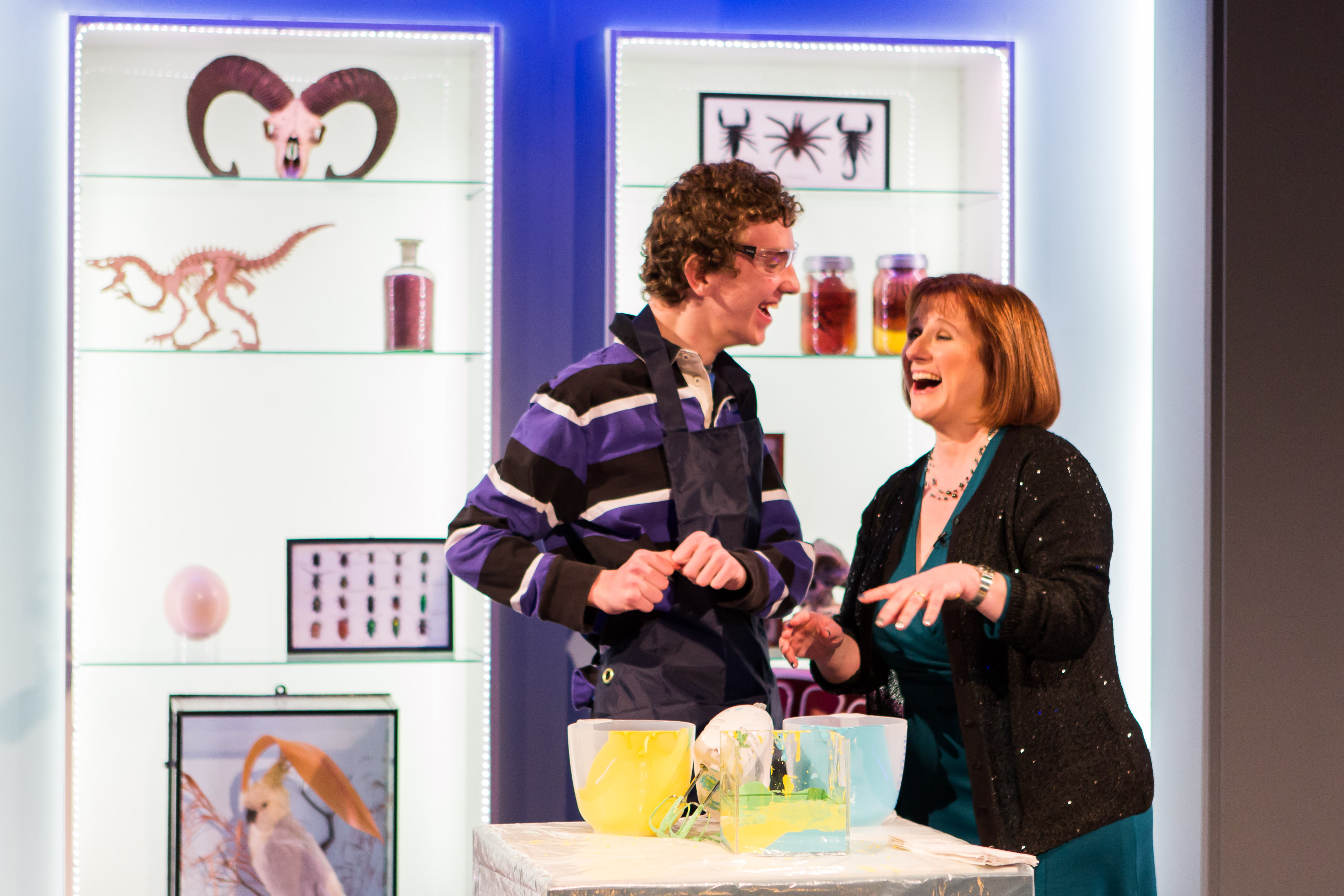 Discovering Mendelian genetics, lecture 2 
"Life Fantastic" can be seen at http://www.rigb.org/christmas-lectures
Lectures profiled in the Independent http://www.independent.co.uk/news/people/profiles/dr-alison-woollard-ive-got-the-performing-bug-9020180.html
Photo credits:
Image 1,2 and 6- Paul Wilkinson
Image 3, 4, 5, 7 and 8- Tim Mitchell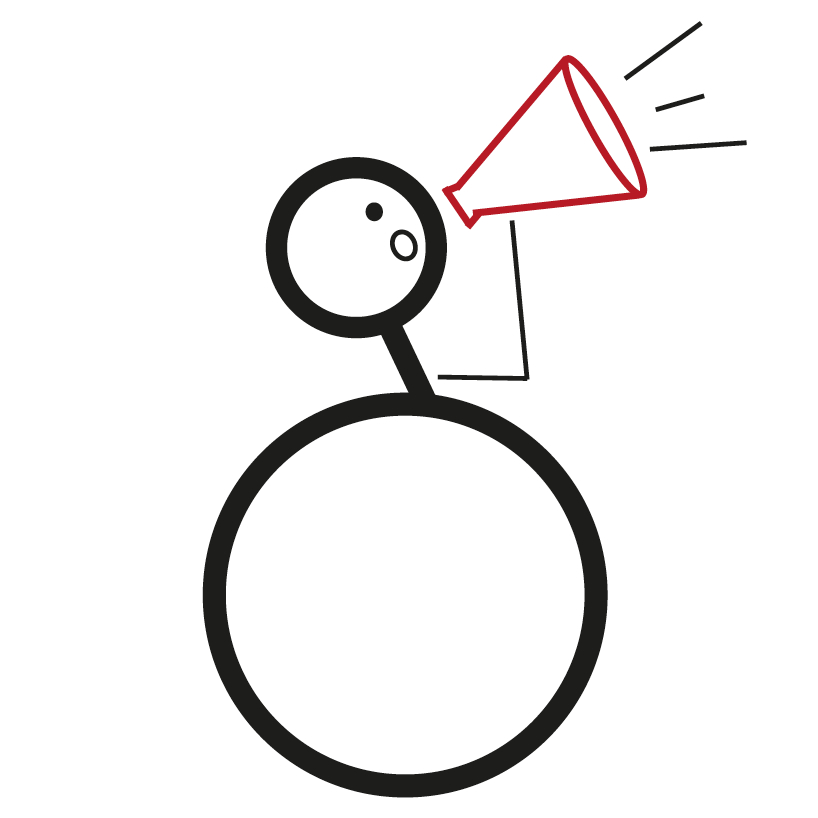 This post is part of a series on science outreach. You can read the introduction to the series here and read other posts in this series here.