Written by Shuangshuang Du, Rebecca Starble, and Lauren Gonzalez from the Yale Genetics Department.
We face a historical moment in which more and more women are pursuing scientific careers, but we have failed to support their success in leadership positions. This is in part because leadership styles that are authentic to their identities are not well represented by those who are currently in power. Opportunities for professional development could begin to offer young scientists techniques to overcome this gender barrier.

Despite this urgent need, training in interpersonal relationship skills is often absent in the graduate school curriculum. "Looking around the lab, I see talented graduate researchers undertaking challenging research projects who struggle not just with the science, but also because of the need to navigate the sparsity of female role models, confront cultural differences, and maintain self-belief," said Shuangshuang Du, a Genetics student from Dr. Valentina Greco's lab at Yale.

Du spearheaded the organization of a leadership workshop for graduate students in 2020, inspired by the first-ever female in science workshop for postdocs at Yale organized by Dr. Sara Gallini in 2019. She reached out to the Yale Biological and Biomedical Sciences (BBS) program to design a process by which this training could be accessed by the entire graduate student body, partnering with workshop liaison Dr. Jennifer Claydon to poll interests for such a workshop among BBS students and identify possible sources of funding. In December 2020, 16 Yale BBS women graduate researchers from five departments across the university participated in the inaugural iteration of this course.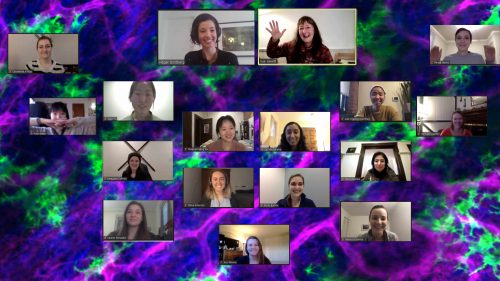 This course was taught by hfp consulting, a firm that specializes in leadership in science. Over the four half-day sessions, the facilitators and participants covered various skills critical to becoming empowered leaders in STEM, including effective communication, active listening, assertiveness, addressing imposter fears, and developing a peer support group. They approached these topics in a highly interactive way: participants were encouraged to engage with the content, the trainers, and each other through a combination of large-group and small-group activities to practice using these skills.
For example, in a module on conflict resolution, participants worked through their own real-life scenarios in small groups to get feedback from each other on how to deal with conflict using clear and respectful communication. This gave participants a safe, supportive environment to practice using these leadership skills, thus building participants' confidence to apply these skills in their professional lives after the workshop ended.
This approach was transformative. "This course was incredibly valuable for my development as a female leader in science by enabling me to identify and take advantage of my strengths, learn what style of leadership is best for me, and expand my repertoire of interpersonal skills that are beneficial both professionally and personally" said Molly Bucklin, a PhD candidate in the department of Immunobiology. Renee Wasko, a PhD candidate in the department of Molecular, Cellular, and Developmental Biology, noted that although she is "someone who regularly attends other self-help/career development seminars, this was the first experience that felt eye-opening and realistically implementable."
Participants also developed a strong community which didn't end when the official course was over. "This program created a lasting support network for me," said Wasko. "I still regularly connect with the other members of my cohort to discuss the topics and tools we learned and how they pertain to our lives currently." This community has been especially valuable during the COVID-19 pandemic, when many students have felt disconnected from their support networks, and the pressures of graduate school have remained high.
Investing in young women early in their scientific careers is essential to preserve this diverse talent within academia because it provides them not only leadership skills, but also a space and a language to discuss their professional challenges and ambitions. This course serves as a blueprint to embed that learning within the Yale PhD curriculum, equipping young leaders with the tools to overcome systemic barriers and shift the culture of STEM towards one of inclusivity and empowerment.