Closing Date: 15 March 2021
We are looking for a postdoctoral candidate with a strong cell biology and signalling background to take part in developing a human stem cell-based therapy for T1D as part of a collaborative H2020 project. The position is for 2 years with a possible extension.
Qualifications
The candidate is required to hold a PhD degree in pluripotent stem cell/developmental biology
Postdoctoral experience in the same areas is an advantage
We are looking for candidates with hands-on experience or an interest in expanding their knowledge in human pluripotent stem cell maintenance and differentiation, 3D culture of pluripotent stem cells, various cell and molecular biological methods, flow cytometry and confocal microscopy
Experience in differentiation towards pancreatic lineages is a plus
Finally, we are looking for applicants with a good track record of peer reviewed scientific publications and team work
Employment conditions
The position is for 2 years with a possible extension. The employment is planned to start 1 April or upon agreement.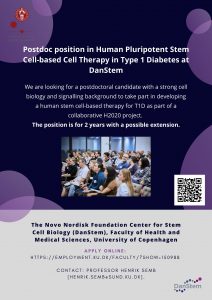 For further information, please contact Professor Henrik Semb (henrik.semb@sund.ku.dk).
Application deadline: 15-02-2020