Closing Date: 5 April 2021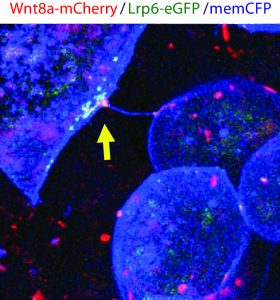 A postdoctoral position is available in the Scholpp lab at the Living Systems Institute (LSI) at the University of Exeter (https://www.exeter.ac.uk/livingsystems/). The mission of the institute is to study the function of living systems by multi-scale and interdisciplinary approaches. A primary focus of our lab is understanding how cells communicate in a tissue. We focus mainly on signals from the WNT protein family, which regulate fundamental processes including cell proliferation and differentiation, cell polarity and migration. Misregulation of this morphogenetic network causes severe diseases such as neurodegenerative diseases.  We have demonstrated that WNT proteins can be loaded on signalling filopodia known as cytonemes (yellow arrows) to allow paracrine signalling in vertebrates.
In this pilot project, we will study the interplay of WNT and β-amyloid signalling during the formation and maintenance of synapses. We will use hiPSC-derived cortical neurons to study the underlying molecular mechanism controlling WNT cytoneme function and synaptogenesis by in vivo high-resolution imaging.
What we offer:
A fully-funded position for 12 months (with the possibility of extension, including consumables and travel money) by the Alzheimer's BRACE Charity  ( https://www.alzheimers-brace.org/ )
A highly collaborative team and a collegial environment in the LSI
A stimulating environment with freedom to develop new research directions.
Supportive mentorship for multi-faceted career development and opportunities tailored towards individual career goals.
Regular interactions with world-class colleagues through Biosciences and Medical School.
An institute located in a dynamic city in the South West of England with the affordable cost of living.
What we are looking for:
Applicants with experience in developmental neuroscience and imaging, preferable in hiPSC culture (incl. maintenance and differentiation, and functionality assessment through cellular and molecular biological assays) and high-resolution imaging (incl. confocal microscopy, SIM, 2-photon)
Enthusiastic and ambitious individuals with a keen interest in our research and a collaborative and collegial laboratory environment.
Fearlessness in learning new techniques and designing projects independently.
Willingness to apply for applicable fellowships and grants
Interest in working with junior lab members and project students.
Strong verbal and written communication skills. 
Start date 1.5.2021 (flexible).
Application materials (email to s.scholpp@exeter.ac.uk ):
Cover letter outlining relevant expertise and scientific interests
CV