We are happy to announce that the UK Chick Developmental Biology Meeting 2021 will be held online on Friday 10th September.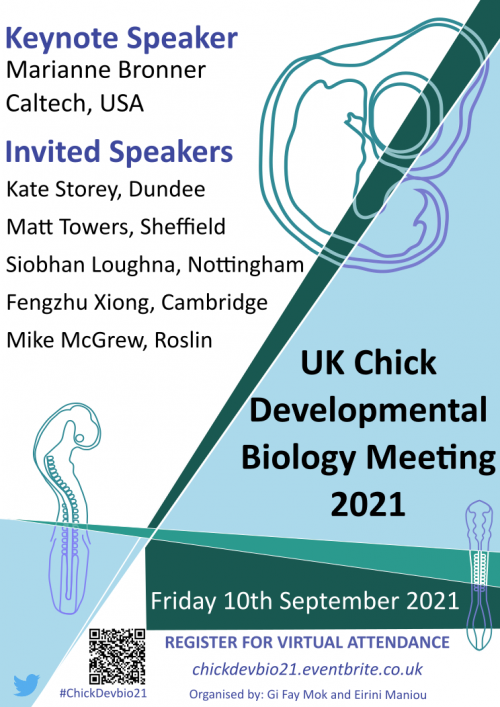 This one-day virtual meeting brings together researchers from Universities and Research Institutes across the United Kingdom to promote and further our in-depth strength in using the chick embryo as a model organism to study a variety of topics in developmental biology. The meeting itself is a mix of talks from junior and senior developmental biologists and aims to stimulate productive interactions between research groups and individuals from different subject areas to exchange knowledge and expertise. This meeting will also provide a platform of support for early career researchers to engage with the community during a difficult time.
We are delighted to have Prof Marianne Bronner (Caltech, USA) as our international keynote speaker to join other invited speakers from the UK such as Prof Kate Storey (Dundee), Dr Matt Towers (Sheffield), Dr Siobhan Loughna (Nottingham), Dr Mike McGrew (Roslin) and Dr Fengzhu Xiong (Cambridge).
In addition we will have talks from early career researchers (i.e. those just starting their labs, post docs and graduate students) – so please do let us know if you or someone in your lab has a nice story that they could present please contract and email Dr Gi Fay Mok (g.mok@uea.ac.uk) or Dr Eirini Maniou (e.maniou@ucl.ac.uk) to discuss and submit a short abstract. The deadline for abstract enquiries and submissions is Friday 15th July.
Should you wish to attend please register at the website chickdevbio21.eventbrite.co.uk
More details of the full schedule will follow soon.
Hope to see you all on the 10th September!
#ChickDevbio21