Glamour, fame, red carpets, flashing lights. It's not what you usually get as a top scientist, but why not? Why should overnight reality TV stars get more attention than people who spent years researching how the world works? This lack of attention to the important role of scientists was a driving force behind the second annual "Rock Stars of Science" campaign. Men's glossy magazine GQ is giving 17 researchers the glamour treatment: designer fashion, meeting rock stars, and a multi-page spread in their December 2010 issue.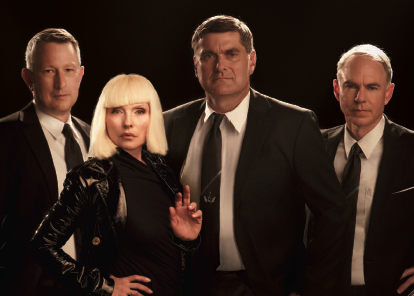 Posing on the first page of the feature (shown above) are TGF-β scientist Joan Massagué, cancer researcher Craig B. Thompson, and 2009 Lasker winner Charles Sawyers. Dressed to the nines, and giving the camera an ice-cold glare, they're accompanied by Debbie Harry of Blondie fame. A few pages further is another memorable sight: Nobel Laureates Phil Sharp (sporting a leather jacket) and Liz Blackburn (almost unrecognizable without glasses), together with Anne and Nancy Wilson of Heart: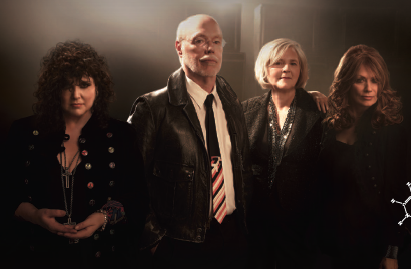 Other musicians who were happy to pose with scientists in the GQ photo spread are Timbaland, Keri Hilson, Bret Michaels, B.o.B, and Jay Sean, who himself once studied medicine in London: "I was halfway through my degree; it's when my first record deal presented itself… But I'll always be a fan of science."
With surveys showing that many people in the US are unable to name a single living scientists, GQ and the philanthropic Geoffrey Beene foundation hope that the Rock Stars of Science campaign will improve the image of science by profiling its stars. There is no attempt to explain any of the research – just like a photo spread of an actor or musician wouldn't try to analyze their work. It's just scientists being shown as, and with, rock stars, to make them look cool and hopefully get people interested in the researchers and the work they do.
The campaign is also supported by a website with profiles of the scientists. Elsewhere online, science writer Chris Mooney, who was involved with the campaign, looks back at the first installment of the photo spread last year. He reveals what happened to the scientists who participated in 2009, and why posing with rock stars may just be the only way for researchers to get through to the public.
The full list of scientists featured in the 2010 Rock Stars of Science campaign:
Stephen B. Baylin, Elizabeth H. Blackburn, Susan J. Blumenthal, Geraldine Dawson, Frank L. Douglas, Bernard A. Harris, Catriona Jamieson, Emil Kakkis, Frank M. Longo, Joan Massagué, Mehmet Oz, Eric M. Reiman, Phillip A. Sharp, Charles L. Sawyers, Craig B. Thompson, Mehmet Toner, Michael W. Weiner
Jealous? Keep up the research, and maybe one day it will be you rubbing shoulders with musicians in a glossy photo shoot.
(Image credit: Kurt Iswarienko)