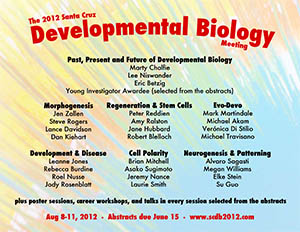 Wake your labmates and tell your friends – abstracts are due by Friday June 1 June 15!
The meeting
The Santa Cruz Developmental Biology meeting will be held Aug 8-11. Since 1992, the SCDB has been one of the premier meetings in Developmental Biology. The 20th anniversary meeting continues its emphasis on innovative developmental biology, focusing on morphogenesis, cell polarity, evo-devo, development and disease, patterning, neurogenesis, regeneration and stem cells. The meeting will be held on the beautiful, sunny UC Santa Cruz campus and is designed to foster interactions among scientists from labs around the world, from beginning students to leaders in the field. We have 27 invited speakers, and 19 more speakers will be selected from the abstracts submitted.
SCDB Young Investigator Award
If you are a grad student, postdoc, or junior faculty, you're eligible to be considered for the SCDB Young Investigator Award. The awardee will be selected based on his or her meeting abstract and CV. The SCDB Young Investigator Awardee will speak in the opening session along with our Keynote Speakers Marty Chalfie, Lee Niswander, and Eric Betzig!
More information…
See the meeting web site at www.scdb2012.com
See you in Santa Cruz!