In our February SciArt profile we feature Julie Gamart. In her illustrations, Julie seeks to combine the scientific topic with the personal preferences of the scientist(s) to create beautiful and playful artworks that communicate with her audience.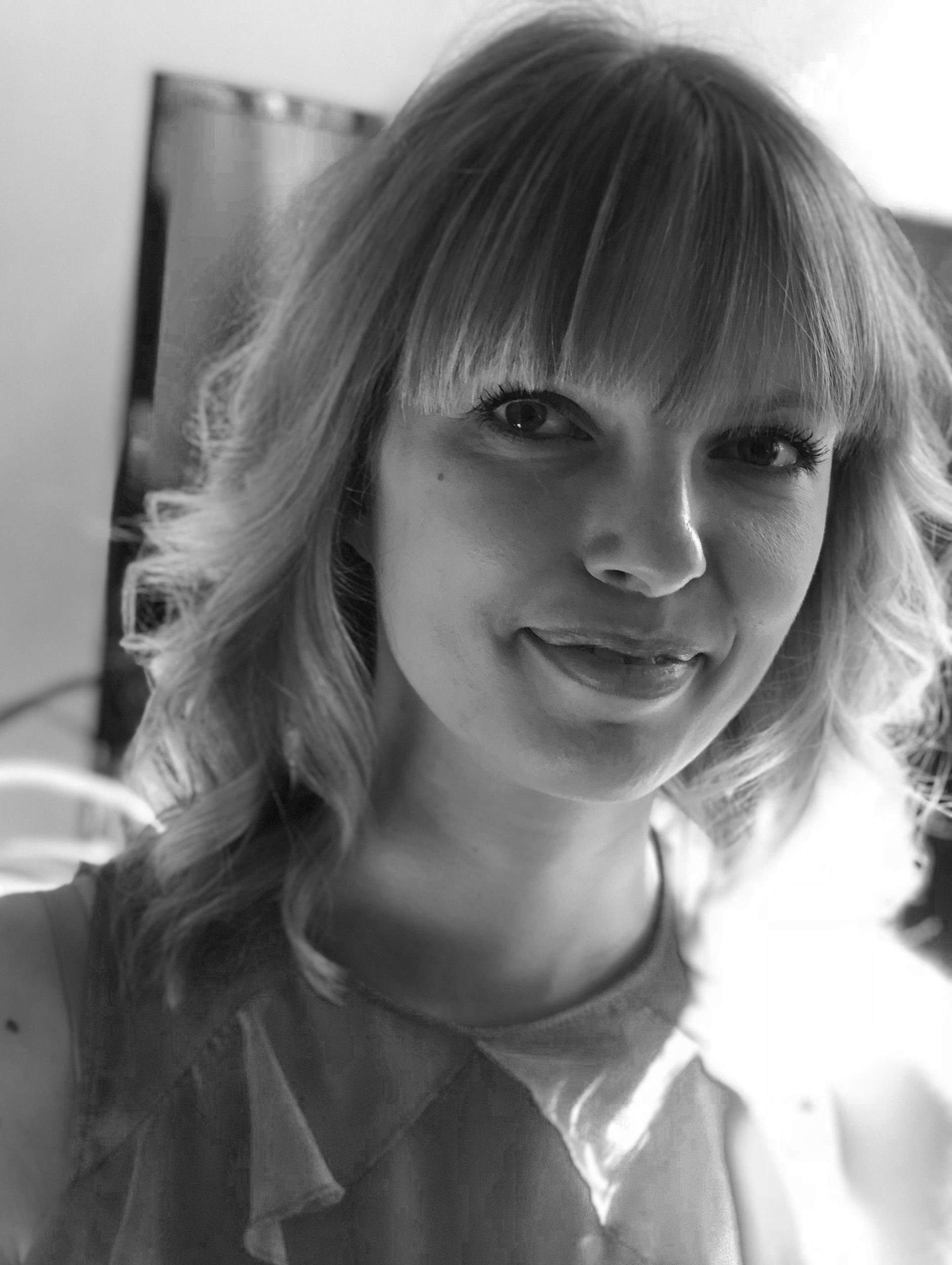 Where are you originally from and what do you work on now?
I was born in Saint-Martin-Boulogne, on the sea coast in the North of France. I stayed at the University of Lille (USTL, France) as a graduate student. As I wanted to work on genetics, I moved to Paris for the Master's degree 'Magistère Européen de Génétique' where I had the opportunity to do a research internship at the University of New York (NYU Langone Health, USA) and then my master's thesis in the laboratory of Professor Frédéric Relaix in the Institut of Myology in Paris. I was supervised by Dr Vanessa Ribes, and she gave me her passion for developmental genetics, working on the spinal cord development. I did my PhD in Basel in Switzerland in the Laboratory of Professor Rolf Zeller. I was using developmental genetics to decipher the roles of the BMP signalling pathway during the outgrowth of the limb bud. During my career, I have come to realise how a good illustration can improve scientific communication. Today, I draw for scientists and I like to translate a scientific message with an artistic angle.
Were you always going to be a scientist?
Not really. When I was a child my wishes were split between my desire to work on the art field, since I have this gift of drawing transmitted by my family, or my curiosity to understand how genetics works because my family has a hereditary disease. I finally chose the scientific path thinking that one day I would be able to reconnect with art.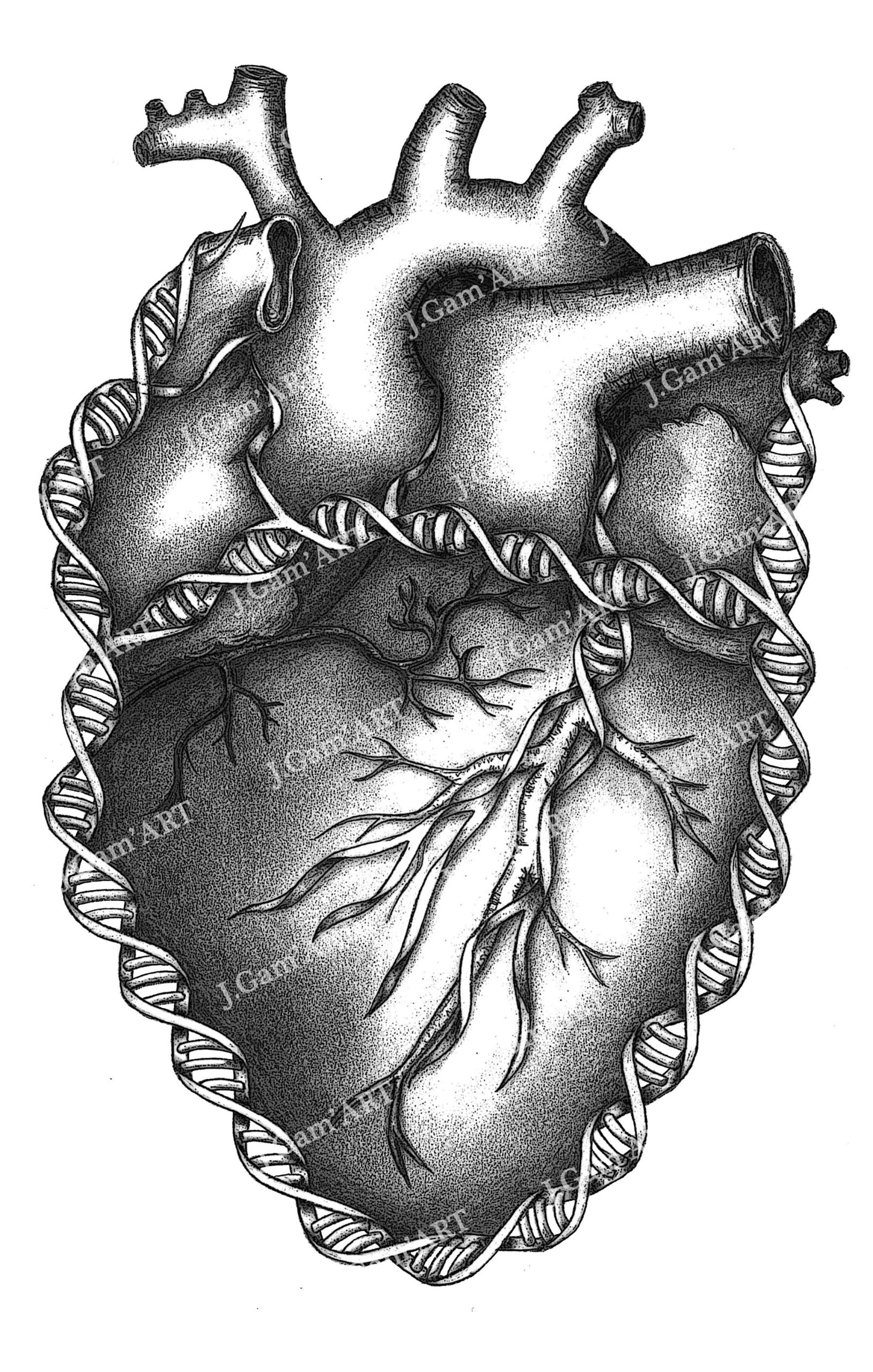 And what about art – have you always enjoyed it?
Yes, I managed to reconnect with art. After my PhD, I started to draw again, making artistic and scientific illustrations to communicate my research. I got a lot of good feedback, so I started to make illustrations and figures for my friends. Now I enjoy working with scientists from different fields to build unique illustrations that translate the scientific topic and reflect the tastes and preferences of researchers.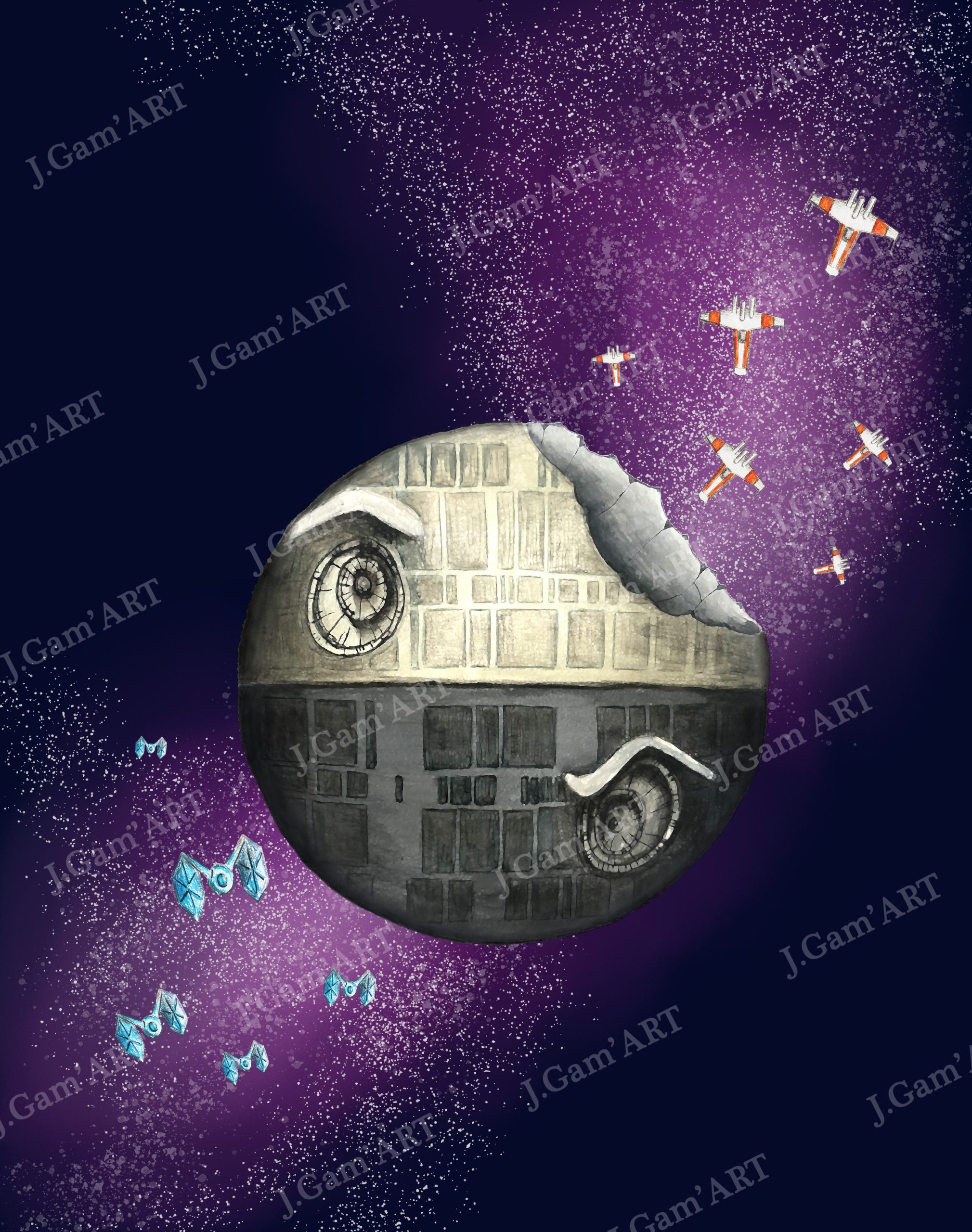 What or who are your most important artistic influences?
I have no specific artistic influences. I learned to draw with several techniques when I was young, thanks to Jean-Francis Mulier's classes (in Seclin in the North of France) that I followed from 10 to 16 years old. My main influence comes from my mother, Christine Gamart, and my aunt, Catherine Gamart, who support me in my decisions and give me very constructive advice and criticism. They draw wonderfully, their expert eye is essential for me.
How do you make your art?
The most important thing for me is the communication with the researchers. The illustration is a construction that we make together: it must translate a scientific message in a playful way and correspond to the personality of the scientist(s) to reflect his or her tastes and preferences. After that, I begin by choosing a drawing technique (acrylic, watercolour, charcoal, pastels, pencil). The technique will help to define the style of the drawing. Depending on the request, I use the computer to create a digital montage of the different drawings. For other realizations, I make the figures directly on the computer.
I share my work on the networks (Facebook, Instagram, LinkedIn and Twitter) and my website.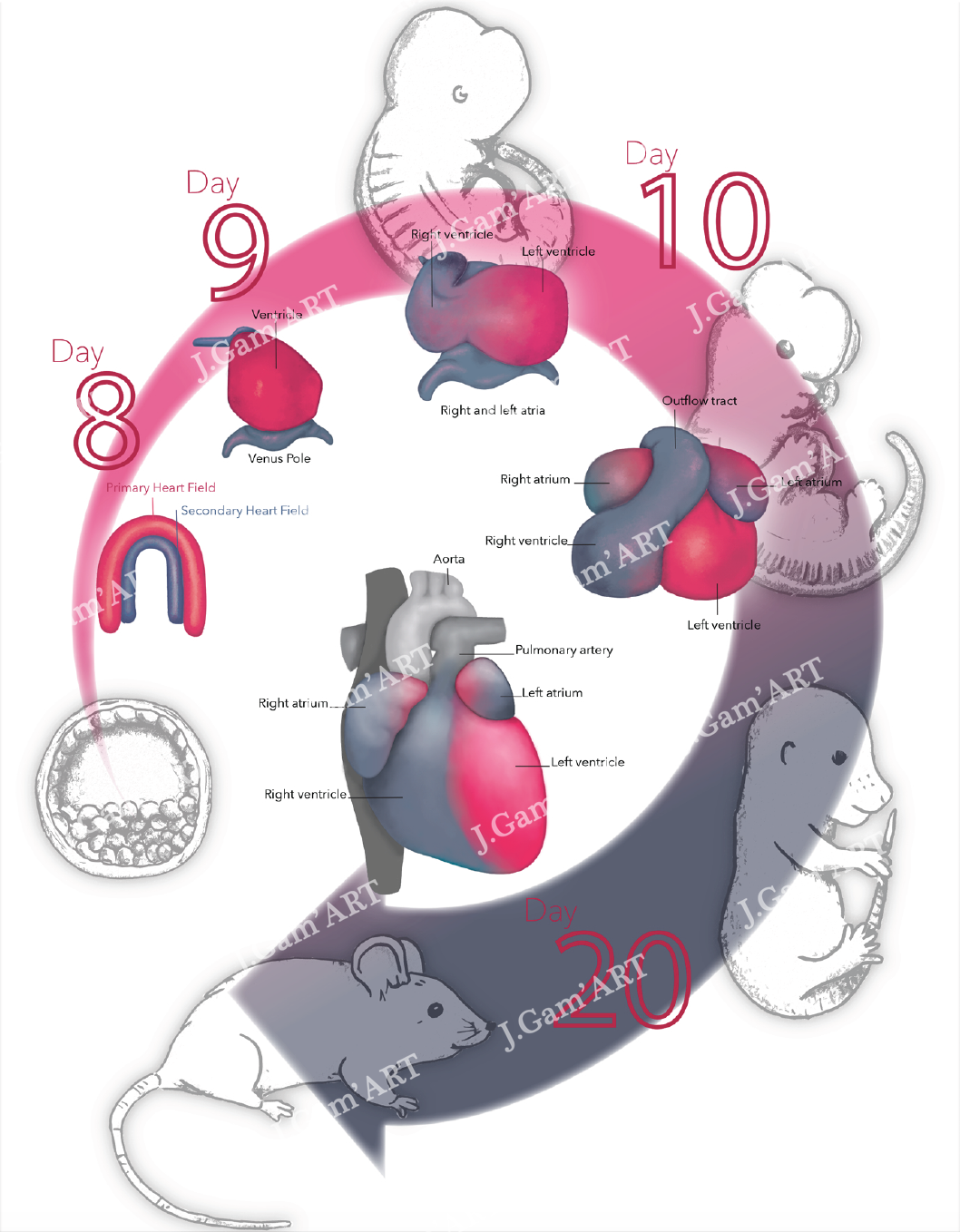 Does your art influence your science at all, or are they separate worlds?
Both worlds are linked: I adapt and use art as a tool to communicate, to popularise and share a scientific message.
You recently created the visual identity for the Franco-Japanese, New Frontiers in Developmental Biology meeting. Can you tell us a little about your brief and how you can up with the concept?
It was a great adventure to participate in this congress. The SFBD committee came to me and asked me to create a poster mixing developmental biology, Japan and the organising city, Strasbourg. The idea of creating the skyline of Strasbourg made of embryos from different species came quite quickly, in agreement with the team. To bring more poetry and softness, I proposed making the drawings using watercolour. The sun and the dominance of light pink colour also represents Japan and the flower of the Japanese cherry tree. From the style of the poster, we have created derivatives for different media (indication panels, presentation slides, name tag booklets) and some illustrations were used to create the website of the meeting. I also did the illustrations for the developmental biology games as part of the outreach programme that was running alongside the meeting. I really enjoyed adapting the drawing to a childlike style to explain developmental biology to little ones.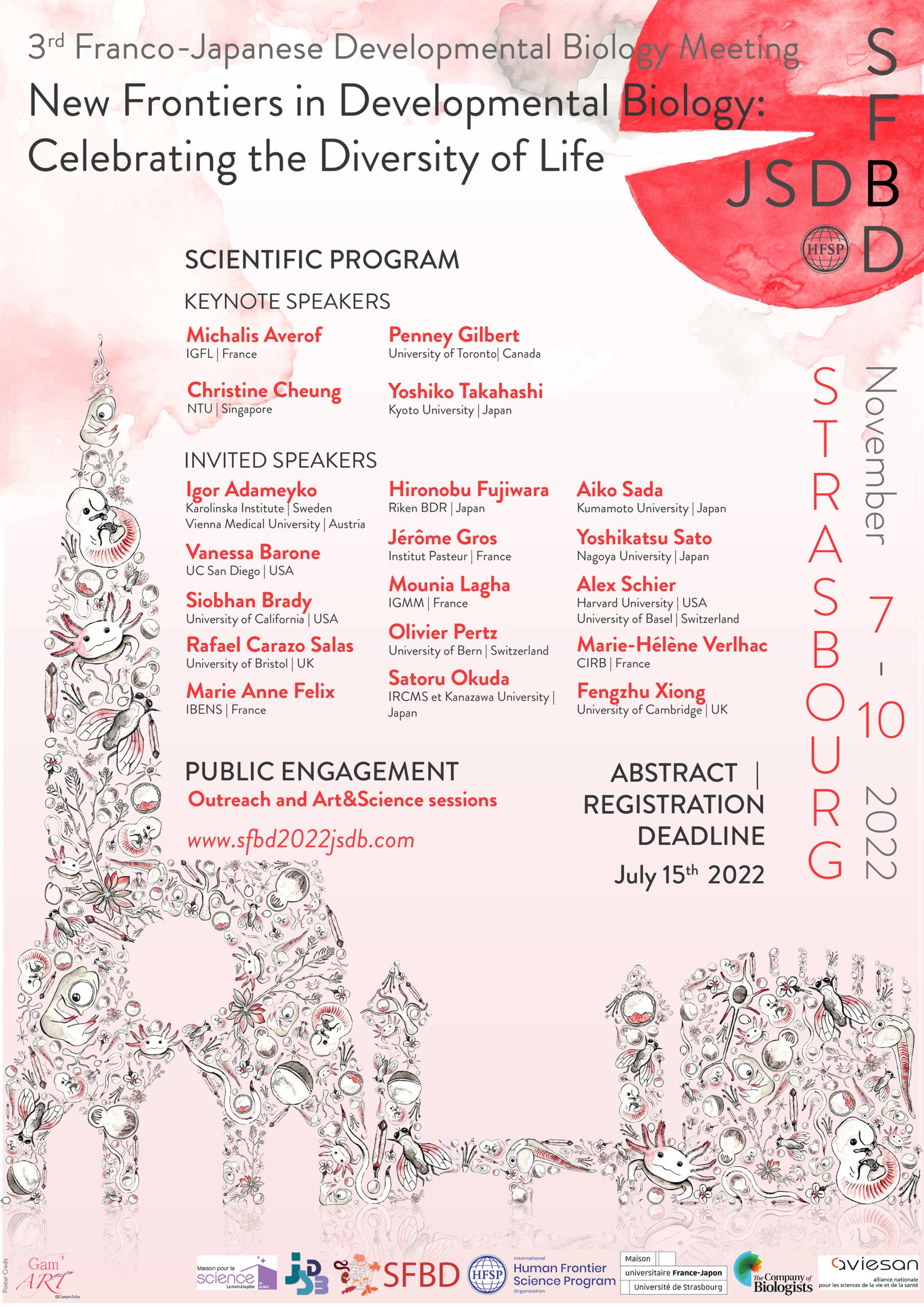 What are you thinking of working on next?
I hope it is the beginning of a big adventure. I would like to help many scientists communicate their research and make a difference with illustrations that reflect their personality and transmit a scientific knowledge in a creative and playful way. I will soon be organizing a scientific illustration workshop for a laboratory's anniversary in Paris. I hope this event will be a success, and will add another string to my bow to share my work and initiate new collaborations.
In the future, I would like to adapt scientific illustration to different events and different media to allow a better popularisation of science and share its beauty with a large and diverse audience..
Twitter: @gamartjulie
Instagram: @gamartjulie
Thanks to Julie and all the other SciArtists we have featured so far. We're looking for new people to feature in this series – whatever kind of art you do, from sculpture to embroidery to music to drawing, if you want to share it with the community just email thenode@biologists.com (nominations are also welcome!)