Congratulations to Hozana Andrade Castillo of the University of Sao Paulo in Brazil, whose image of a mouse pharyngeal arch jumped from third place to first place in the last few days of voting. Her image will appear on a cover of Development in the next few months.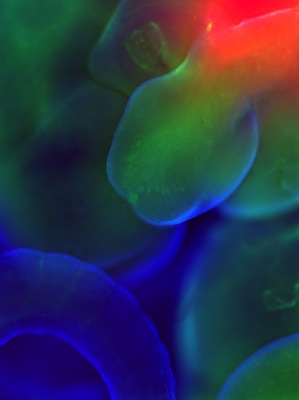 Developing pharyngeal arch region of mouse embryo showing immunofluorescence detection of neurofilaments (green), DiI labeling of trigeminal ganglion (red), and nuclei detected with DAPI (blue).
Second place in this round went to the cilia-stained squid image taken by Davalyn Powell of the University of Colorado Denver, followed by the flower-like image of cell division in the slipper limpet (by Anna Franz – University of Oxford) and an ascidian muscle (by Christine Carag Krieger – University of Pennsylvania).
We had over a thousand people vote in this round as many people forwarded the link to their friends. Thanks to everyone for participating and voting!
The next round of images will be up on June 6th. Around that same time, the winning image from the first round will appear on the cover of Development, and that week also marks the start of the 2011 Woods Hole Embryology Course. We're looking forward to the images from this year!