Congratulations to Sarah A. Elliott (University of Utah) and Nobuo Ueda (University of Queensland), whose image of a sea urchin eating seaweed will appear on a cover of Development later this year.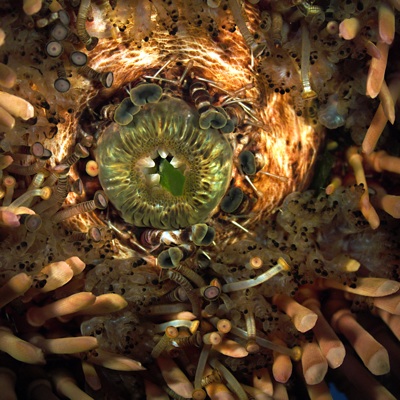 Mouth of an adult sea urchin feeding on a fragment of seaweed.
The image is a still from this timelapse:
It was a very close race, with the image of the squid embryo, taken by Jennifer Hohagen (Georg-August-University of Goettingen), repeatedly in first place as well over the course of the voting period, but when the poll closed, the sea urchin was sixteen votes ahead.
The two other images in this round were of a Drosophila embryo, taken by James Tarver (University of Bristol), and a zebrafish embryo, taken by Ann Grosse (University of Michigan).
Altogether, more than four hundred votes were cast. The next round of voting will occur in a few weeks, when you'll be able to choose between more beautiful images taken by students of the Woods Hole embryology course.