The winner of the first round of images from the 2011 Woods Hole Embryology Course is in. This beautiful image of a skate got almost half of the votes cast, and won by a large margin: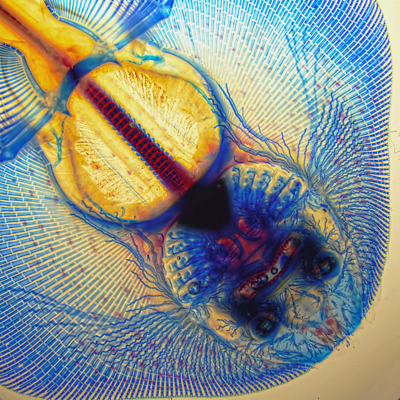 The image shows the ventral surface of the skate Raja prepared by alcian blue and alizarin red staining for cartilage and bone. (With additional staining of the ampullary canals surrounding the face.) It was taken by David Gold (University of California, Los Angeles), Lynn Kee (University of Michigan), and Meghan Morrissey (Duke University).
The skate will appear on the cover of Development in the next few weeks.
The runner-up mouse image was taken by Samantha Jones (Vassar), a course assistant in the 2011 Woods Hole Embryology Course, and both the snake and the chameleon images were taken by course students Jake Hines (University of Colorado – Denver) and Nate Peters (University of Washington).
Before we go on to round 2, we'll first have a few images from another developmental biology course. They should be up on the Node tomorrow – stay tuned!