The winner of the fourth round of Development cover images, collecting more than half of the total votes, was this squid embryo image, taken by Amber O'Connor from the University of Alabama at Birmingham.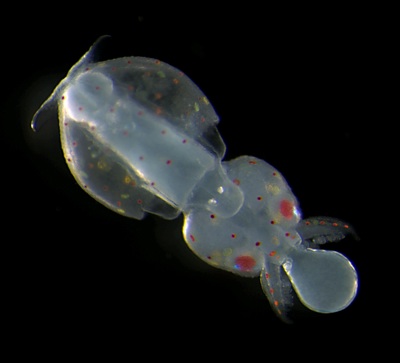 Runners-up in this round of images (all taken by participants of the Woods Hole Embryology course in 2010) were a fly image by Sylvia Bonilla (Purdue University) and Mazdak Lachidan (Samuel Lunenfeld Research Institute, Toronto), a mouse image by Elsa Denker (Sars International Centre for Marine Molecular Biology, Bergen) and a Ciona image by Qinwen Liu (University of Maryland, College Park) and Xinwei Cao (St. Jude's Children's Research Hospital).
Amber's image will be on the cover of Development some time in the coming months. Meanwhile, you can download another squid as your August desktop: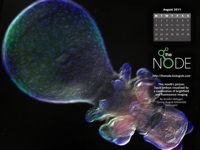 The desktop calendar for August, is now up, featuring the runner-up from the first Development cover image voting round of images taken at the 2010 Woods Hole Embryology course. It shows a squid embryo with DAPI staining in blue and phalloidin in red. The image was taken by Jennifer Hohagen of Georg-August-Universitaet in Göttingen.
Visit the calendar page to select the resolution you need for your screen. The page will be updated at the end of each month with a new image, and all images are chosen from either the intersection image contest or from the images we've featured from the Woods Hole Embryology 2010 course.