The first LMCB retreat in 10 years provided a much-needed rejuvenation of scientific connections and discussions after two years of Covid restrictions.
Hinxton Hall, on the Wellcome Genome Campus near Cambridge, was a perfect scenic location for what the next two days had in store for us. The retreat began with a talk from the LMCB director, Alison Lloyd, who reminded us about the importance and wonders of tissue biology from the angle of peripheral nerve homeostasis and repair. This introduction set the stage for a range of exciting talks throughout the next two days, presented by LMCB PhD students, postdocs, and group leaders, as well as invited external speakers.
The internal talks provided an opportunity to sample the range of cutting-edge research from across the institute. The topics went across scales from identifying enhancers in neurons to collective cell dynamics and mechanobiology and understanding how morphogenesis shapes an organ through development.
One of the many highlights of the retreat was the flash talk session where selected PhD students and postdocs explained their research in three minutes. This was a friendly competition with the winning prize going to Giulia Paci from the Mao lab, who presented her work on microfabricated tools to apply mechanical forces in developing tissues. This session highlighted the range of techniques and approaches used across the institute including mathematical modelling, electron microscopy, and state of the art light microscopy.
If you didn't think the flash talks were challenging enough, every student had the chance to draw their own research posters at the poster sessions. This saw a range of artistic attempts to explain research projects with pen and paper. I personally found the poster session to be so much fun, and I could now put names to faces and faces to exciting research projects. It was also a good opportunity to identify converging interests and to think about future collaborations and discussions.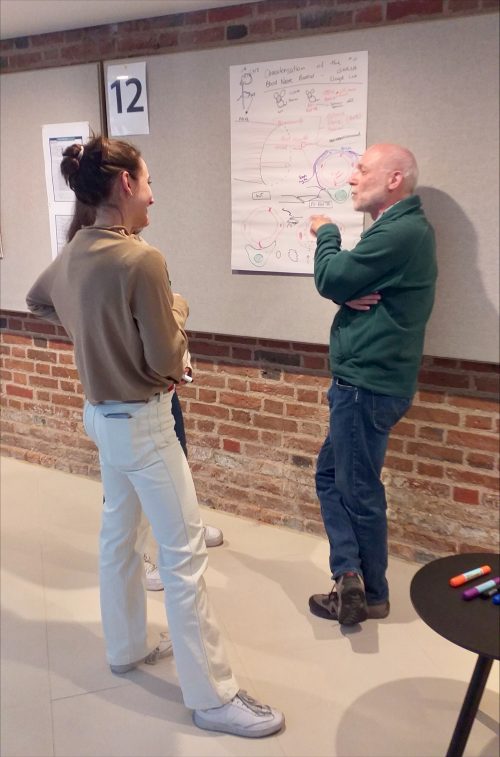 In addition to talks from researchers within the LMCB, we were lucky to have excellent talks from three external scientists. The first of these was Soyon Hong from the UK Dementia Research Institute at UCL, who talked about the role of microglia in Alzheimer's disease. We also had an entertaining talk from Mark Miodownik on the use and potential of animate materials to create a more sustainable planet for the future. The final external speaker was Rachel McKendry, who spoke about using quantum materials for early disease diagnosis. This was particularly relevant in the context of the Covid pandemic, as she highlighted technology that enabled the detection of low vial loads.
Now onto the social events, which lived up to their high expectations. The retreat started with a speed-dating session where we moved around small groups and gave a 30 second introduction. It was a great way to hear about the range of interests from colleagues and to get a hint of their hobbies away from science.
One general aspect I have noticed about scientists is their humour, perhaps because research requires a creative quirk. This was certainly confirmed in the pantomimes. Students and postdocs had filmed a pantomime prior to the retreat which was shown as a short film after dinner. Our pantomime was scripted and filmed by the very talented Jimmy Van Hear, a PhD student in the Mao lab, and it was called the Cephalopod Contest, taking inspiration from the popular Netflix series 'Squid Game'. As you can imagine, this was great light-hearted fun about the institute, the life of a scientist, and of course we also mocked our group leaders. Don't worry…. the group leaders got their revenge on our pantomime with a LIVE performance of their own! After the endless laughs, the first night ended with a Ceilidh. Yes, that's a bunch of energetic scientists being taught Scottish dance moves to fast paced music. This was a great chance to chill out and have fun outside of the scientific activities.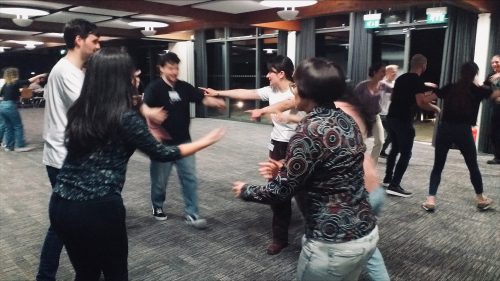 It wouldn't have been a complete scientific retreat without a biology-themed Dragons' Den competition! Over the two days, we got together into designated groups and brainstormed pitches and project names for the Dragons (LMCB group leaders). Group members then presented to the Dragons, who were willing to invest their own chocolate coins for the most promising projects. The projects were humorous, creative, and often inspired by our external speakers. We heard about a proposal to grow meat from your own cells and therefore bypassing any issues around animal consent (although as one Dragon pointed out, you could call this cannibalism). Another project pitched to speed up wound healing with a bioactive spray. But the winner of the audience vote, perhaps inspired by Mark Miodownik's talk on animate materials, was the project 'FungalFind' which aimed to identify pollutants with genetically engineered fungi.
An exciting aspect of scientific training involves interacting with the community – gaining the social skills to spark collaboration, start new conversations, ask relevant questions and communicate with scientists from a range of different disciplines. Starting my PhD journey in a pandemic and joining a new research institute meant that the community aspect of science had faded, and my social skills felt rusty. During the retreat, I have met the faces I pass in the corridor, and I feel well connected to different research groups across my institute. I also feel much more confident about approaching colleagues and getting my ideas across. This experience has stressed the importance of in-person interactions and highlighted how ideas and creativity are much more fruitful in real life.