Welcome to our monthly selection of developmental biology (and related) preLights

preLights, the preprint highlighting service supported by The Company of Biologists, has now reached over 150 posts since launching in late February. To further promote this platform, we are now featuring preLights content in three of The Company of Biologist's journals – including Development. In addition, complementing the Node's monthly trawl for preprints, we are starting a monthly series where we highlight some of the exciting developmental biology (and related) preLights articles. So, on to our first post!
Flies, fish and chicks
preLighters  featured several exciting  preprints using Drosophila. A modern imaging approach to study transcriptional dynamics, combined with mathematical modelling shed new light on the generation of the famous even-skipped stripes, and was covered by Erik Clark. Mathematical modelling was also key in getting at the mechanisms of dorsal closure in a preprint that Yara Sanchez and Arnaud Monnard reviewed  together. Ivana Viktorinova's preLight discussed how the wing epithelium responds to mechanical stress during morphogenesis, in which the mechanosensitive binding of the endocytic regulator p120 plays a major role. Drosophila embryos also have to tolerate other kind of stresses during their development, such as hypoxia; Sarah Bowling's preLight featured a study that showed how the fat body of larvae senses low oxygen and modulates TORC1 in response.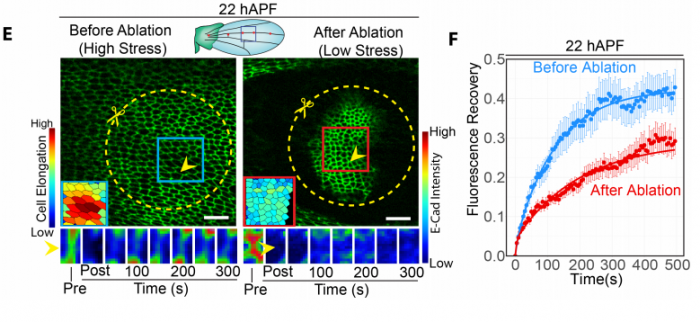 There were plenty of exciting preprints coming from the zebrafish community, and the preLighters did their best to cover them. James Gagnon highlighted a fascinating study showing the essential role of a novel small protein for species-specific fertilization. Genes and phenotypes were studied at a much larger scale in a story ­­­­– covered by Daniel Grimes – about an impressive effort to link functions to human schizophrenia-associated loci. The strength of zebrafish in modelling complex human diseases was also nicely featured in preLights posts by Hannah Brunsdon and Giuliana Clemente. Hannah highlighted how a putative human CHD gene variant enhances the phenotype of a known CHD-associated gene, and called attention to the importance of investigating the contribution of risk alleles to existing disease-associated phenotypes. Giuliana wrote about the introduction of elements of the human immune system into zebrafish, which could allow future research to investigate how immune cells contribute to cancer progression and metastasis. It turns out that immune cells, and specifically the spatial-temporal dynamics of cytokine induction, are crucial for spinal cord regeneration, as explored in Shikha Nayar's preLight.
Wouter Masselink and Ashrifia Adomako-Ankomah both highlighted preprints that combined chick embryology methods with modern molecular approaches to gain new insights into one of developmental biology's 'classical' problems: limb development. Wouter covered a study showing that the collinear activation of Hox genes is important for controlling the position of the forelimb. Ashrifia's post dealt with the question of how the final size of the limb is determined and a preprint showing BMP signalling-dependent regulation of proliferation rates in the limb bud.
Chromatin and genomics
The chromatin biology and genomics fields were well represented on preLights this month. Claire Simon and Sophie Morgani discussed how Sox3 and Pou5f3 act as pioneer transcription factors to open chromatin for genome activation in Xenopus, while the organization of inactive chromatin in senescent cells was the focus of Carmen Adriaens' post. Lauren Neves' preLight reported on a remarkable study, which showed that the histone H3-H4 tetramer – a main component of the building blocks of chromatin – also has copper reductase activity. This enzymatic function of histones may have been important for the emergence of eukaryotes. Several preLights featured the ever-increasing power of RNA-seq to answer interesting biological questions. A transcriptomic study in plants, highlighted by Martin Balczerowicz, investigated the level of transcriptional noise among genetically identical species. Rob Hynds' preLight discussed the use of single-cell transcriptomics combined with bulk proteomics to study healthy ageing in mouse lungs. Finally, an RNA-seq study also gave insight into how a remodelled chloroplast is maintained in a non-photosynthetic alga, preLighted by Ellis O'Neill.
Tools & Technologies
Novel technologies featured heavily this month, for instance Rebekah Tillotson's preLight on CRISPR gene drives in mouse, which could help scientists create disease models with multiple mutations. Satish Bodakuntla covered  a novel expansion microscopy technique that goes beyond the limits of super-resolution. The most popular type of method to highlight turned out to be optogenetics. Mahesh Karnani reflected on two preprints that made major advances in achieving optogenetic inhibition of neural activity by soma targeting, and the preLight includes insightful comments from both research teams. Patricia's preLight discussed optogenetic manipulation in locust brains, while moving a bit away from neuronal function, Srivats Venkataramanan preLighted a study that used an optogenetic tool to control the formation of stress granules.

Finally, preLighters' coverage of reproducibility (see Carmen's earlier post and Reid Alderson's preLight from this month) and flaws in experiments (see Fabio Liberante's post on false detection of circular RNAs from RNA-seq) signalled the importance of preprints in rapid dissemination of studies which are extremely valuable for the community, but often more difficult to get published in journals.
Considering reading something more out of your scope? Then explore the preLights website, where you can also find out about microbes in a Mars-analogue environment, Mycobacteria on your showerheads, or drug repurposing to combat brain-eating amoebae.