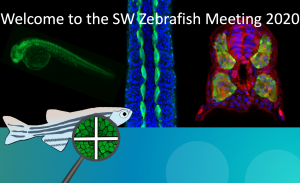 We are excited to announce that the UK South West Zebrafish Meeting 2020 will be hosted by the University of Exeter as a virtual meeting to take place on Friday 11th September 2020.
The aim of the meeting is to bring together zebrafish researchers and technical staff from research institutions from the South West of the UK to share exciting cutting-edge research, knowledge, and zebrafish related expertise. We hope the meeting will forge new collaborations and networks across the South West and we hope you will be able to 'join' us! Registration and abstract submission are now open!
Due to the uncertain times regarding COVID-19 and possible long-term travel restrictions, we have decided to host our meeting online. We are in the process of working out the online format and logistics – so that we can host the best meeting possible – and we will inform participants of further details in due course.
Our website is now live! You can find more information about the meeting here: https://swzm2020.wixsite.com/swzm2020.
Registration and abstract submission are now open, please follow the link to register: https://swzm2020.wixsite.com/swzm2020/registration!
We are also pleased to announce that we have 3 confirmed keynote speakers: Prof. Catherina Becker (University of Edinburgh), Dr. Isaac Bianco, (University College London), & Prof. Charles Tyler (University of Exeter).
Please pass the exciting news on to anyone you think may be interested and feel free to tweet about the event using #SWZM20 and follow us on Twitter @swzm20!
Looking forward to hearing from you all,
Steffen, Lucy, Holly, Chengting, Josh, Yosuke, and Michael