In the beginning of 2014 (January 5-17th) we enjoyed one of the most fascinating experiences professionally and personally. Under the guidance of Dr. Roberto Mayor and a teaching staff that enlightened and motivated us at all times, a wonderful group of 21 students accomplished the '2014-International Course on Developmental Biology' at the CIMARQ in Quintay-Chile. Students, mostly from Latin-American countries and some from Europe and the United States, participated in a unique and rewarding experience.
We could dedicate more than a hundred pages talking about the unbelievably high quality of lectures and discussions, the laboratory practices, and the professors themselves and that still wouldn't be enough to describe the positive impact of this course on our careers. While we enjoyed the beauty and peace of that place during those long and exciting days a prerequisite for every top international course, we were blown away by the warmth of our hosts – and idols – in developmental biology, listening to them impart their expertise and sharing their personal experiences; how they became what they are, the hard decisions and sacrifices they made in order to follow their passion for this vocation.
We had the unique chance to interact with internationally renowned developmental biologists as they shared with us their insights on a wide range of topics. Everyone in their own manner taught us valuable lessons which will be helpful for our own research projects now and in the future. We were also encouraged to look beyond model animals and to go out and think about the fundamental questions in the field of developmental biology from a new perspective, to consider the depth of diversity in the developmental process and the forms it generates, to appreciate the interaction of an organism's development with its natural habit and to integrate ideas not classically thought to be part of the field. These different views gave us the opportunity to understand development in a broad, holistic manner.
Moreover, we were given the gift of motivation. Motivation to follow our ideas, our instincts, to go into battle with our thoughts and try to give new insights to our projects. As young scientists, we spend our days in the lab trying to fulfill our desires and expectations, giving our absolute best for our projects, trying to push ourselves to be the best researchers we can; and it is not a minor fact that as Latin American students most of us have to deal with great challenges to ensure that our work is up to the right standards. For that reason, the encouragement that we received during the course from all the faculty members was a turning point in our careers. It made us realise that with hard work and enthusiasm, there is no goal that we cannot accomplish.
Another keystone of the course was the opportunity to formally present our own work to classmates and teaching staff. We received essential feedback not only about our projects but also on how to deliver and present science to a diverse scientific community, an art that is demanded of all scientists. This was certainly a rewarding experience for everyone, no doubt about it. Furthermore, we now have a better idea of the research that young Latin-American developmental biologists are doing and how we can network with other researchers and classmates around the world.
An addition to this outstanding experience was the mini-symposium about Developmental Biology which gave us the opportunity to take part in the life of the scientific community in Chile. High-quality lectures gave shape to this event as Chilean and international experts shared their research and thoughts in a delightful atmosphere. The symposium truly completed our experience.
We strongly believe that one of the most powerful tools we have in science is our desire to progress together as a community because we certainly know that the whole is greater than the sum of its parts and we choose that principle as a way of doing science. This course is tangible proof of that, bringing state-of-the-art technology and first class teaching to Latin American students and allowing us to take advantage of this every single day so that we all develop as a group and as researchers. We generated strong bonds and a great sense of community. This course gave to Latin America (and other parts of the world) a network of young developmental biologists that share each other's interests, aspirations and passions.
We have learned the most fascinating strategies, pathways, and molecular principles for patterning of current and potential model organisms in developmental biology, and during our lab practices we actually heard some of the beautiful chords of their melodic development. However, even more interesting was to personally experience one of the most amazing biological processes; the development of wings in our mind, allowing us to see and think further and wider than we could have ever imagined.
Finally, we want to share a beautiful gift from our inspirational teacher Scott Gilbert, who sent to us this quote that he rescued from Pablo Neruda's home in Isla Negra: "There is nothing more beautiful than something that comes into being, takes shape right in front of us. There is a rigor in the materials that prevents excess folly…" This is a good epigram for developmental biology.
Post by all the Students – class 2014.
International Course on Developmental Biology
Quintay – Chile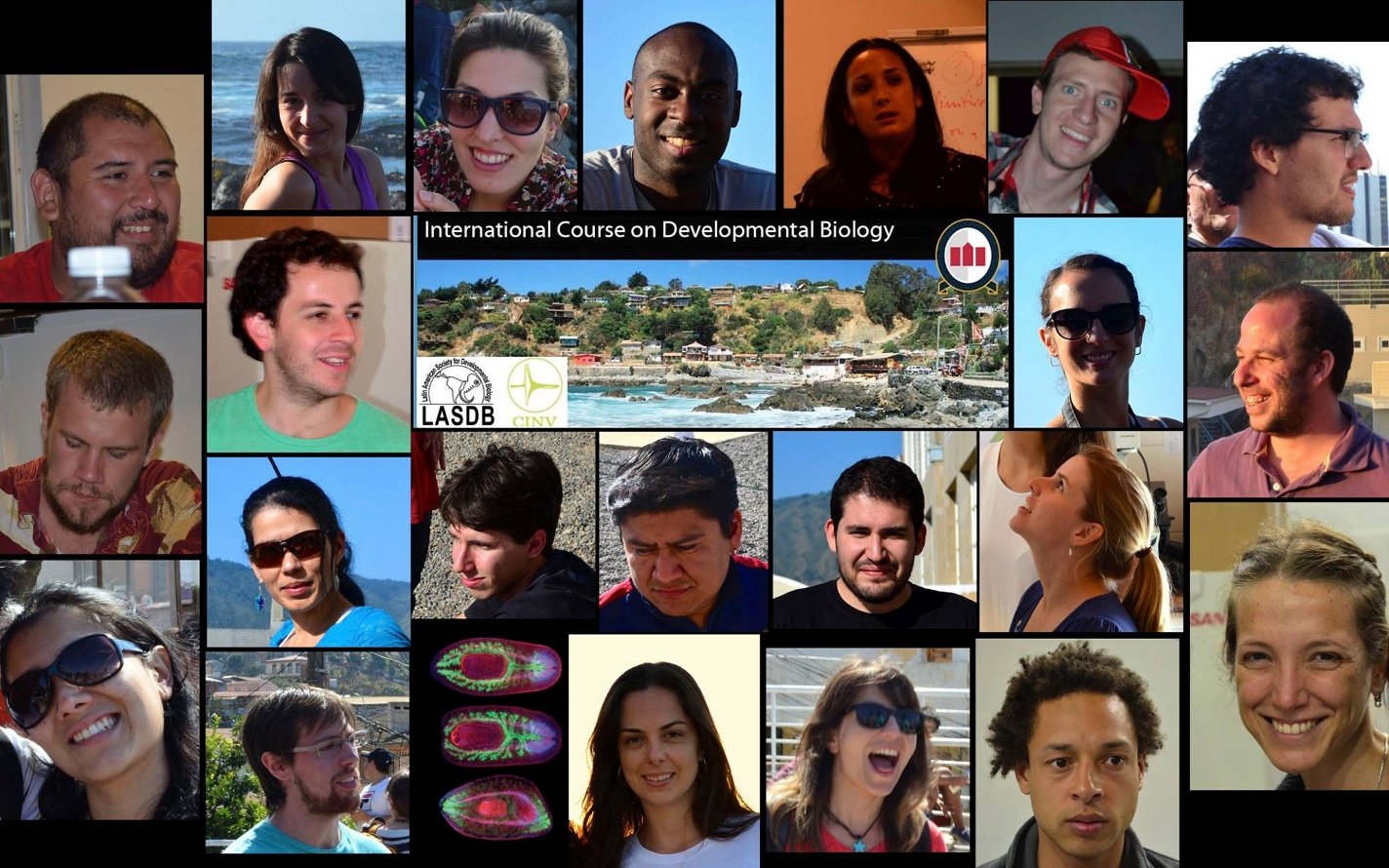 Picture by Emilio Lanna. From left to right: Jaime Espina Hidalgo , Gabriela Edwards, Maria Kotini, Kevin Leclerc, Francis Hervas, Santiago Cerrizuela, Gonzalo Aparicio, Daniel Smith, Elías Barriga, Ailin Buzzi, Emilio Lanna, Marcela Arenas G., Gloria Slattum, Gabriel Cavalheiro, Roberto Sanchez, Diego Rojas, Carla Grade, Angie Serrano, Dalmiro Blanco Obregón, Lucimara Sensiate, Guadalupe Barrionuevo, Paul Andrew.