Elena Boer, Shun Sogabe and Joe Hanly are currently attending the MBL Embryology course in Woods Hole MA.
2015 marks the 122nd year of the Woods Hole Embryology course. This program has a long and prestigious history, as exemplified by the long list of alumni who grace the the wall of class photos in the lab. A quick scan of these photos reveals many of our own supervisors (in some version of their younger selves), a few Nobel Prize laureates, and quite a few of the PIs and TAs who have returned to teach the course this year. This year's class is made up of 24 students from diverse backgrounds, representing 22 institutions and 14 different nations. To support our crazy 6-week journey through the depths of embryological research, we are equipped with a variety of compound, confocal, and light sheet microscopes (rumored to be worth around $3 million), as well as buckets and buckets of amazing reagents and equipment. We start our days with three and a half hours of lectures and in-depth discussions, and then hit the lab for demonstrations and independent experiments which frequently run until midnight or later.
We're now at the end of week 2 of 6. Are you wondering how it is physically possible to maintain such a schedule and keep your sanity? Well, after some preliminary experiments, we suggest that you probably can't. We are so tired, we can hardly type these worfs. Indeed, we've been writing this blog in the brief breaks we get whilst washing out antibodies. Since our arrival in Woods Hole on June 6th, we've been hard at work for 15-18 hours a day, 6+ days a week. The only thing keeping us awake is the sheer joy and camaraderie that comes from being in such an intellectually stimulating place with so many great people. And coffee. Lots of coffee.
Many of us arrived in Woods Hole the day before the course began and had a chance to start getting to know each other during an informal tour of Woods Hole and dinner at Quick's Hole, followed by drinks at the Kidd, the best (a.k.a. only) bar in town. At our first official course dinner the following night, Alejandro and Richard (the course directors) threw us a curveball; after just meeting each other, we were split off into pairs and had to learn enough about the other person in 10 minutes to introduce them and their research to the group. Although this was a slightly terrifying experience, it set the tone of the course: intense, but not to be taken too seriously. This mentality has continued throughout these first two weeks, providing us with the opportunity to both learn and have as much fun as we'd like while being free from the stresses and constraints of our day-to-day research.
To make extra sure we weren't taking things too seriously, the directors and course assistants planned a scavenger hunt on our first weekend, which involved teams of four dressing up as an assortment of marine animals and running around Woods Hole like crazy people – it's fair to say we attracted a lot of attention. Many of us anxiously over-prepared for our first "Show and Tell" at the end of Week 2 as well, just to find out that the presenter would be wearing a silly hat and the audience would be supplied with small plastic balls to throw at the speaker if they went over their 3 minute limit. The relaxed environment manifests in other ways; for example, lots of quotable quotes have made it on the whiteboard in the breakroom. Our personal favorite so far: "RNAi is like a cheap date – what you really want is a long-term relationship with a mutant" (Dave Sherwood). For three meals a day, all participants, TAs, CAs and faculty stick together. Science is everywhere, but it is supportive and social. Alejandro and Richard are participating too. Every night, a few of us also get the opportunity to go out to dinner with the lecturer of the day. This seemed intimidating at first, but always turns out to be a really fun and relaxed experience filled with fascinating stories and often giving us great advice for our future research and careers.
So far, we have had a chance to work on sea urchins (L. variegatus), sea stars (P. miniata), nematodes (C. elegans), chicks (G. gallus), and mice (M. musculus). In the "zoo lab" last week, we were also given a variety of vertebrate embryos to dissect (e.g. chameleons, snakes, lizards). Each module has been exquisitely coordinated by a great team of people, who have kept the lab stocked with everything we need (i.e. reagents, equipment, embryos of different strains at various stages of development, etc.) This allows us to simply show up every day and do fun science. Most of us know someone who has taken the course in the past, therefore we all had an idea of what to expect from lectures and experiments. What we weren't expecting was the way we are being molded as scientists through such amazing supervision. In our second week, for example, Claudio Stern gave us a quick tour through the history of developmental biology, and also led us through an enlightening discussion of experimental design. We were given the chance to propose our own experiments and get critical feedback from some of the leaders of the field. This not only reaffirmed our respect towards our predecessors and the field of biology as a whole, but also gave us a clearer image of what it means to do "good science".
For most of us, the primary goal is to absorb as much information as possible while we are here. Because there are no deadlines to meet and no papers to publish, it is an incredibly liberating (and fun!) environment to be living and learning in.Two weeks in, we already know that we are going to come away from this experience as very different people.
—–
Elena is a recent PhD graduate from Rod Stewart's lab at the Huntsman Cancer Institute/University of Utah in Salt Lake City, Utah. This fall, Elena will be making the move from neural crest migration in zebrafish to evolutionary genetics in pigeons when she starts as a postdoc in Mike Shapiro's lab at the University of Utah.
Shun is a PhD student in Bernie Degnan's lab in the School of Biological Sciences at the University of Queensland, Australia. He studies the ontogeny of choanocytes (feeding cells) in the sponge and their involvement in the sponge stem cell system.
Joe is a PhD student in the lab of Chris Jiggins in the Department of Zoology at the University of Cambridge, UK. He studies the development and evolution of the wing patterns of Heliconius butterflies.
—–
A few photos from the first two weeks: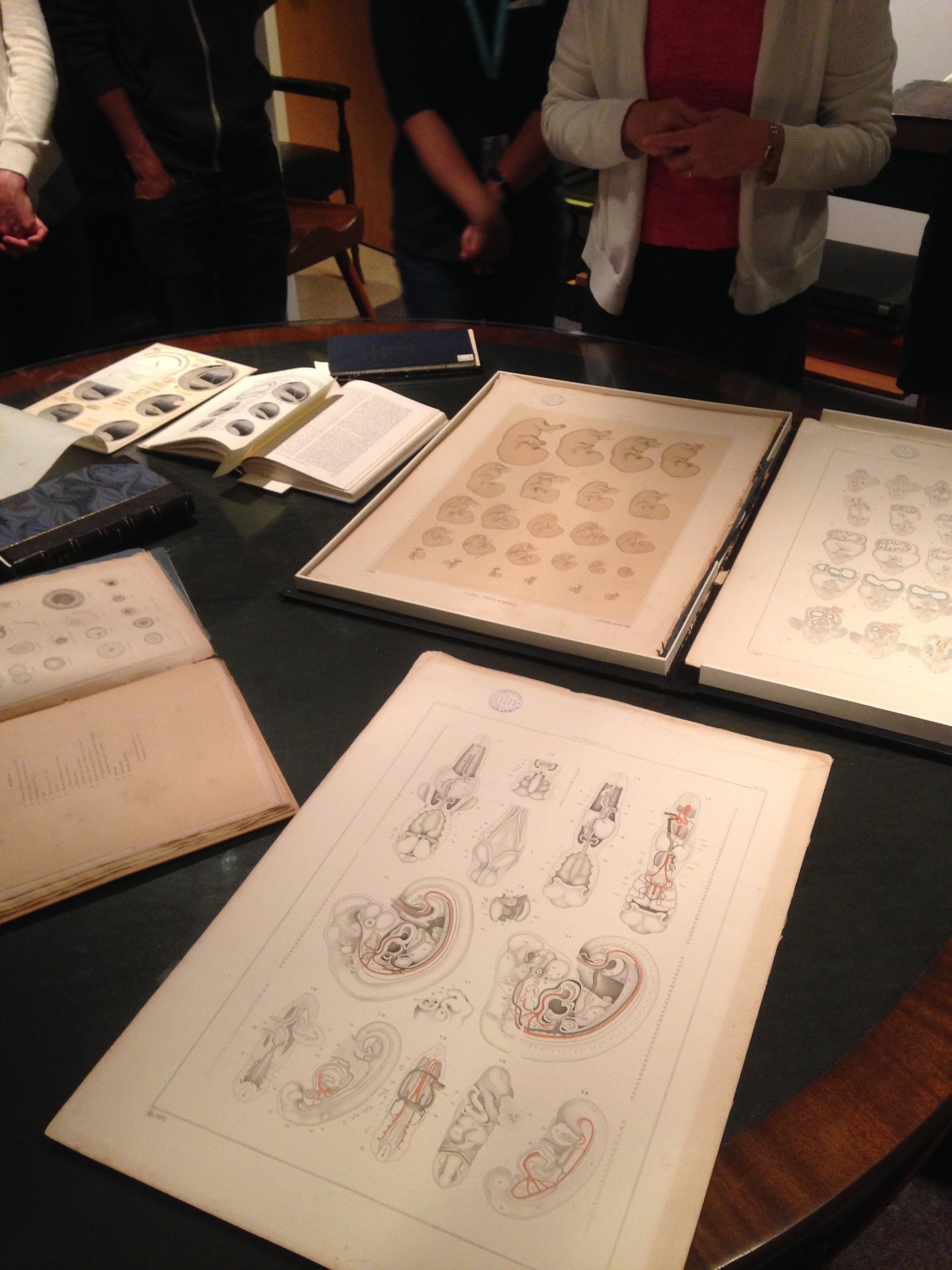 Collection of prints and manuscripts in the Woods Hole Library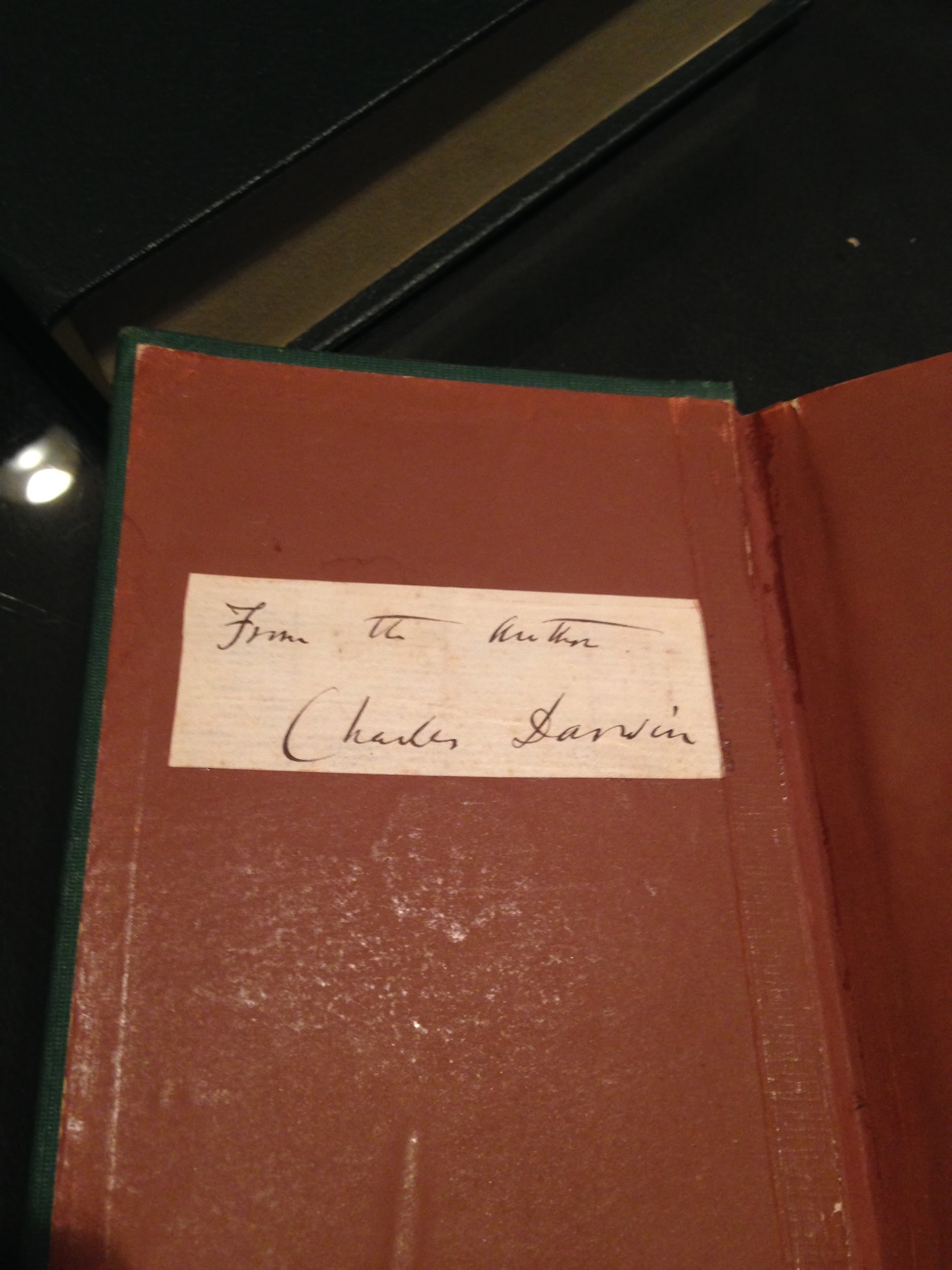 An early edition of On The Origin of Species, signed by Charles Darwin.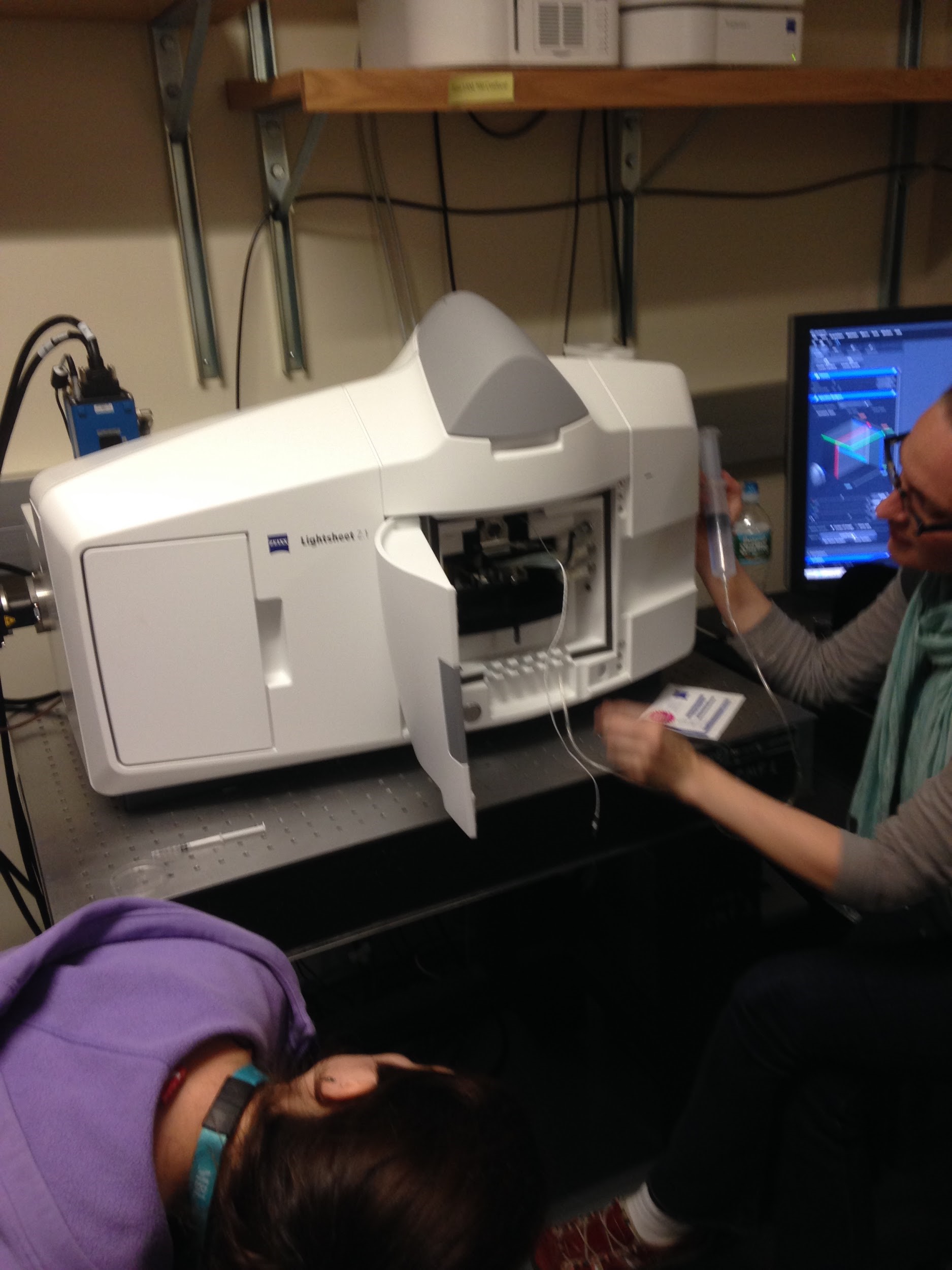 Learning how to load the Zeiss Light Sheet Microscope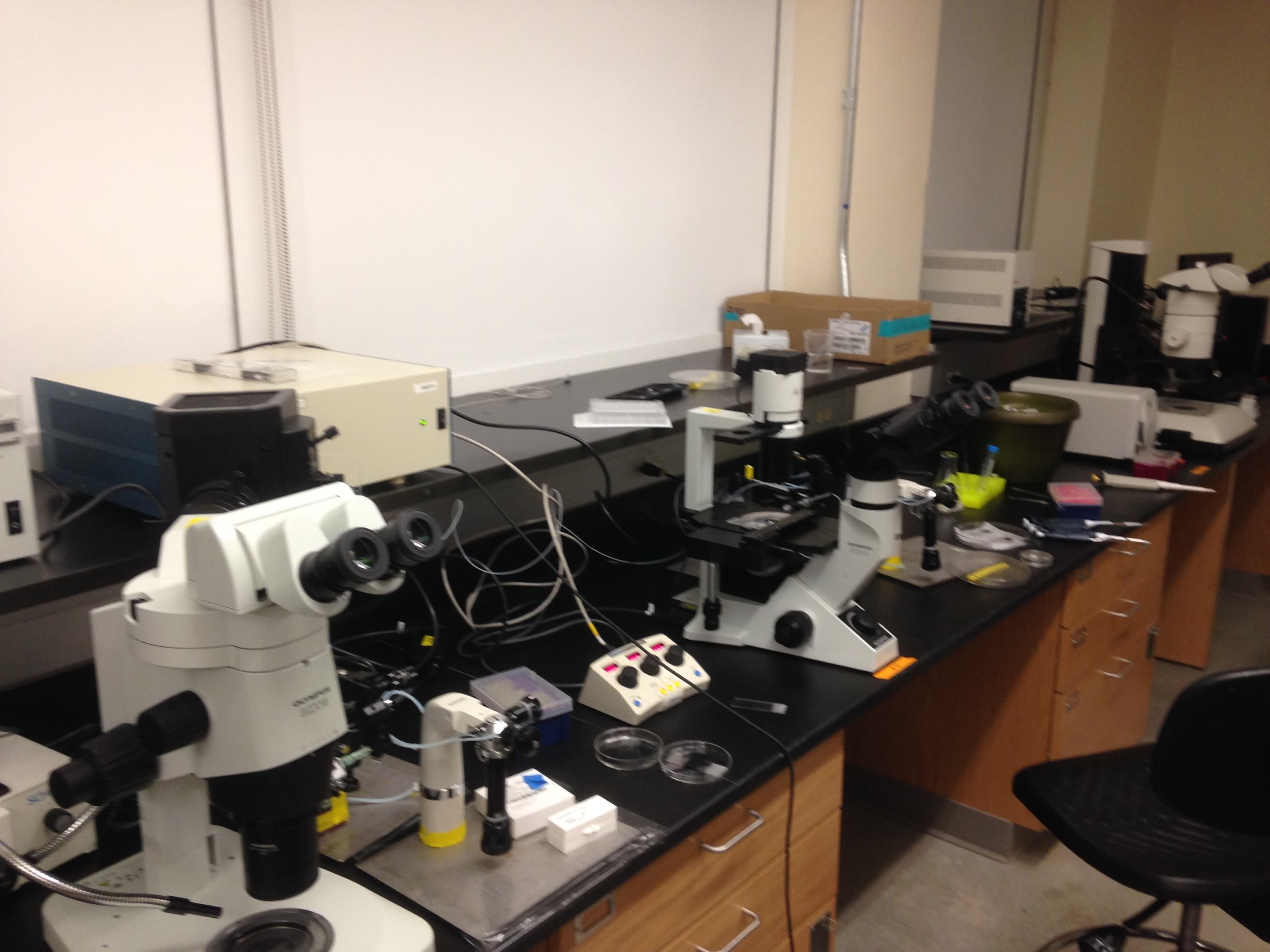 Some of the stations in our "Manipulation Room", fully equipped for microinjection, electroporation and microsurgery.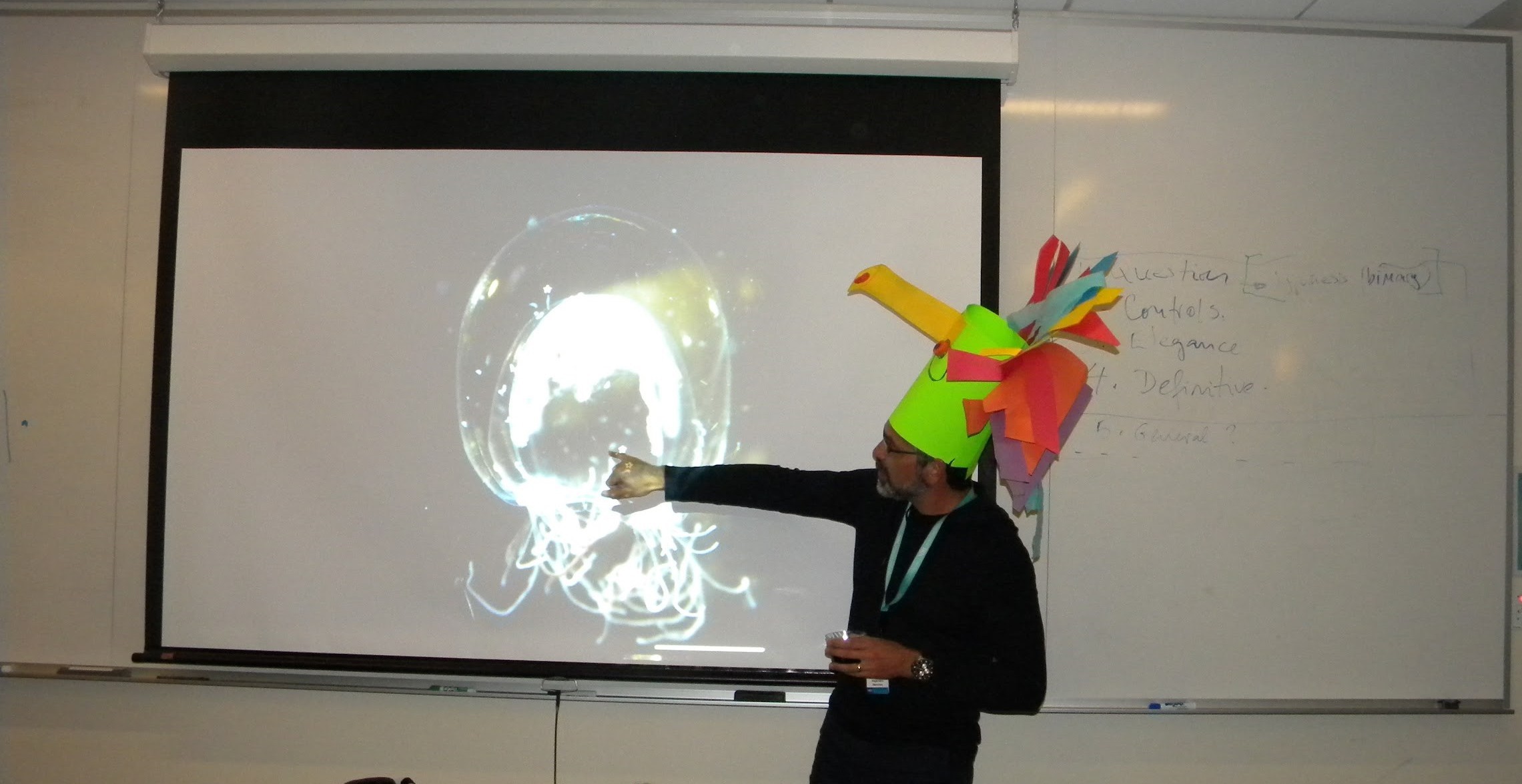 Alejandro presenting his findings at our first Show and Tell, wearing the obligatory Sea Dragon hat.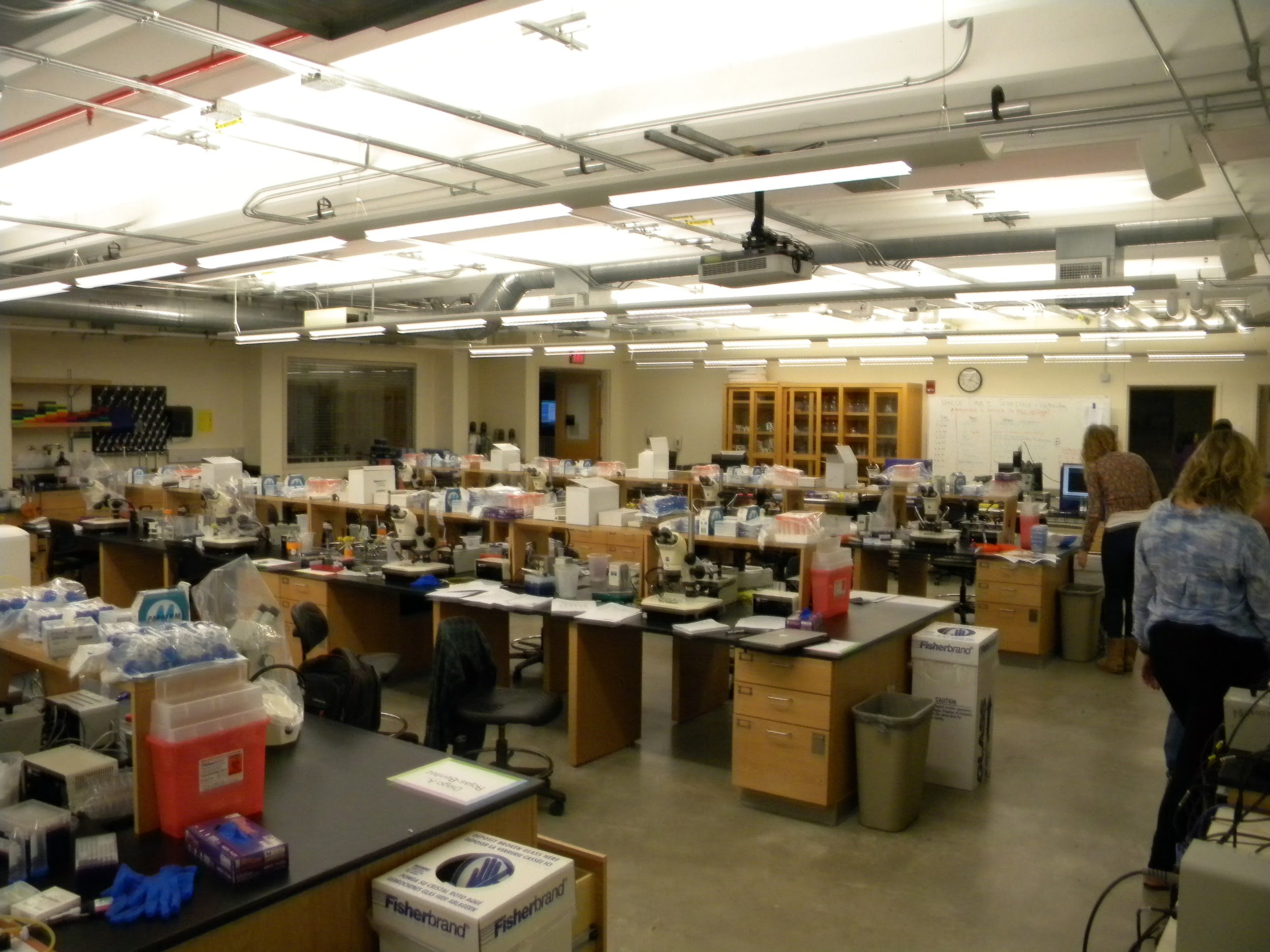 THE LAB, WHERE ALL THE MAGIC HAPPENS. YES THIS IS ALL SUPPOSED TO BE IN CAPS. THATS JUST HOW EXCITED I AM ABOUT THE LAB. – Joe