Congratulations to Meii Chung of UT Austin, whose image of a Cerebratulus pilidium larva won first place in the latest voting round to choose a cover for Development from images taken by students of the 2010 Woods Hole Embryology course.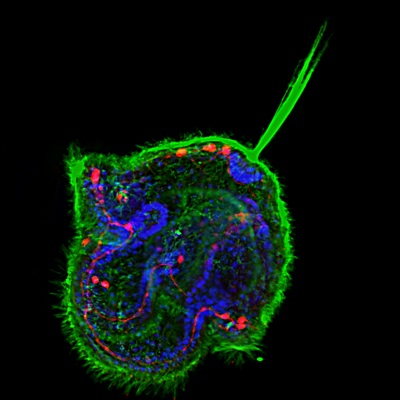 Pilidium larva of the Nermertean, Cerebratulus lacteus. Acetylated tubulin (green), serotonin (red), nuclei (blue, DAPI).
The runners-up in this voting round were Joshua Clanton of Vanderbilt University (fly embryo nervous system), Valeria Merico of the University of Pavia (planaria), and Elise Delagnes and Hannah Rollins of UC Berkeley (fly embryo staining showing tropomyosin/Ubx/Spalt).
Thanks to everyone for participating and voting!
The next round of images will be up on July 11, and in the meantime you'll be able to read posts from students currently taking the Woods Hole Embryology course.