Time for the slightly delayed third round of images from the 2013 Woods Hole embryology course! Below you will find 4 beautiful images from the course. Choose the one you would like to see in the cover of Development by voting on the poll at the end of the post (you can see bigger versions by clicking on the images). The poll is set up to allow only one vote per person, so please stick to this rule to give all the images a fair chance!
Voting will close noon GMT on March the 2nd.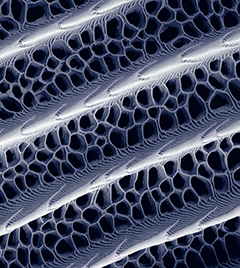 1. Scanning electron micrograph of a black scale from the butterfly, Papilio blumei. Visible is the elaborately sculptured lattice between the microrib-covered ridges. Acting in concert with melanin inside the scales, these scale cuticle nanostructures are thought to contribute to making these scales exceptionally black by trapping light through internal reflection. Imaged on a Zeiss Supra40VP SEM. Distance between ridges is approximately 2 µm. This image was taken by Lara Linden (Duke University, USA).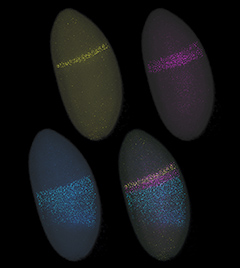 2. Blastoderm stage Drosophila melanogaster embryo. In situ hybridization for the 5' end of Scr in yellow, Antp in blue (from the P1 promotor, 5' in the first intron), and a previously uncharacterized lincRNA in pink. Imaged on a Leica SP8 confocal. This image was taken by Wiebke Wessels (James Cook University, Australia).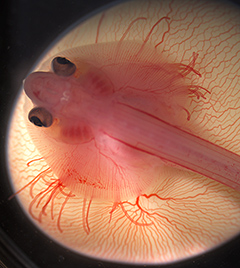 3. Living embryo of the little skate (Leucoraja erinacea) sitting atop its yolk at approximately ten weeks of development. Imaged on a Zeiss Discovery.V20. This image was taken by Mary Colasanto (University of Utah, USA) and Emily Mis (Yale University, USA).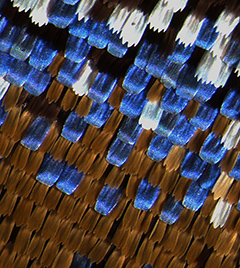 4. Wing of the Blue Mountain Swallowtail (Papilio ulysses). The blue scales seen here contain no blue pigment, rather the physical interaction of light with cuticle-based nanostructures of the scale creates a metallic blue color. Imaged on a Zeiss Discovery.V20 with image planes stacked using Helicon Focus. This image was taken by Emily Mis (Yale University, USA) and Misty Riddle (UC Santa Barbara, USA).