Here at the Node we are always on the lookout for beautiful developmental biology images and videos, and love our science art (see here, here, here, here and here!).
So we were excited to hear FASEB announce the winners of their 2017 BioArt competition.  As well as gorgeous images (see below) there was this wonderful video – the first 24 hours of embryo development in 9 animal species. I'd recommend full screen HD/4K for full embryonic immersion!
The video was made by Tessa Montague and Zuzka Vavrušová during the 2017 MBL Embryology Course and show, from left to right:
1. Zebrafish (Danio rerio)
2. Sea urchin (Lytechinus variegatus)
3. Black widow spider (Latrodectus)
4. Tardigrade (Hypsibius dujardini)
5. Sea squirt (Ciona intestinalis)
6. Comb jelly (Ctenophore, Mnemiopsis leidyi)
7. Parchment tube worm (Chaetopterus variopedatus)
8. Roundworm (Caenorhabditis elegans)
9. Slipper snail (Crepidula fornicata)
It's a wonderful piece of comparative embryology, maybe one for all introductory developmental biology courses! And look what they turn in to: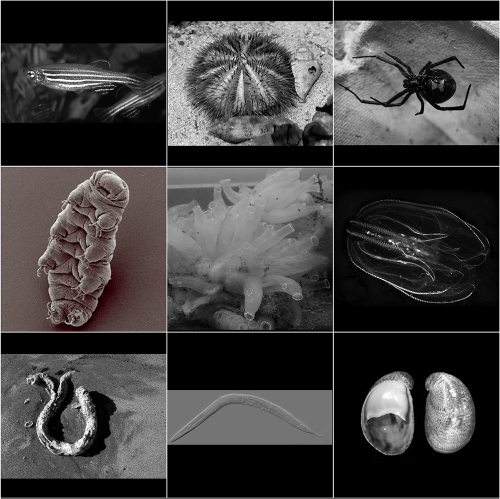 Here's a gallery featuring the  development-y winning images (click for more info):
Congratulations to the winners!
Find out much more here:
http://www.faseb.org/Resources-for-the-Public/Scientific-Contests/BioArt/Past-Winners/2017-BioArt-Winners.aspx