January was a productive month on the Node, with a variety of developmental biology content from the lab bench and beyond.
Research
We heard from the authors of a bunch of recent papers, including Ripla Arora on her recent Development paper on imaging the implanting embryo and uterine environment in 3D, and Kyle Martin on his recent PNAS paper which links taste, teeth and scales in sharks.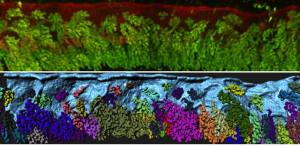 Nitya Ramkumar told us what Crumbs has to do with cell shape and gastrulation, highlighting her recent NCB paper, and Sylvia Dyballa and Cristina Pujades intorduced their eLife paper on using 4D imaging to understand inner ear morphogenesis. Highlighting another eLife paper, Ko Currie told us how planarian adults controlled neurogenesis.
People
Our People behind the Papers series continued with Miguel Brun-Usan and Isaac Salazar-Ciudad (University of Helsinki) on modelling and embryology, and Ehsan Pourkarimi and Iestyn Whitehouse (Sloan-Kettering, NY) on DNA replication and gene transcription.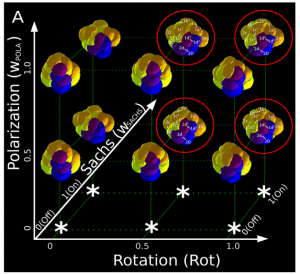 Isabel Almudi, a postdoc in Fernando Casares' lab in Seville, walked us through a day in the life of a mayfly lab and the beautiful eyes of the male flies.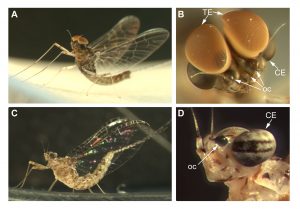 We heard from three Company of Biologists Travelling Fellows – Hanna Hakkinen,  Nanami Morooka and Tetsuto Miyashita – who collectively crossed continents to learn new techniques in host labs.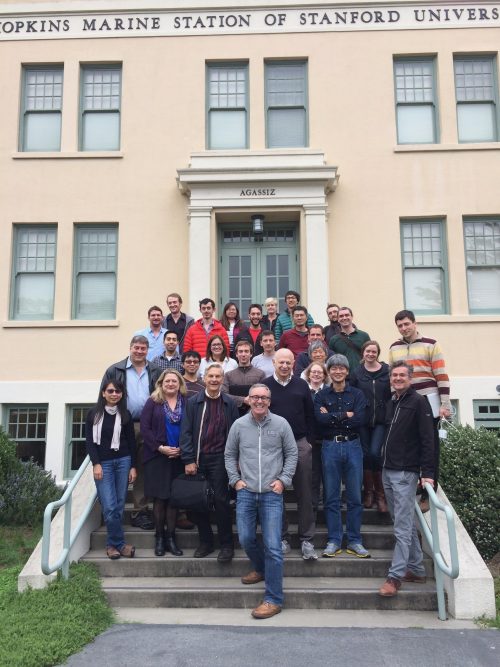 Testsuto also told us about a meeting he had been to: the First International Hemichordate Meeting, and celebrated the potential of this enigmatic group of animals. We also heard from four undergraduate students who had received the Gurdon/The Company of Biologists Summer Studentships from the BSDB.
Beyond the lab
Valerie Butler argued for culturally relevant science education, to increase engagement and representation. Finally, a couple of resources: first in our latest round up of developmental biology preprints, and second in the awesome Lifemap, a zoomable and addictive online tool for exploring the tree of life, as introduced by its creator Damien de Vienne.

Around the web
Janet Rossant was interviewed by CBC radio on stem cell therapies, genetic medicine, and the issues of morality and ethics that go along with them
Guatam Day, a cell biologist in Buzz Baum's lab, was interviewed by scienceOPEN about open access in the States and the UK
David Adams was interviewed by the DMDD about animal models of human diseases
Michael Eisen, Drosophila geneticist and co-founder of PLoS, announced a bid to run for the US Senate in 2018
Melissa Little was named new head of the Stem Cells Australia initiative in Melbourn
Charles Kimmel was awarded the International Zebrafish Society's George Streisinger Award
Nature met some of the scientists affected by Trump's Executive Order, while EMBO hosted The Science Solidarity List of labs offering assistance to stranded scientists
The Future of Research used census data to see the new face of research in the US
2017 marks the centenary of D'Arcy Thompson's classic 'On Growth and Form'. Development announced a Special Issue, and a series of conferences are being held to celebrate
Chromosome domains made it into the New York Times
A Cell paper reporting pig-human chimeras got a lot of press, including in the Guardian and the BBC
A March for Science was planned in the US (with satellite demonstrations across the country and the world), with the date now set as April 22nd
The Wellcome Book Prize longlist was revealed, including works on the microbiome, human evolution and the history of the gene
The Guardian featured some of Cajal's wonderful neuron drawings to celebrate the release of a new book of his artwork
The best tweets
Stunning ultraviolet induced visible fluorescence in flowers by Craig Burrows: image collection at (https://t.co/HDnF14FlXI) pic.twitter.com/rBm3G3XINZ

— Jim Haseloff (@jimhaseloff) January 27, 2017
rove beetles: largest family of the largest order of the largest class of the largest phylum of the largest kingdom https://t.co/3bWzjfm1Jq pic.twitter.com/2pNxIraeqg

— Current Biology (@CurrentBiology) January 24, 2017
Sensory epithelium of crista ampullaris. F-actin in hair cell stereociliary bundles & cell-cell junctions. #showmyscience 🔬 pic.twitter.com/exOpBtu4nq

— Jagger Lab UCL (@AuditoryNerves) January 25, 2017
Krumlauf Lab #GSSIMR predoc shows fluorescently marked rhombomeres in developing zebrafish hindbrain (vital bodily processes supported here) pic.twitter.com/aYSA1HbH9r

— Stowers Grad School (@GSSIMR) January 23, 2017
Look our work @Princeton is on the cover of @Dev_Cell. @the_Node @GeneticsGSA #DarkSideoftheFly #IsTheCover pic.twitter.com/EGRvgErwnf

— Yogesh Goyal (@yogeshgoyal03) January 23, 2017
Where and how do zebrafish live in the wild? Here is the answer! #zebrafish #fishsci @RachLMorgan13 @en_mette @Josefin_Sundin @ZebrafishRock pic.twitter.com/9m0h37lJBW

— Fredrik Jutfelt (@FredrikJutfelt) January 23, 2017
My #ScientistSuperPower is to see through to the insides of the fishes. pic.twitter.com/pvWu0ySXo5

— Adam P. Summers (@Fishguy_FHL) January 20, 2017
We are reconstructing retinal circuitry with 2.19nm/pixel resolution, to document all of the synapses and gap junctions. #USofScience pic.twitter.com/OCnAQALbTl

— Bryan William Jones (@BWJones) January 20, 2017
Application for the International Course on Annelid Systematics, Morphology and Evolution is open now! Check https://t.co/Dl9SfKPmYh pic.twitter.com/ozf2UxX7xu

— Conrad Helm (@conrad_helm) January 20, 2017
Evolution's jewellery box <3 pic.twitter.com/LrJ9bzUFLW

— Rodrigo Suárez (@rsuarezsaa) January 19, 2017
2017 @BBSRC winter #magazine; heart disease, virtual reality games & sensory #neuroscience https://t.co/KEyLeChvfj #goodreads pic.twitter.com/WnRJWHNwdi

— BBSRC (@BBSRC) January 19, 2017
some lovely movies showing the beauty of dev biol in this great paper on size control by the Piotrowski labhttps://t.co/sXzZrx7Gcr pic.twitter.com/YBbmI41ekP

— Savraj Grewal (@SavrajGrewal) January 16, 2017
An artistic view of heart regeneration models! Read the review by Elhelaly & Co here: https://t.co/Qn8f2tAkQX pic.twitter.com/ggQIYuhVtk

— Frontiers CellDevBio (@FrontCellDevBio) January 13, 2017
bit premature but here's my weird-worm-of-the-week, all the way from beautiful tasmania! #wormwednesday pic.twitter.com/6KHz0yehnq

— James Cleland (@jpcleland) January 10, 2017
You're looking at the heartbeat of a zebrafish larva that's just 2 days old! Credit: Dr. Fengzhu Xiong #Video pic.twitter.com/bA6qczYgET

— Olympus Life Science (@OlympusLifeSci) January 25, 2017
#Confocal microscopy was used to capture this mouse utricle, an organ located in the verte… https://t.co/PaHSTRjYpq pic.twitter.com/HliQ0HDoUu

— Olympus Life Science (@OlympusLifeSci) January 10, 2017
The Drosophila ventral furrow is internalised to form a tube in the middle of the embryo. This marks the start of gastrulation. pic.twitter.com/U4tngPQESZ

— Vivid Biology (@vividbiology) January 9, 2017
7 day old Enchytraeus coronatus (annelid worm) embryo#WormWednesday from @ABergter & @NikonSmallWorld https://t.co/e3A98yppom pic.twitter.com/aBHp1fxGpK

— Soc for Devel Biol (@___SDB___) January 18, 2017
Happy Monday morning!
Here's a medaka developing nervous system to start the week. Via https://t.co/0NmOcUtHsi pic.twitter.com/O33H6jw92N

— Soc for Devel Biol (@___SDB___) January 9, 2017
Good morning!
Here's an embryo on the tip of a needle. pic.twitter.com/LxtBkoG0ca

— Soc for Devel Biol (@___SDB___) January 19, 2017
Happy Monday everyone!
Here's a beautiful sand dollar embryo to start your week. https://t.co/3wZhAc6VBh pic.twitter.com/WiUP7Fqboz

— Soc for Devel Biol (@___SDB___) January 23, 2017
Good Morning!
Enjoy a beautiful Nemertean Cerebratulus oocyte in metaphase of first meiosis via https://t.co/3wZhAc6VBh pic.twitter.com/eEOCkPZqpy

— Soc for Devel Biol (@___SDB___) January 30, 2017
Testes of marsupials males are anterior to their penis. Yup. pic.twitter.com/NoLka59h8G

— Richard Behringer (@rrbehringer) January 18, 2017
Tammar #wallaby blastocyst is in #diapause in the uterus for nearly a year. Summer solstice activates development, leading to birth. pic.twitter.com/ETbL7anLmH

— Richard Behringer (@rrbehringer) January 23, 2017
Pangolin embryo. Pangolins have large, keratin scales covering their skin, the only mammal with this characteristic. https://t.co/d5YtxmKRVt pic.twitter.com/wnNQ5Yf2FG

— Richard Behringer (@rrbehringer) January 26, 2017
Embryonic series of Echinops telfairi, the lesser hedgehog tenrec. https://t.co/8JHtXK3kGG pic.twitter.com/YVDIOuwqlk

— Richard Behringer (@rrbehringer) January 26, 2017
Assessing segmental versus non-segmental features in the ventral nervous system of onychophorans https://t.co/0Ql4yXSxjp pic.twitter.com/ihHAN4GjLA

— Christoph Bleidorn (@C_Blei) January 4, 2017
How do cells organize their innards?
I reconstitute and image self-organizing systems outside of the cell.#MySci pic.twitter.com/0rc8OTmmXH

— Anthony Vecchiarelli (@CellfOrganized) January 9, 2017
Western blot time! #science #immunology #CRISPR 👨‍🔬 pic.twitter.com/mp4Umhb1Lx

— Thomas Packard (@sciencethomas) January 3, 2017
New #StemCellResolution: discuss the great potential for #StemCells to cure injury & disease, and stand up for what is right. #FactsMatter pic.twitter.com/bR27gmwtyy

— Jan Nolta, Ph.D. (@jan_nolta) January 31, 2017
My daughter's birthday present to me. A little poem about being a developmental biologist. pic.twitter.com/BILaYUqeZB

— Enrique Amaya (@Enrique1Amaya) January 3, 2017
My favored suggestion for @Dev_Cell cover was this one.
with the help of @christlet#CellArray #EMT #escape #butterfly … #NotTheCover pic.twitter.com/WaP49Zp7qr

— THERY Manuel (@ManuelTHERY) January 17, 2017
Writing tiny things on tiny tubes #ScientistSuperPower pic.twitter.com/2bPEsCQRne

— Emily Remnant (@EmsyRemsy) January 20, 2017
HHMI just announced it will no longer accept unpublished work for reviews – everything not in journal must be a published preprint #ASAPbio

— Michael Eisen (@mbeisen) January 30, 2017
What do fruit flies, Cambridge MA, and @alfranken have in common? Find out in our letter to the Senator. Then resist the attack on science! pic.twitter.com/XBjxWPrvNb

— Benjamin de Bivort (@debivort) January 24, 2017
Feelings of research:
The thrill of discovery
The exhilaration of data
The existential terror of a wasted life
The satisfaction of a graph

— Nik Papageorgiou (@upmicblog) January 27, 2017
Tell us your hopes & fears for #science under Trump. Use the hashtag #SciTrump to let us know! #inaug2017 #USofScience pic.twitter.com/ltQCmvTYSy

— Nature News&Comment (@NatureNews) January 20, 2017
Sydney Brenner, one of the true greats of #biology, is 90 today! Oh, and he was a columnist for CB, here his works: https://t.co/L3LkZ7whZ7 pic.twitter.com/Q27x1UbCdY

— Current Biology (@CurrentBiology) January 13, 2017
After 10 yrs, I'm closing my blog Not Exactly Rocket Science to focus fully on my work at The Atlantic. Here's why: https://t.co/lbwGOYuk6s

— Ed Yong (@edyong209) January 11, 2017
Sad news: Nobel Laureate Oliver Smithies @UNC died 10 Jan. Awarded #NobelPrize for technology referred to as gene targeting in mice. pic.twitter.com/Z4H3czOe2k

— The Nobel Prize (@NobelPrize) January 11, 2017
Theodor Schawnn died #OTD 1882. Contributor to development of cell theory. Did you know he also discovered pepsin?https://t.co/U5dcvFq6Ic pic.twitter.com/jUWQaszPTZ

— A. Sánchez Alvarado (@Planaria1) January 11, 2017
To celebrate our launch, star baker/editor @sid_or_simon has recreated our cover image as a cake. pic.twitter.com/jz4eBOLltK

— NatureEcoEvo (@NatureEcoEvo) January 10, 2017
Illumina says $100 human genome is coming…soon https://t.co/QOJWJK4aWR $ILMN #genomics

— Paul Knoepfler (@pknoepfler) January 10, 2017
I was enjoying Continuum on @NetflixUK until I saw this: pic.twitter.com/S8ETxq7yKX

— S Quainoo (@sq_microbio) January 7, 2017
Paper preview, Horror movie style!https://t.co/0D1YgJNLPi

— the Node (@the_Node) January 10, 2017
Run, lateral line, run! In toto imaging of the migrating #Zebrafish latline primordium, Dalle Nogare&co @NICHD_NIH https://t.co/6JXzN1ImtU pic.twitter.com/Lptcr1Y9fi

— the Node (@the_Node) January 30, 2017
Even though #AustraliaDay is done for the Aussies, we'll celebrate with some echidna embryos! From @embryoproject https://t.co/1rXYfT98KG pic.twitter.com/khThXEDiGu

— the Node (@the_Node) January 26, 2017