In recent years, the zebrafish has emerged as an increasingly prominent model in biomedical research. Its optical transparency for the first few weeks, high fecundity and ex vivo fertilization have made it traditionally suitable to study developmental biology. However, over the past decade these same features have enabled the zebrafish to become a preeminent disease model and tool for studying disease mechanisms. Discoveries in zebrafish disease models are leading to new perspectives on human disease and new drugs that are entering the clinic in diverse areas from cancer to tuberculosis.
To showcase the translational impact of the model across multiple disease areas, Disease Models & Mechanisms has compiled a Special Issue packed with reviews, research and resource articles from researchers at the cutting-edge of their respective disease area of interest.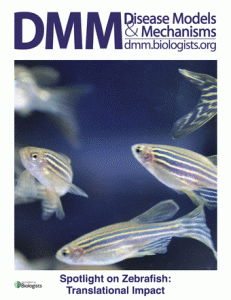 In the front section of the issue, Jennifer Phillips and Monte Westerfield provide an overview of the use of zebrafish in translational research in an 'At a Glance' poster article, illustrating recent examples of successful clinical translation of zebrafish studies. In the other Review articles, important insights from the zebrafish model into cancer, cardiovascular disorders, infectious diseases and more are discussed, with contributions from Jason Berman, Randal Peterson, David Langenau, Annemarie Meijer, Wolfram Goessling and others.
In the research section of the issue, striking examples of how the zebrafish can advance our understanding of disease mechanisms and contribute to the development of new disease models and therapeutic tools are presented. For example, Ana Vacaru, Kirsten Sadler and colleagues analyze zebrafish liver steatosis, protein markers and target gene expression to provide a new perspective on the unfolded protein response (UPR) and its role in fatty liver disease (FLD). In another study, Tamara Stawicki, David Raible and colleagues use forward genetics to identify new genes involved in resistance to hearing loss, a disorder that affects over 35% of people over 65. Alexa Burger, Daniel Haber and colleagues provide a new zebrafish model of chordoma, a rare type of bone cancer that is thought to arise from the remnants of embryonic notochord cells and for which, until now, there has been no animal model, few cell lines and limited treatment options. Nadia Danilova, Shuo Lin and colleagues use two genetic zebrafish models of ribosomal protein (RP) deficiency and find that treatment with exogenous nucleosides leads to improved survival, increased blood count and decreased morphological defects, suggesting the use of these compounds for novel therapeutic purpose in humans with RP deficiency, such as Diamond Blackfan anemia patients. Exquisite live imaging in zebrafish to visualize immune response is used by Tjakko Van Ham, Ben Giepmans and colleagues to study the resolution of neuroinflammation in vivo and by Mai Nguyen-Chi, Georges Lutfalla and colleagues to model chronic inflammation during transient Escherichia coli infection in the notochord.
For a more detailed introduction to our special issue read our Editorial by E. Elizabeth Patton, Paraminder Dhillon, James F. Amatruda and Lalita Ramakrishnan and to read all the articles in the issue, for free, visit http://dmm.biologists.org/content/7/7.toc
Don't forget our special 'Model for Life' article in which the DMM Editor-in-Chief, Ross Cagan, interviews Leonard Zon, pioneer in the zebrafish disease models community. In this article, Zon recalls the evolution of his career from developmental biologist to physician-scientist and the stories behind some of his major research accomplishments. He also discusses challenges and opportunities in zebrafish research and provides advice on translating basic research findings to the clinic.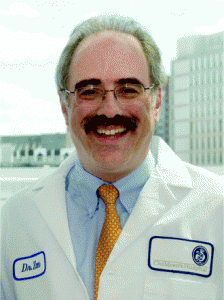 "I think you could easily argue that zebrafish is the best chemical system. Access to the embryos is so easy, and the field really blossomed with interesting screens into all sorts of phenotypes".
Read the full interview here: http://dmm.biologists.org/content/7/7/735.full