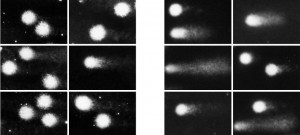 Science teachers usually say that science progresses by challenging old dogmas. In the stem cell field, there is a dogma saying that some blood stem cells in the bone marrow stay quiescent (do not divide) for long periods of time. This way, they avoid DNA damage and malignant mutations that could arise during DNA replication that happens during cell division. This ensures that some blood stem cells (also called haematopoietic stem cells, HSCs) keep their DNA intact, thus ensuring a healthy lifelong function.
However, a recent study published in Cell Stem Cell by Beerman and colleagues challenges this dogma by showing the quiescent HSCs accumulate DNA damage through the years, contrary to what was previously thought. Interestingly, these HSCs are able to repair this DNA damage when they have to divide.
In this picture, you can observe representative alkaline cornets of young HSCs on the left panel and old HSCs on the right panel. The cornet assay is a sensitive method to detect DNA damage in single cells. A single cell corresponds to a white circle and the more DNA damage there is the longer is the "tail". You can observe that there are more cells with a "tail" in old HSCs on the right than in young HSCs on the left. When quantified, these differences are confirmed and demonstrate that there is more DNA damage in old HSCs than in young ones, showing that quiescence has not prevented DNA damage.
Altogether, this study refutes the dogma that HSCs are especially protected against DNA damage during aging. As a scientist, it is exciting and/or scary when dogmas are challenged: it is confusing, it raises new questions, but it ultimately makes science progress!
 Picture credit:
Beerman, I., Seita, J., Inlay, M. A., Weissman, I. L., & Rossi, D. J. (2014) Quiescent hematopoietic stem cells accumulate DNA damage during aging that is repaired upon entry into cell cycle. Cell Stem Cell, 15, (37-50). doi: 10.1016/j.stem.2014.04.016.