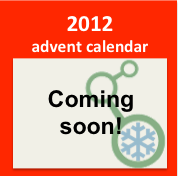 What was your favourite paper in the fields of developmental or stem cell biology this past year?
We're preparing a little feature on the Node for the month of December: an advent calendar with a new paper recommendation each day from December 1 to 24.
For this, we need your help! What was your favourite paper of the past twelve months?
To keep the calendar selections a surprise, we ask you to email your choice to thenode [at] biologists.com (or use the contact form). It would be great if you could also tell us, in one sentence, why you selected that paper. The deadline is November 22nd.
You can submit multiple papers, but NOT one from yourself or your lab. (Similarly, Development staff are not selecting Development papers as their own choice – but anyone else can!)
Papers you select should have been published after December 1, 2011. It doesn't matter which journal it's in, as long as the article covers a topic in developmental biology, stem cells, or a related area (evo-devo, developmental genetics, etc.) Don't forget the first half of the year – it seems long ago, but I'm sure there were some great papers those months.
If we end up with more than 24 papers, we'll make a final selection based on the diversity of suggestions we've received at that point.
We're looking forward to showing you the full selection of Node reader-picked papers next month!