Summer of 2018 will genuinely be the summer to remember for all 24 MBL embryology students.
To me, the MBL embryology 2018 course was like a wonderland full of breath-taking experimental adventures, unexpected discoveries, scientific growth and madly passionate researchers. Thus, let me take you on a journey across the five wonders of this course.
1. Woods Hole and the MBL campus.
Woods Hole is a very unique place under our sun. Even though it is tiny and you could see it all in about half an hour, do not be tricked! It has so much to offer! Let's start with the ocean and all the beaches, including secret beaches (I cannot talk more about this… but if you find yourself there, look for them – you will not be disappointed!)! Stony beach belongs to the MBL campus and is five minutes away from the labs and dormitories. During the day, it always served as a place to slow down, to remind us of how lucky we were to be there and take a very refreshing swimming break between lunch and the afternoon labs. On July nights it had yet another surprise prepared for us – bioluminescence. Swimming surrounded by the bioluminescent unicellular dinoflagellates and embryology course friends under the starry sky felt so magical that sometimes I still wonder if that was just a creation of my tired mind.
Another stunning place, abundant with marine animals, is Eel Pond. Its very photogenic beauty greeted me every morning while walking to get some last-minute coffee and breakfast in Swope building, before our first morning lecture. On the other side of the pond, you can find the Marine Resources Center (MRC), where we got to see a vast variety of marine animals, such as octopuses, skates, sea urchins and many others. After grabbing breakfast, on our way to the Speck auditorium, we passed the Lillie building. This is another special place, and definitely worth visiting. First of all, MBL hosts fantastic Friday evening lectures in the unique Lillie auditorium (recorded lectures can be accessed here: http://videocenter.mbl.edu/videos/). It also has a great library, where we got a chance to hold T. H. Morgan's Nobel Medal and rare books starting from 'The Origin of Species' signed by Charles Darwin himself, to the 'Opticks: or A Treatise of the Reflexions, Refractions, Inflexions and Colours of Light' by Isaac Newton and published in 1704.
I want to finish this quick overview of the MBL campus with the Loeb Laboratory Building. This was a building where real wonders happened. This was the place where we spent days and nights familiarising with, studying, observing, grafting, injecting, imaging embryos – from tunicates to nematodes to mammalians…  And this brings me to the second wonder of the course.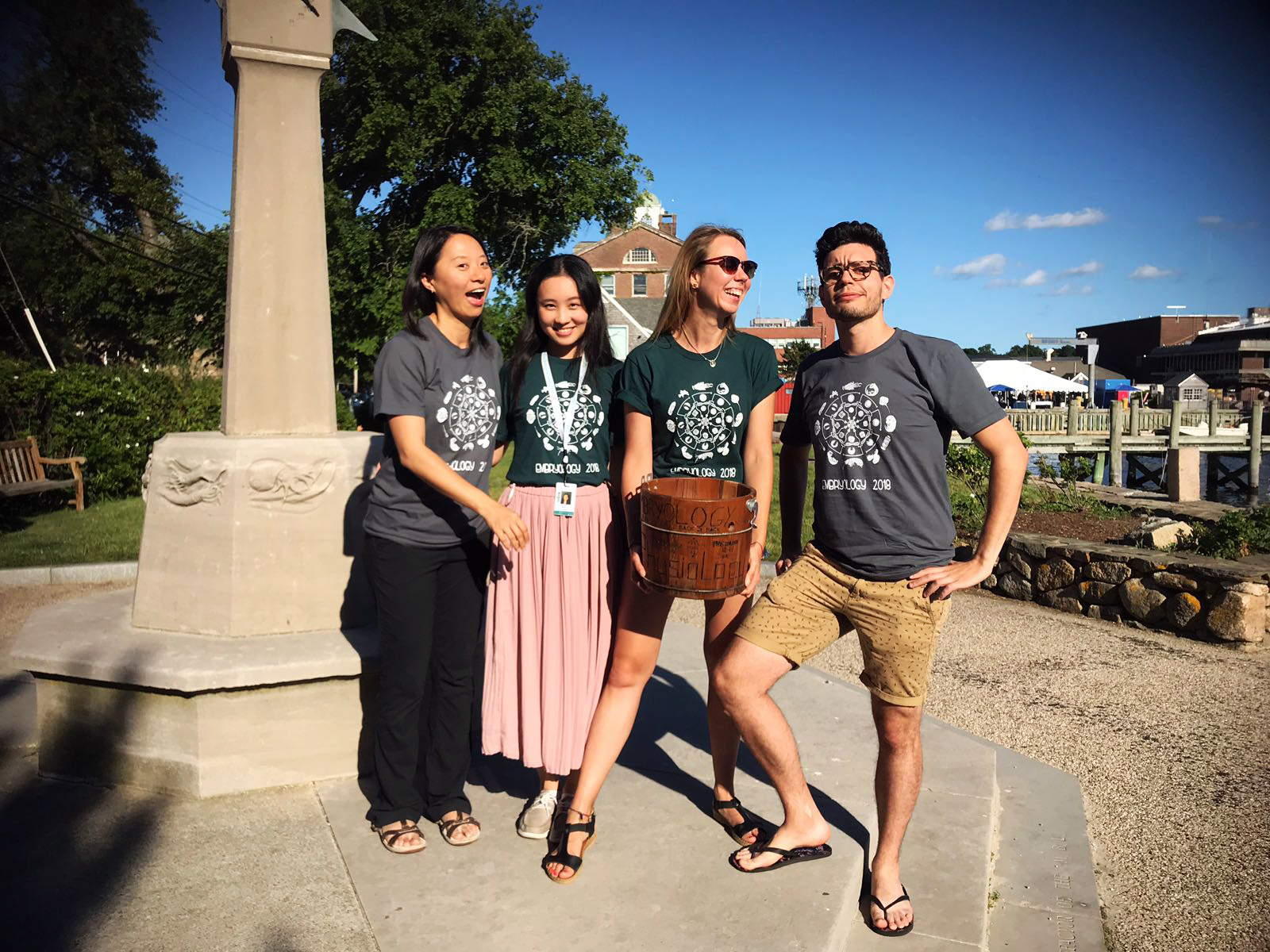 2. All the species.
The embryology course lasted six weeks. In the first week, we laid our hands on tunicates – Ciona embryos, and beautiful echinoderms –  sea urchin and sea star embryos. We experienced the power of the simple Ciona embryo electroporation method in order to label cells of interest or even acquire transgenic animals. Echinoderm injections were slightly more challenging but were very rewarding once we could observe bright fluorescence under the microscopes. The second week was dedicated to the study of the regenerative capacities of hydra, flatworm planaria and its related species the Hofstenia worm. The things we did to them were mind-boggling… We cut them in half, we chopped them in pieces, and grafted them into each other using a sophisticated method scientifically known as 'Shish kebab' technique. We were surprised to see that the animals went on as if nothing had happened, giving us a very much needed relief – we kept them happy and alive. The week continued with indestructible tardigrades and predictable C. elegans worms. On the third and fourth weeks, we jumped onto vertebrate model organisms – chick, mouse, frog and zebrafish embryos. We had the opportunity to perform classical embryology experiments, such as zone of polarising activity (ZPA) grafts into the anterior limb mesenchyme to generate a mirror-image duplication of a developing limb in chick or induce the secondary axis in frog embryos. In week five we continued with developmental biology classics – we got introduced to the icon of developmental genetics that yielded six Nobel prizes in Physiology and Medicine and been awarded to a total of ten scientists, one of whom I had an honour of meeting and having a dinner with during the course – Eric F. Wieschaus. The most important things that I learnt from him about success were – work really hard, never stop being curious, explore in the lab and don't be afraid of becoming an expert in failing.
In addition to the fruit fly, we got to play with a plethora of different arthropods, such as butterflies and parhyale. This was a transformative week in terms of microscopy imaging skills for all the embryology students. With the wonderful help and valuable tips and tricks of Nipam Patel and a PhD student from D. Sherwood's lab – Dan Keeley, we finally felt as if we befriended and mastered all the complex and powerful microscopes we had around us. In our final week, we explored the wonders of the ctenophore, cephalopod, gastropod and annelid embryos using our last reserves of energy. It was a great experience to study these non-conventional animal models and try completely new experiments that were never done before with the help of faculty and teaching assistants!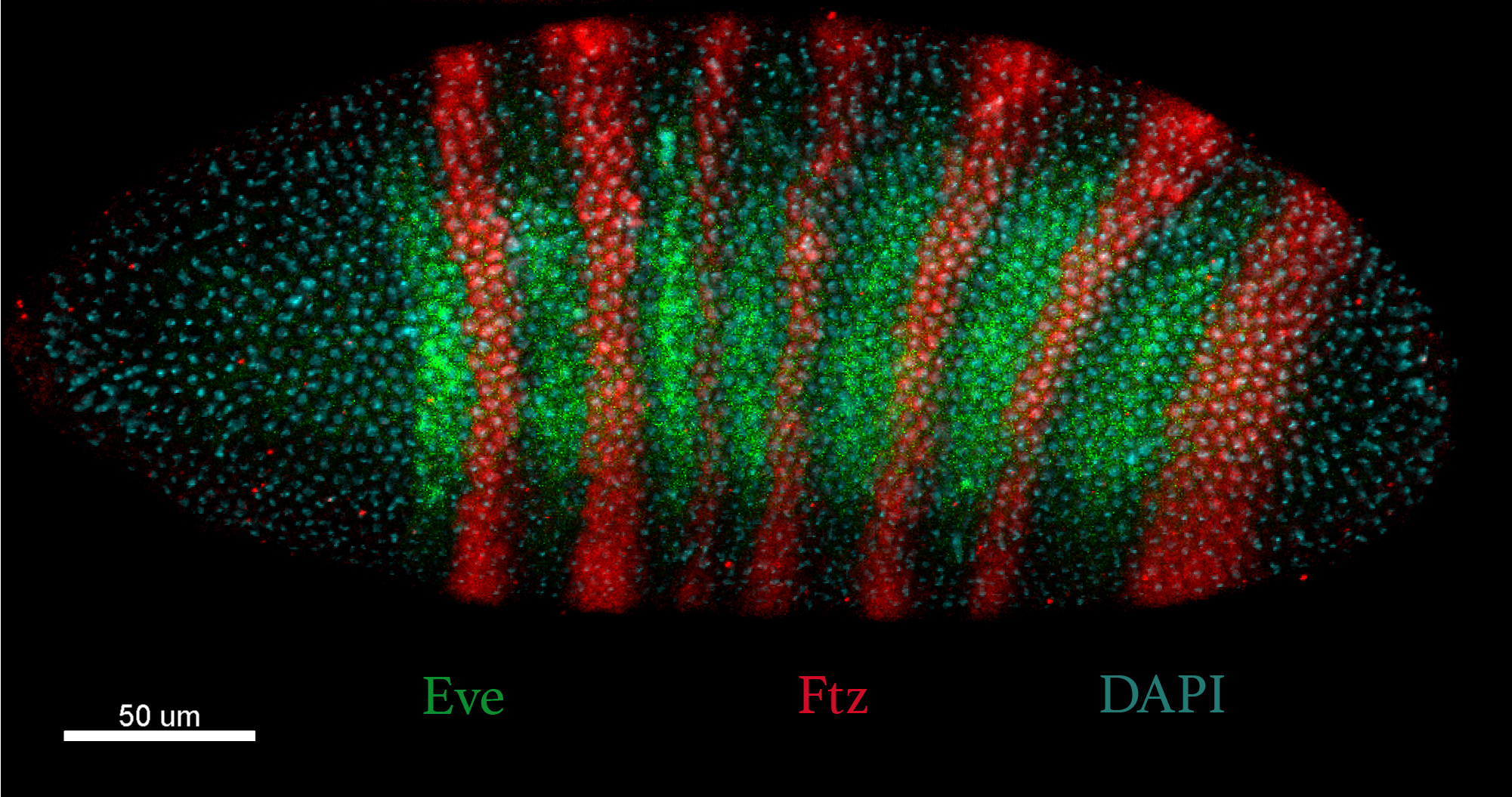 3. Knowledge and skills
Every morning we had fantastic lectures by faculty coming from different developmental biology areas. Altogether we covered the most important concepts of development, starting from cytoplasmic determinants and inductive signals required for cellular commitment, to metazoan body plan establishment, all the way to organ morphogenesis and regeneration. Additionally, we looked into evolutionary concepts and questions, new emerging technologies and discussed more philosophical questions, such as the importance of transparent and open science.
Before joining this course, I had a very limited set of embryo manipulations skills. I was mainly used to 'smash' zebrafish embryos for the –omics analysis. However, for my future career, I am planning to stay in the developmental biology field and perform more functional embryo experiments. Unmistakably, this course was revolutionary for my developmental biology knowledge and embryo handling skills! At the very start of the embryology course, we had a most important workshop on tool making and handling of marine embryos, led by the tool making virtuoso Jon Henry. At the start, the whole process sounded slightly 'bonkers' to me. For example, would you ever consider pulling your eyelashes out and glue them to a glass needle for embryo manipulations? No? Neither had I before this workshop… Nonetheless, we had to make a mouth pipette using rubber tubes, cut our hairs, pull out our eyelashes and eyebrows for gentle embryo handling and dissection tools, very often accompanied by the extensive use of fire to pull and polish pipettes, and tungsten dissection needles… However, soon I understood the power of being creative and do what you can with what you have! Indeed, without all these tools, none of the daring experiments would have been possible. We were also so fortunate to learn from embryo manipulation experts and legends, such as Dave McClay and Ray Keller.
Now that all the embryology students are back to their own benches, I am pretty sure every single one of us is re-making all the tools we learnt and very likely inventing new ones for our own research. (Maybe sometimes while hiding from health and safety officers at night or appearing nuts to our colleagues' eyes…)
4. Transformative scientific experience
The MBL embryology course is the place where I almost entirely lost the fear of scientific failure. First of all, our course directors, David Sherwood and Richard Schneider, from day one re-assured us that this was not a competitive environment and that we all should be ourselves at all times! This was a great start! Second, we did not have to take any exams or report our progress to anyone! We only presented our work, including failures, in an amusing (a lot of flying balls were involved) and very relaxed manner every two weeks. Importantly, we had a wide range of reagents in our fridges and freezers, top-notch microscopes, experts of the developmental biology field helping us and NO fear! This was the greatest part of the course! To explore, play, try, free our minds from dogmas. And I failed. I failed so badly, so many times. In the beginning, it still gave me somewhat gloomy feelings about not being capable of mastering a technique in a completely new organism in one day (!!!), but after a week or two, these feelings were gone. I was no longer afraid of going for more complicated experiments even though very often I had to embrace the failure. But don't get me wrong! It is not that from now on I am ready to keep on failing and stay positive about it. No! However, from now on I will no longer be afraid of trying something new, challenging, creative! And I am sure I will fail many more times, but this will not discourage me from pursuing complicated experiments, primarily because in real life I will have more than one or two days to succeed! To sum up, I really share the feeling of one of our great course faculty member, Alejandro Sánchez Alvarado, who, after taking this course himself, knew that he "no longer needed to ask for a permission to do science".
5. Friendships for life
The cherry on the top of the Embryology 2018 cake was the friendships that formed between the students. Before starting this adventure, most of us were utter strangers to one another. However, on our very first day, we were captivated by each other's research questions, methodology, talents, and personalities. We were so diverse, and so we had a brilliant opportunity to learn not only from the faculty and teaching assistants but also from each other. The chemistry and dynamics of our group were extraordinary. Every single individual was so hard working, motivated, talented and remarkably friendly and eager to help. We have been through everything together – the lows of failed experiments, the highs of the ones that actually worked, exhaustion, laughter, late nights on the beach, countless hours of conversations in the break room, sharing dorm rooms and so much more that we will never forget. On the 8th of July, our genuine connection symbolically materialised into our victory against the Physiology Course students, during the traditional softball game between the two courses. Overall, I feel very privileged to have attended this prestigious course together with these beautiful people, who are very likely to shape the future of developmental biology field. Spoiler alert – the future of developmental biology is in perfect hands!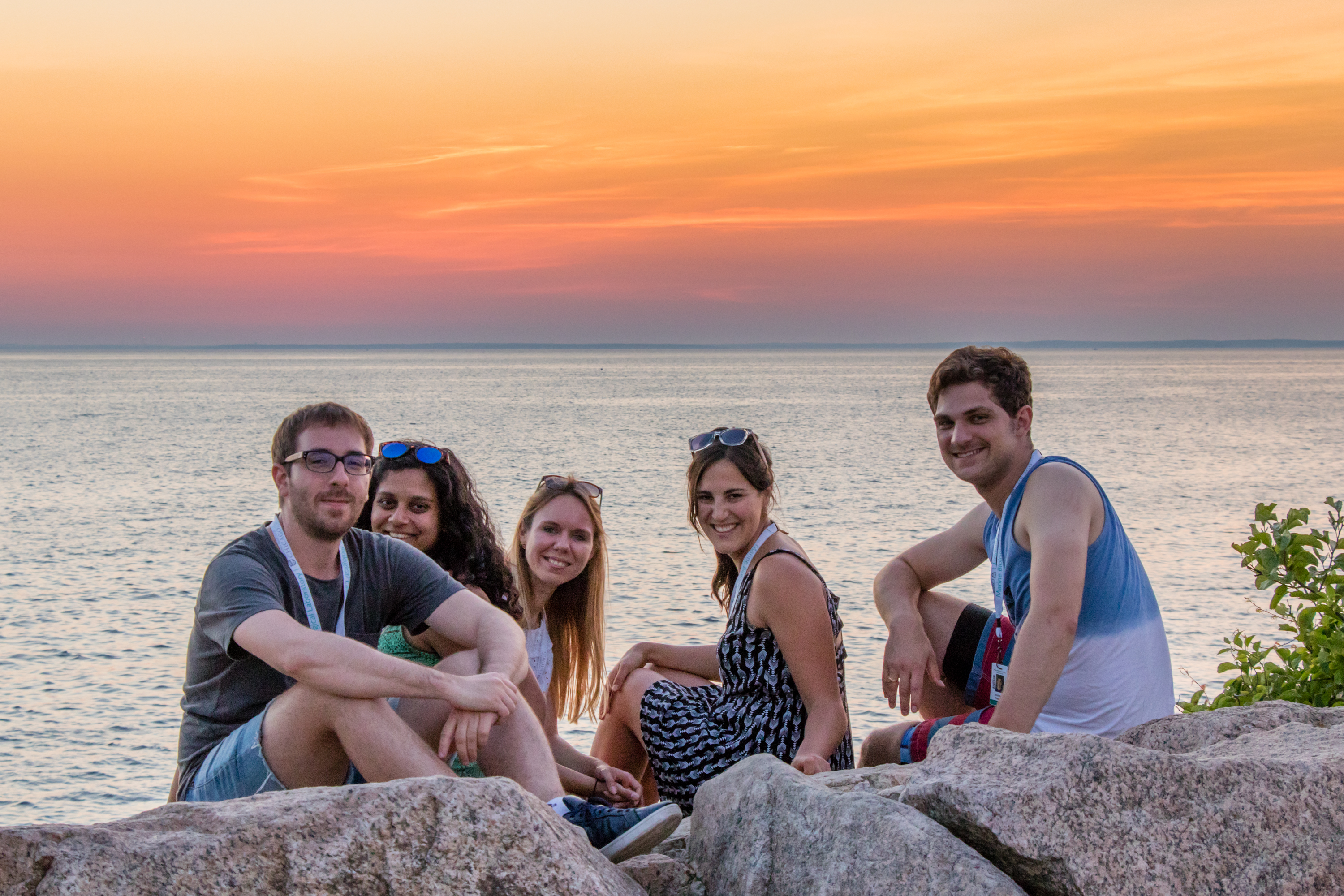 Lastly, I would like to thank the course directors, all faculty members, course and teaching assistants. You were so great! I would also like to thank all the financial aid contributors that made my attendance possible – Burroughs Wellcome Fund, The Company of Biologists Ltd, Horace W. Stunkard Scholarship Fund, CoB/BSDB Travel Award and the MRC Weatherall Institute of Molecular Medicine Student Travel Fund. Altogether, being part of such a vibrant and brilliant community of developmental biologists made me fall in love with this field once again and reinforced my enthusiasm to continue cracking the remaining mysteries of embryo development!